Your complete guide on how to make homemade angel food cake. The best fluffy, traditional, low-fat cake recipe that you can top with your favorite fruit.
 So you love cake. We get you.
Decadent, rich cakes abound, but what about when you're trying to watch calorie intake, but you still want to enjoy something sweet? Angel food cake comes to your rescue. It's low-fat and when cut into 12 slices, has just 151 calories per slice.
We're going to talk all things angel food cake today so that you can make this beautiful, classic dessert!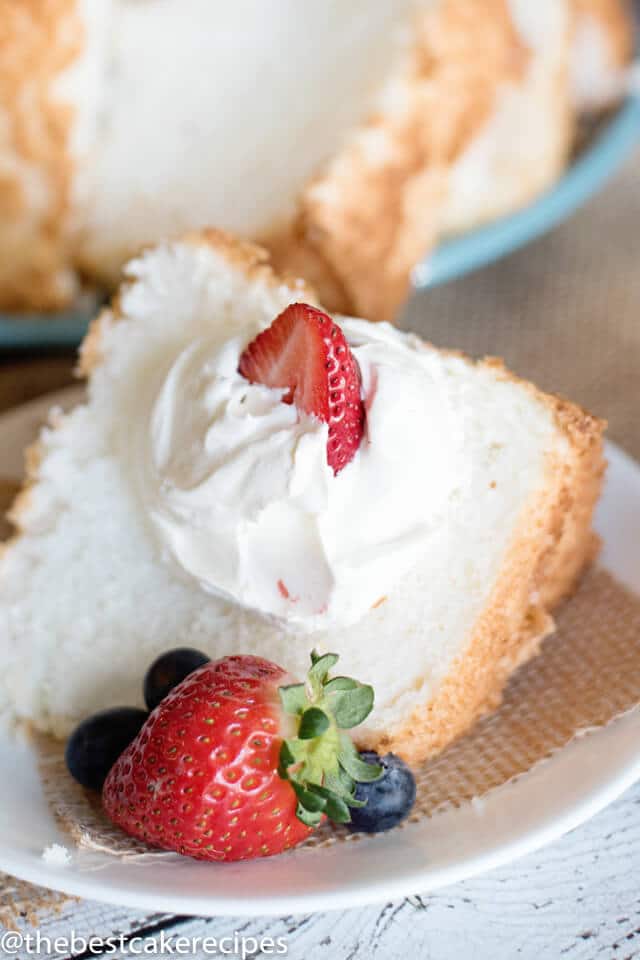 About this Angel Food Cake Recipe:
Flavor: While some cakes are buttery, this cake is all about the sweet. It has a simple, sweet flavor with hints of almond (or vanilla extract if you choose that option).
Texture: Light, springy and tender. It's everything you know angel food cake to be!
Method: This recipe bakes in an angel food cake pan. It needs to be an ungreased pan so that the batter can "climb" the sides of the pan while it bakes.
Is this a traditional angel food cake?
Yes. Traditional angel food cake is soft, fluffy and spongy. It's light and airy with a sweet flavor. It bakes up a beautiful white color with a light brown crumb on the outside from the sugar that crystalizes slightly.
You can top it with a dollop of whipped cream, chocolate or caramel syrups, or simply serve it with fresh fruit or a scoop of ice cream. It really is one of the most versatile desserts I know of.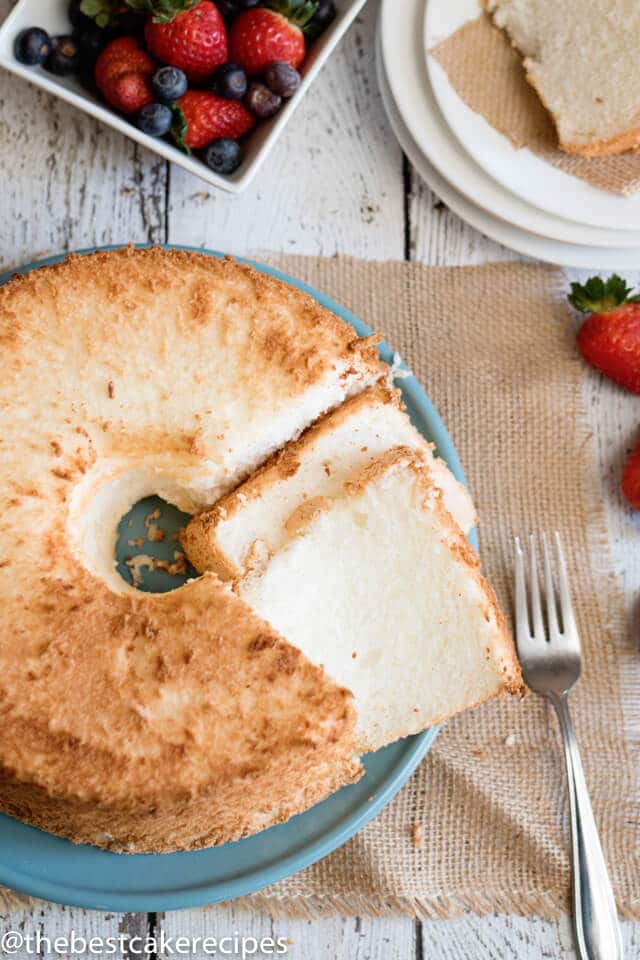 Angel Food Cake Ingredients
Angel food cake is made up of just 6 ingredients:
Cake Flour: I recommend cake flour for the best tender crumb. You can use all-purpose flour and the cake should still turn out well. But if you happen to have cake flour, use it!
Sugar
Egg Whites: I like to buy egg whites in a carton (NOT egg beaters, but 100% egg whites) so that I don't have to crack open a dozen eggs and figure out what to do with the yolks.
Salt
Cream of Tartar: Cream of tartar is an acid that strengthens the frothed eggs and also helps to keep the cake soft. You definitely don't want to leave this ingredient out.
Almond Extract: You could really use any flavoring you'd like. We prefer almond in traditional angel food cake.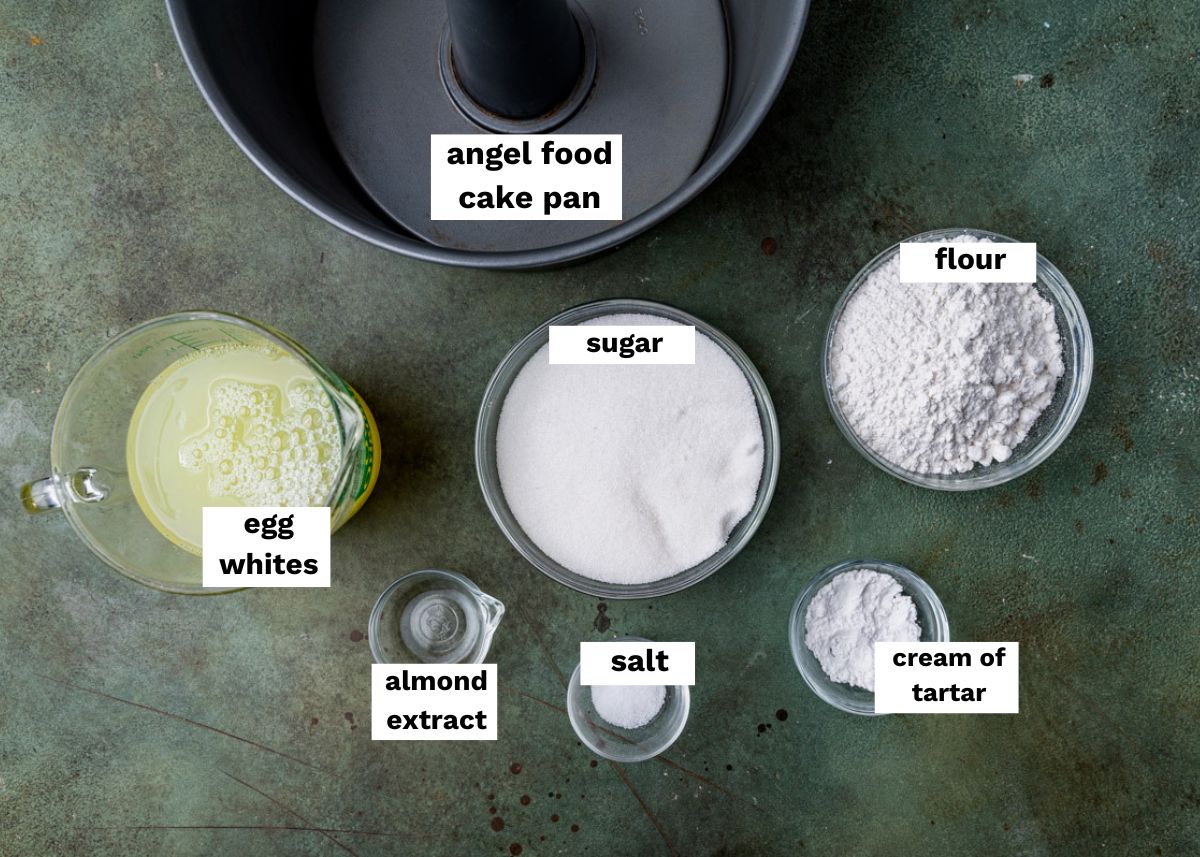 How to Make Angel Food Cake
There are just a few tips to remember when making angel food cake:
Always make sure your pans and cooking utensils are free of grease. In order for the egg whites to froth, there can be no trace of grease. Make sure the bowls are clean. Also be sure there isn't any part of the egg yolks in the egg white as you froth the eggs.
Sift the flour and sugar together. When you are folding this into the frothed egg whites, this will allow the flour to be folded in quickly and easily and not have to be mixed quite as much. It may seem like an extra, unnecessary step, but just do it.
Whip the eggs until they are frothy, then follow the steps of adding the ingredients as outlined in the recipe box below. Don't try to add them too quickly or do things out of order. Just follow the directions carefully.
When you fold in the flour, fold it in gently. Don't mix fast or hard.
Spoon the batter into an angel food cake pan. This is a 2-piece tube pan with a removable bottom so that you can easily get the cake out. DO NOT grease the pan. Remember? Grease makes the angel food cake fall. The cake will come out. Trust me.
As soon as the cake comes out of the oven, flip it upside down and rest it on 3 cups or glasses. Many angel food cake pans will have tabs so you can easily rest it on the cups. Allow the cake to cool upside down completely to ensure it stays tall and fluffy.
To remove the cake from the pan, slide a knife around the outer edges and around the center tube. Twist the bottom of the pan gently and push the cake out.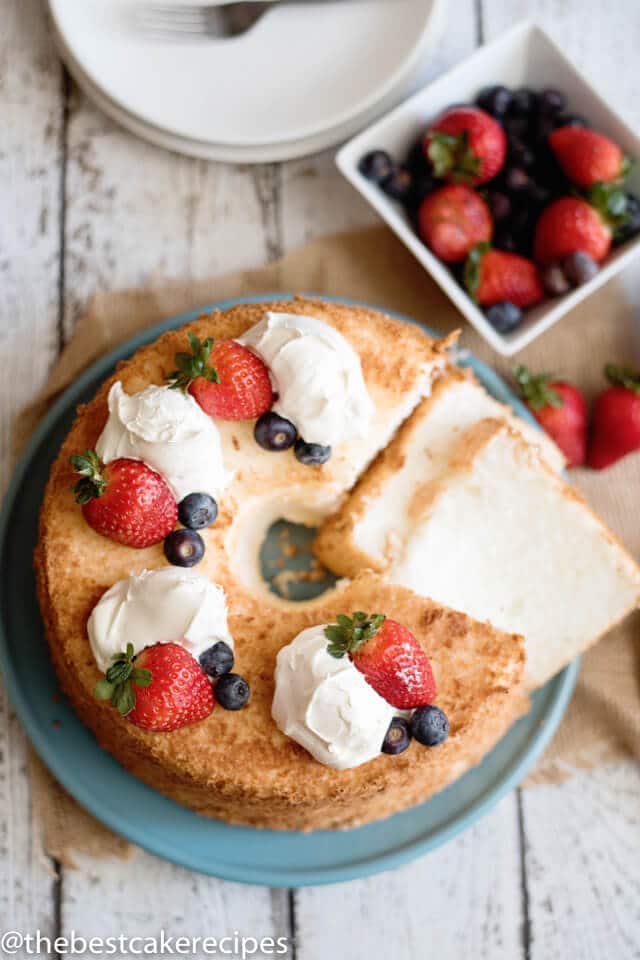 Storage Instructions
Room temperature: Store in an airtight container on the counter for up to 3 days.
Refrigerator: Store this cake in an airtight container in the fridge for up to 5 days.
Freezer: Wrap angel food cake slices in plastic wrap, then in an airtight container. Freeze for up to 2 months. Thaw at room temperature before eating.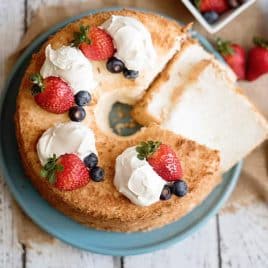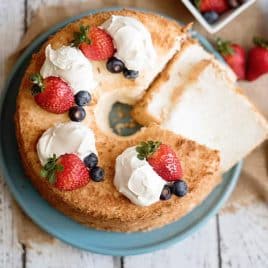 Angel Food Cake
Your complete guide on how to make homemade angel food cake. The best fluffy, traditional, low-fat cake recipe that you can top with your favorite fruit.
---
Instructions
Preheat the oven to 325ºF.

Sift together ¾ cup of sugar and the flour three times. Set it aside.

In a clean, grease-free bowl, beat the egg whites until they are frothy .

Add the salt and cream of tartar, then beat until the eggs hold stiff peaks.

Add the remaining sugar, three tablespoons at a time, beating well after each addition.

Fold in the flour mixture about ½ a cup at a time, then fold in the almond flavoring.

Spoon the batter into an ungreased angel food cake tube pan.

Bake on the lowest oven rack for 45 minutes or until the top is lightly browned and looks dry.

Remove the pan from the oven and immediately invert the pan, standing it upside down on 3-4 glasses that are equal in height for support.

Allow the cake to cool upside down completely, then slide a knife around the sides and center of the pan to loosen the cake.

Remove the cake to a plate and serve with your favorite fresh fruits or syrups.
Notes
*Use vanilla extract if you'd like.
*You can also whip the egg whites in the bowl of a stand mixer with the whisk attachment.
Refer to the article above for more tips and tricks.
The calories shown are based on the cake being cut into 12 pieces, with 1 serving being 1 slice of cake. Since different brands of ingredients have different nutritional information, the calories shown are just an estimate. **We are not dietitians and recommend you seek a nutritionist for exact nutritional information. The information in the nutrition box are calculated through a program and there is room for error. If you need an accurate count, I recommend running the ingredients through your favorite nutrition calculator.**
Nutrition
Calories:
151
kcal
|
Carbohydrates:
33
g
|
Protein:
4
g
|
Sodium:
147
mg
|
Potassium:
121
mg
|
Sugar:
25
g
|
Calcium:
4
mg
|
Iron:
0.1
mg
Tools Needed to Make Angel Food Cake
Stand Mixer: A hand mixer will work, but I always find it easier to froth eggs with a stand mixer.
Angel Food Cake Tube Pan: I find that traditional aluminum pans work best.
Flour Sifter: Because you should always take the extra step to sift flour for excellent results.
Other Angel Food Cake Recipes
If you are looking for other low fat angel food cakes, try one of these: