An easy, layered dessert recipe that is perfect for summer! This banana split cake with pudding, fruit and nuts will be the hit of your picnic.
You've had a banana split, but have you ever had a banana split cake? This, my friends, is one dessert that you need to make. It's seriously one of the best cakes recipes out there. Grab your fork and knife because you're going to need it.

Ever since I was a little girl, I have enjoyed anything with banana in it. I've enjoyed the sweet taste of it. However, once I discovered that you could make cakes with it, my life was never the same. This Banana Split Cake is a testament to my love for bananas and my love for cakes.

This cake comes in three steps. You will make the cake, which is pretty easy to make. After you have mastered that, you will move onto making the pudding.

From there, you're going to assemble the cake. When you're done this cake is going to look fabulous and it's going to taste just amazing.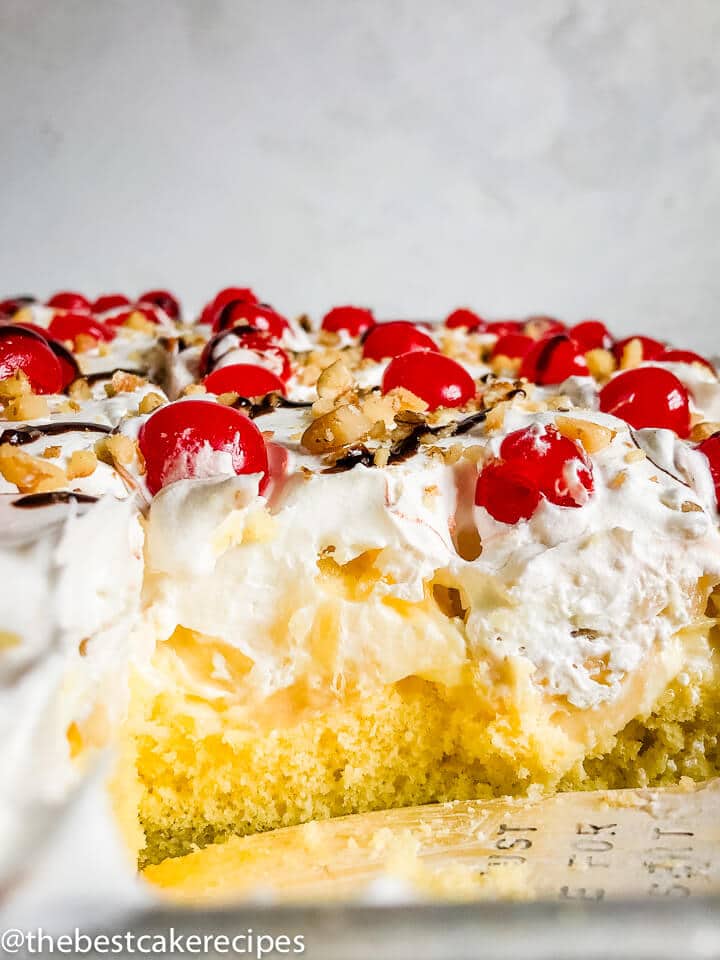 WHERE DID BANANA CAKE COME FROM?
You may be wondering who looked at a banana and thought "hmmmm, that will be good in a cake." Banana bread was the first MVP. When people discovered they could cook with baking soda and baking powder, around 1933, the love for baking with bananas was born. It's amazing how much you can do with bananas, to be honest.

While my family loves banana bread, this cake is even better than that. There is no going back to non-banana cake, once you figure this cake out. Yes, it's that delicious.

Where did the banana split come from?
According to Wikipedia, the banana split was created in 1904 by a 23-year old pharmacist. The sundae "boat" originally cost 10 cents. If only we could go back to that time, right?
This famous soda shop dessert has celebrated its 100th birthday (back in 2004) and now is the basis of many other desserts, such as this banana split cake!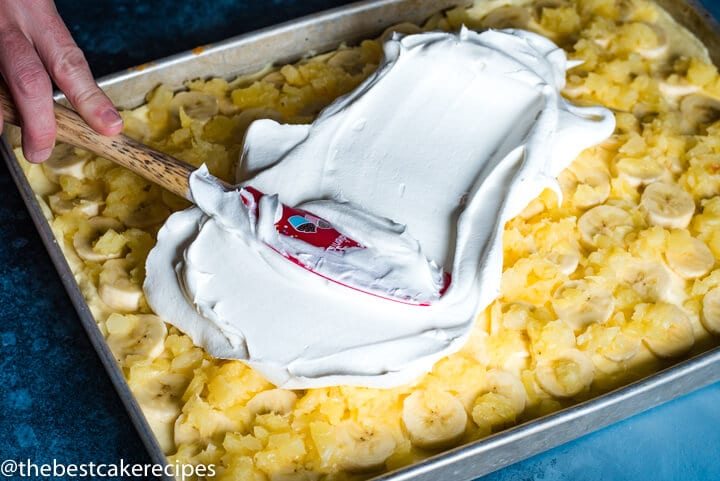 HOW LONG DOES BANANA CAKE LAST IN THE FRIDGE?
Once you make this amazing cake, you don't want to leave it out on the counter. You will want to store it in the fridge. But once it is in the fridge, how long does it last? Sadly, nothing in the fridge lasts forever.
You will love knowing that banana cake can be in the fridge for 2-3 days. The pudding, cool whip and fruit all require this cake to be refrigerated.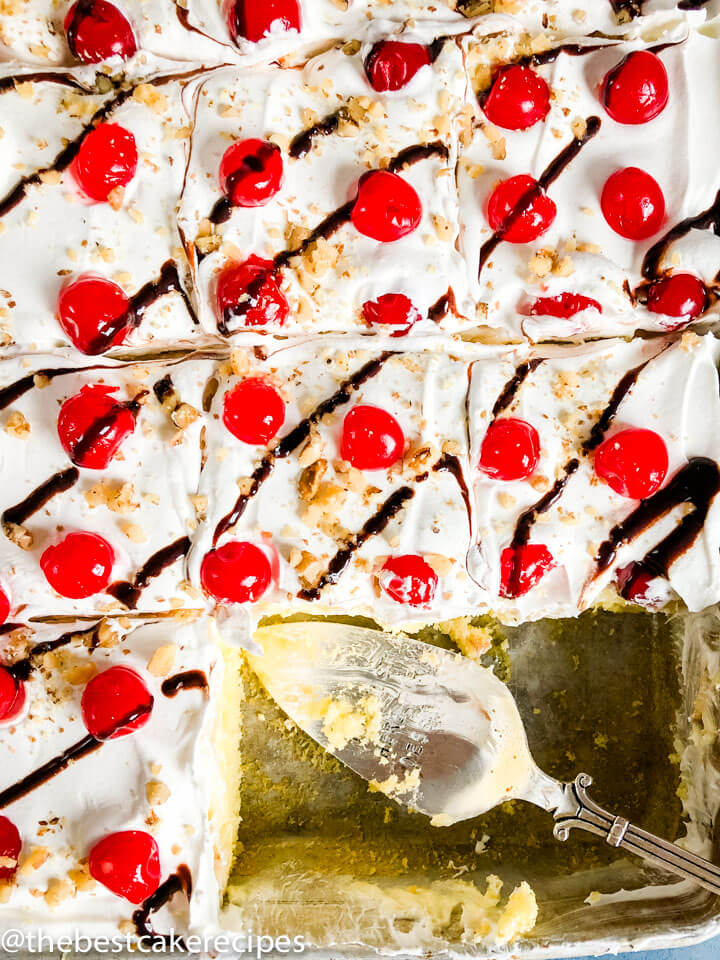 How to Make Banana Split Cake
This cake has many layers, but as you'll see, it is very easy to make!
Cake Layer. We used a cake mix as the base for this recipe. It makes the recipe easy and honestly…with all of the toppings, you'll never know this is not from scratch. Notice we use a 11×15 cake pan. All of the layers will be too much if you use a traditional 9×13 cake pan.
Pudding Layer. We used a combination of banana pudding and cheesecake pudding to add a depth of flavor. You could also use coconut cream pudding. Yum!
Bananas. Use ripe, but not overly ripe bananas for this recipe. You don't want them too brown.
Cool Whip. If you'd like to make homemade whipped cream you can totally do that.
Toppings. We topped this cake with cherries, nuts and a drizzling of chocolate syrup. It looks so pretty, right??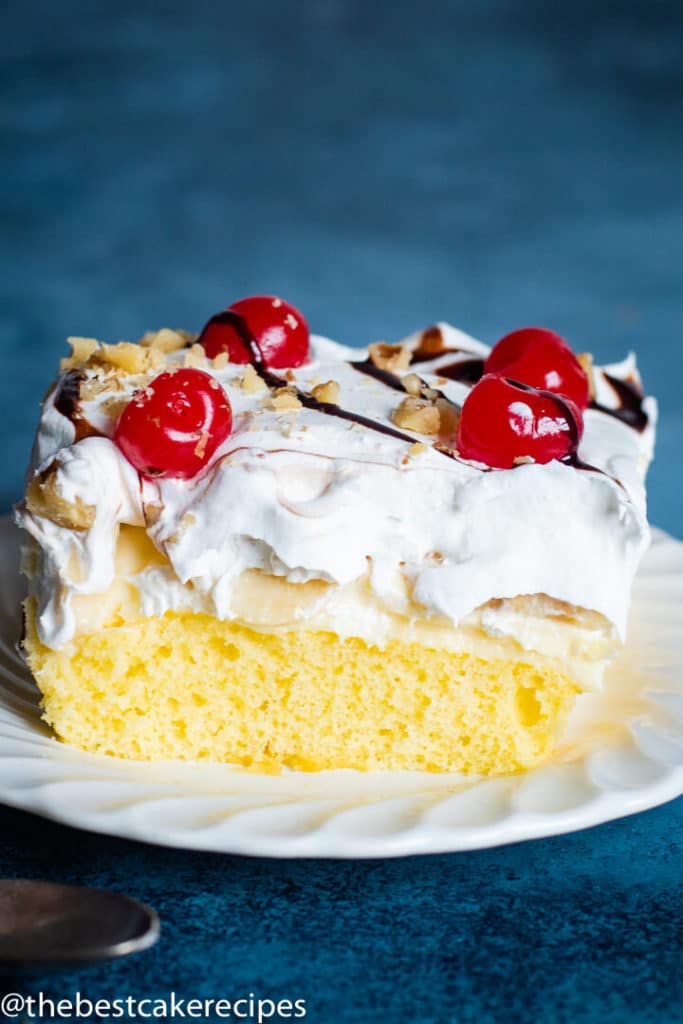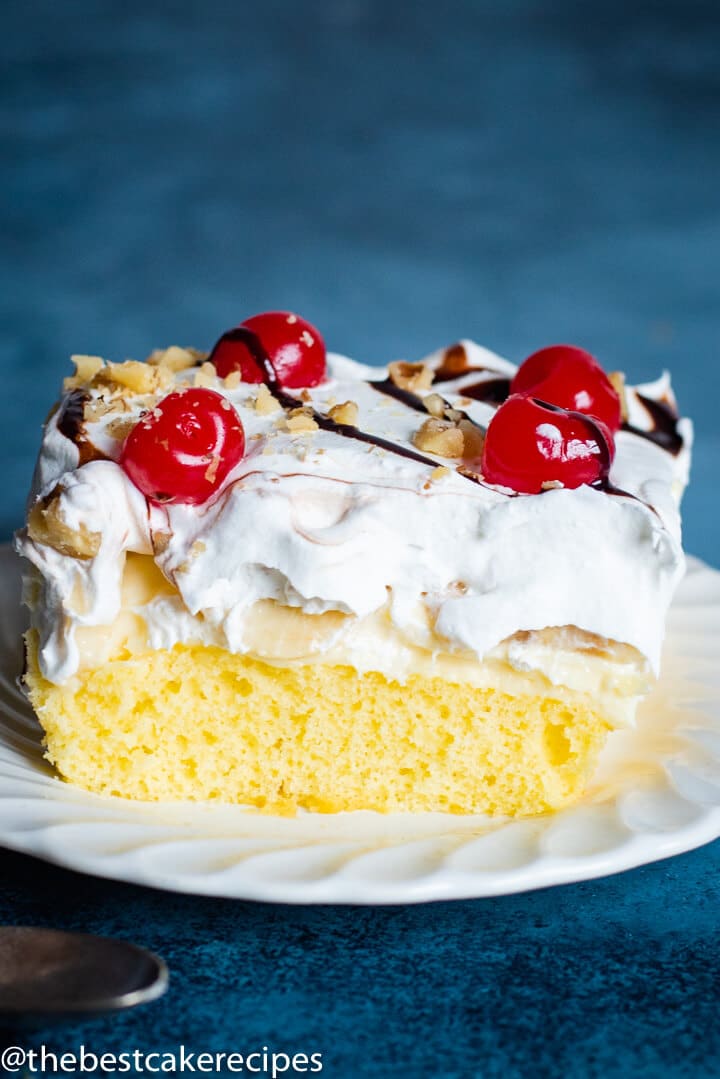 WHAT'S THE BEST WAY TO ENJOY BANANA SPLIT CAKE?

After you have spent the time making this banana split cake, what's the best way to enjoy it? Personally, I prefer a huge glass of milk when I'm eating cake.
However, you have it with a nice cup of coffee or cocoa. There is no wrong way to enjoy this cake. You can even enjoy it with a scoop of ice cream on top!

OTHER BANANA RECIPES TO ENJOY:

TOOLS YOU MAY NEED:

Cake Pan – You'll need a large cake pan for this…11×15. There are a lot of toppings!!
Hand Mixer – Perfect for mixing cakes.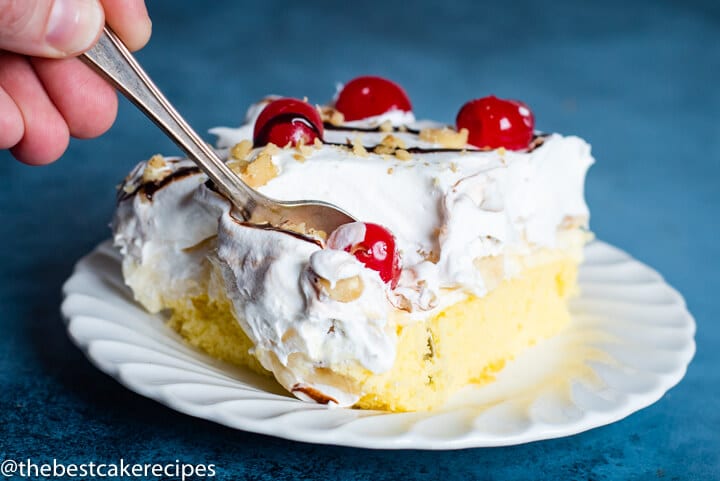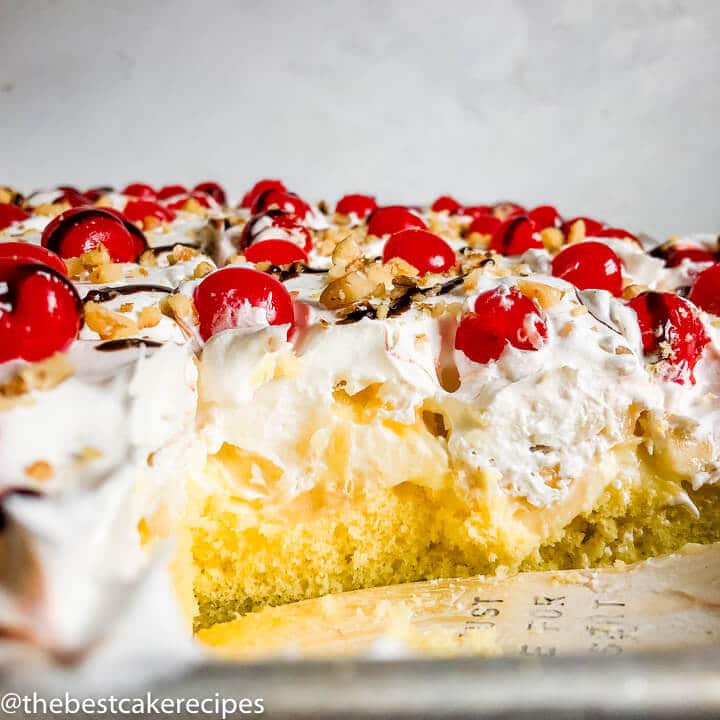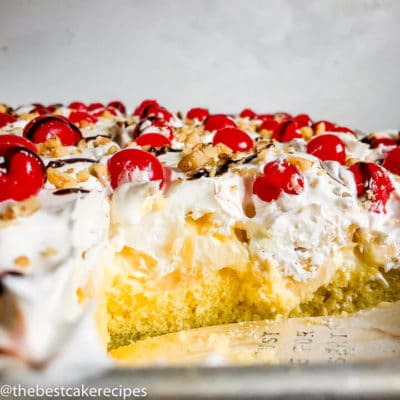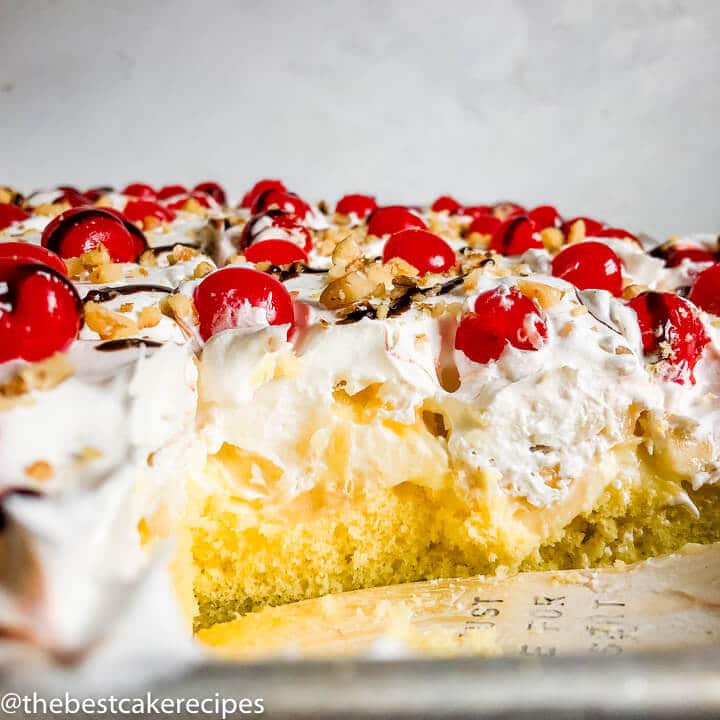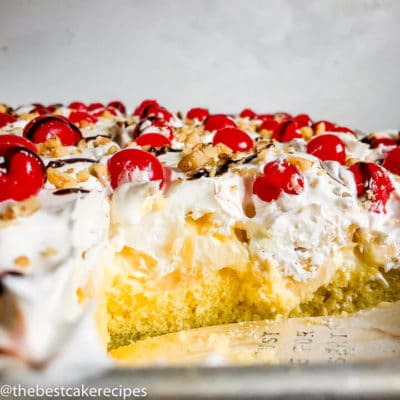 Banana Split Cake
An easy, layered dessert recipe that is perfect for summer! This banana split cake with pudding, fruit and nuts will be the hit of your picnic.
---
Ingredients
Instructions
Make the cake:
Spray an 11×15 baking pan with cooking spray. Preheat the oven to 350º F.

In the bowl of a stand mixer, beat together the cake mix, pineapple juice (if you didn't get exactly 1 cup of pineapple juice from draining the pineapple, add water to make 1 cup), eggs and oil.

Beat on medium speed for 2 minutes, scraping the sides of the bowl as needed.

Pour the batter into the prepared pan and bake for 15-18 minutes or until the center of the cake springs back when you touch it.

Allow the cake to cool completely on a wire rack.
Make the pudding:
In a small bowl, use a hand mixer to cream the cream cheese until it is smooth. Set aside.

In another bowl, mix together the pudding mixes and milk until smooth.

Add the cream cheese by heaping spoonfuls and mix into the pudding using a hand mixer. Continue until all of the cream cheese is mixed in.

Spread the pudding mixture over the cooled cake.
Assemble the cake:
Place sliced bananas all over the top of the pudding layer.

Sprinkle the drained crushed pineapple from step 1 over the bananas.

Spread the whipped topping over the pineapple.

Top with drained and dried maraschino cherries, nuts and chocolate sauce, or decorate as desired!

Cover the cake and store in the refrigerator. It is best to let this cake set for at least 4 hours before serving, if not overnight. This allows the layers to settle.
Notes
**You MUST use a pan larger than 9×13 for this cake recipe. There are a lot of toppings and they will not all fit into a 9×13 baking pan.
**We've added sliced strawberries to this cake also and it is delicious!
The calories shown are based on the cake being cut into 24 pieces, with 1 serving being 1 slice of cake. Since different brands of ingredients have different nutritional information, the calories shown are just an estimate. **We are not dietitians and recommend you seek a nutritionist for exact nutritional information.**
Nutrition
Calories:
365
kcal
|
Carbohydrates:
52
g
|
Protein:
4
g
|
Fat:
15
g
|
Saturated Fat:
6
g
|
Cholesterol:
44
mg
|
Sodium:
333
mg
|
Potassium:
219
mg
|
Fiber:
1
g
|
Sugar:
38
g
|
Vitamin A:
310
IU
|
Vitamin C:
5
mg
|
Calcium:
119
mg
|
Iron:
1
mg