Chocolate Chip Icebox Cake
This layered chocolate chip icebox cake will be gone so fast! With layers of whipped cream cheese, pudding, and chocolate chip cookies, you'll be overwhelmed by the delicious flavor.
A traditional chocolate chip cookie is always delicious. But in the summertime, it's time to make desserts that satisfy your cookie craving and cool you off at the same time! This chocolate chip icebox cake has a few simple layers that will have your mouth watering.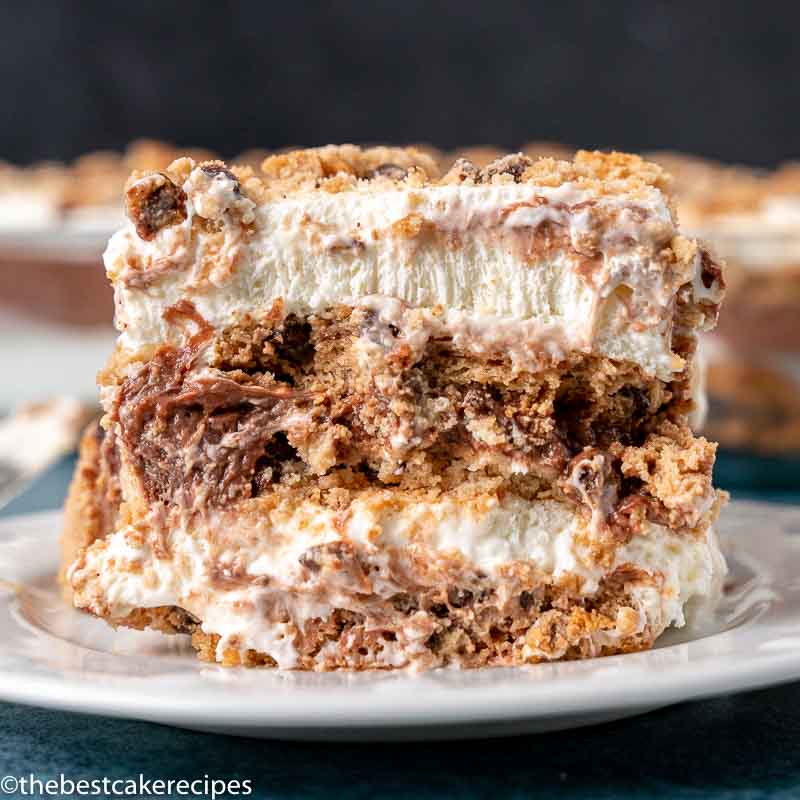 What You'll Love About This Cake:
There are a few things that will make it impossible for you to resist making this icebox cake right now:
The smooth chocolate pudding and light cream cheese whip creates a flavor that's not overpowering, but just simple and delicious.
It uses store-bought packaged cookies! This makes the recipe so easy and simple.
You'll have a lot of the ingredients right in your fridge or pantry. Trying to get rid of an extra few pudding boxes? Or some heavy cream? We've got you covered!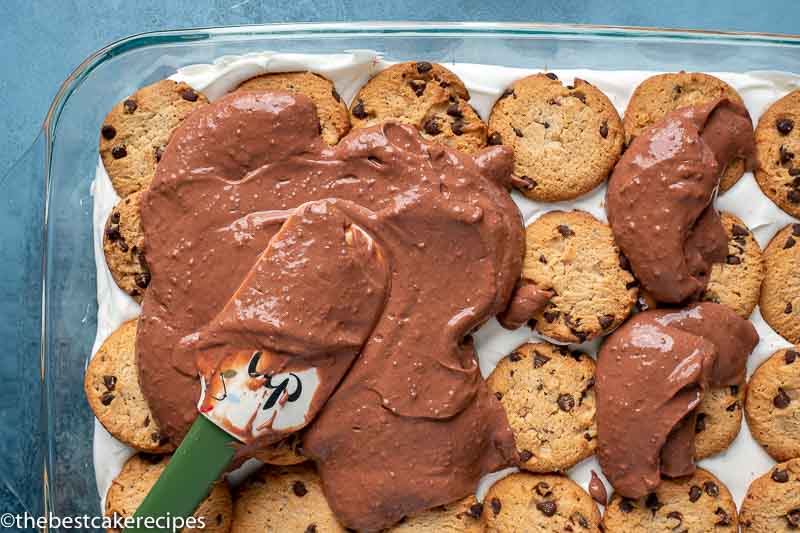 How to Make Chocolate Chip Icebox Cake:
You can skip to the recipe to find the instructions on how to make this, but here's a rundown of the layers in this cake so you can see how simple this process is:
Layer 1: 24 Chips Ahoy cookies (or the brand of your choice).
Layer 2: Half of the cream cheese whipped cream you're going to make
Layer 3: 24 cookies, again
Layer 4: A 2.1 ounce box of chocolate pudding. All of it in this layer!
Layer 5: Another 24 cookies
Layer 6: The rest of your cream cheese whipped cream
Layer 7: Just some crumbled cookies on top!
That's all it takes! And if you're wondering, the cream cheese whipped cream takes about 5 minutes to make.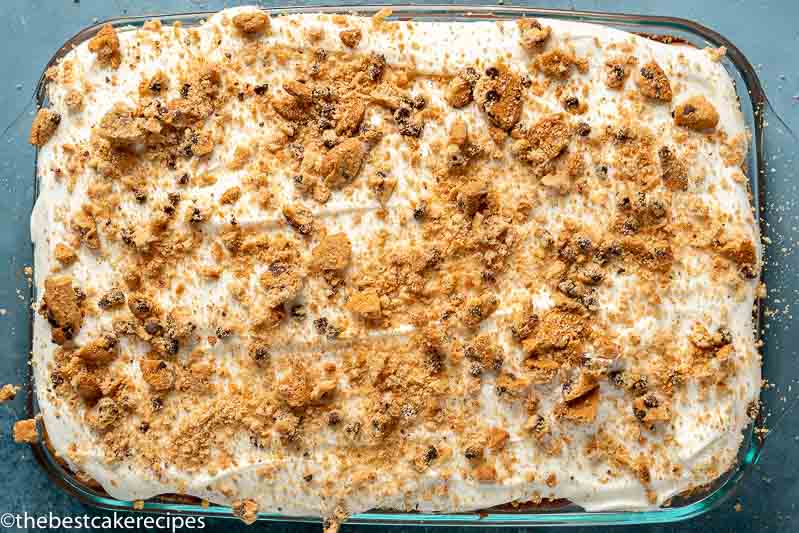 What is an Icebox Cake?
If you're wondering what "icebox cake" or "refrigerator cake" means, here's what it is: A delicious combination of simple layers, like cookies, graham crackers and pudding, that is stored in the refrigerator or freezer and best served cold. That's it! If you've never had it, you should DEFINITELY try it.
Can You Freeze Icebox Cake?
The answer is yes! We recommend storing in the fridge overnight for the cake to set, but storing in the freezer is always an option! Make sure you wrap tightly with plastic wrap.
Freezing your icebox cake will also make it less messy! You'll be able to slice the cake into pieces more easily.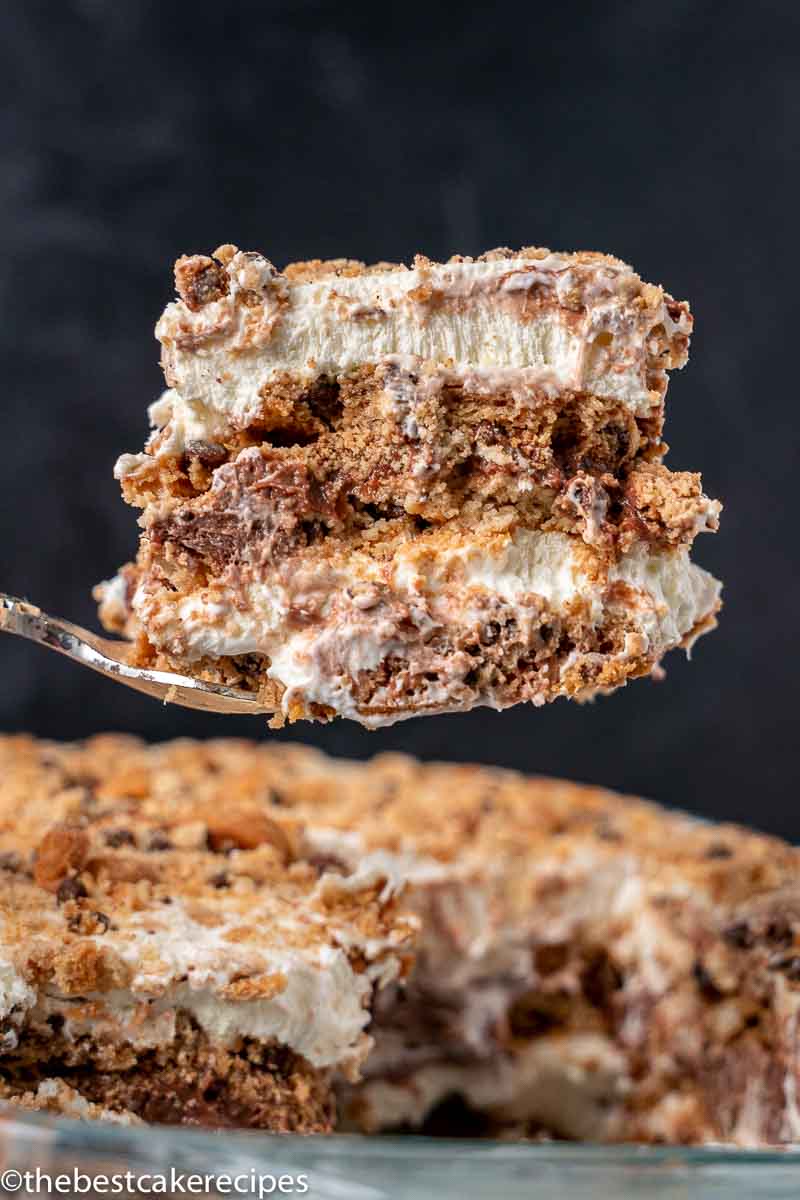 How Long Will Icebox Cake Last In The Refrigerator?
In the refrigerator, icebox cake will last up to 4 or 5 days. If you want to save it for longer, it can be frozen. When wrapped and stored well, the refrigerator cake can last in the freezer for a month. When you're ready to eat it from the freezer, let it thaw overnight in the refrigerator before unwrapping so you can easily slice it.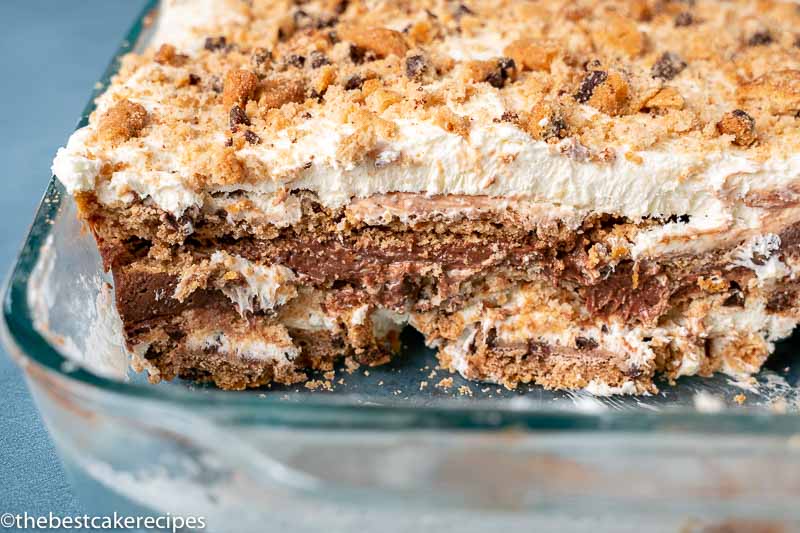 Alternative Options For This Cake:
If you've got other ingredients in the house and you're wondering if you can replace them, here are some options for alternatives!
You could use graham crackers instead of cookies in this recipe! You will most likely need a whole box (3 sleeves) for the whole recipe.
If all you have is light pudding or a different type of pudding, this would work! For example, if all you have is vanilla pudding, it should still work. We just prefer chocolate! Also, make sure you use the same box size (2.1 oz).
If you want to just use plain whipped cream instead of whipping your own, you can do that! The texture of this will be much lighter in your dessert, which may make it a little messier to cut into pieces.
Basically, this recipe is pretty flexible! But if you want it to turn out as delicious as we're saying it is, you can easily find the original ingredients at the store:)
Chocolate Chip Icebox Cake
Layers of chocolate chip cookie, pudding and whipped cream will taste like all your dreams coming true! Make ahead for the next day for best results.
---
Ingredients
1

cup

powdered sugar

16

ounces

cream cheese

(at room temperature)

2

teaspoons

vanilla

4

cups

heavy cream

3

packages of chocolate chip cookies

(either regular or chewy, 13.3 ounces for each package)

1

large box instant chocolate pudding

(we used sugar free which was 2.1 ounces)

3

cups

cold milk
Instructions
Using a stand mixer or hand mixer, cream together the cream cheese, powdered sugar, and vanilla until combined. Scrape the sides, then add the heavy cream. Whip on medium speed for about 2 minutes, or until the mixture creates soft peaks. Set whipped cream aside.

In a 9×13 pan, lay 24 cookies flat on the bottom.

Add half of the whipped topping on top of the cookies and spread evenly.

Add another layer of 24 cookies.

Make the pudding according to package directions. Once set, add all of the pudding as the next layer.

Add another layer of 24 cookies.

Add a layer of the remaining cream cheese mixture. If there is more leftover than you would prefer, you can leave some out.

Crumble a few of the leftover cookies on top of the whipped cream.

Cover with plastic wrap and store in the fridge for at least 4 hours or overnight. Slice layers into pieces to serve.

If freezing, wrap well in plastic wrap and store in the freezer for up to a month.
Notes
The calories shown are based on the cake being cut into 20 pieces, with 1 serving being 1 slice of cake. Since different brands of ingredients have different nutritional information, the calories shown are just an estimate. **We are not dietitians and recommend you seek a nutritionist for exact nutritional information.**
Nutrition
Calories:
488
kcal
|
Carbohydrates:
37
g
|
Protein:
5
g
|
Fat:
36
g
|
Saturated Fat:
20
g
|
Cholesterol:
97
mg
|
Sodium:
250
mg
|
Potassium:
187
mg
|
Fiber:
1
g
|
Sugar:
21
g
|
Vitamin A:
1064
IU
|
Vitamin C:
1
mg
|
Calcium:
95
mg
|
Iron:
1
mg