Chocolate Tres Leches Cake
If you haven't tried a tres leches cake, you haven't lived. This Chocolate Tres Leches Cake has the most amazing flavor ever! Made with three milks, this cake is a crowd pleaser. Served at birthday parties and major holidays, this is cake is sure to become a tradition.
There is something about the taste of a Chocolate Tres Leches Cake. I normally have vanilla, and sometimes even coconut, but I knew I needed to try a chocolate version. The really cool thing about leche cakes is they are soooooo moist and yummy. There isn't another cake out there quite like this!
Chocolate Tres Leches Cake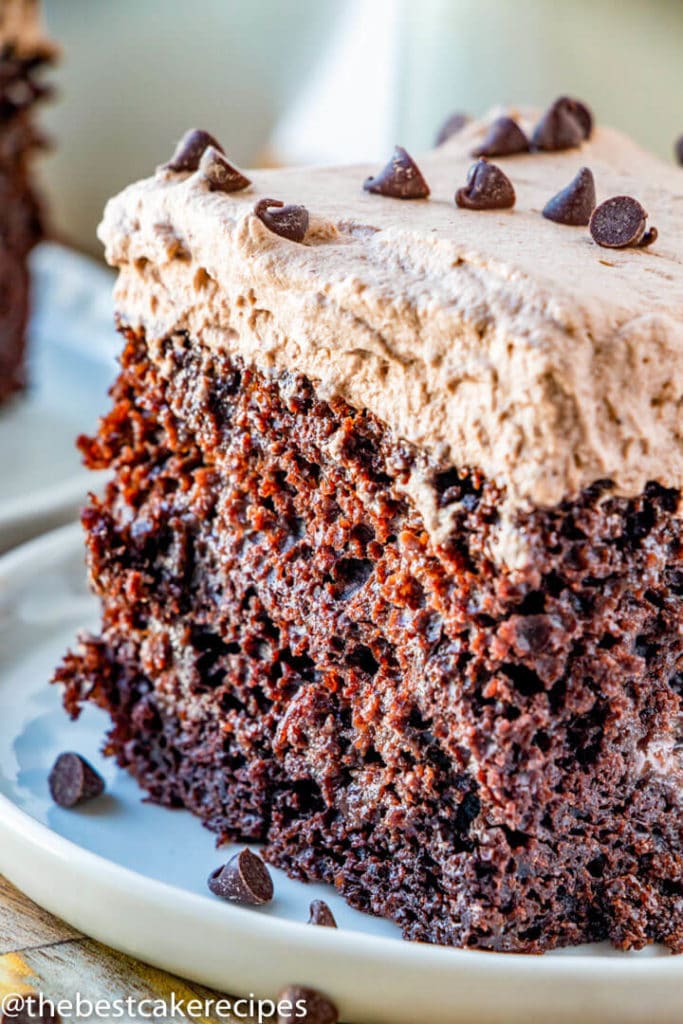 WHY IS IT CALLED TRES LECHE CAKE?
Also, known as pastel de tres leches in Spanish, a tres leche cake is a sponge type cake. Most people know this as a butter cake. It's soaked in three types of dairy or milk.
heavy cream
evaporated milk
condensed milk
These types of cakes were seen in Mexico in the 19th century. You could also see these types of recipes on condensed milk cans in the 40s. Tres leches cakes are nothing new, but they sure are delicious. I personally love that there is so much history and culture behind this cake. However, anyone from any walk of life can enjoy it.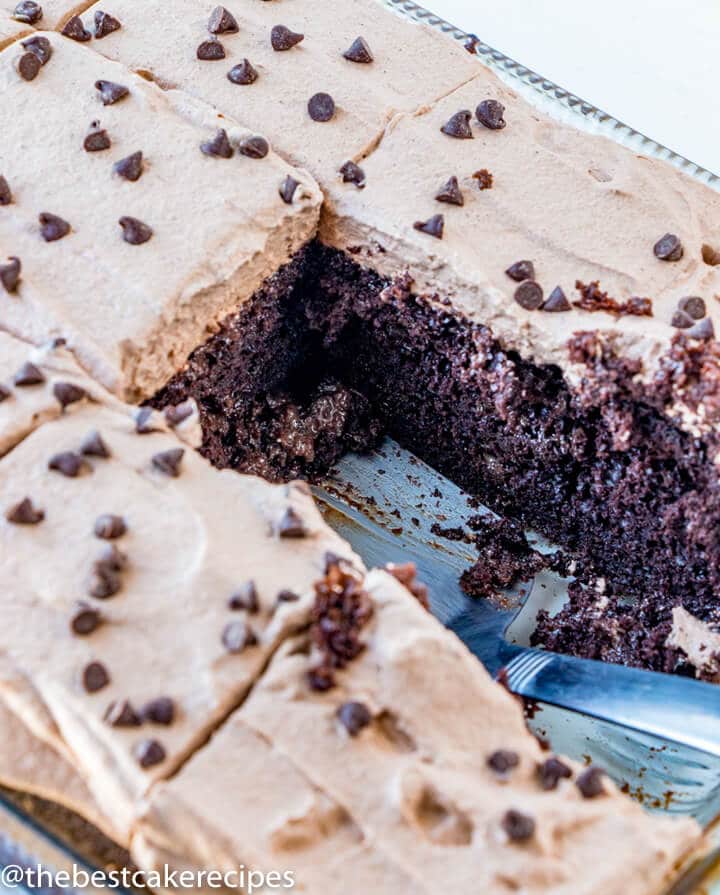 How to Make Whipped Cream Topping
1 cup powdered sugar
½ cup unsweetened cocoa powder
3 cups very cold heavy cream
You will want to refrigerate the bowl of a stand mixer for 10 minutes to get it cold. The colder, the better!
In another bowl, you will want to sift powdered sugar and cocoa powder together (my favorite part). Then, you will beat the cold heavy cream in the cold stand mixer bowl. You will use the whisk attachment for one minute.
Because you're making chocolate whipped cream, don't forget the cocoa mixture. Put half of the cocoa/sugar mixture in the bowl and beat until it's fluffy. You'll then want to add the remaining part. Continue to beat until soft peaks form and the mixture is spreadable. It should be fluffy and light.
I think you will love the chocolate spin on this whipped cream. Sure, white whipped cream seems to be a favorite, but that's because they haven't tasted this amazing concoction.
WHAT EVENT WOULD YOU SERVE THIS CAKE AT?
You can serve this cake ANYTIME or anywhere. I, however, prefer to serve this cake at birthday parties. I love having this cake at my personal birthday party. You may find that your family enjoys it too.
It's also perfect for Cinco de Mayo!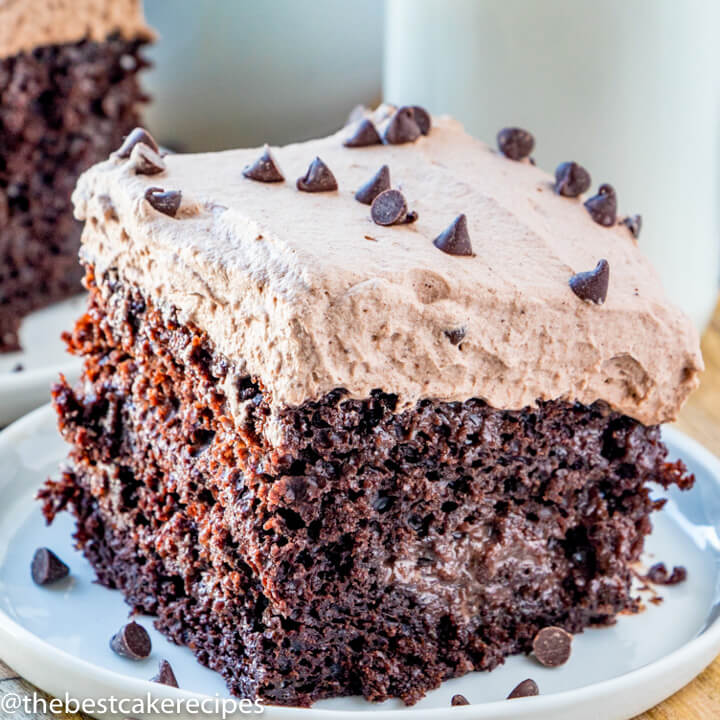 SHOULD TRES LECHE CAKE BE SERVED COLD?
Another reason I love this cake is because you can make it a few days in advance. In fact, the longer it sits, the better! As the milk sits in the fridge overnight, it will soak up some of that yummy milk that was poured on top.
As you store the cake, keep this in mind. You can add the whipped cream at that time, or you can add it to the cake, right before you serve it. I think it's delicious either way! I prefer to have fresh whipped cream on mine, but you can serve it how you like it.
HOW LONG WILL Tres Leches CAKE LAST?
When we make a cake, so much time and effort goes into it. I like knowing that the cake is going to last a while. With this Chocolate Tres Leches Cake, it can last up to 4-5 days in the fridge, which is GREAT.
I personally would recommend that you consume it within 48 hours. You could always try freezing the leftover cake to see if that helps you enjoy it longer. This tip will especially work for those who don't have a lot of people in their family. Around here, this cake is gone within the first 24 hours.
CAN YOU FREEZE A TRES LECHE CAKE?
Something interesting that you may be thinking about, as you decide to make this cake or not is, can you freeze it? You can freeze this cake up to three months in the freezer, which is nice.
Once you freeze it, you'll want to pull it out and THEN top it with the whipped cream. Making whipped cream is actually really easy.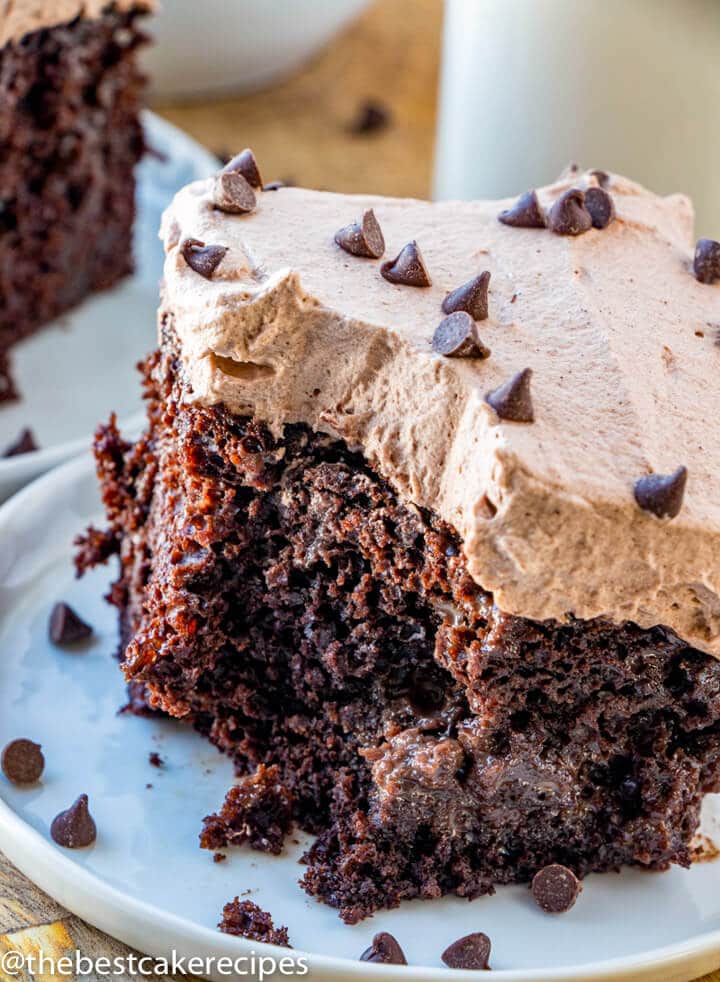 WHAT KIND OF DRINK GOES WITH TRES LECHES CAKE?
Personally, tres leches cake is best served with a warm cup of black coffee. Since this cake is served cold, I like sipping on the coffee, while enjoying the sweetness of the cake.
Of course, you can also drink anything you'd like. Hot cocoa? A cold glass of milk? Whatever you choose!
OTHER CHOCOLATE Cake RECIPES TO TRY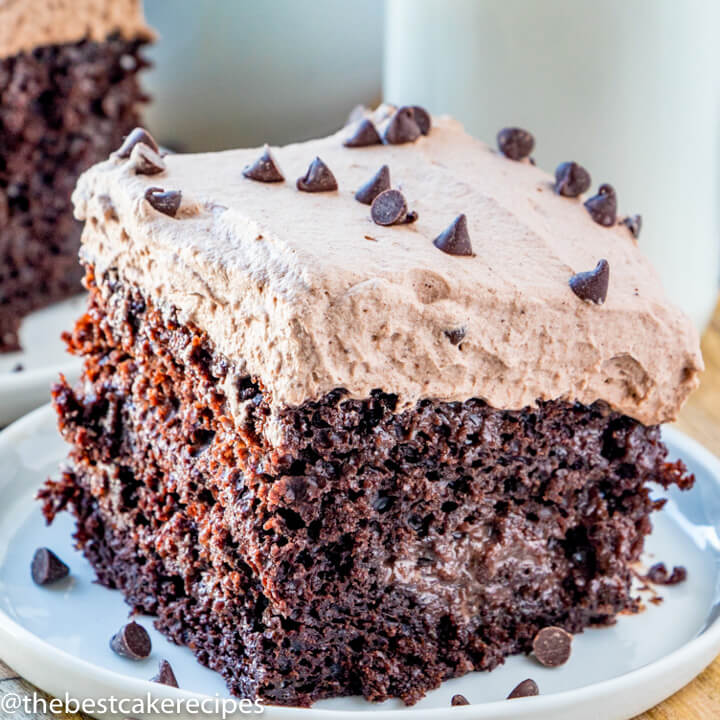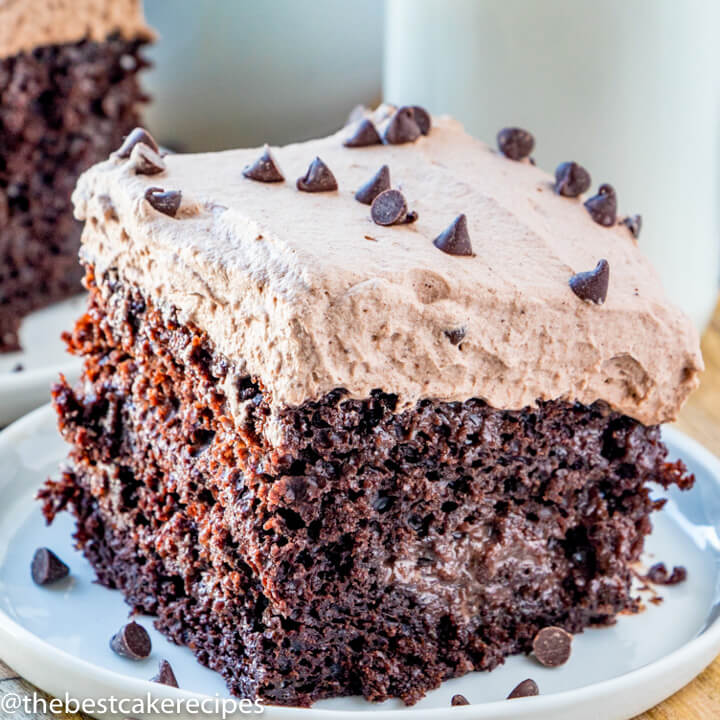 Chocolate Tres Leches Cake
---
Instructions
Make the Cake:
Preheat oven to 350 degrees.

Spray a 9×13 baking pan with cooking spray.

For the cake, put flour, sugar, cocoa, baking powder, baking soda and salt in a bowl and mix well.

In a stand mixer, mix the buttermilk, oil, eggs, vanilla together. Slowly add in the mix of dry ingredients while the mixer is on low. Add the coffee and make sure everything is combined. The batter will be very thin.

Pour the batter into the prepared pan and bake for about 30-35 minutes or until the center of the cake springs back when you touch it.

While the cake is still warm, poke lots of holes all over the cake with a small skewer or a fork.
Make the filling:
Whisk sweetened condensed milk, half-and-half, evaporated milk, and 3 tablespoons cocoa powder together in a bowl. The cocoa may not completely dissolve, but whisk until it is mostly incorporated.

Slowly pour the milk mixture evenly over the warm cake.

Allow the cake to cool completely.
Make the Whipped Cream Topping:
*Refrigerate the bowl of a stand mixer for 10 minutes to get it cold.*

Sift the powdered sugar and cocoa powder together.

Beat the cold heavy cream in the cold stand mixer bowl using the whisk attachment for 1 minute.

Add half of the sugar/cocoa powder mixture. Beat until it is fully mixed in, then add the remaining sugar mixture.

Continue to beat until soft peaks form and the mixture is spreadable. It should be fluffy and light.
Assemble the cake:
Spread the chocolate whipped cream on the cooled cake.

Drizzle with chocolate syrup or sprinkle with mini chocolate chips.

Store in an airtight container in the refrigerator.
Notes
The calories shown are based on the cake being cut into 15 pieces, with 1 serving being 1 slice of cake. Since different brands of ingredients have different nutritional information, the calories shown are just an estimate. **We are not dietitians and recommend you seek a nutritionist for exact nutritional information.**
Nutrition
Calories:
563
kcal
|
Carbohydrates:
65
g
|
Protein:
8
g
|
Fat:
32
g
|
Saturated Fat:
15
g
|
Cholesterol:
112
mg
|
Sodium:
401
mg
|
Potassium:
387
mg
|
Fiber:
3
g
|
Sugar:
47
g
|
Vitamin A:
910
IU
|
Vitamin C:
1.3
mg
|
Calcium:
199
mg
|
Iron:
2.1
mg