From scratch coconut cake recipe with homemade coconut cream frosting. Hints for making a fluffy white cake with an excellent vanilla coconut flavor.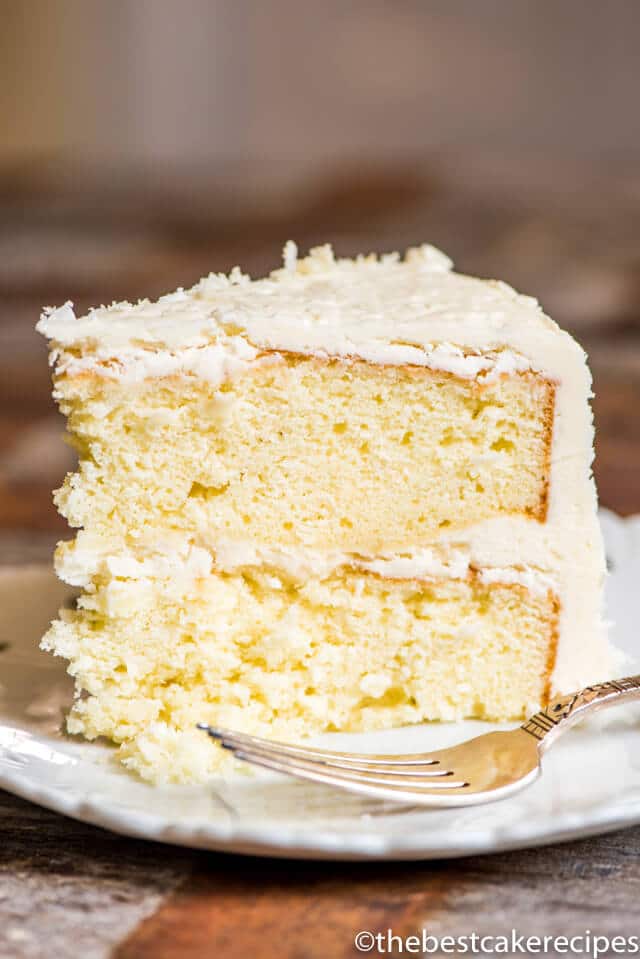 Coconut cake is one of our most requested recipes and today we're delivering hints on how to make coconut cake from scratch. A delicious homemade coconut cream cake with coconut frosting. It's a tall, white cake with an excellent flavor. If you have someone in your life who loves coconut, this cake recipe is what you need.
How to Make Coconut Cake From Scratch
This cake recipe starts with a few key ingredients: cake flour, eggs, butter and shredded coconut.
It's important to use cake flour for this recipe. If you like to bake cakes from scratch, go ahead and treat yourself to some cake flour. It's easy to use and you'll end up with a lighter texture to your cake. If you 100% don't want to buy cake flour, take a cup of all-purpose flour and remove two tablespoons of flour. Add two tablespoons of cornstarch back into the flour. That equals cake flour!
Note that this recipe calls for separated eggs. You'll start by whipping the egg whites and then set them aside. Those will get folded in at the end. The egg yolks get beat in with the butter and sugar combination.
The original recipe (from this awesome cookbook) called for shortening. Many old fashioned recipes call for shortening, which often equals a more tender, light crumb texture. Because so many people try to stay away from shortening, we substituted butter for the shortening with no problems at all. Butter = more flavor. Shortening = slightly improved texture. Choose whichever you'd like!
The last important ingredient is shredded coconut, obviously since this is coconut cake. We used sweetened shredded coconut, but if you have naturally shredded coconut, that would be just fine to use, too.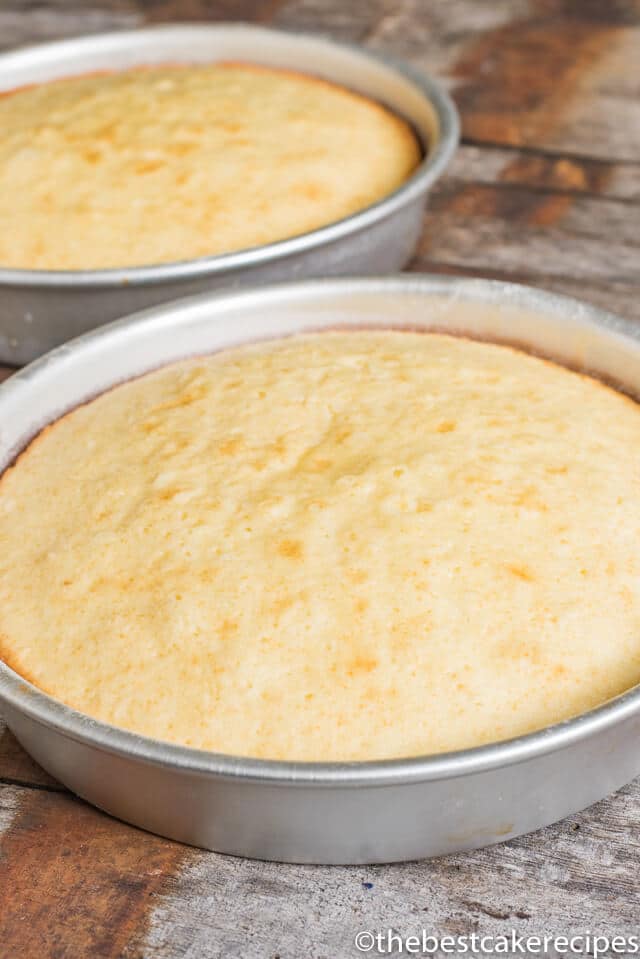 How to Make Coconut Buttercream
While the cake is baking, prepare the coconut frosting. This is a basic buttercream recipe and shouldn't give you much trouble. We like to beat the butter until it is nearly white, which will take 1-2 minutes using a stand mixer.
Then add in the extract (we like to use vanilla, but feel free to use coconut extract for an extra boost of coconut flavor), powdered sugar and heavy cream. You may have to add a tablespoon or two of additional heavy cream to make the frosting to the consistency you'd like. Just be careful to add it slowly, beating in between additions so you don't end up with frosting that is too wet.
One question that we often get asked…. Do you use the beater blade or a whisk for making frosting? Either one will work. The whisk will beat in more air to make a lighter frosting. The beater blade will make a creamier frosting.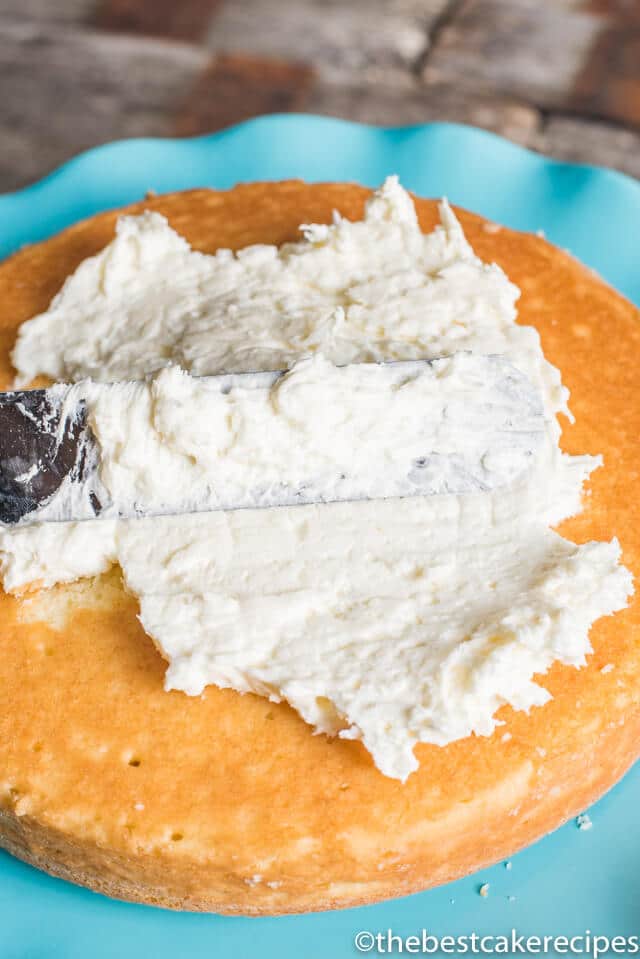 The Best Coconut Cake Recipe
And that my friends, is an easy coconut cake recipe that we know you can handle. 100% fresh. 100% from scratch. If you give this a try, share your pictures on our Facebook page or on Instagram with the hashtag #bestcakerecipes. We love seeing your creations!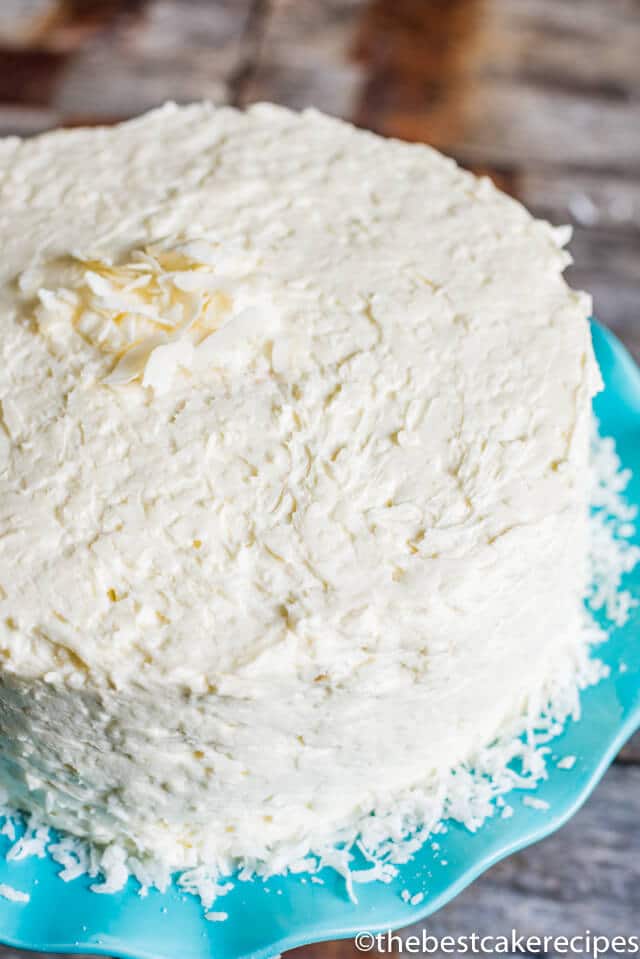 Tools for Making Coconut Cake
Stand Mixer: A hand mixer will work, but I always find it easier to make frostings with a stand mixer.
Cake Flour:A must-have for anyone who loves to bake from scratch.
Beater Blade with Scraper: The best invention ever!
Grated Coconut: One of my favorite brands.
Coconut Extract: Use this in the frosting AND in the cake for a double punch of coconut.
Cake Spatula: To get that frosting nice and smooth.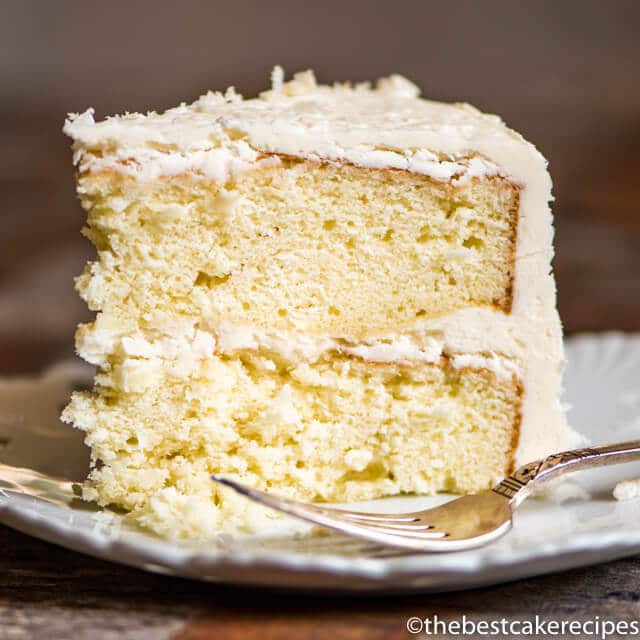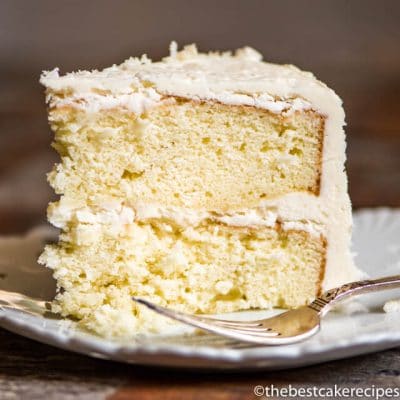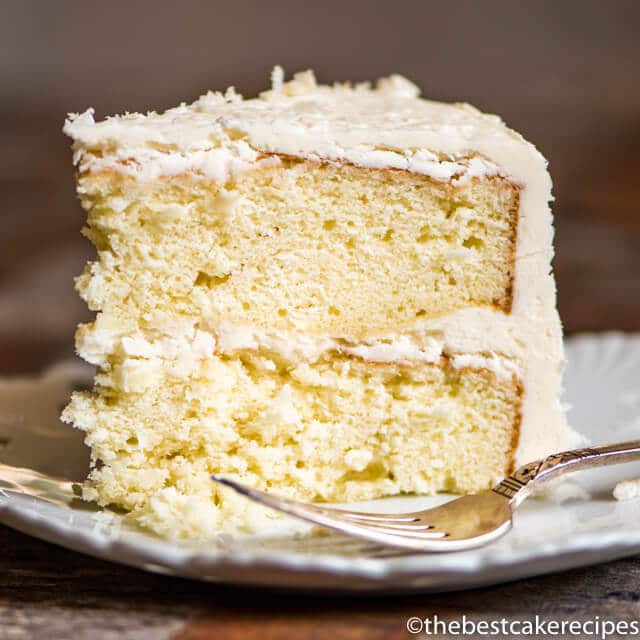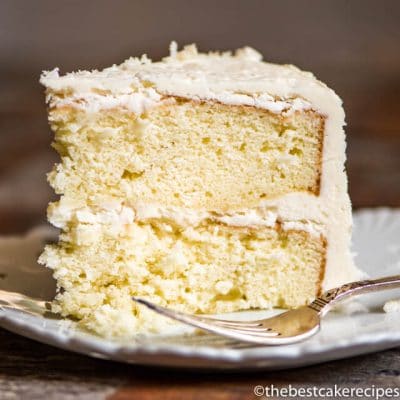 Coconut Cake
From scratch coconut cake recipe with homemade coconut cream frosting. Hints for making a fluffy white cake with an excellent vanilla coconut flavor.
---
Ingredients
For the Coconut Buttercream:
Instructions
Make the Cake:
Preheat oven to 350 degrees.

In the bowl of a stand mixer, beat the egg whites only using the whisk attachment on medium-high speed until the eggs are frothed and hold stiff peaks.

Transfer the eggs to a separate bowl.

In the same stand mixer bowl using the beater blade attachment, cream the butter and sugar.

Add the egg yolks and continue to beat.

In a medium bowl, whisk together the cake flour, salt and baking powder.

Add the dry ingredients alternately with the milk and vanilla extract, beating thoroughly after each addition. Scrape the sides of the bowl as needed.

Gently fold in the coconut and stiffly beaten egg whites until the egg whites are completely incorporated.

Grease and flour two 9" round cake pans.

Divide the batter equally between the two cake pans.

Bake at 350 degrees for 30 minutes or until the center of the cake bounces back when you touch it.

Cool for 10 minutes then turn the cakes out onto a wire rack to cool completely.
Make the Coconut Buttercream:
In the bowl of a stand mixer, beat the butter for 1-2 minutes until it is almost white in appearance.

Add in the coconut extract and mix again.

Add the powdered sugar, 1 cup at a time, alternating with the heavy cream and mixing well as you go. Add in enough heavy cream to get a good spreading or piping consistency.

Mix in the shredded coconut just until combined.
Assemble the Cake:
Place one cake layer on a cake plate. Frost the top.

Place the second cake layer on top of the frosted cake.

Cover the sides and top of the cake with the coconut buttercream.

Decorate with additional coconut if desired. Be sure to do this before the frosting sets.

Store at room temperature until serving. Store leftovers in a airtight container in the refrigerator.
Nutrition
Calories:
757
kcal
|
Carbohydrates:
96
g
|
Protein:
6
g
|
Fat:
40
g
|
Saturated Fat:
26
g
|
Cholesterol:
138
mg
|
Sodium:
395
mg
|
Potassium:
197
mg
|
Fiber:
1
g
|
Sugar:
74
g
|
Vitamin A:
1100
IU
|
Vitamin C:
0.1
mg
|
Calcium:
73
mg
|
Iron:
0.9
mg