Coconut Cream Pudding Cake
Hiding in this from-scratch chocolate bundt cake is a tunnel of coconut cream pudding. This Coconut Cream Pudding Cake with simple chocolate drizzle makes a beautiful dessert cake presentation.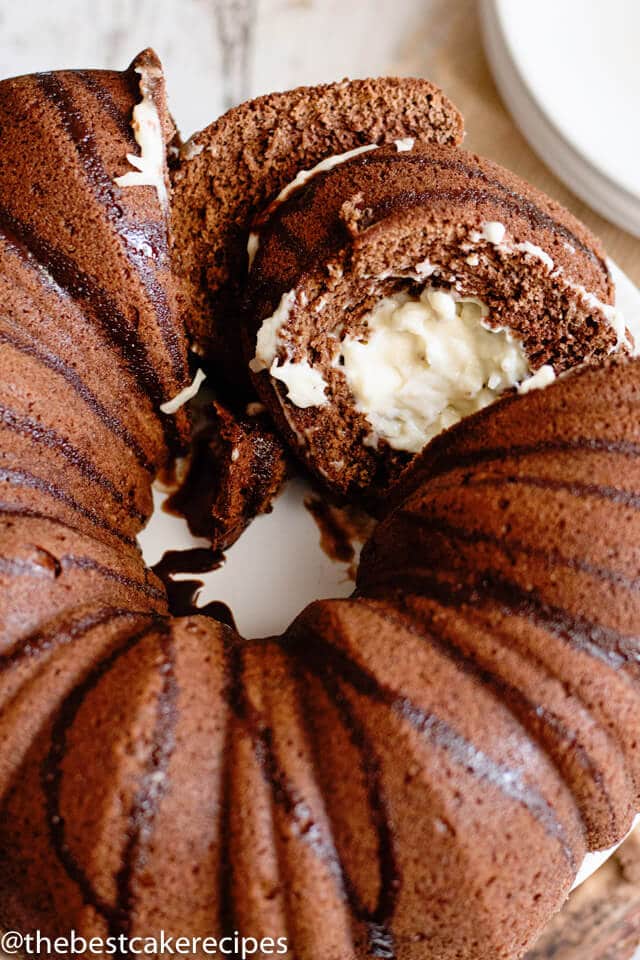 Coconut Cream Pudding Cake
If there's one thing my husband loves, it's pudding. It's a dessert I can leave behind, but pudding has his top vote every single time. What makes pudding better? Cake. Pudding baked inside cake. And for my husband, that had to be coconut pudding. It's like an Mounds bar cake!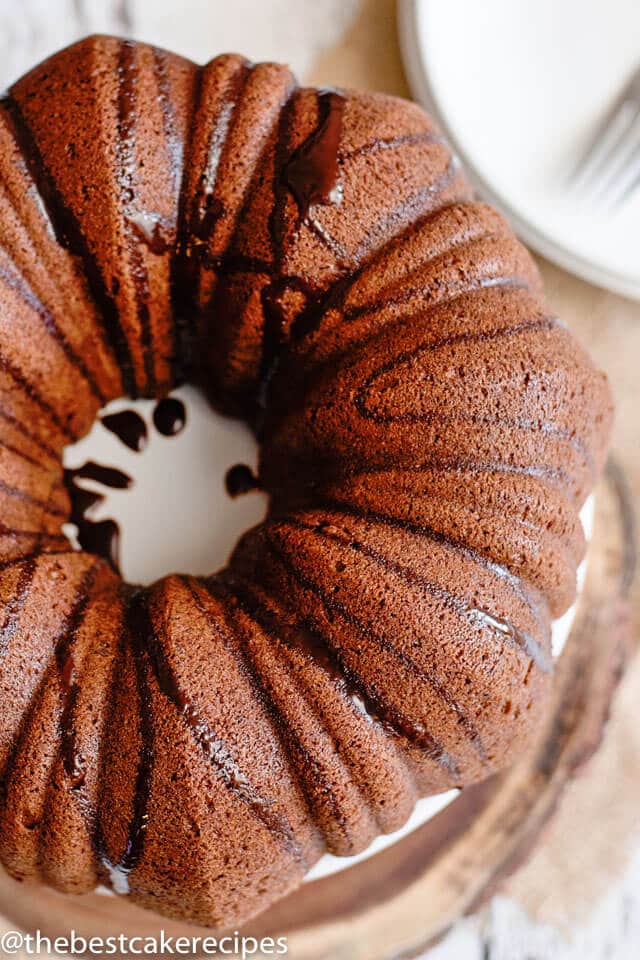 Chocolate Bundt Cake
Bundt cakes always win for the prettiest desserts. There are so many bundt cake pans out there with gorgeous designs. If I only had a place to store one of each! This cake shows the classic bundt cake shape and is made from scratch. Don't let "from-scratch" scare you off. This is a one bowl, throw everything in and mix type of cake. Easy as can be.
Chocolate Cake with Melted Chocolate
This cake gets its chocolate flavor from unsweetened melted chocolate instead of cocoa powder. I normally keep unsweetened baking chocolate squares in my cupboard, but if you don't there's a substitution! To replace melted chocolate for cocoa powder, here's the ratio (according to this source):
One ounce of unsweetened chocolate = 3 tablespoons of cocoa powder plus 1 tablespoon butter, shortening or oil.
So this recipe would need 9 tablespoons of cocoa powder and 3 tablespoons of butter (or shortening or oil if you prefer).
I have *not* tried this substitution in this cake recipe and highly recommend using melted chocolate. But if you're in a pinch, this is an option!
Tunnel Cake
What is a tunnel cake?
Tunnel cakes are sneaky, but so fun! They look like a traditional cake on the outside, but cut it open and it is party on the inside!
Tunnel cakes can be filled with creamy pudding, jelly, custard…or even frosting. They also make great gender reveal cakes since the color is hidden inside!
Coconut Cream Filling
This coconut cream filling uses a shortcut of boxed pudding mix. I recommend using coconut cream pudding, but you can use vanilla if you can't find coconut. What makes it even faster? Buy pre-made refrigerated pudding cups. Super easy!
Add some shredded coconut and almond extract for a boost of flavor. If you'd like, you can leave the almond extract out and keep all of the flavor on the coconut.
How to Serve the Coconut Cake
This cake is delicious served warm. The amount of pudding inside will make it a "messier" cake if you decide to cut into it when it is warm. With the full two cups of pudding, it will have to cool at least 2 hours in the pan before you remove it to a plate. Then it should cool for an additional 2-3 hours before slicing.
If you'd like to serve the cake warm and make cleaner slices, use only half of the pudding filling and allow the cake to cool at least 1 hour before serving.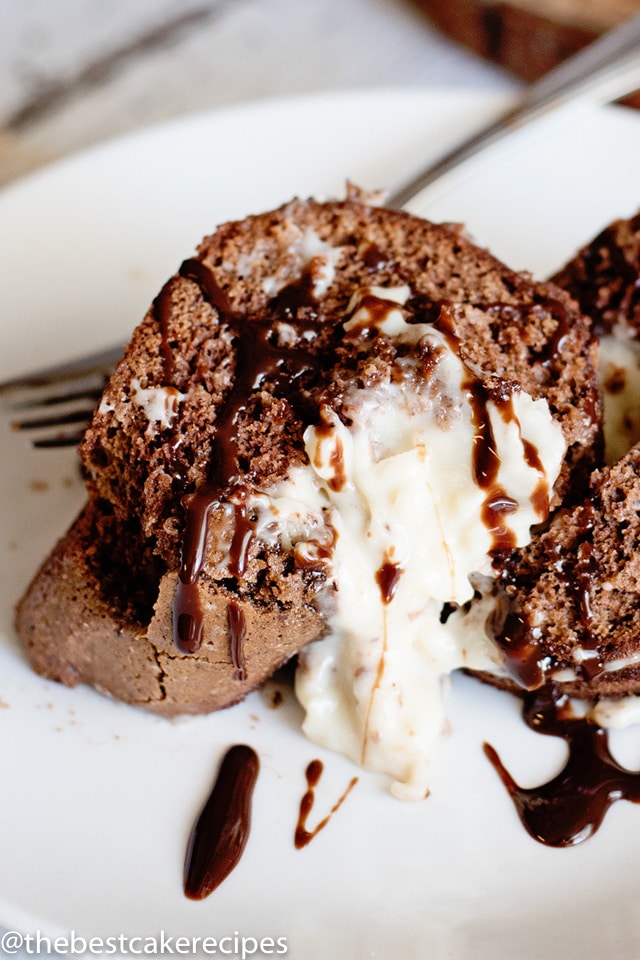 Tools to Make this Bundt Cake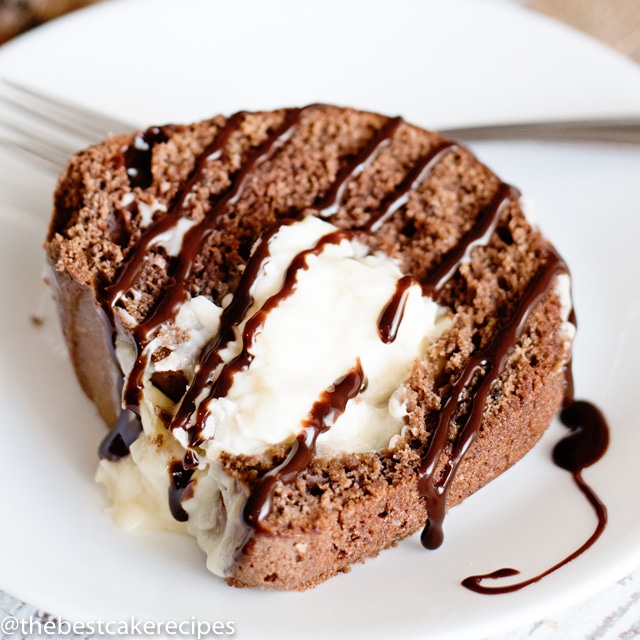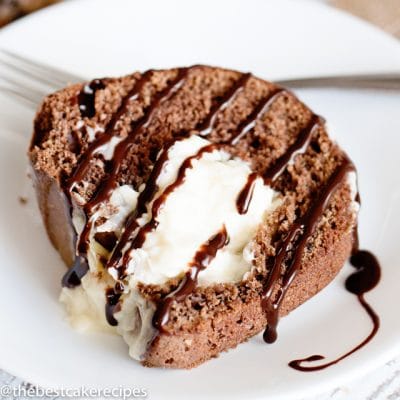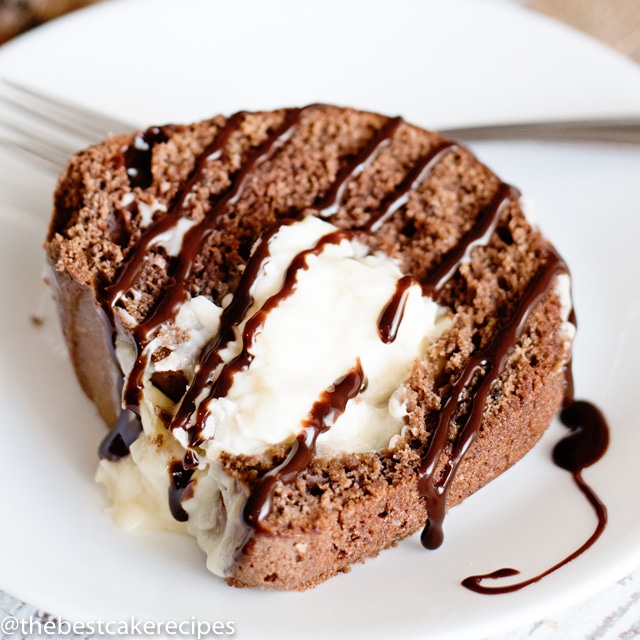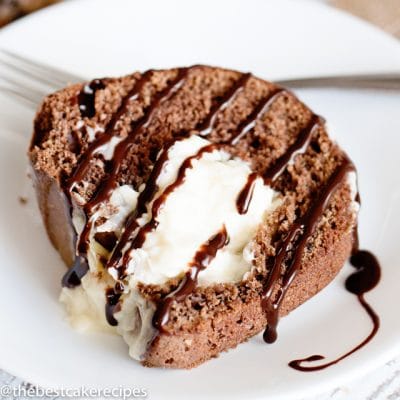 Coconut Cream Pudding Cake
Hiding in this from-scratch chocolate bundt cake is a tunnel of coconut cream pudding.
Total Time
1

hour
8

minutes
---
Ingredients
Chocolate syrup for drizzling (optional)
Instructions
Generously grease a 10" bundt cake pan with shortening and then dust it with flour. Set aside.

Preheat the oven to 350 degrees.

In the bowl of a stand mixer, add all of the ingredients for the chocolate cake. Blend at low speed just until moistened.

Blend at medium speed for 3 minutes, scraping the sides of the bowl as needed.

Pour the batter into the greased and floured bundt pan.

In a small bowl, mix together the prepared pudding, coconut and almond extract.

Spoon the pudding onto the batter, around the center of the cake. Be careful to keep the pudding in the center so that the pudding is not touching the sides.

Bake for 45-50 minutes (our cake took 48 minutes). You can test that the cake is done by touching the top center of the cake. It should spring back when you touch it.

Allow the cake to cool for two hours in the pan, then turn it out onto a cake plate to cool completely.

This cake cuts best when it is completely cooled.

If desired, drizzle the top of the cake with chocolate syrup or even melted chocolate.

Store the cake in the refrigerator.

Notes
*The calories shown are based on the cake being cut into 12 pieces, with 1 serving being 1 slice of cake. Since different brands of ingredients have different nutritional information, the calories shown are just an estimate.
*If you'd like less pudding inside the cake, feel free to cut the filling ingredients in half. This will allow the pudding to fully sink into the cake and the cake will be easier to cut.
Nutrition
Calories:
294
kcal
|
Carbohydrates:
49
g
|
Protein:
4
g
|
Fat:
9
g
|
Saturated Fat:
5
g
|
Cholesterol:
40
mg
|
Sodium:
250
mg
|
Potassium:
147
mg
|
Fiber:
1
g
|
Sugar:
30
g
|
Vitamin A:
165
IU
|
Vitamin C:
0.2
mg
|
Calcium:
36
mg
|
Iron:
2.5
mg