This Dutch butter cake is a sweet, buttery cake with a wonderful sugar cookie-like texture. Top with whipped cream and sliced almonds for a perfect treat!
Dutch butter cake is a traditional dessert for many families. Serve this after any special meal, or enjoy with a cup of tea in the afternoon just because. It's quick. It's easy…and the flavor is comforting.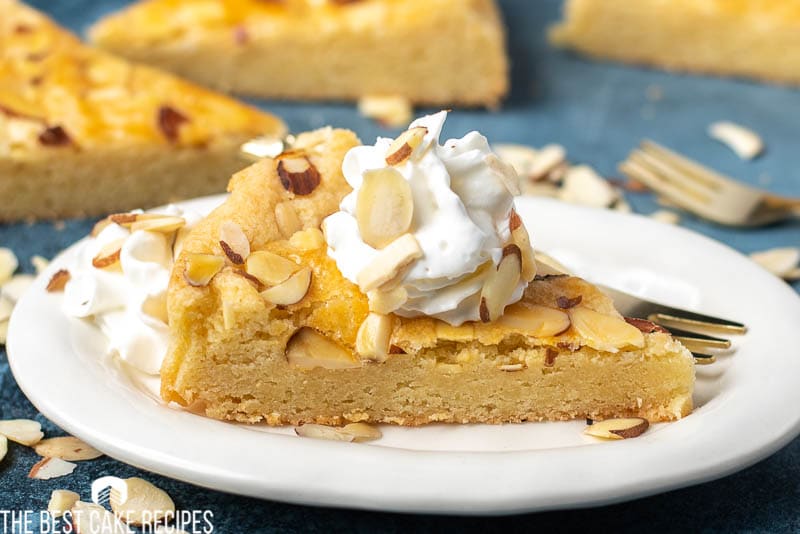 What is Dutch Butter Cake?
This simple cake we call "Dutch Butter Cake" is known as Boterkoek in Holland. It is an all-time favorite cake of Dutch people.
The cake is really quite simple, usually consisting of just butter, sugar, egg, and flour with flavorings such as almond, vanilla, or even lemon zest. It is cut and served in thin wedges or small squares as it is a rich cake. You'll find the butter cake to be both moist and dense, like a sugar cookie texture.
The Ingredients
Here is what you'll need to make Boterkoek:
Butter
Granulated sugar
Egg
Almond extract
All-purpose flour
Baking powder
Sliced almonds
Steps to Make Dutch Butter Cake
This cake is a one bowl cake that you can mix up quickly. No special techniques, no refrigerating…just quick and easy. Only about 10 minutes til it is ready for the oven!
Beat the butter and sugar together until creamy. Beat the egg in a bowl and reserve a tablespoon to brush on the cake later. 
Add the egg to the sugar and flour, mixing well. Stir in the almond extract, then add the flour and baking powder; mix until combined.
Press the cake batter into 8-inch round cake pans lined with parchment paper. Sprinkle with sliced almonds and brush with the reserved egg.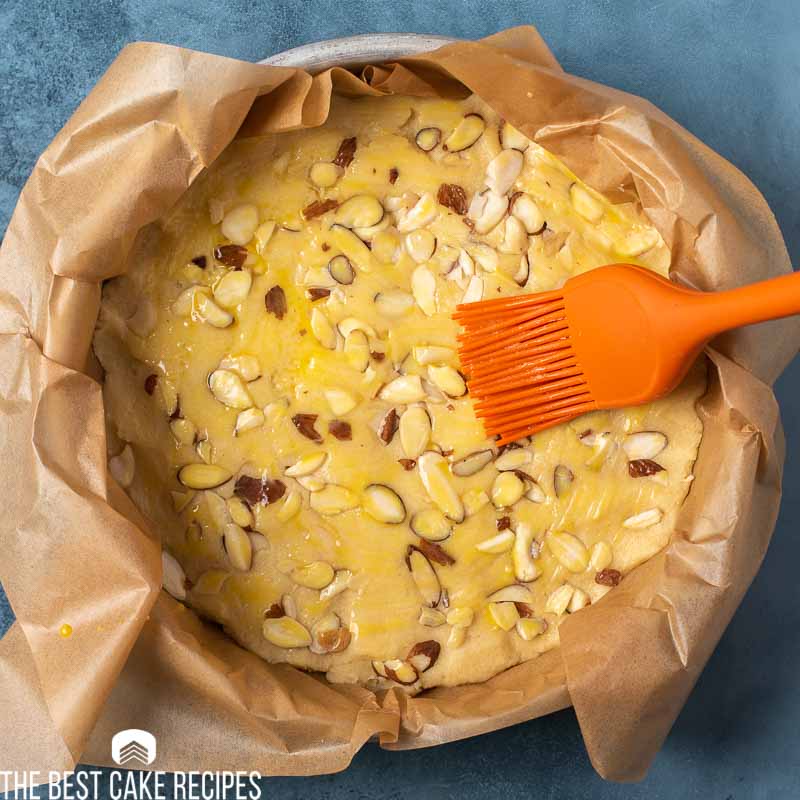 Bake at 350º Fahrenheit for 27 minutes, just until golden brown on top.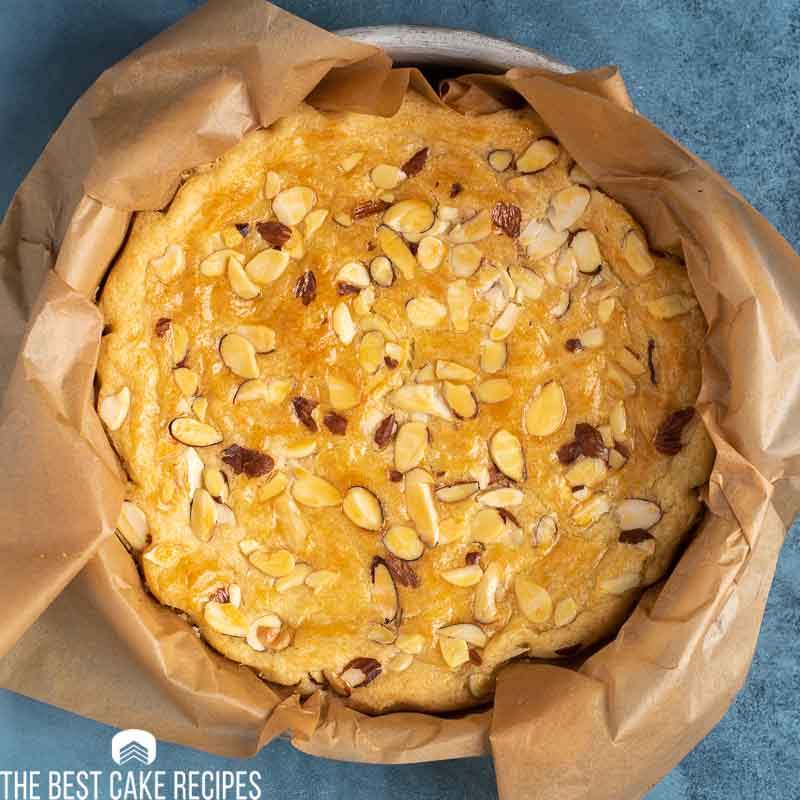 The parchment paper makes it easy to lift the cake out of the pan so that you can cut it evenly. Slice the cake into pie wedges to serve. Or if you want smaller pieces, cut the cake in small squares.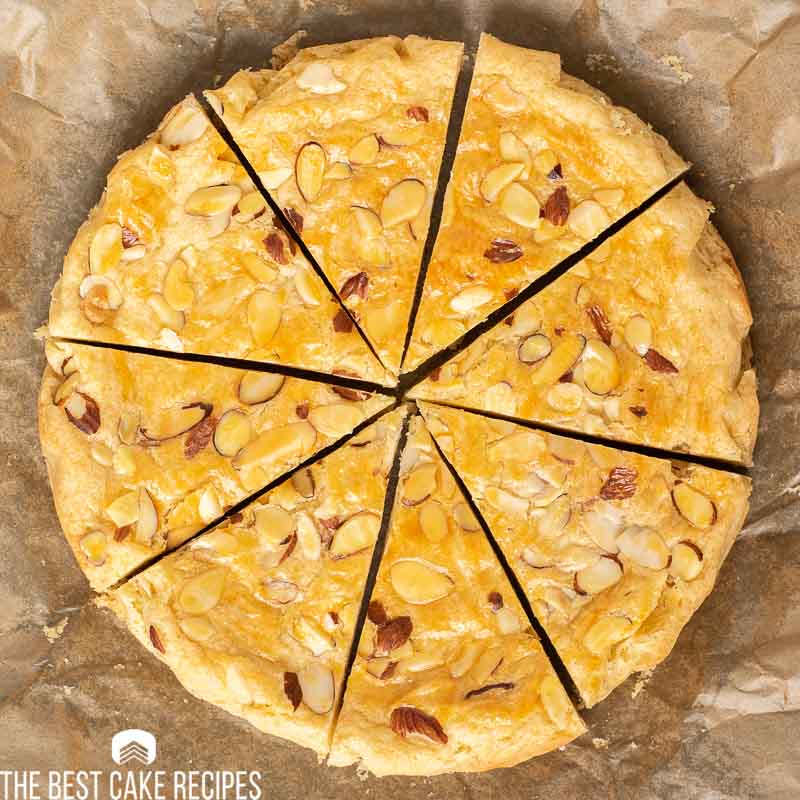 Make Ahead Dessert
Dutch Butter Cake is best served cooled and is absolutely delicious the next day. You can certainly eat it warm from the oven (because freshly baked cake is always a good idea) and it will be great, but do also try it the next day to taste the difference in the texture and flavor. It's a great make ahead dessert when busy holiday seasons roll around.
Do I have to use almond extract?
There are some people who do not like almond extract. If that is you, it might be best to still try the cake using the almond extract. It's a really nice flavor for the cake! 
However, if you want to steer away from the traditional almond flavoring, try adding half the amount called for or substituting with vanilla extract.
In fact, you could use coconut flavor, rum flavor, butter flavor…whatever flavor you'd like!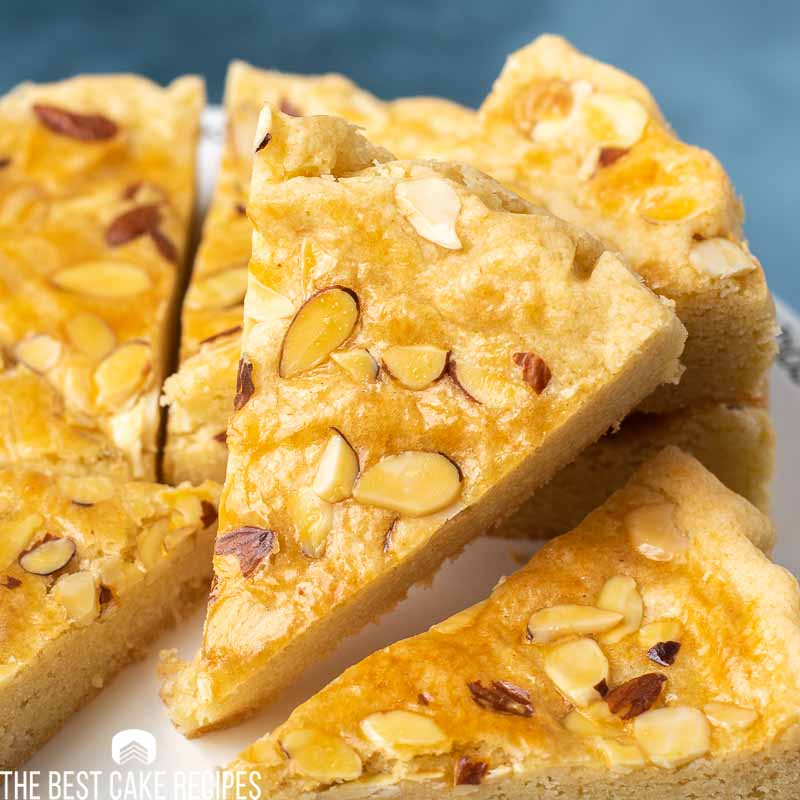 What should I serve with the butter cake?
Dutch butter cake is most certainly delicious with a mug of hot coffee or tea, but here are a few other ideas:
Powdered sugar. Dust the cake with powdered sugar before serving.
Fresh berries. Sweet raspberries and black berries would be so perfect with this cake!
Whipped cream. Top the cake with a dollop of whipped cream before serving.
Sliced almonds. Sprinkle some extra sliced almonds over the cake to enjoy some extra crunch.
Berry jam. Warm your favorite seedless berry jam, such as raspberry, and drizzle it over the cake slices.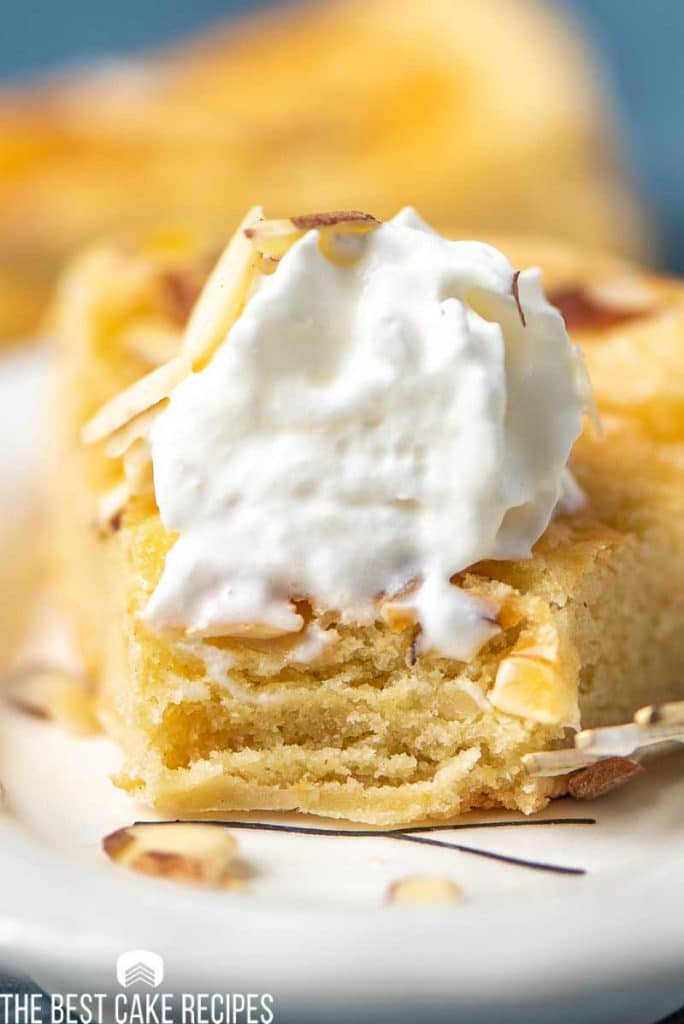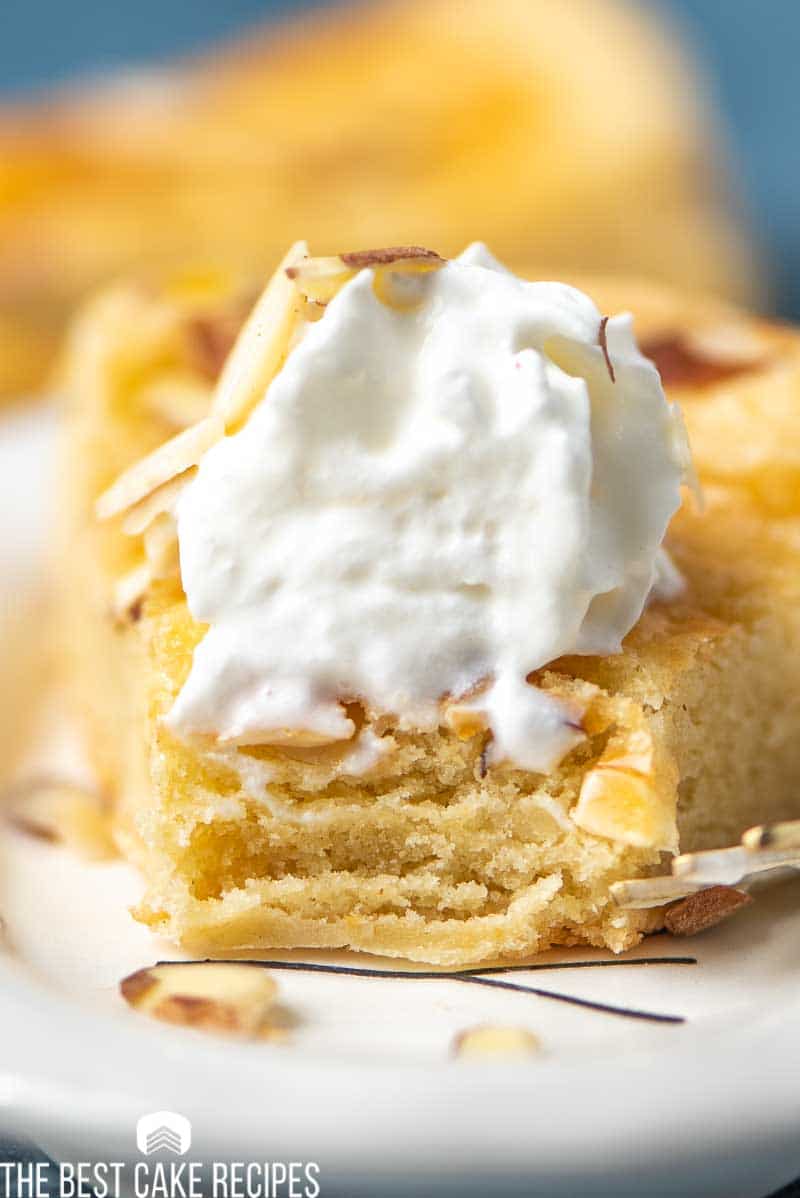 Can I double the recipe?
This recipe is nice because it makes just one small round cake. If you'd like, you can easily double the recipe to make two round cakes, or bake all of the batter in one 9×13 baking pan. Watch the time closely. It may take extra time to bake, but you want to be sure not to overcook the cake.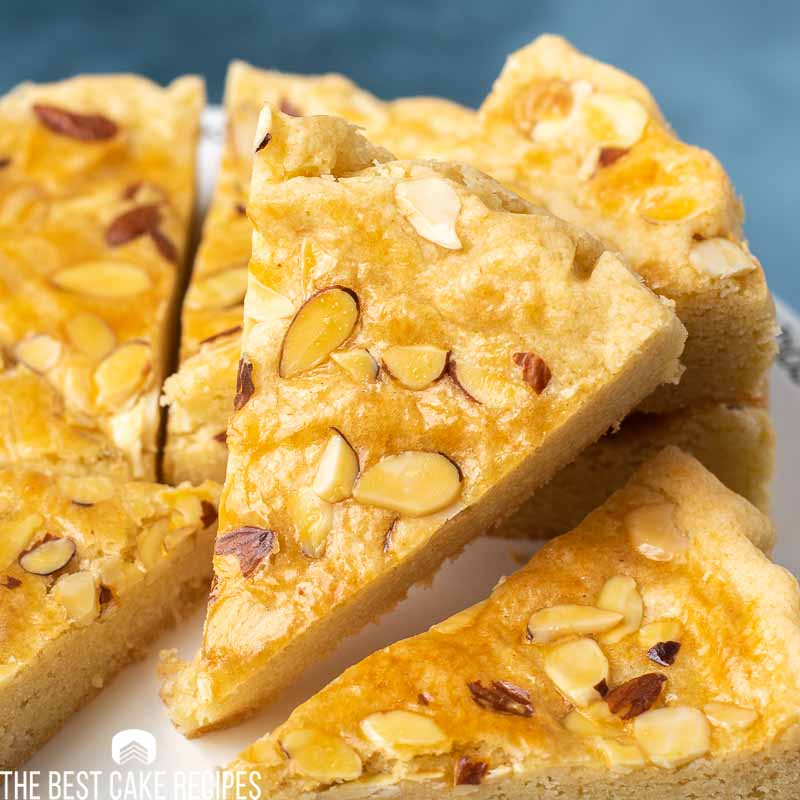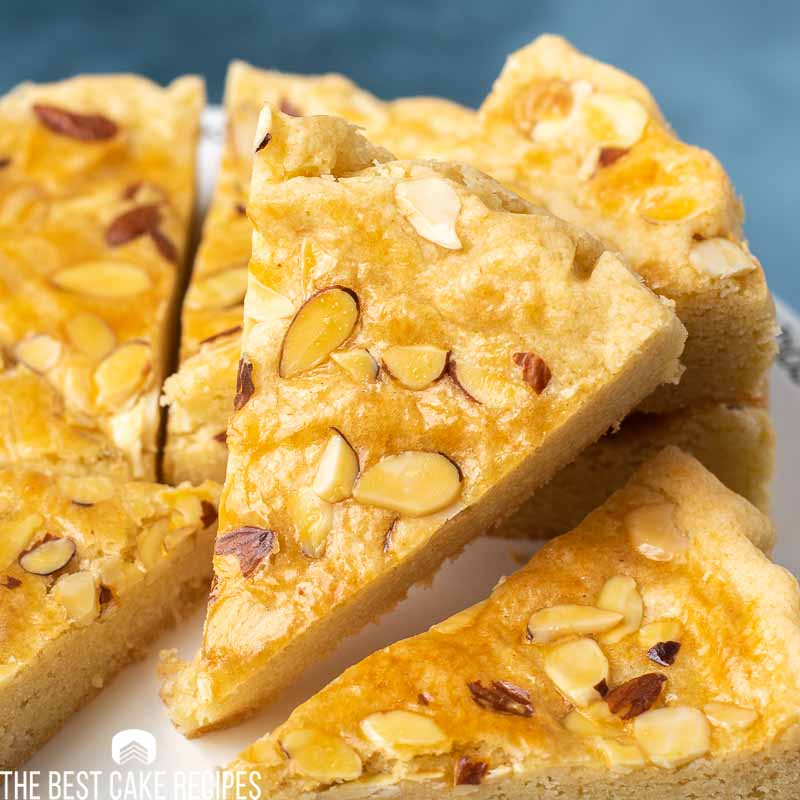 Dutch Butter Cake
An easy, one bowl cake with rich butter flavor. Traditional Dutch butter cake is best served the next day!
---
Ingredients
1/2

cup

butter

(softened)

3/4

cups

white sugar

1

large

egg

(beaten)

1

teaspoon

almond extract

1 1/4

cups

all-purpose flour

1

teaspoons

baking powder

¼

cup

sliced almonds
Instructions
Preheat the oven to 350º Fahrenheit.

Line an 8" round cake pan with parchment paper.

In a large bowl, use an electric mixer to beat butter and sugar until light and fluffy, scraping the sides of the bowl as needed.

Beat the egg lightly with a whisk. Add the egg, but reserve about a tablespoon of egg to brush over the top of the cake. Mix the remaining egg into the butter mixture.

Mix in the almond extract.

Add in the flour and baking powder. Mix just until combined. The dough will be stiff like sugar cookie dough.

Press evenly into the prepared pan.

Sprinkle with sliced almonds, then gently press them into the top of the cake with the palms of your hands.

Brush the tops with a thin layer of the reserved egg.

Bake in the preheated oven for about 27 minutes, or until the top is golden brown. Do not overbake!

Allow the cake to cool completely.

Although the cake is good warm from the oven, the flavors are best if you serve the cake the next day. Slice into wedges to serve.

Store leftovers in an airtight container.
Notes
This is a traditional Dutch Boterkoek.

It is great warm, but best if you let it sit for a day.

This cake freezes well for up to 2 months.

For the best texture, do not overbake.

You can double the recipe and bake in a 9×13 pan. It may take just a few minutes longer. 

You can also bake the single recipe in an 8×8 pan for the same amount of time
The calories shown are based on the cake being cut into 8 pieces, with 1 serving being 1 slice of cake. Since different brands of ingredients have different nutritional information, the calories shown are just an estimate. **We are not dietitians and recommend you seek a nutritionist for exact nutritional information.**
Nutrition
Calories:
277
kcal
|
Carbohydrates:
35
g
|
Protein:
4
g
|
Fat:
14
g
|
Saturated Fat:
8
g
|
Cholesterol:
57
mg
|
Sodium:
112
mg
|
Potassium:
105
mg
|
Fiber:
1
g
|
Sugar:
19
g
|
Vitamin A:
393
IU
|
Calcium:
41
mg
|
Iron:
1
mg