Traditional German chocolate cake recipe with dark chocolate cake, coconut pecan frosting and creamy buttercream. Make this cake as a sheet cake or as a layer cake.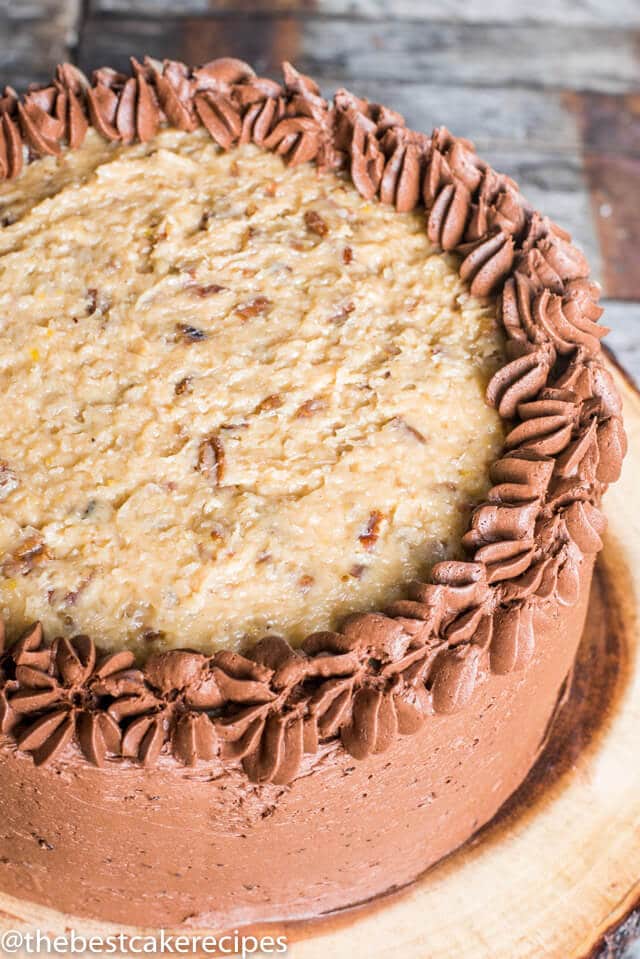 German Chocolate Cake Recipe
German chocolate cake is a classic. This version has three layers of chocolate cake, each topped with cooked coconut pecan frosting and then frosted on the outside with chocolate buttercream. Don't be fooled…this gorgeous cake is easier to make than you think. Let's walk through the steps.
Dark Chocolate Cake
This cake boasts three ultra-moist, chocolate cake layers with deep, rich chocolate flavor. This cake recipe is 100% from scratch but is one of the easiest cakes to make. I've never had it turn out poorly. It calls for coffee to enhance the chocolate flavor. Don't like coffee? Don't worry… you won't taste it in this cake. However, if you are set against using coffee, just use water. I highly recommend the coffee, though.
Buttermilk keeps this cake soft and helps it to rise. If you don't have buttermilk, simply add a tablespoon of vinegar into a measuring cup, then fill it the rest of the way with milk. Allow it to sit for a few minutes and voila…you have an easy substitute for buttermilk!
German Chocolate Cake Frosting
German chocolate cake traditionally has a classic coconut pecan icing. We explain how to make this frosting in detail right here. If you have have people who don't like coconut or large pieces of nuts, simply run the coconut through and nuts through the food processor to chop it a little more finely. My kids couldn't tell there was coconut in this cake!
German Chocolate Layer Cake
We show this cake batter divided between three 8″ cake pans for a smaller around, but taller cake. If you'd like two layers, use 9″ round cake pans. This will take about the same amount of time to bake.
How do you know when a cake is done baking? Touch the top center of the cake and if it springs back, it's done.
German Chocolate Sheet Cake
If you'd like, you can bake this cake in a 9×13 cake pan or sheet cake pan. A 9×13 cake will take a little longer to bake. Set the timer for 27 minutes and check it, adding more time as needed. If you bake it in a 9×13 pan, you can leave off the chocolate buttercream and just frost it with the coconut pecan icing. This will save on calories!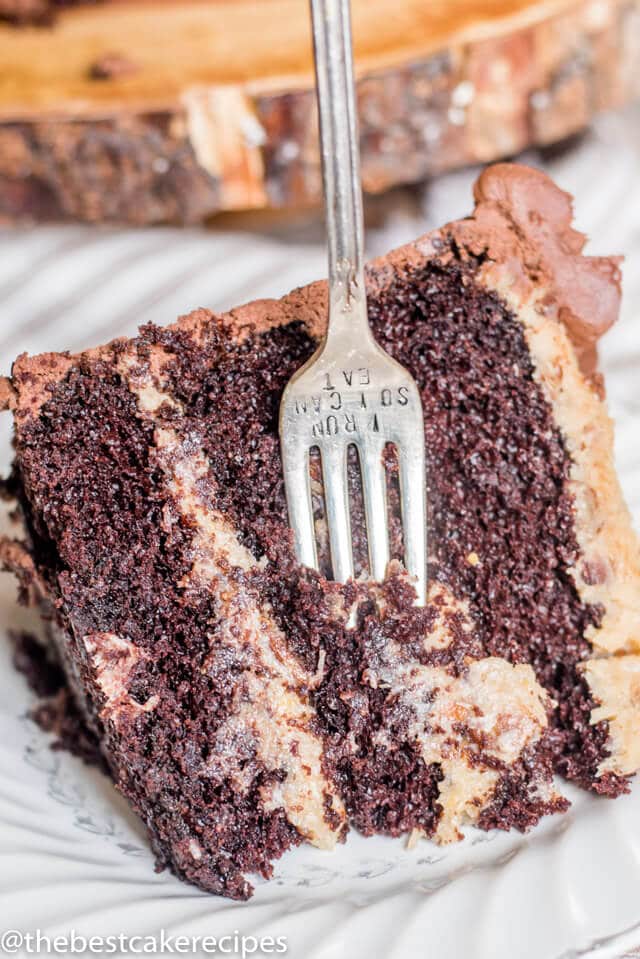 Tools to Make the Cake: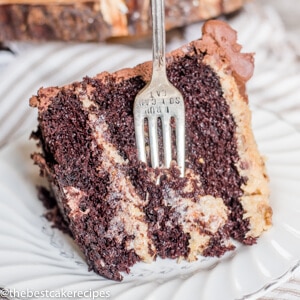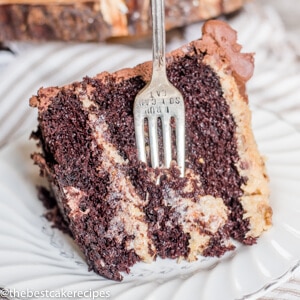 German Chocolate Cake
Traditional German chocolate cake recipe with dark chocolate cake, coconut pecan frosting and creamy buttercream. Make as a sheet cake or layer cake.
---
Ingredients
For the Coconut Pecan Frosting:
For the Chocolate Buttercream:
Instructions
For the Coconut Pecan Frosting:
Combine the cream, butter, sugar, egg yolks and vanilla in a medium saucepan.

Cook and stir the mixture over medium heat until it is thick (about 12-15 minutes).

Add the coconut and pecans. Mix well and allow to cool.

Once the mixture is at room temperature, beat the mixture for 2-3 minutes. Set aside.
For the Cake:
Preheat oven to 350 degrees. Grease and flour 3 round 8-inch cake pans.

For the cake, put flour, sugar, cocoa, baking powder, baking soda and salt in a bowl and mix well.

In a stand mixer, mix the buttermilk, oil, eggs, vanilla together. Slowly add in the mix of dry ingredients while the mixer is on low. Add the coffee and make sure everything is combined. The batter will be very thin.

Divide the batter between the prepared pans and bake for about 23-25 minutes or until a toothpick inserted in the middle comes out clean.

Allow the cakes to cool on a wire rack for 10 minutes. Turn the cakes out onto a cooling rack.
For the Buttercream:
In a stand mixer with the beater blade, beat the butter for 1-2 minutes until it is smooth, creamy and nearly white in appearance.

Add in the salt and vanilla. Mix until incorporated.

With the mixer on low speed, slowly add in the powdered sugar and cocoa powder.

Add the heavy cream, a tablespoon at a time, mixing slowly until it is the consistency that you'd like.

Beat for 1 minute on medium speed until smooth and creamy.
Assemble the Cake:
Frost the top each cooled cake layer with the coconut pecan frosting.

Stack the layers together. Then frost around the outside of the cake with chocolate buttercream.

Pipe stars using Wilton tip 1M on the top outer edge of the cake.

Store in an airtight container in the refrigerator.
Notes
The calories shown are based on the cake being cut into 12 pieces, with 1 serving being 1 slice of cake. Since different brands of ingredients have different nutritional information, the calories shown are just an estimate.
Nutrition
Calories:
926
kcal
|
Carbohydrates:
108
g
|
Protein:
7
g
|
Fat:
55
g
|
Saturated Fat:
26
g
|
Cholesterol:
174
mg
|
Sodium:
750
mg
|
Potassium:
326
mg
|
Fiber:
4
g
|
Sugar:
86
g
|
Vitamin A:
1220
IU
|
Vitamin C:
0.3
mg
|
Calcium:
93
mg
|
Iron:
2.8
mg