Rich, moist, gluten free vanilla cake is perfect for birthdays, showers and any celebration. Whipped egg whites help to keep this homemade white cake fluffy.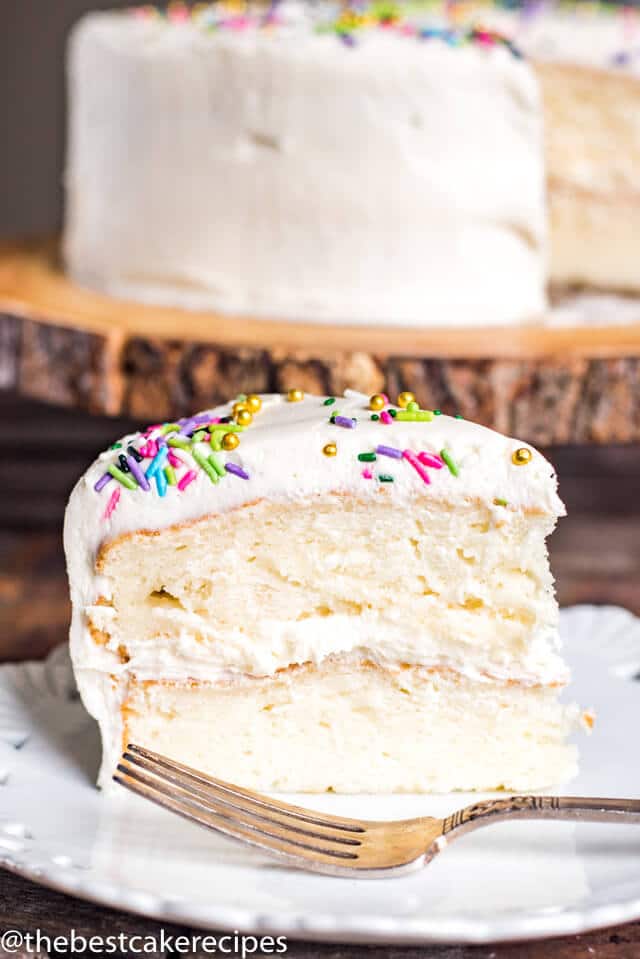 Gluten Free Cake Recipe
If you're looking for the best gluten free cake recipe, you've found it! This spongy cake holds it shape well, making it ideal for sheet cakes and layer cakes. You'll find the texture to be a delicious cross between traditional cake and a spongy angel food cake.
Gluten Free Birthday Cake
This cake is great for layering, making it the perfect cake for birthdays, showers and other celebrations and holidays.
Moist Gluten Free Cake
This gluten free cake is not dry and crumbly. It is a rather moist, tender cake with a soft crumb. We froze this cake in an airtight container and even after removing the cake from the freezer and defrosting, the cake was still moist.
Cake with Gluten Free Flour
For this recipe we used Cup4Cup Gluten Free Flour and tapioca starch. You can use what gluten free flour you are familiar with, but the recipe was tested with Cup4Cup. Be sure that the flour you choose has xanthan gum in it. If the gluten free flour you have on hand does not have xanthan gum, add about 1 teaspoon to the flour mixture.
To make the flour more like traditional cake flour, you'll also add tapioca starch. You can substitute cornstarch if you'd like.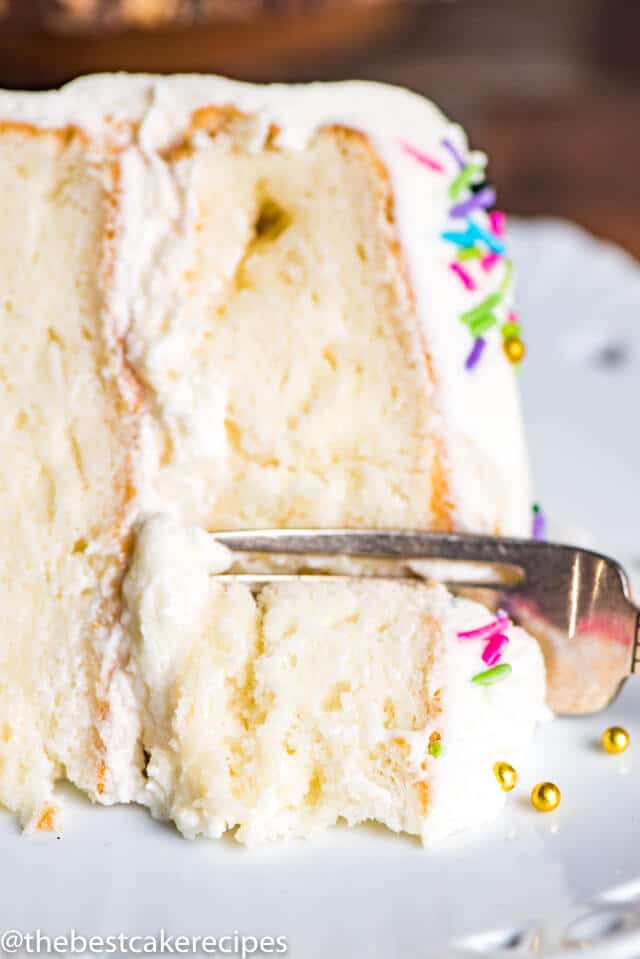 Tips to Make Homemade Gluten Free Vanilla Cake
The most important tip for making this from scratch cake is to whip the egg whites until they can hold stiff peaks, then set them aside. Once you have the rest of the ingredients mixed together, you'll carefully fold in the whipped eggs to the batter. Don't mix the batter too roughly or too much at this point. Mix just until the egg whites are incorporated, then divide the batter between the cake pans. The whipped eggs help to keep this cake lighter than other cakes.
Frosting for Gluten Free Cake
You can use any type of frosting for this cake. On white cake, our favorite is a very simple vanilla buttercream. Click here for our recipe.
Tools to Make This Cake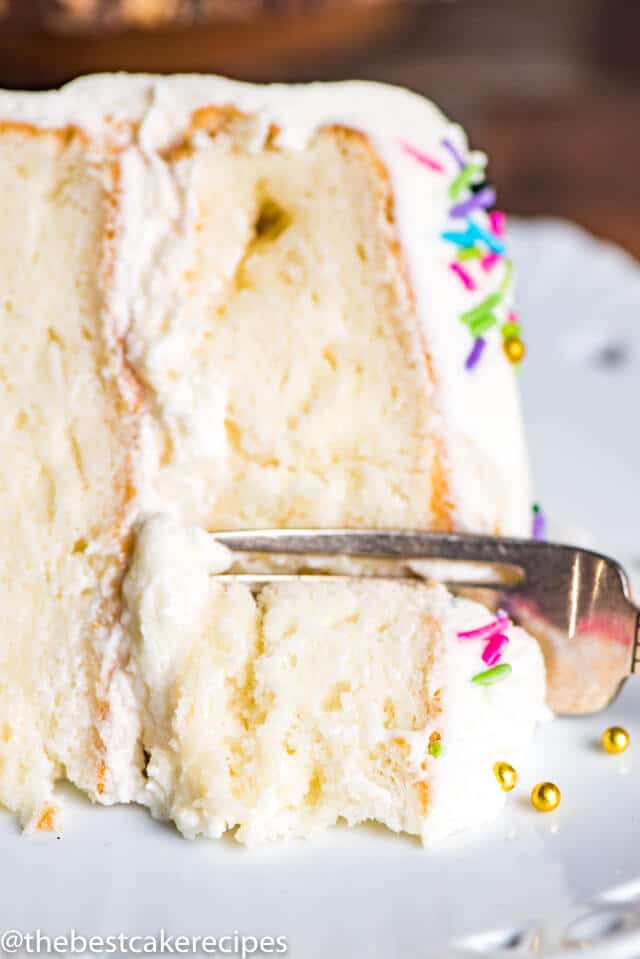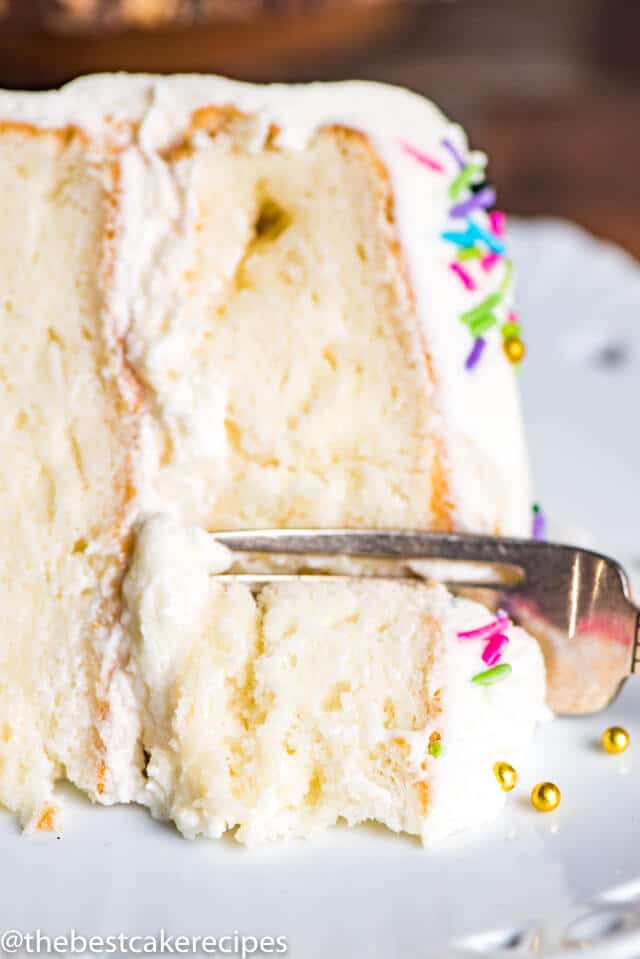 Gluten Free Vanilla Cake
Rich, moist, gluten free vanilla cake is perfect for birthdays, showers and any celebration. Whipped egg whites help to keep this homemade white cake fluffy.
---
Ingredients
1

cup

butter softened

1 1/2

cups

granulated sugar

2 1/2

cups

Cup4Cup Gluten Free Flour

(352 grams)

2/3

cup

tapioca starch

(75 grams)

1/2

teaspoon

salt

2

teaspoons

baking powder

1

cup

milk 2% milkfat

2

teaspoons

vanilla extract

3/4

cup

egg whites plus 3 tablespoons*
Instructions
Using a stand mixer, beat the egg whites with the whisk attachment until they are stiff and form peaks. This may take a minute or two. Pour the egg whites into another bowl and place them in the refrigerator until you're ready to add them to the batter.

Using the same bowl that you used to beat the egg whites, place the softened butter in and cream the butter for about 2 minutes (using the beater blade attachmenuntil it is white in appearance.

Add the sugar to the butter and beat until fluffy (about another 1-2 minutes).

In a small bowl, combine the flour, tapioca starch (measured carefully*), salt and baking powder. Set aside.

In another bowl, combine the milk and vanilla extract.

Add the flour mixture to the butter/sugar mixture alternately with the milk.

Add the stiffly beaten eggs to the cake batter. Fold the egg whites in gently. Do not overmix at this point. If you do, your cake will become more dense.

Grease and flour 2 9" round cake pans. Pour the cake batter equally into the prepared cake pans.

Bake the cakes at 350 degrees for 25-27 minutes or until the top bounces back when you touch it.

Allow the cakes to cool for 10 minutes, then loosen the edges and remove them from the pans to a wire rack, allowing them to cool completely.

One the cakes are cool, frost with your favorite frosting.
Notes
*This is about 6 large egg whites.
*Some are having problems with the cake being too dense. This can happen when you mistakenly add too much flour. When you measure the flour, spoon it from the flour container gently into the measuring cup. Do NOT pack it down at all. This technique will help you not put too much flour into the cake.
Recipe adapted from thesassechronicles.com