There is nothing quite like freshly baked cake with crunchy nuts and mouth watering peaches. This Peach Loaf Cake recipe is sure to become a summer favorite.
Every summer we buy a big box of peaches from The Peach Truck. And every summer I go crazy eating those fresh, juicy peaches! Although I love to just eat them fresh, I also like to make peach cobbler, peach pie and peaches 'n cream cake.
This peach loaf cake can be made with fresh peaches when they are in season, but it is also a great canned peach recipe any other time of year. It has peach flavor infused all throughout the cake, and the cinnamon sugar topping gives it a sweet crunch on top.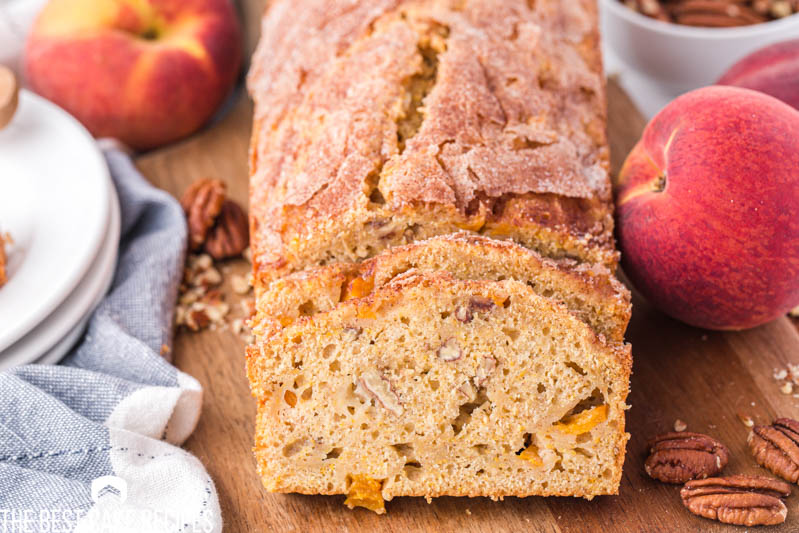 Why you'll love this cake:
Peaches blended in the batter and also diced peaches folded in before baking for the ultimate peach flavor.
A quick bread recipe that makes two loaves.
Cinnamon and sugar streusel topping that bakes in beautifully for a sugar crusted top.
The loaves freeze well too!
Can I use fresh peaches instead of canned peaches in this recipe?
Absolutely! Canned peaches are available and easy to use all year long but this recipe also tastes amazing with fresh peaches! Here are some tips on how to make that substitution:
You will need 2 ⅓ cups of diced peaches, approximately 4 to 5 medium sized peaches, peeled and cored.
One of the best ways to remove the peels is to "blanch" the peaches. Heat a pot of water to boiling and fill a large bowl with ice cubes and cold water. Place the peaches in the boiling water for 30 to 40 seconds (or up to 1 minute if they are underripe) or until the skin is loose. Immediately transfer the blanched peaches to the ice water with tongs or a large slotted spoon. Leave the peaches in the ice water for about 1 minute, then remove to a towel. You should be able to easily pull off the peel by hand or with a paring knife.
Canned peaches are consistently soft and puree easily. Depending on the ripeness of your peaches, it may be more difficult to puree them. Blanching as above can help them become soft enough to puree more easily. If you choose not to blanch them or if you have particularly hard peaches, it helps to cut them into small, about 1 inch, pieces before adding them to the food processor or blender. If they do not blend completely, that's ok, you'll just end up with more bites of peach pieces!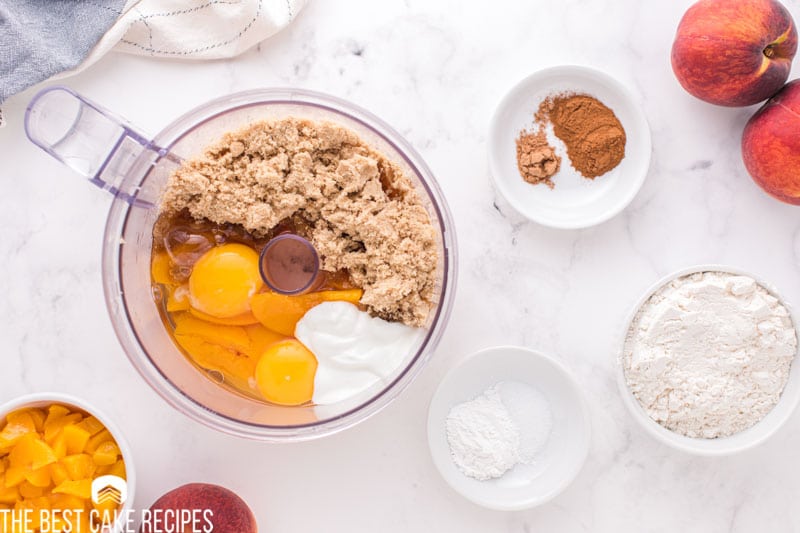 Tips for making this peach loaf cake:
Blending the wet ingredients in a food processor helps the peaches become a beautiful puree to infuse every bite.
Once you add the dry ingredients into the wet, don't overmix the batter. If you do, the loaf cake may be tough and dense.
If you'd like, you can leave the cinnamon sugar topping off and make a powdered sugar glaze to top it. This will add just a touch more sweetness and look pretty too!
How do you know if your loaf cake is done? The center of the cake should test done with a toothpick. That means it shouldn't have any wet batter if you stick a toothpick in the center. If you have an internal probe thermometer, the internal temperature of the loaf should be about 200º Fahrenheit.
If the bread looks like it is getting too brown, cover it loosely for the remaning time with a piece of aluminum foil.
Each loaf pan will cook differently. Glass pans will take longer than metal pans, so be sure to prepare for that if needed.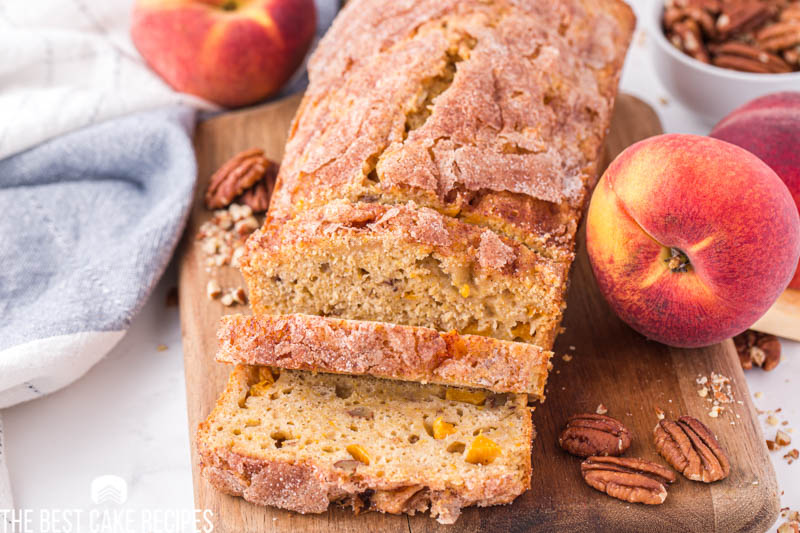 How should I store my peach cake?
Be sure to cool your bread completely before storing it. You can wrap it in plastic or place it in an airtight container and store it in the refrigerator for 3 to 4 days.
It can also be frozen, tightly wrapped and in a freezer-safe bag, for up to 3 months. After that time it begins to lose flavor. Frozen bread should be thawed overnight in the refrigerator or warmed in the microwave for 30 seconds at a time until thawed.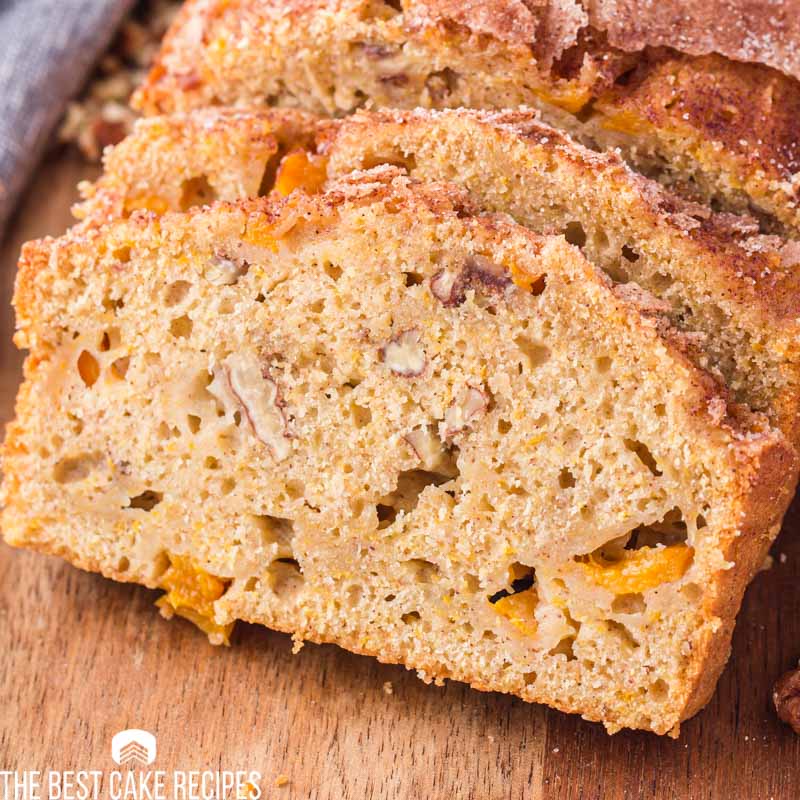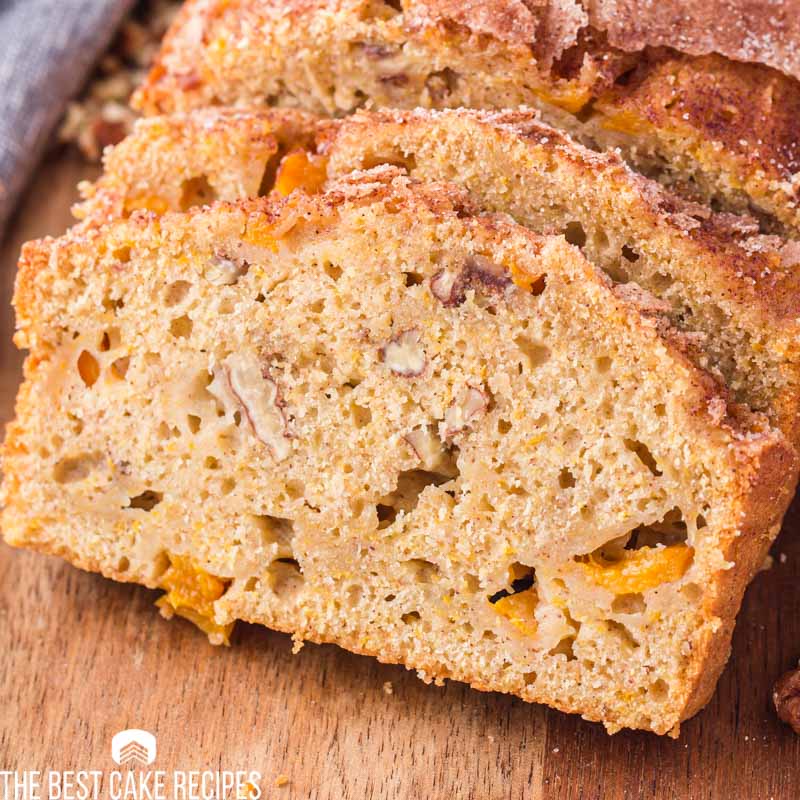 Peach Loaf Cake
There is nothing quite like freshly baked cake with crunchy nuts and mouth watering peaches. This Peach Loaf Cake recipe is sure to become a summer favorite.
---
Ingredients
For the Cinnamon Sugar Topping:
Instructions
Preheat the oven to 350 degrees Fahrenheit. Spray two 8×4-inch loaf pans with nonstick cooking spray.

Dice 1 cup of peaches (about ½ of 1 can of peaches) and set aside for now.

In a food processor or blender add the remaining 1 and ½ can of peaches, brown sugar, yogurt, eggs, vegetable oil, egg and vanilla and puree together until it forms a well-mixed, slightly thick liquid.

In a large mixing bowl, mix together the flour, baking powder, cinnamon, nutmeg and salt.

Add the wet ingredient mixture to the dry ingredients and mix just until moist. Do not overmix.

Fold in the diced peaches and chopped pecans.

Spoon the batter into the prepared pans.

To make the cinnamon sugar topping, mix together the sugar and cinnamon until combined. Sprinkle evenly on top of the batter.

Bake for 45-55 minutes or until a tester comes out clean. Take the bread out of the oven and let cool for 10 minutes.

Remove bread from the loaf pans and transfer to a wire cooling rack to finish cooling.
Notes
The calories shown are based on each loaf cake being cut into 10 pieces, with 1 serving being 1 slice of cake. Since different brands of ingredients have different nutritional information, the calories shown are just an estimate. **We are not dietitians and recommend you seek a nutritionist for exact nutritional information. The information in the nutrition box are calculated through a program and there is room for error. If you need an accurate count, I recommend running the ingredients through your favorite nutrition calculator.**
Nutrition
Calories:
200
kcal
|
Carbohydrates:
33
g
|
Protein:
3
g
|
Fat:
6
g
|
Saturated Fat:
3
g
|
Polyunsaturated Fat:
1
g
|
Monounsaturated Fat:
2
g
|
Trans Fat:
1
g
|
Cholesterol:
19
mg
|
Sodium:
70
mg
|
Potassium:
180
mg
|
Fiber:
2
g
|
Sugar:
18
g
|
Vitamin A:
170
IU
|
Vitamin C:
3
mg
|
Calcium:
42
mg
|
Iron:
1
mg