Vibrantly colored homemade red velvet cake is kept moist with buttermilk. Frost the from scratch cake with cooked flour frosting for a lightly sweetened cake.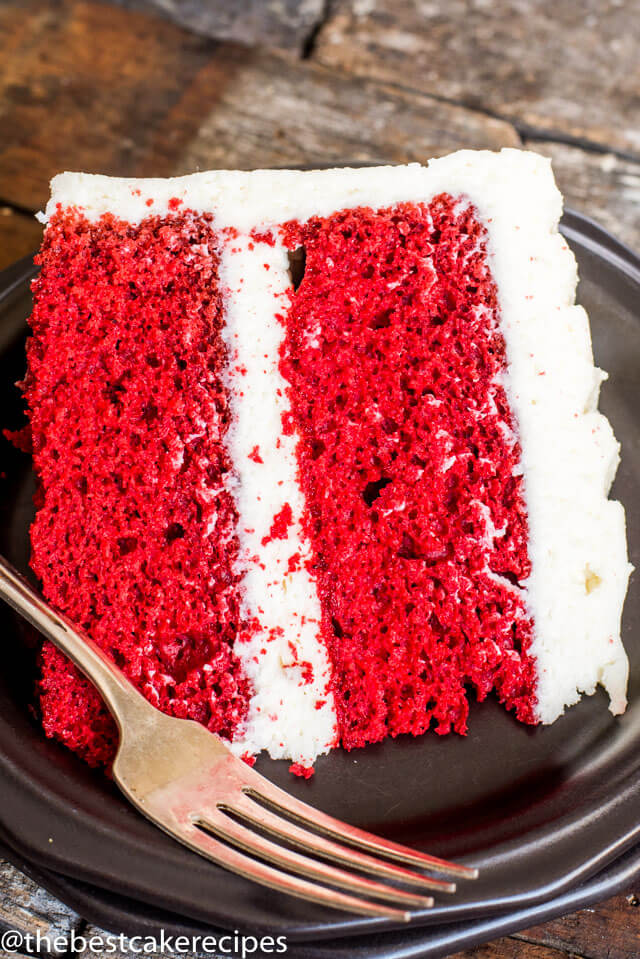 Red Velvet Cake Recipe
Red velvet cake has become a classic for special events and holidays such as Valentine's Day, Christmas and July 4th. There's nothing that compares to the vibrant, beautiful color of red velvet cake. Making this classic dessert at home is easier than you think.
What is Red Velvet Cake
What is so special about red velvet cake? The answer is mostly the color. Red velvet cake traditionally  has just a little bit of chocolate in it for flavor. The cake, however, definitely doesn't taste like chocolate cake. It really is a hard flavor to explain, but it is just lightly sweet and when paired with either cooked flour frosting or cream cheese frosting, it makes the perfect cake for those who don't like crazy sweet desserts.
Best Red Velvet Cake Recipe
This from scratch cake recipe reminds me of my no fail chocolate cake recipe. I find that buttermilk almost always make homemade cakes better. Buttermilk helps to break down the long strands of protein in flour which allows the cake to be more tender. Tender and moist definitely describes this delicious cake!
How to Make Red Velvet Cake
This recipe calls for shortening. Some of you may want to use butter and that should work totally fine. But we like to use shortening because we find it gives the cake a better texture. I've made it with both regular shortening and butter flavor shortening.
To achieve the vibrant red color I used a full ounce of red food coloring. Yes, that's a lot. You can use less if you'd like. But I wanted red velvet cake and I used what I needed to make it happen. And I loved the results!
Definitely don't skip the buttermilk. It helps keep this cake moist. If you don't have buttermilk, a shortcut is pouring a tablespoon of white vinegar in a measuring cup, then filling it the rest of the way with milk. Allow it to sit for 3-5 minutes and the milk will start to curdle. This acts just like buttermilk.
We used 8″ round pans. You can use 9″ if you'd like, but the cake won't be quite as tall and will also not take as long to cook so be sure you watch the timing.
Grease the cake pans generously with shortening and then dust them with flour. Your cakes should come out cleanly with this method.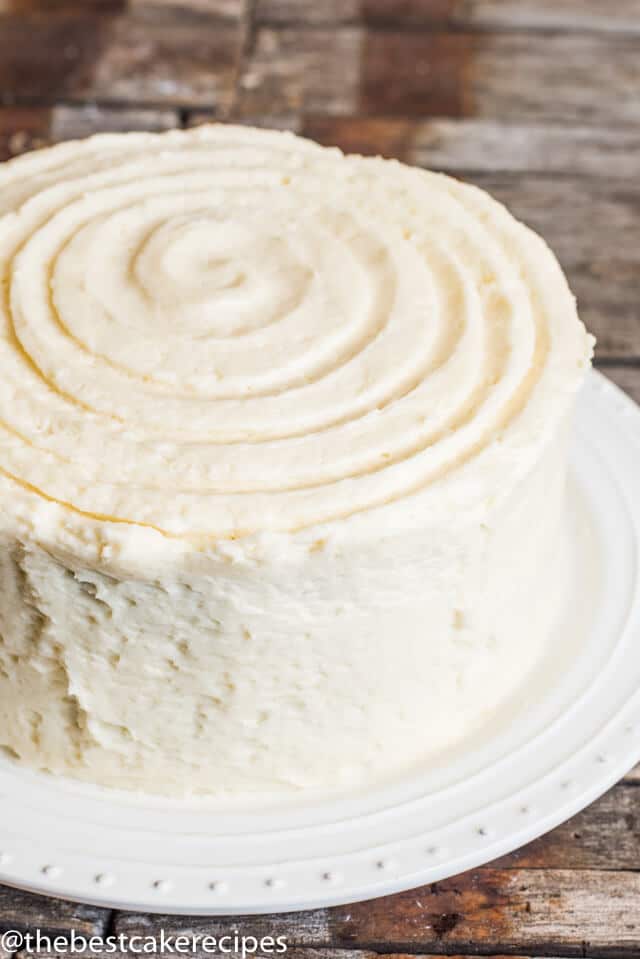 Cooked Flour Frosting
If you've never made cooked flour frosting, it can seem intimidating. Take your time, follow the directions carefully and plan ahead. Those are my wisest words for this frosting. Is it hard to make? No, not really. But you do have to follow the directions. If you'd like more detailed directions on this unique frosting, click here.
TOOLS FOR MAKING THIS CAKE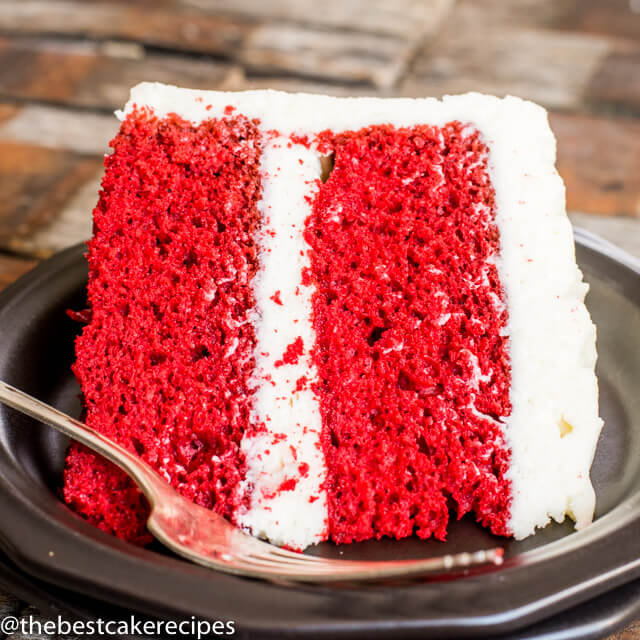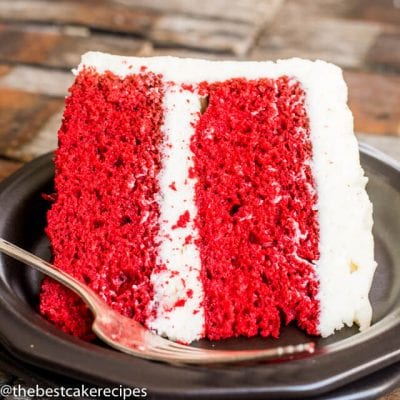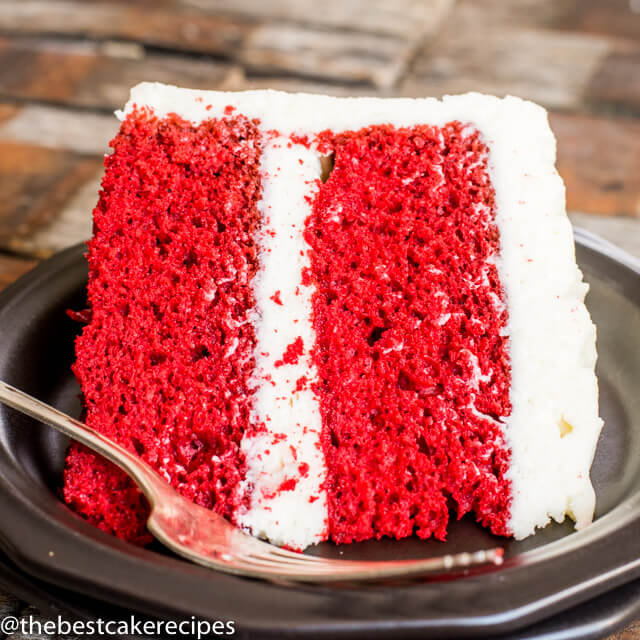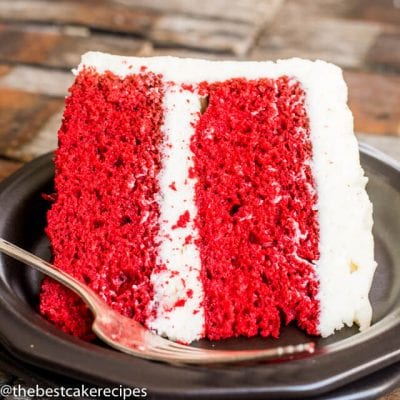 Red Velvet Cake
Vibrantly colored homemade red velvet cake is kept moist with buttermilk. Frost the from scratch cake with cooked flour frosting for a lightly sweetened cake.
Total Time
1

hour
5

minutes
---
Instructions
For the Frosting
In a saucepan, whisk the flour into the milk over medium-low heat until it thickens. Stir it constantly, lowering the heat to low if needed. The consistency should be very thick, like mashed potatoes. This step took about 12-15 minutes.

Remove the pan from the heat and set the pan in a bowl of ice for 5-10 minutes to quicken the cooling process. The temperature of the mixture should be at room temperature.

Stir in the vanilla extract.

If you have a food processor, process the white sugar for a minute or so so that the granules become finer.

While the mixture is cooling, cream together the butter and processed sugar using a stand mixer with the whisk attachment until light and fluffy. Do this for 5 minutes until the sugar is completely creamed and there is no graininess left.

Add the cooled flour mixture and beat it until it all combines and looks like whipped cream. This will take about another 3-5 minutes of beating. Keep scraping the sides of the bowl while the mixture is beating together so that everything gets well incorporated. The mixture have the texture of a fluffy whipped cream. Set aside the frosting until you are ready to frost the cake.
For the Cakes:
Preheat the oven to 350 degrees.

Cream together the shortening and sugar.

Add the cocoa and red color and mix again.

Add the buttermilk, salt and flour. Mix well.

Lastly, add the vinegar and baking soda and mix until the batter is smooth.

Grease (with shortening) and flour two 8" round baking pans.

Divide the batter evenly between the two pans.

Bake the cakes for 25-30 minutes or until the center of the cake bounces back when you touch it.

Allow the cakes to cool for 10 minutes, then turn them onto a wire rack to cool completely.
Assemble the Cake
Once the cakes are cool, place one cake on a cake plate. Spread frosting on top of that layer, then place the other cake on top of the frosted cake. Use the remainder of the frosting to frost the top and sides of the cake.
Notes
The calories shown are based on the cake being cut into 15 pieces and using all of the frosting, with 1 serving being 1 slice of frosted cake. Since different brands of ingredients have different nutritional information, the calories shown are just an estimate. Also, if you use less frosting, the serving will be less calories.
**For a bolder red color, use more food coloring. We've used up to 2 ounces.
Nutrition
Calories:
584
kcal
|
Carbohydrates:
66
g
|
Protein:
5
g
|
Fat:
33
g
|
Saturated Fat:
18
g
|
Cholesterol:
94
mg
|
Sodium:
558
mg
|
Potassium:
105
mg
|
Sugar:
49
g
|
Vitamin A:
870
IU
|
Calcium:
69
mg
|
Iron:
1.2
mg