Strawberry Almond Layer Cake
Layers of delicious almond and strawberry this Strawberry Almond Layer Cake is the perfect mix of flavors that will be your favorite cake of the summer!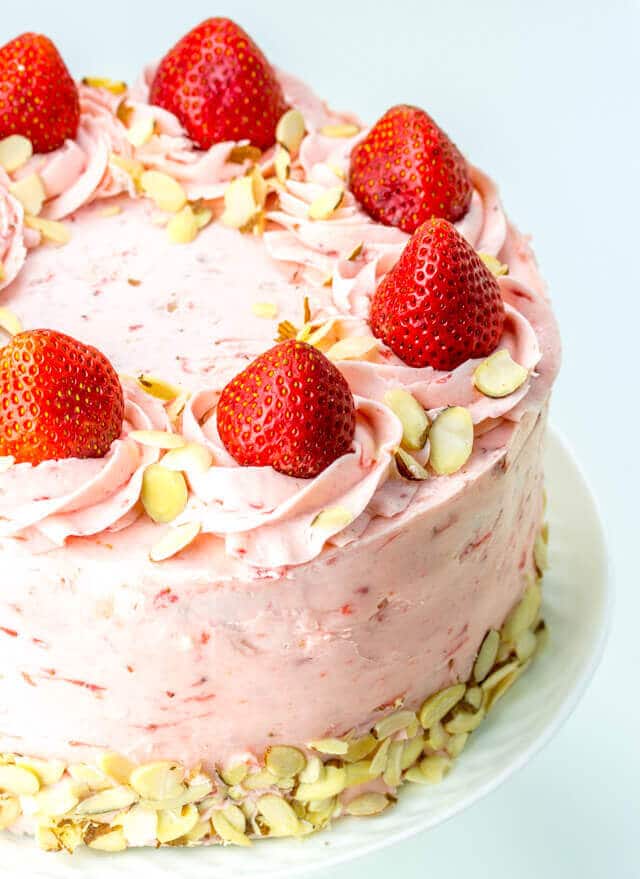 STRAWBERRY ALMOND LAYER CAKE
Hey guys! How are you liking the site so far? I hope you love it as must as Julie and I do. If you haven't met me yet, I'm Alli and I blog over at Tornadough Alli! I've been addicted to cakes for longer than I can remember so it didn't take me long to say yes to making cake apart of my everyday life and helping Julie out with this here amazing site! We have pulled some of the best cakes from around the web as well as adding a fun full length cake recipe weekly! This week I bring you this delish Strawberry Almond Layer Cake.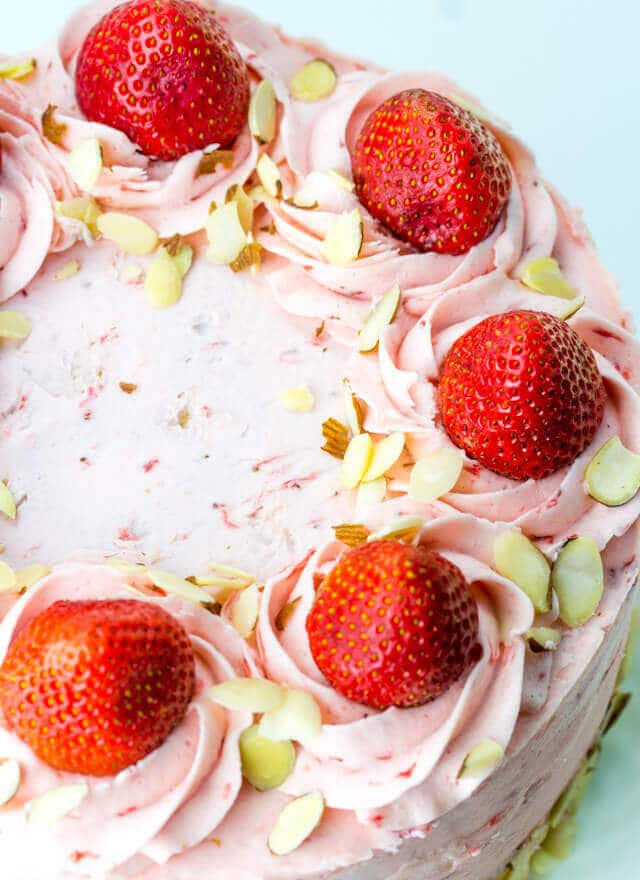 So I'm not to biased when it comes to cakes. I love them all, bundt, sheet, layer, cup, poke, dump. I mean if it has cake in it's name, I'M DOWN!! For real though, we love cake around this house, well I do. My husband is referred to as Mr. Non Sweet's Lover and is just a sour puss when it comes to anything with sugar, well besides candy, which I'm not so much a candy person. So we are opposite on that front!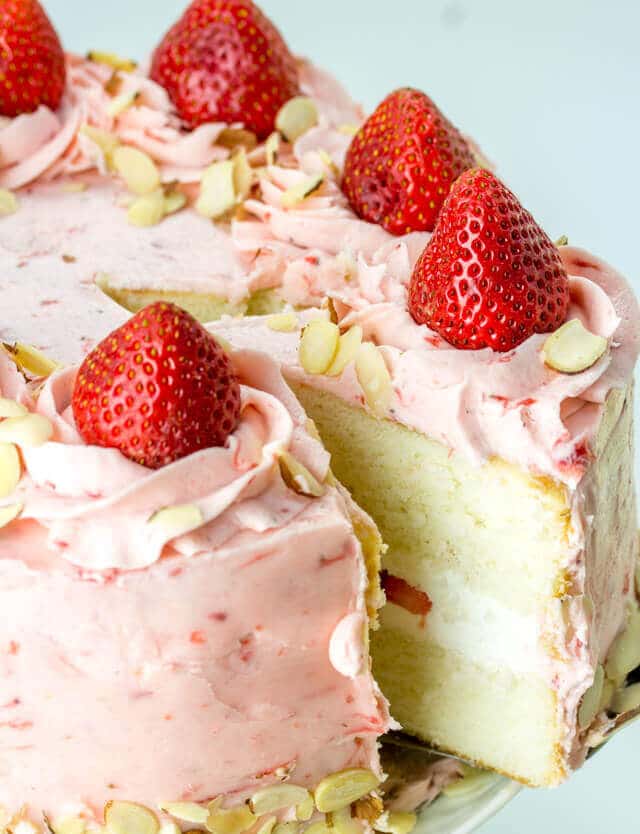 This Strawberry Almond Layer Cake is so moist and soft and full of flavor that it is one of my all time faves so far that I've made. But I kinda say that about EVERY cake that I make, so yeah. Like I said, rarely do I meet a cake or dessert in that matter that I don't like and that absolutely includes this Strawberry Almond Layer Cake!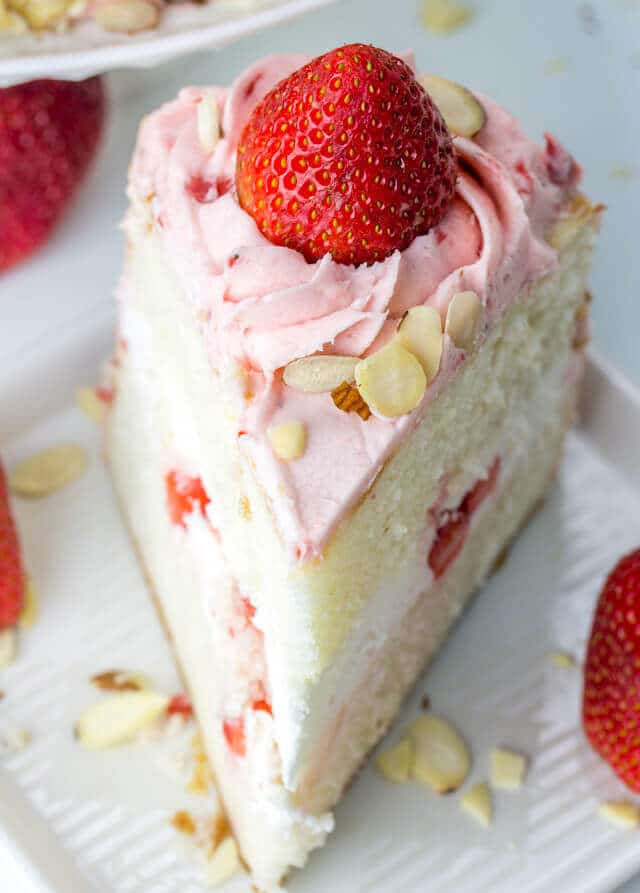 White cake is filled with almond buttercream and strawberries then it is frosted in an almond strawberry buttercream on the outside and topped with fresh strawberries and sliced almonds. Oh my…that's what I have to say about this cake. No joke ya'll! This recipe makes 2 8″ cake layers, I've usually made 9″ cakes in the past but started more towards the 8″ cakes because they make them taller and more pretty in my opinion.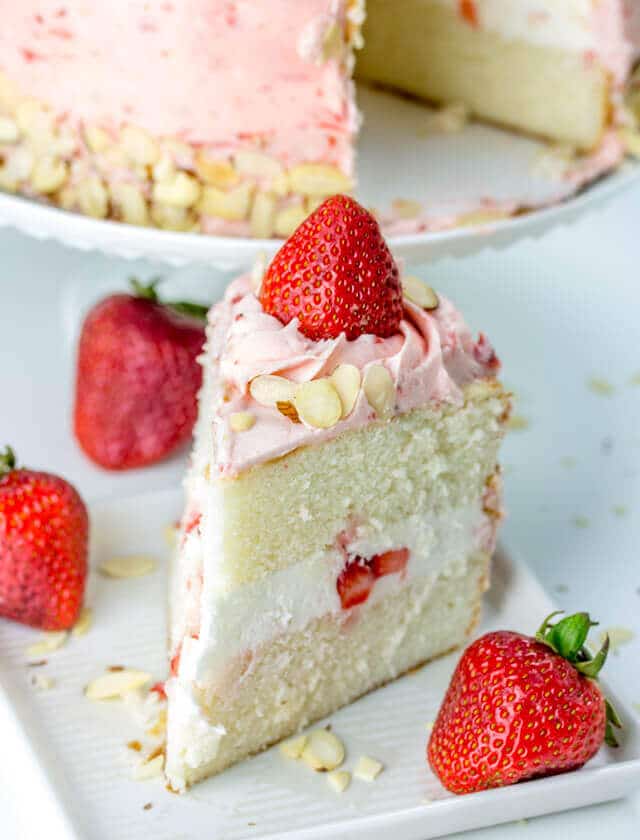 Do you have a family get together and you're on dessert duty? A class reunion this summer? A picnic? There is always a reason for cake and let me tell you that you need this Strawberry Almond Layer Cake in your life SOON! So do yourself a favor and whip it up fast because this thing won't last long, I promise!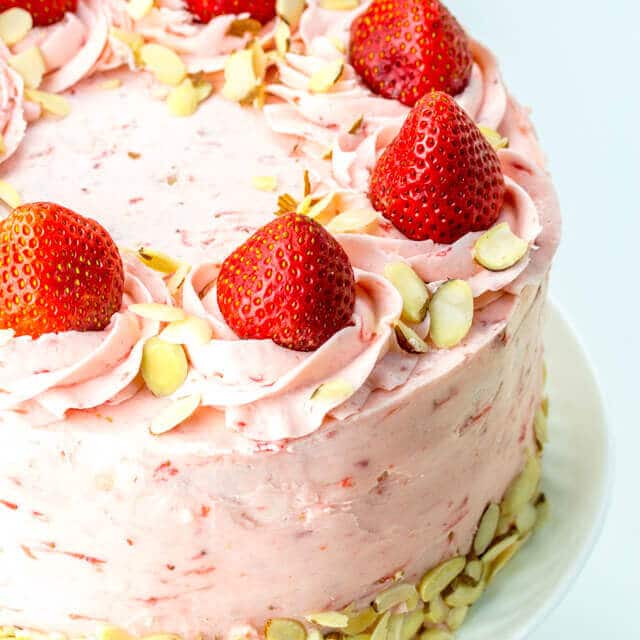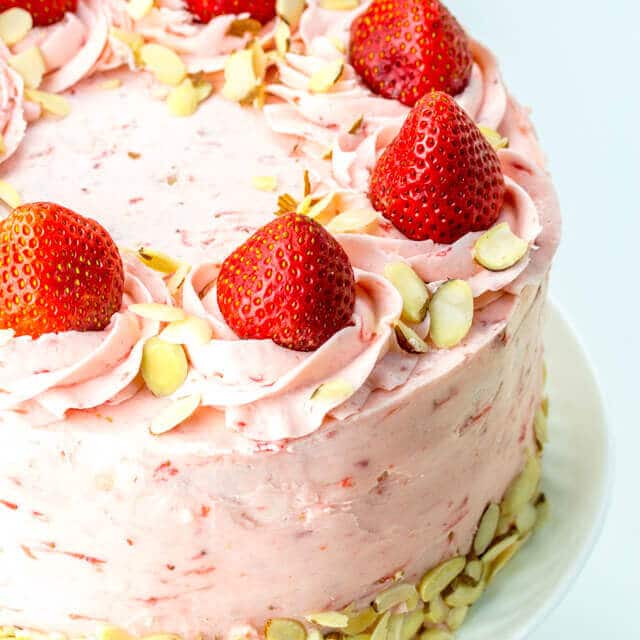 Strawberry Almond Layer Cake
Layers of delicious almond and strawberry this Strawberry Almond Layer Cake is the perfect mix of flavors that will be your favorite cake of the summer!

Total Time
1

hour
30

minutes
---
Instructions
Pre-heat oven to 350 degrees and spray and line 2 8" round cake pans with cooking spray and parchment paper.

Mix together milk, egg whites and extracts in bowl until blended well, set aside.

Mix cake flour, sugar, baking powder, and salt in a large bowl and mix together with hand mixer.

Add butter and continue beating until combined.

Add in your milk mixture and beat until blended.

Pour batter evenly between two cake pans.

Bake for 30 minutes for until center is set and springs back when touched.

Remove from oven to cool.
Almond Buttercream:
In large bowl add your butter and shortening and mix with hand mixture until light and fluffy, add in your extract and continue to mix.

Add in your powdered sugar 1 cup at a time then add in milk until you reach desired consistency. Set aside.
Strawberry Buttercream:
In small sauce pan add your diced strawberries, sugar and water and bring to a gentle boil and then reduce heat and simmer for about 15 minutes stirring often to break up strawberries until it's reduced to a jam like state.

Remove from stove and pour into a small bowl and let cool to room temp (I stuck mine in freezer).

Once cooled in large bowl mix together your butter and shortening until smooth, add in your strawberry mixture and blend.

Add in your extract and powdered sugar 1 cup at a time until your reach desired consistency.

Add milk if it get's too thick.
To Assemble:
On a turn table or cake stand layer one of your 8" cakes.

Spread half of your almond buttercream over the top util about 1/2" from edge.

Sprinkle with diced strawberries.

Add the remaining almond buttercream and gently spread over the strawberries.

Top with the other 8" cake.

Frost cake with your strawberry buttercream and design as desired.
Nutrition
Calories:
1236
kcal
|
Carbohydrates:
172
g
|
Protein:
6
g
|
Fat:
60
g
|
Saturated Fat:
25
g
|
Cholesterol:
76
mg
|
Sodium:
525
mg
|
Potassium:
301
mg
|
Fiber:
1
g
|
Sugar:
148
g
|
Vitamin A:
900
IU
|
Vitamin C:
14.9
mg
|
Calcium:
119
mg
|
Iron:
0.5
mg