A copycat of the original Tastykake Tandy Cake! Peanut butter and chocolate toppings sit on top of a fluffy white cake. Makes a large sheet cake to serve a crowd.
Chocolate + Peanut Butter. Is there any better combination? It's a classic that has stood the test of time, and this vintage cake recipe is takes an old favorite packaged dessert and allows you to bring back the memories at home in your old kitchen.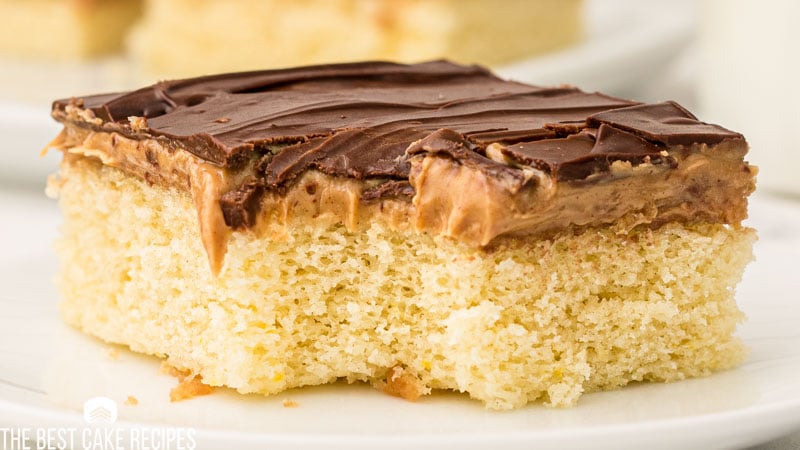 What is a tandy cake?
Tandy Cake is well-known packaged snack from Tastykake baking company. The original name of this dessert was Tandy Cake in 1931 (source), but then became known as the Kandy Kake. It's a white cake with a layer of peanut butter and chocolate on top. It is TastyKakes most popular cake and now there are more flavors to experience than just peanut butter (think caramel, s'mores and more!).
Tips for Making Tandy Cake
Use a 10×15″ jelly roll pan with at least 1″ sides to bake this cake. It's meant to be a thinner sheet cake.
I line the pan with parchment paper or foil so that I can easily pull it out to slice it cleanly. You don't have to line the pan if you don't care about that. But be sure to spray it with cooking spray.
A stand mixer or hand mixer works best for this recipe, especially for the first step of beating the eggs, sugar and vanilla. You want that to all be fluffy and light and a mixer does that best.
Always use aluminum free baking powder. This will prevent any metallic flavor.
Put the peanut butter on while the cake is hot. It will melt in and spread easily.
I used chocolate bars instead of chocolate chips because the topping will be softer in the end. Chocolate chips are a firmer chocolate so the topping will be harder to cut.
Pour the chocolate over as evenly as possible and then spread lightly. If you mix and spread too much, the layers won't be as distinct.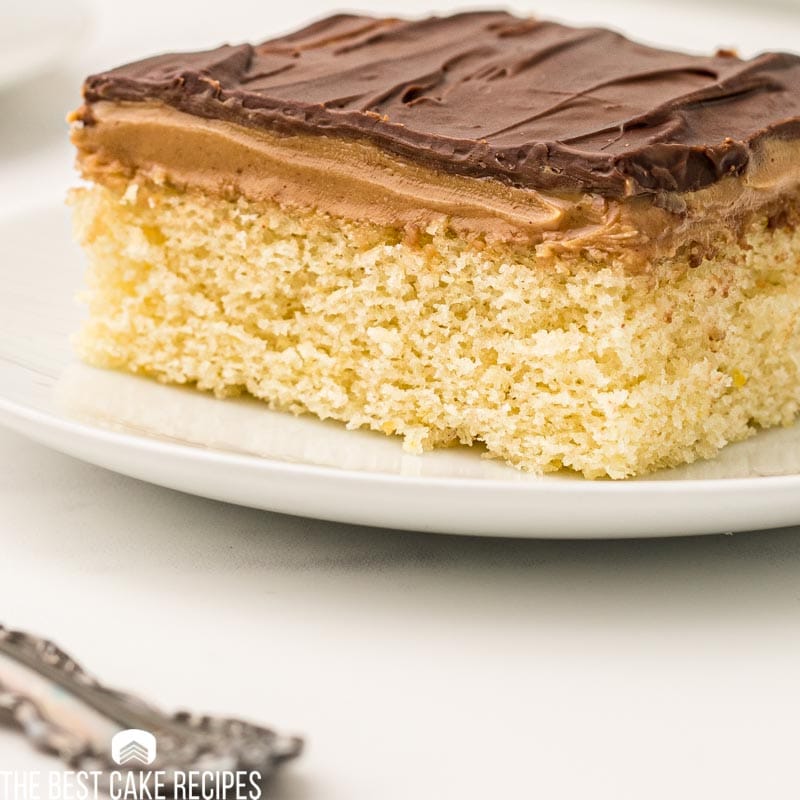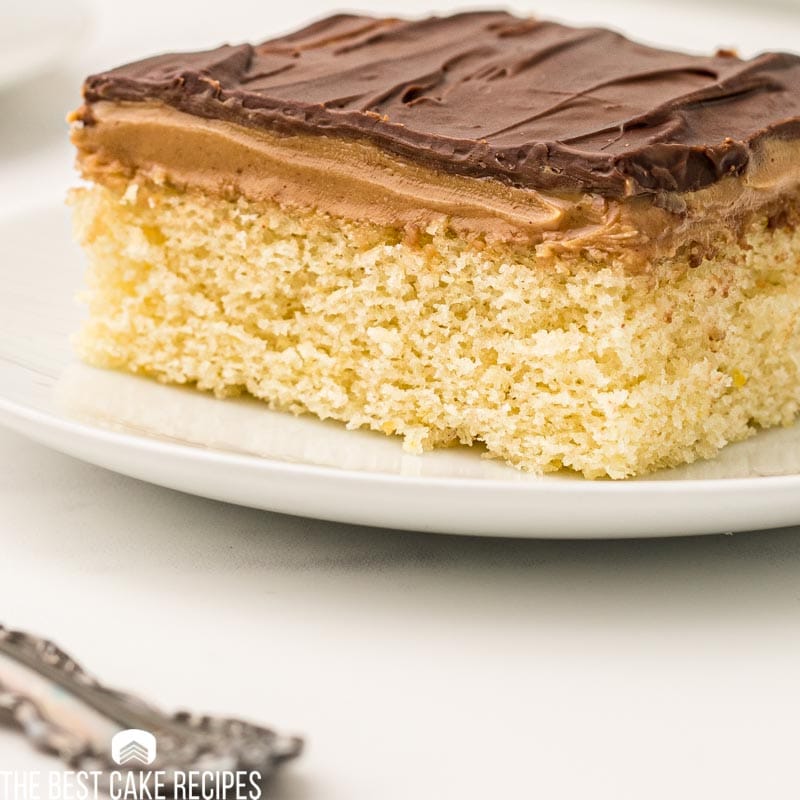 Tastykake Tandy Cakes
A copycat of the original Tastykake Tandy Cake! Peanut butter and chocolate toppings sit on top of a fluffy white cake. Makes a large sheet cake to serve a crowd.
---
Instructions
Preheat oven to 350°Fahrenheit. Line a 10×15" jelly roll pan with foil or parchment paper. Spray with cooking spray.

In a large mixing bowl beat the eggs, sugar and vanilla until light and fluffy.

Sift the flour together with the baking powder and add to the egg mixture a little at a time while stirring on low.

Heat the milk together with the butter until the butter has melted and fold into the flour mixture.

Pour the batter onto the prepared baking sheet and bake for 20-25 minutes, until a toothpick comes out clean.

Spread the peanut butter gently over the warm cake. This will help the peanut butter to spread evenly.

Refrigerate for 30 minutes to cool.

In a medium sized microwave safe bowl, heat the chocolate and the shortening in the microwave in 30 second increments, stirring between each interval until melted. As the chocolate starts to melt, lower the time to 15-20 second intervals.

Pour the melted chocolate evenly over the refrigerated peanut butter and spread quickly and gently with a spatula. If you work with this step too long you'll end up combining the two layers.

Allow the chocolate to set.

Store in an airtight container
Notes
The calories shown are based on the cake being cut into 24 pieces, with 1 serving being 1 slice of cake. Since different brands of ingredients have different nutritional information, the calories shown are just an estimate. **We are not dietitians and recommend you seek a nutritionist for exact nutritional information. The information in the nutrition box are calculated through a program and there is room for error. If you need an accurate count, I recommend running the ingredients through your favorite nutrition calculator.**
Nutrition
Calories:
300
kcal
|
Carbohydrates:
34
g
|
Protein:
8
g
|
Fat:
16
g
|
Saturated Fat:
5
g
|
Trans Fat:
1
g
|
Cholesterol:
34
mg
|
Sodium:
125
mg
|
Potassium:
231
mg
|
Fiber:
2
g
|
Sugar:
23
g
|
Vitamin A:
84
IU
|
Vitamin C:
1
mg
|
Calcium:
44
mg
|
Iron:
1
mg
Frequently Asked Questions
Can you freeze tandy cake?
Yes. The cake will freeze
How do you cut tandy cake?
Because the top of the cake is chocolate, you'll want to cut it before the cake is totally set. Take a sharp knife and score the chocolate when it is 80% set. This will allow the chocolate to cut more cleanly when you serve it. You can also run a sharp knife under hot water so that it cuts through the chocolate more easily. Also wipe the blade between each cut.
Do I have to use a 10×15″ jelly roll pan for tandy cake?
No, but if you use a 9×13 pan or make cupcakes, the baking time will change so watch it closely.