This delicious American flag sheet cake is topped with blueberries and strawberries to create a simple yet patriotic dessert!
While the temptation to create a Pinterest-worthy masterpiece for your patriotic dessert is very strong, we all know it doesn't always turn out the way we want it to. Even the best of cake makers know it isn't always dependable – frosting melts, the cake sinks in the middle, or something comes out differently than we'd hoped.
This American flag sheet cake, however, is the perfect solution – it's a sheet cake, a simple whipped topping, and berries. That's it. The level of decorating skill needed is about 2/10. It's dependable because it's simple, but not simple enough to be boring. It's bright and fun and will be sooo delicious! It'll be the star of your picnic.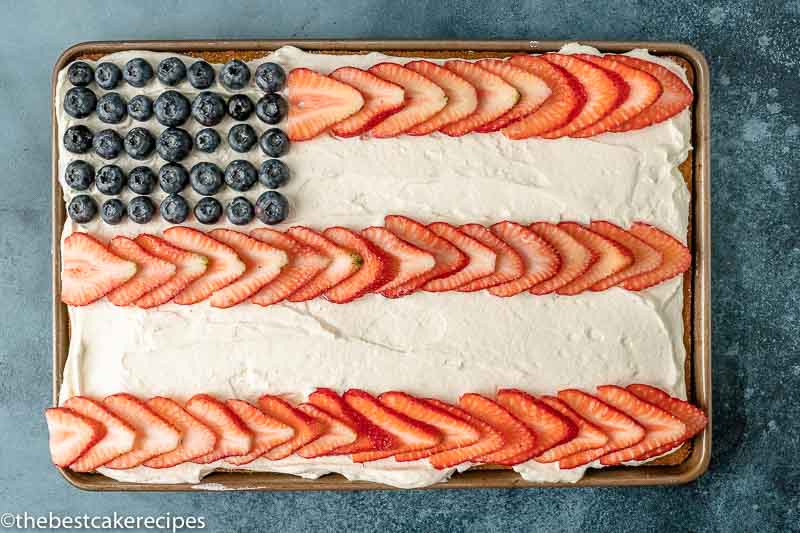 What You'll Love About This American Flag Sheet Cake:
If it wasn't clear before, here are a few things you'll love about this cake.
It's a white texas sheet cake, which means it is SO flavorful and delicious!
It's got a simple mascarpone whipped topping on it, that takes minutes to make.
It's easy to assemble, no dyeing or frosting swirls necessary.
It's a beautiful cake. While simple, it represents an American flag, and its simplicity does make it very appealing!
What's The Difference Between Sheet Cake and Regular Cake?
The main difference between sheet cake and regular cake is the size of the pan! This sheet cake uses a 10×15 inch pan, but some sheet cakes are much larger. This cake also has a couple of extra steps that a regular cake wouldn't normally have, to enhance the flavor and texture of the cake.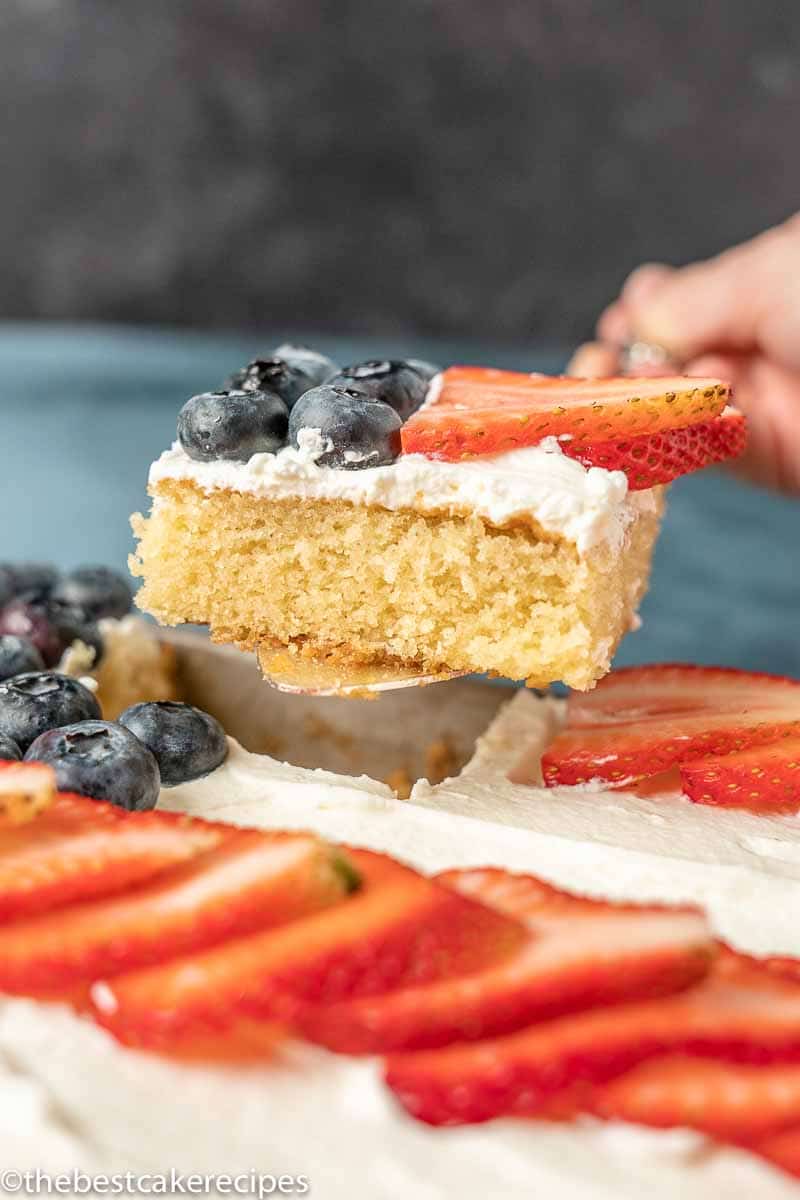 What Size Pan Do I Use For A Sheet Cake?
While this recipe makes a sheet cake for a 10×15 inch pan, most traditional sheet cakes are in a 18x24x2 inch pan (you know…because it is as big as Texas!). Make sure you always check the recipe you're using for the correct pan size!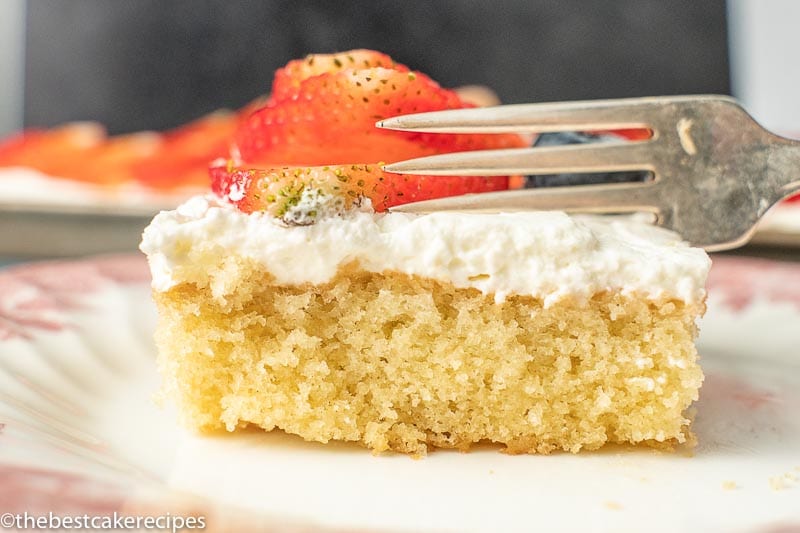 How To Make American Flag Sheet Cake
Here are a few tips to help your cake making go more smoothly:
The first step you'll do is bring the butter and water to a boil. After it comes to a boil, remove it from the heat and let it cool for a few minutes.
After this, you're just incorporating the rest of the ingredients! It's really simple once you get everything added together.
Make sure to grease your 10×15 inch pan. The cake should come out perfectly if it is greased well.
When making your frosting, either use a simple whipped cream or make your own mascarpone whipped topping!
To make the strawberries look nice for the cake, slice them thinly up and down after cutting the stem off.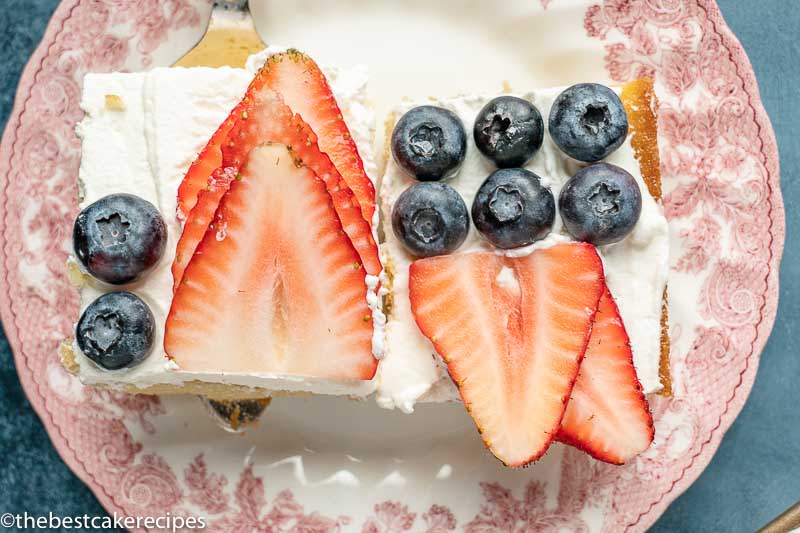 Frostings to Put With This Sheet Cake:
There are so many different options for this cake! While we prefer a simple and light frosting, you can use your favorite frosting if you'd like.
Whipped topping: This cake would taste amazing with just a store-bought whipped topping! Just spread on and decorate.
Homemade whipped cream: This is a little bit fancier, but homemade whipped cream is not hard to make at all!
Mascarpone cream frosting: Similar to a homemade whipped cream, this adds a deeper flavor to the spread. This is what we used on this cake and it is AMAZING.
Cream cheese frosting: You could make a whipped cream cheese frosting or glaze! It's up to you.
Want to make this with a red velvet cake? Use this recipe!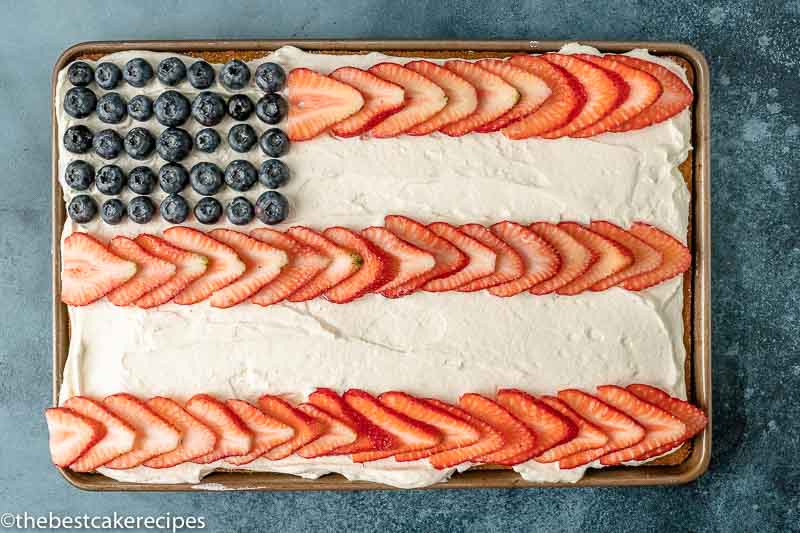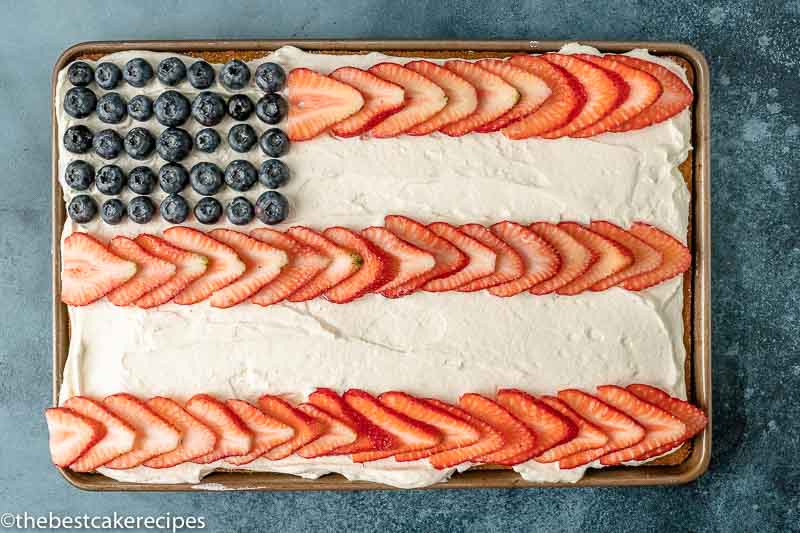 American Flag Sheet Cake
An addicting sheet cake with a light cream frosting, with blueberries and strawberries on top! You'll love how simple this cake is to put together.
---
Instructions
For the Cake:
Preheat oven to 375 degrees Fahrenheit.

In a large saucepan, bring the water and butter to a boil. As soon as it starts to boil, take the mixture off the heat and let cool for 5 minutes.

Add this mixture to a large bowl, and combine with the flour, sugar, eggs, sour cream, vanilla, almond, salt, and baking soda. Mix just until combined, scraping the sides of the bowl as needed.

Put in a greased 10×15 inch pan in the oven for 20-22 minutes.

Once the cake is baked and cooled, use 2 cups of a whipped topping of your choice to spread onto your cake.

Use your blueberries and sliced strawberries to create the shape of the American Flag.

Store in the fridge, covered in plastic wrap, for 3-4 days.
Notes
The calories shown are based on the cake being cut into 15 pieces, with 1 serving being 1 slice of cake. Since different brands of ingredients have different nutritional information, the calories shown are just an estimate. **We are not dietitians and recommend you seek a nutritionist for exact nutritional information.**
Nutrition
Calories:
306
kcal
|
Carbohydrates:
42
g
|
Protein:
3
g
|
Fat:
15
g
|
Saturated Fat:
9
g
|
Cholesterol:
61
mg
|
Sodium:
276
mg
|
Potassium:
75
mg
|
Fiber:
1
g
|
Sugar:
28
g
|
Vitamin A:
462
IU
|
Vitamin C:
12
mg
|
Calcium:
21
mg
|
Iron:
1
mg