3 layers of delicious cake with that classic black walnut flavor. This Black Walnut Cake with cream cheese frosting is sure to become a favorite!
You've baked with walnuts before. They pair so well with pineapple, carrots and apple.
But have you ever tried a black walnut cake?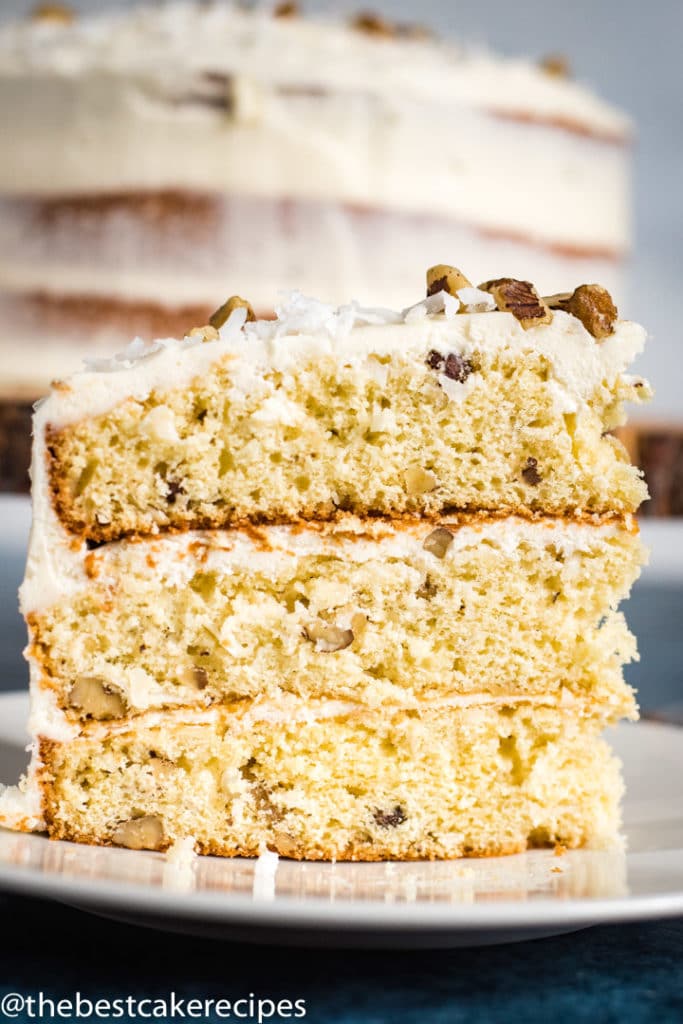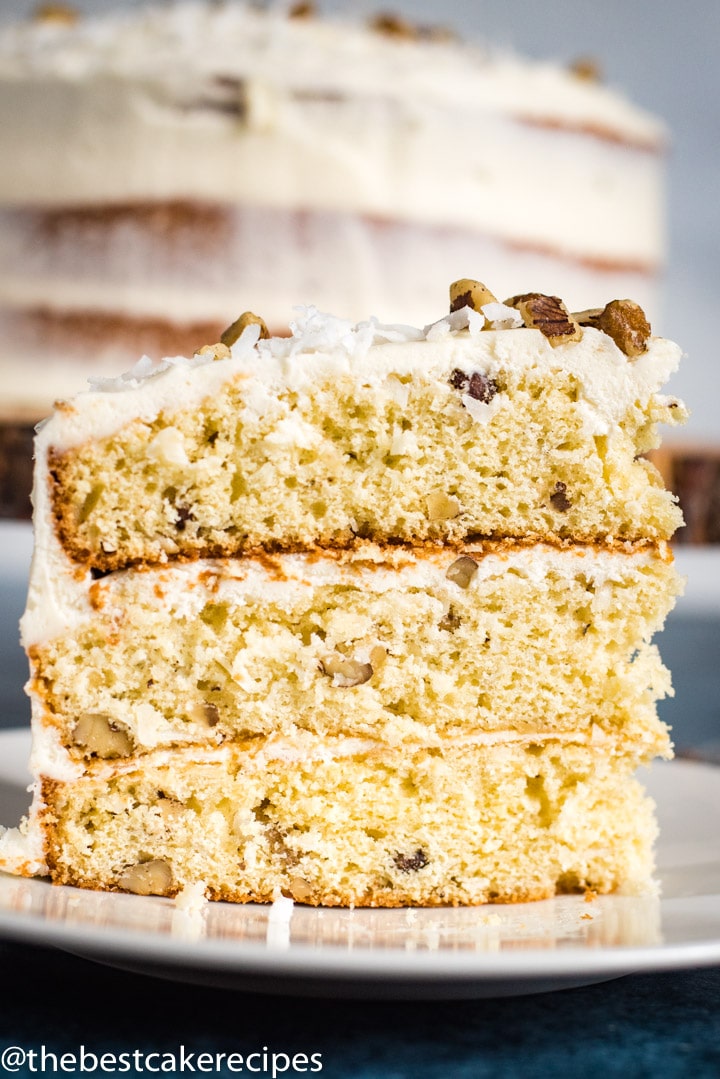 We were scoping out Goodwill the other day and I ran across a State Fair Blue Ribbon Recipes cookbook that was quite a few years old.
I saw this Black Walnut Cake recipe and knew I had to try it! Three layers of from scratch cake and cream cheese frosting, plus that classic, tangy black walnut flavor.
Get the cookbook this recipe comes from here.
Can I eat a black walnut?
Yes! Black walnuts are used for many things such as dyes, supplements and extracts, but you can also use them in baking.
The outer part of the nut (or hull) is used for medicinal purposes, but the inside of the nut (the meat) is edible.
What does black walnut taste like?
Although English walnuts are mild in flavor, black walnuts taste very strong.
Black walnuts have a bold, earthy flavor that can often taste bitter or even tangy to some.
How to Make Black Walnut Cake
Here are a few tips to remember when making this cake:
Notice that at first you only use the egg yolks. You'll add the whites in later.
Use nice, thick, store bought buttermilk. If you can't get to the store to buy it, make your own by adding 1 teaspoon of vinegar to a cup of buttermilk. Allow it to sit for 5 minutes and the milk will start to curdle. You've just made a buttermilk substitute!
Use cake flour. You can officially use all-purpose flour, but the cake will not be as tender as if you use cake flour. If you bake a lot of cakes by hand, it is worth it to keep cake flour on hand. You can find it in the grocery store by the other flours. It usually comes in a box.
Notice that you add the flour mixture alternately with the buttermilk. This is to prevent overmixing. Overmixing can cause the cake to be dry and tough so don't skip this step.
So what do you do with the egg whites? Place them in a clean bowl and use a high powered mixer to beat them until they are white, stiff and hold peaks. Then fold them into the cake batter. This makes your cake light!
If you really don't like coconut you can leave it out. We've used both sweetened and unsweetened coconut in this recipe, but we prefer unsweetened.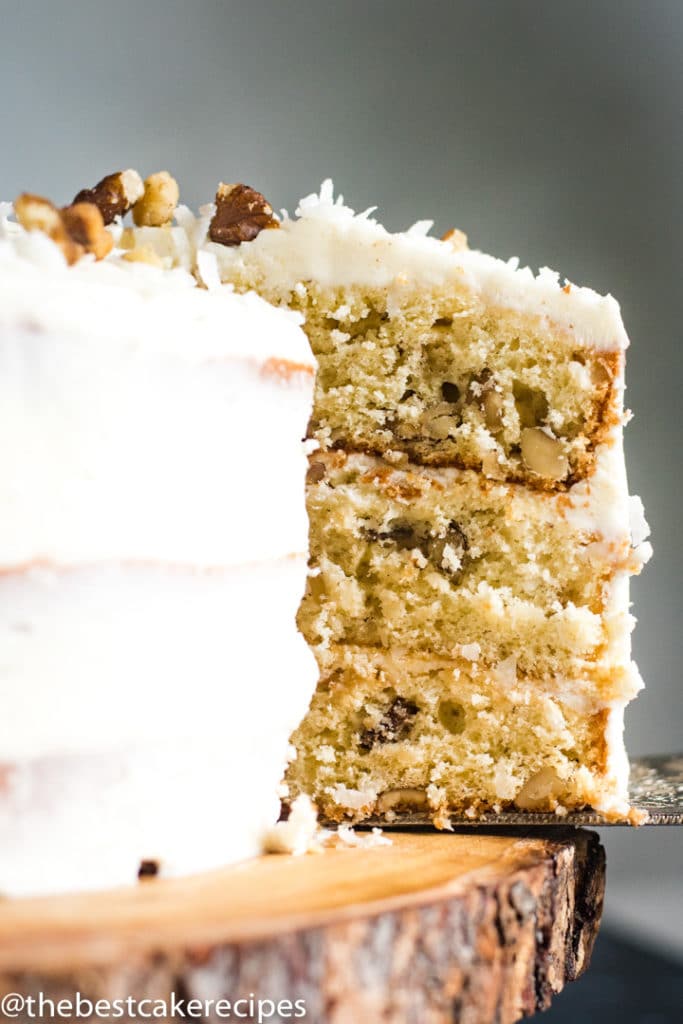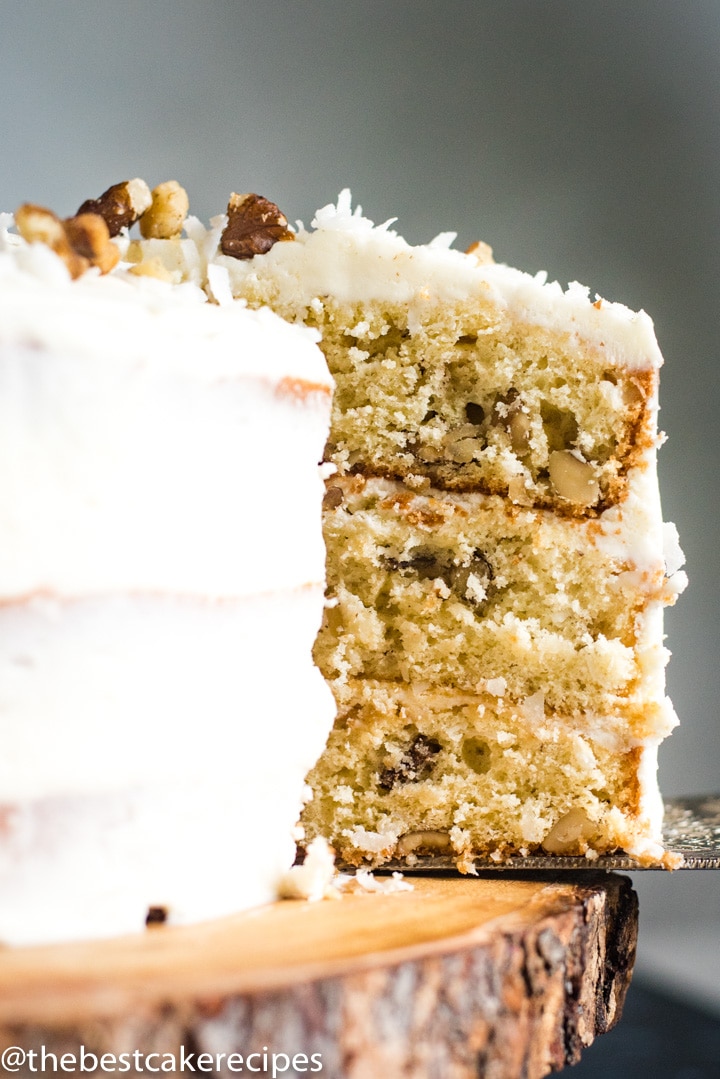 How to Make Cream Cheese Frosting
Cream cheese frosting is one of the easiest frostings to make. Cream cheese adds some body to the frosting and you can be a little more relaxed about the frosting being soft.
Cream together the butter and cream cheese. You want these to be at room temperature, but not at all melted. Cream them together until they are nice and smooth.
Add in the powdered sugar. If you want to ensure you don't have lumps of sugar in your frosting, sift the sugar first before adding it in.
Add in the vanilla extract. We like to put in one whole tablespoon. You can add less if you'd like.
After all of the ingredients are in the bowl, mix well for about 2 minutes to get the frosting fluffy.
We made this cake into a "naked" style cake. If you'd like more frosting you may have to double the recipe.
How to Store Cake
This cake is safe to store at room temperature for 2-3 days. Once you've cut the cake, you'll want to cover it well so it doesn't dry out.
If you want to keep a cake fresher for 4-5 days, refrigerate it in an airtight container.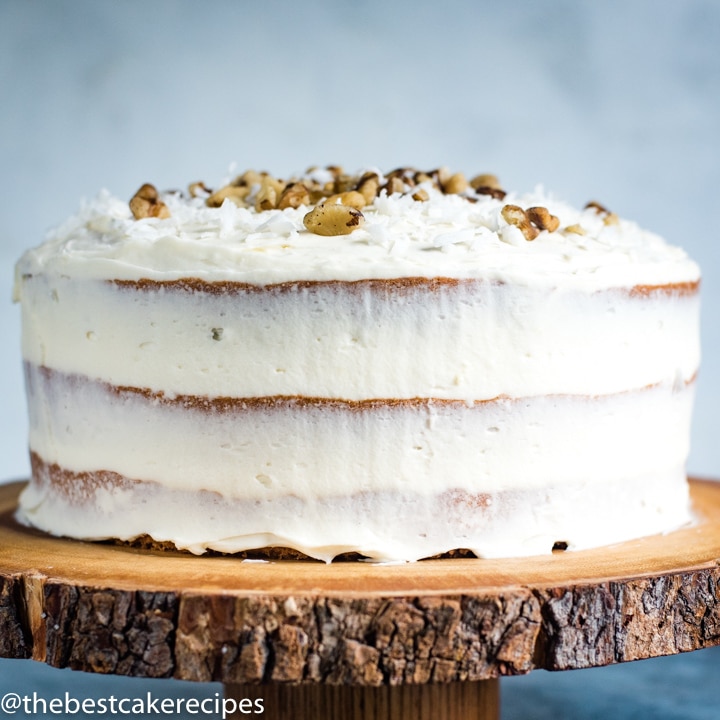 Can I freeze cake?
Yes! Cake freezes well. If we have leftover cake, we cut slices and place them in an airtight container (or wrap in plastic wrap, then place them in a storage container or zippered bag).
Freeze cake for up to 8 weeks.
Once you are ready to defrost the cake, set it at room temperature until the cake is completely thawed before opening the container. This will prevent the cake from drying out.
Other Layer Cakes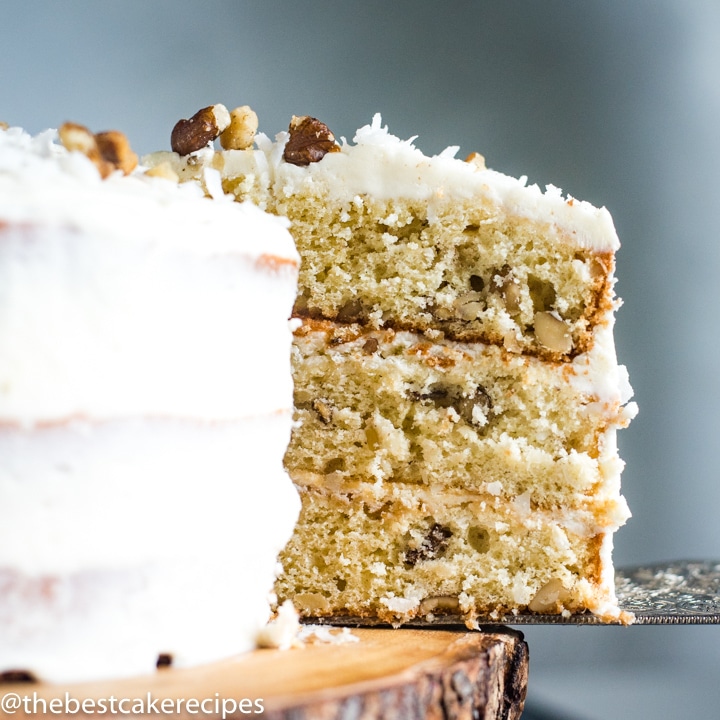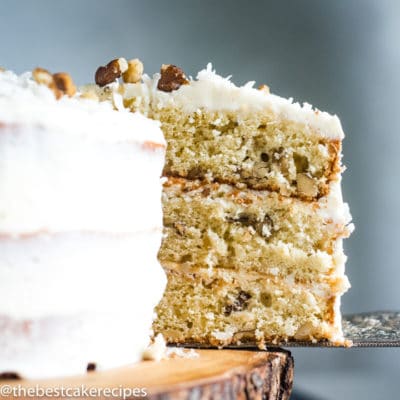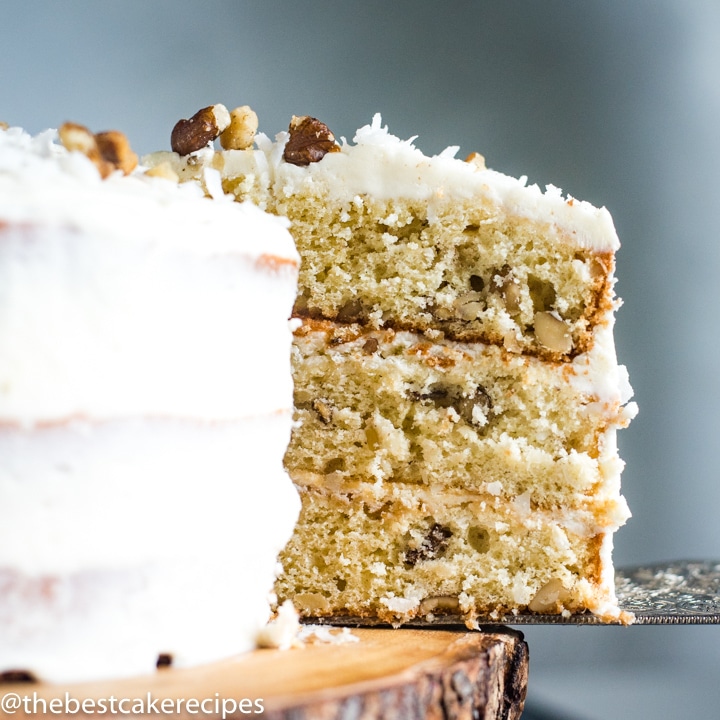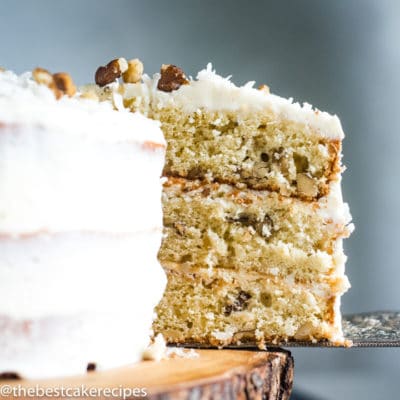 Black Walnut Cake
3 layers of delicious cake with that classic black walnut flavor. This Black Walnut Cake with cream cheese frosting is sure to become a favorite!
---
Instructions
Make the cake:
Preheat the oven to 350º Fahrenheit. Grease and flour 3 9" round baking pans.

In a medium bowl, mix together the flour, baking soda and salt. Set aside.

In the bowl of a stand mixer, beat the butter until it is creamy and almost white in appearance.

Add in the sugar and beat again.

Add the egg yolks only to the creamed butter. Beat 2 minutes.

Add the flour mixture to the creamed butter alternately with the buttermilk. Start with the flour mixture and end with the flour mixture. Beat between each addition.

Beat until the mixture is smooth, scraping the sides of the bowl as needed.

Mix in the vanilla, 1 ½ cups of walnuts and coconut.

Using a hand mixer, beat the egg whites and cream of tartar in a small bowl until they are stiff and can hold peaks.

Fold the egg whites into the cake batter.

Divide the cake batter evenly between the 3 pans.

Bake for 27-30 minutes or until the cakes test done.

Cool for 10 minutes before removing the cakes to a wire rack to cool completely.
Make the frosting:
Using an electric mixer, mix the butter and cream cheese, scraping down the sides as needed, until the mixture is light and fluffy. This will take about 3 minutes.

With the mixer on low speed, add the powdered sugar, ½ a cup at a time, until it is thoroughly mixed.

Add the vanilla and beat the frosting on medium speed for about 2 minutes.
Assemble the cake:
Make sure the cakes are level. Cut off any domed parts.

Place one cake layer on the plate.

Frost the cake with a thin layer of frosting.

Place the second layer on top, then frost as you did the first.

Place the third layer on top and frost the top of the cake.

Frost the sides of the cake, putting on as much frosting as you'd like. We chose to make a "naked" cake. You can add more frosting if you'd like.
Notes
The calories shown are based on the cake being cut into 15 pieces, with 1 serving being 1 slice of cake. Since different brands of ingredients have different nutritional information, the calories shown are just an estimate. **We are not dietitians and recommend you seek a nutritionist for exact nutritional information.*
Nutrition
Calories:
662
kcal
|
Carbohydrates:
73
g
|
Protein:
9
g
|
Fat:
39
g
|
Saturated Fat:
20
g
|
Cholesterol:
146
mg
|
Sodium:
410
mg
|
Potassium:
194
mg
|
Fiber:
2
g
|
Sugar:
58
g
|
Vitamin A:
1000
IU
|
Vitamin C:
0.2
mg
|
Calcium:
61
mg
|
Iron:
1.1
mg