When a chocolate craving hits, this easy cake recipe is your answer! A chocolate mug cake ready in under 5 minutes with a soft texture and amazing flavor.
Kinslee has a major sweet tooth. A day doesn't go by that she doesn't need an afternoon treat. Sometimes it is puppy chow, other times its a cookie and other times it is a chocolate microwave cake.
I never really understood the microwave cake craze…until I tried this one. This easy dessert is a gooey chocolate cake that is soft and full of double chocolate flavor.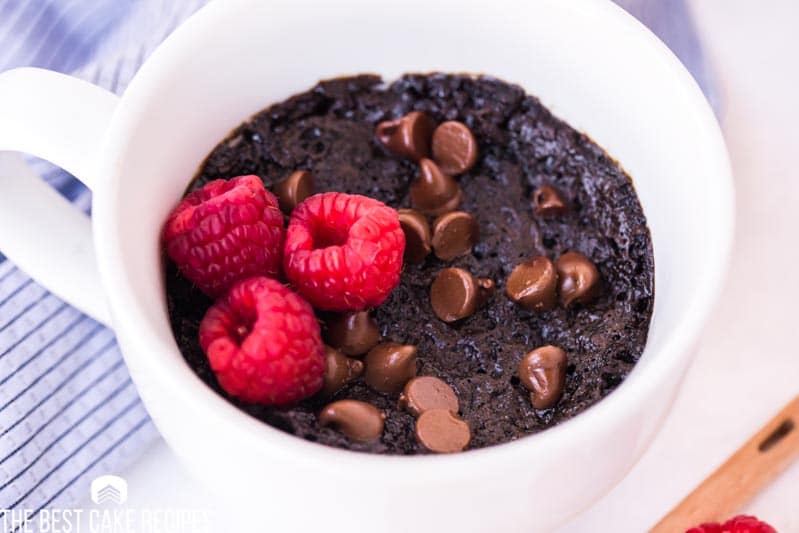 Why you'll love this cake:
pantry ingredients
double chocolate flavor
2 minute prep
up to 3 minute cook time (see microwave times below)
fudgy texture
kid friendly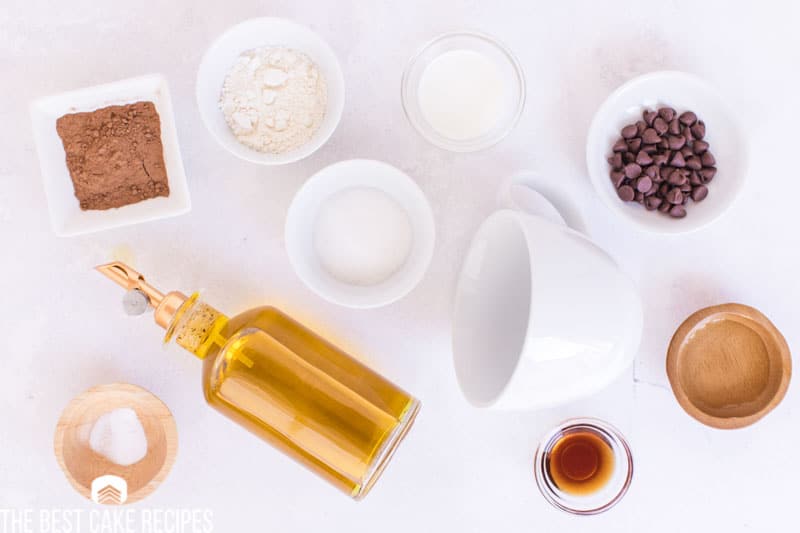 What do you need to make a mug cake?
You will need the following ingredients:
All-purpose flour. No special flour needed.
White granulated sugar.
Unsweetened cocoa powder. I used regular unsweetened cocoa powder, but you can also use dutch processed (or extra dark) cocoa powder and it will work for this recipe. It will be super dark cake!
Baking soda
Salt
Chocolate chips. I used milk chocolate chips, but you can use semi sweet or dark chocolate. Even white chocolate or butterscotch will do!
Half and half. You can substitute your half and half for whole or 2% milk.
Vegetable oil. I used regular vegetable oil for this cake. You can use olive oil, but I found that the taste of the olive oil can be a little overpowering, but you can use it if you are in a pinch.
Water.
Vanilla extract.
How long do you cook a mug cake?
All microwaves cook differently which means that you may need to adjust your cook time to prevent undercooking or overcooking your mug cake. My microwave is at 1000W and I cooked my cake for 1 minute and 30 seconds. I recommend checking on your cake after 1 minute and seeing how far along it is and then going from there.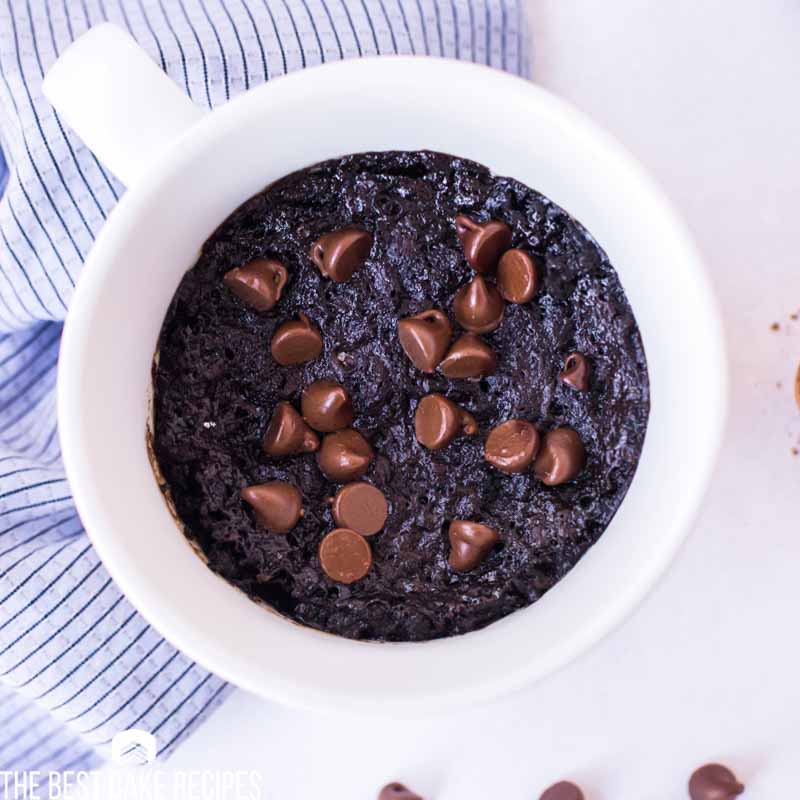 Why did my cup overflow when I microwaved it?
One important thing to remember about mug cakes is that the batter will rise during the cooking process and fall as it cools. If your mug isn't big enough, it will overflow during the rising process, meaning less chocolate cake for you to eat. Make sure that you have at least a 16 ounce sized mug.
Don't have a large mug? If you only have smaller mugs, you can choose to divide the dough in half between two small mugs or use a bowl instead.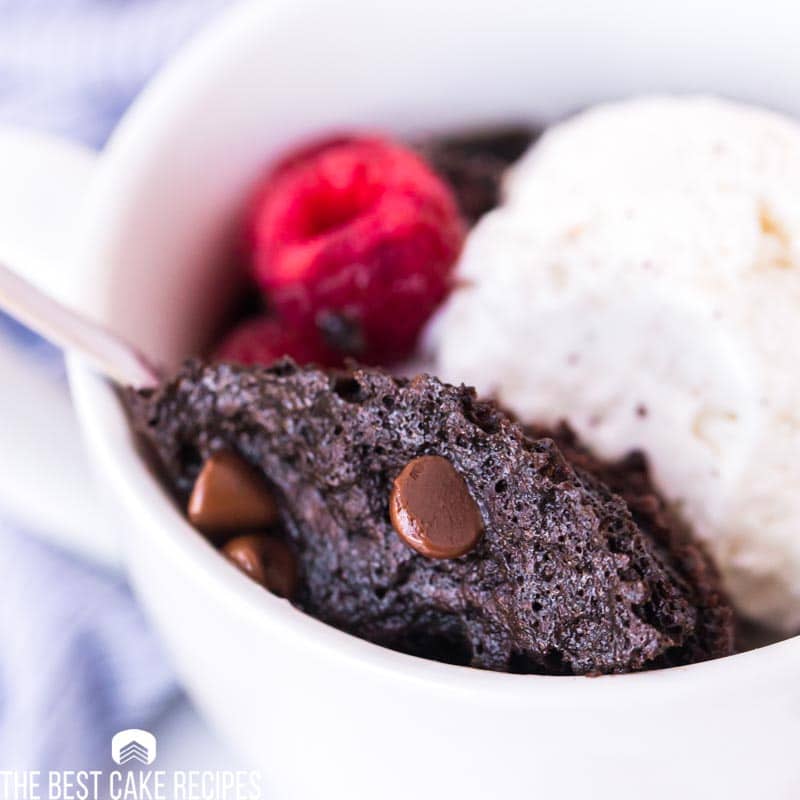 How do I store my mug cake?
You can store your mug cake at room temperature for up to 7 days before it starts to become stale. Although really, it's a serving for one. You shouldn't be keeping it that long, ya know what I mean?
It can be stored in the same mug that you cooked in. Make sure to cover the top of your mug so that your cake doesn't dry out.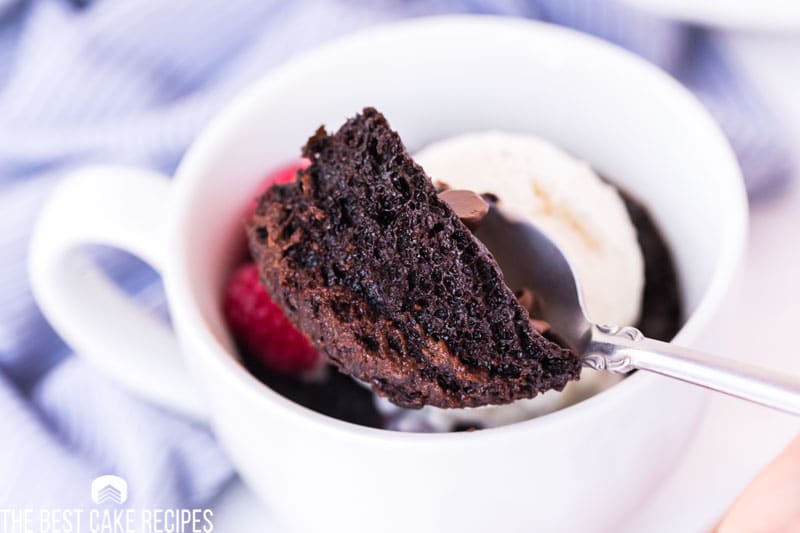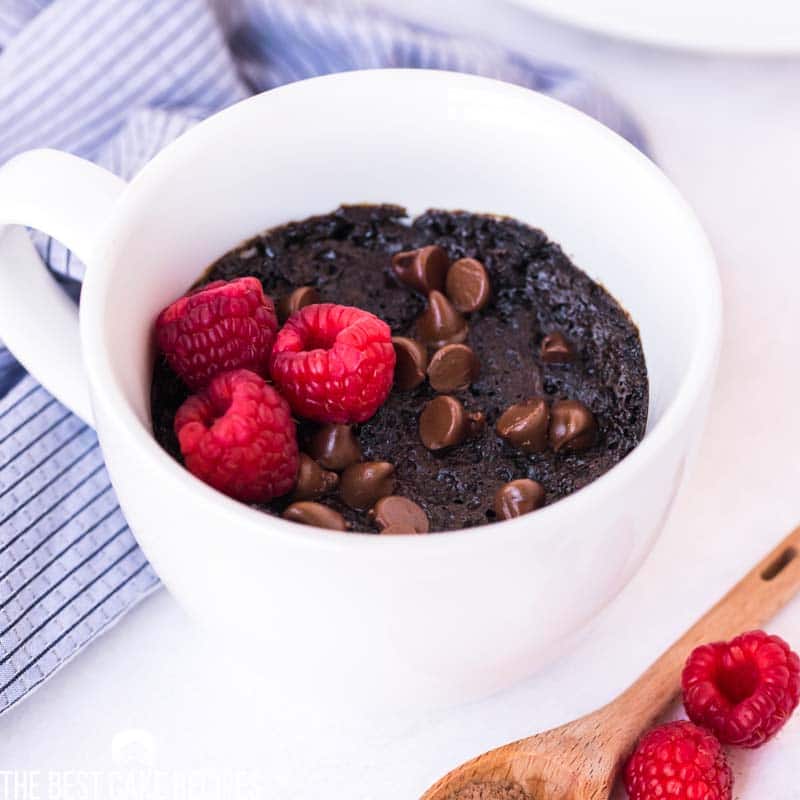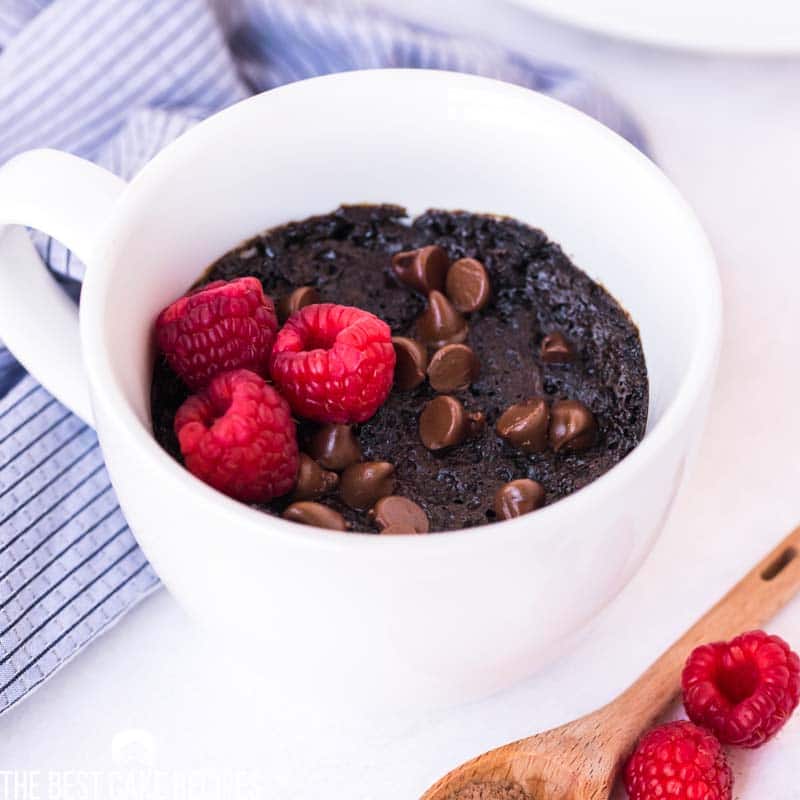 Chocolate Mug Cake
When a chocolate craving hits, this easy cake recipe is your answer! A chocolate mug cake ready in under 5 minutes with a soft texture and amazing flavor.
---
Instructions
In a 16 ounce mug, stir in flour, sugar, cocoa powder, baking soda, salt and chocolate chips.

Pour in half and half, oil, water, and vanilla extract and stir until combined.

Place mug inside microwave and cook for 1 minute. Then check it. Cook for an additional 1 minute and check again. If needed cook for an additional 50 seconds or until a toothpick comes out clean. The cake shouldn't have any jiggle.

Top with extra chocolate chips and enjoy!
Notes
The calories shown are based 1 cake. Since different brands of ingredients have different nutritional information, the calories shown are just an estimate. **We are not dietitians and recommend you seek a nutritionist for exact nutritional information.**
Nutrition
Calories:
849
kcal
|
Carbohydrates:
93
g
|
Protein:
8
g
|
Fat:
55
g
|
Saturated Fat:
42
g
|
Cholesterol:
8
mg
|
Sodium:
891
mg
|
Potassium:
229
mg
|
Fiber:
7
g
|
Sugar:
64
g
|
Vitamin A:
101
IU
|
Calcium:
71
mg
|
Iron:
4
mg