An egg free 3 layer homemade cake with buttercream frosting. Decorate this pretty Easter Layer cake with colorful macarons and Easter eggs for a spring dessert!
When you're looking for a delicious Easter dessert, often time fruit cakes such as pineapple or coconut come to mind. Strawberry wouldn't be a bad choice either!
If you want something a little more traditional, try this 3 layer easter layer cake. It is only 5″ in diameter, but it is 3 layers tall so it makes a beautiful presentation. Oh…and it's a vegan cake!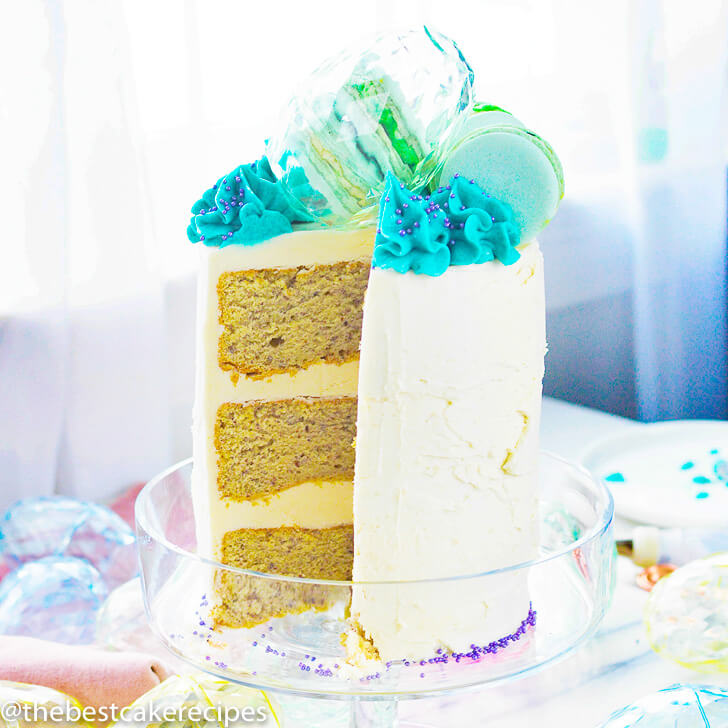 How to Mix a Cake
You'll notice that for this easter layer cake recipe, you mix the dry ingredients first, then the wet ingredients in a separate bowl. So why do you do this?
By mixing the ingredients separately, you don't run the risk of over mixing the batter. Overmixing can cause the cake to be dry and "tough".
After the wet and dry ingredients are mixed separately, add the dry ingredients into the wet and mix just until combined.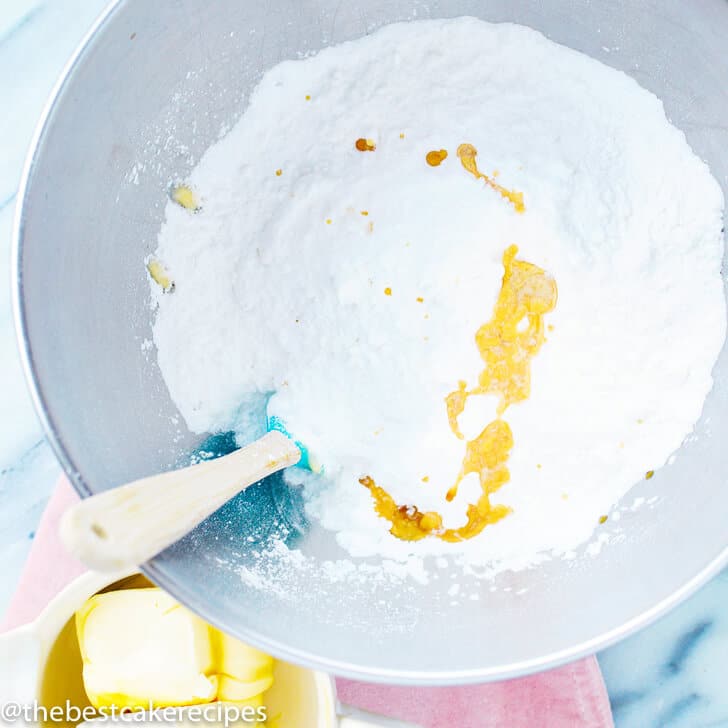 Egg Substitute for Cake
So what happens if you need an egg free cake or a vegan cake? We like to use a flax seed water combination. Simply mix the flax meal and warm liquid together and let sit to thicken for a few minutes.
I've been using this for years with wonderful success every time! The flax meal is the little brown flecks you see in the cake. As a bonus, it adds a little bit more fiber and omegas to the cake as well! The flax meal might add a tiny hint of a nutty flavor, but shouldn't be overly noticeable.
This will be the substitute for two standard sized eggs.
How to Divide Cake Batter Evenly
I used a large ice cream scoop to count roughly even amounts of batter into each pan to help have similarly sized rounds. You could also weigh the pans as you fill them to help ensure they are as close to even as possible.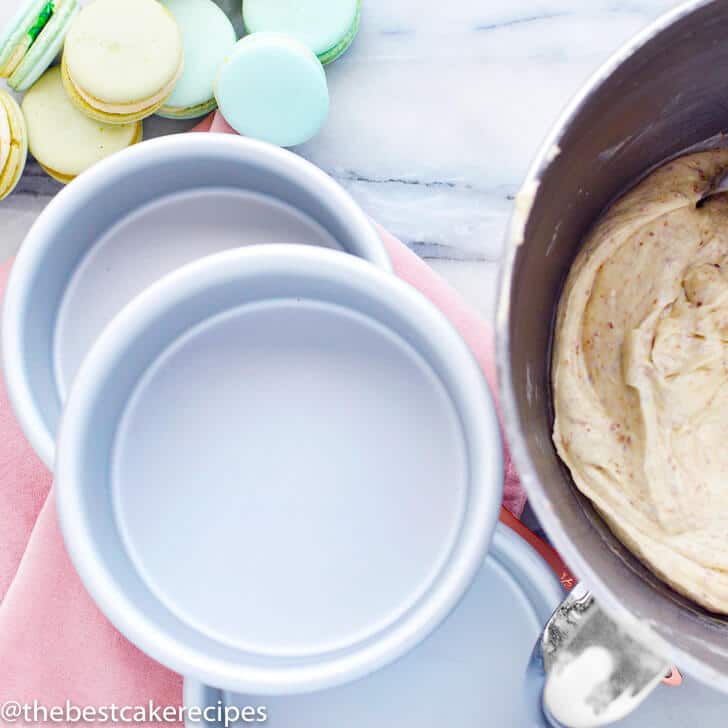 How to Fix a Dry Cake
What happens if your easter layer cake ends up too dry? How do you fix it?
We like to use simple syrup. You can find our recipe for it here. Simple syrup is a great way to add not only moisture but extra flavor to a cake.
You don't want to over soak the cake, so use a sprinkler bottle to get just the right amount that you need.
Best Buttercream Frosting
Use your favorite frosting for this recipe. You can use our vanilla buttercream or a cream cheese frosting.
I went with a classic butter cream. You'll want about 3 to 4 cups depending on how fluffy the frosting is and how much frosting you would like on the cake.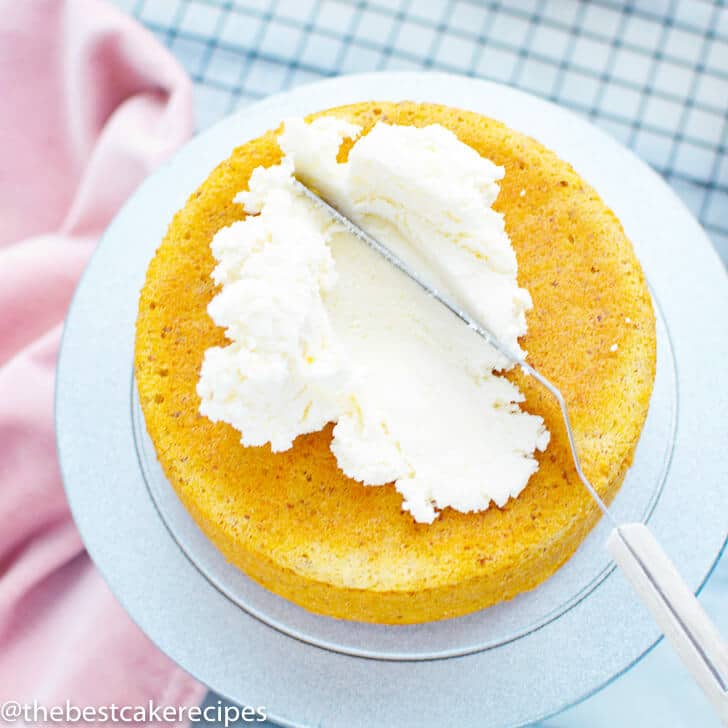 Best Food Coloring
We find gel food coloring the easiest to work with. It is more potent than liquid food coloring so it takes less to achieve the color you'd like.
As you'll notice, there is a pretty blue frosting piped around the edge of the cake. For the blue frosting dollops on top, I simply added a little bit of the teal Wilton food coloring gel until it achieved the color I had in mind.
You'll need about 1 cup of colored frosting to pipe the stars on top of the cake.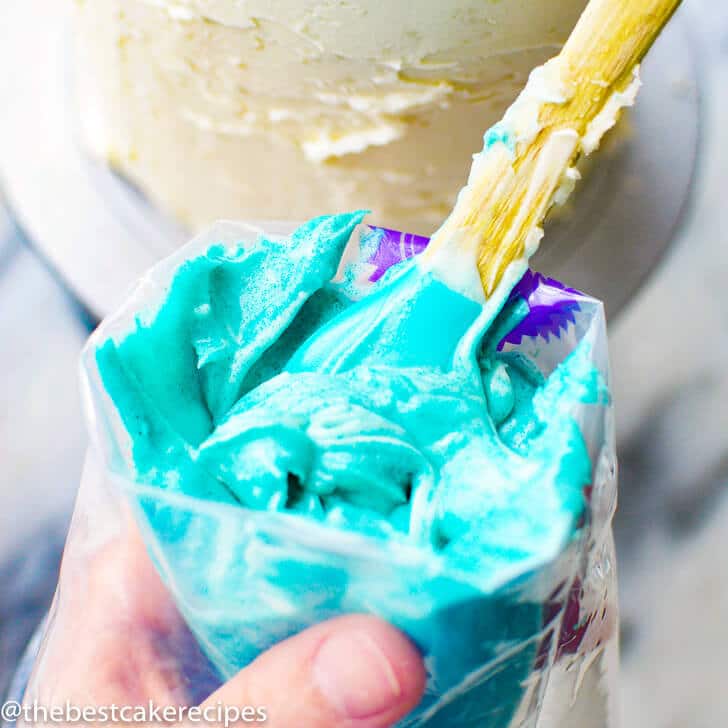 What tip to use for frosting swirls?
To make large frosting swirls, use Wilton tip 1M or 2D. These are large tips that you can use with a disposable frosting bag. No coupler needed.
If you're wondering exactly how to make pretty swirls on cakes or cupcakes, check out this YouTube video.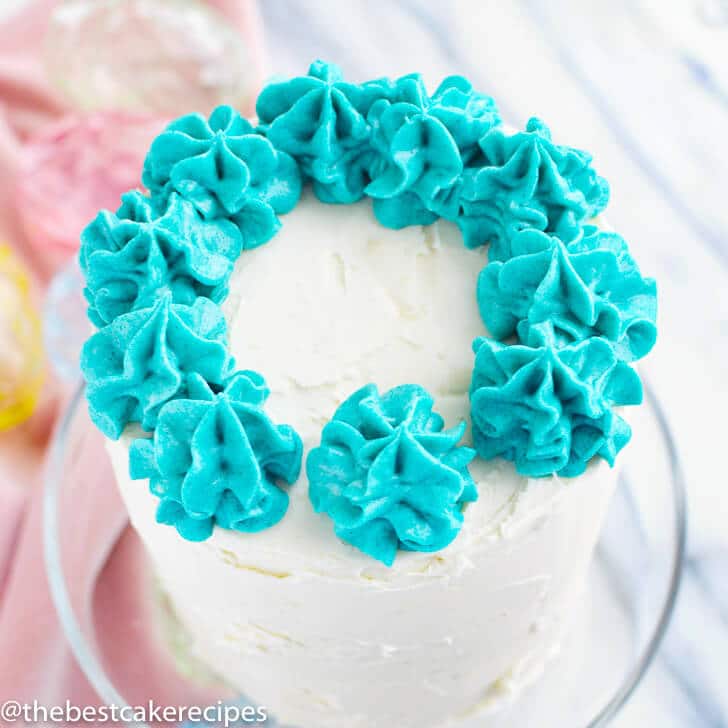 How to Decorate an Easter Layer Cake
Macarons are a great way to decorate a spring cake because of the beautiful colors that you can get. Now how can a vegan cake have macarons on top? Make vegan macarons! You can find a recipe here.
You can also buy small plastic eggs to place on top. These work great because they are very lightweight and can sit on top of the cake easily.
Other ideas would include malted milk eggs, jelly beans or even peeps!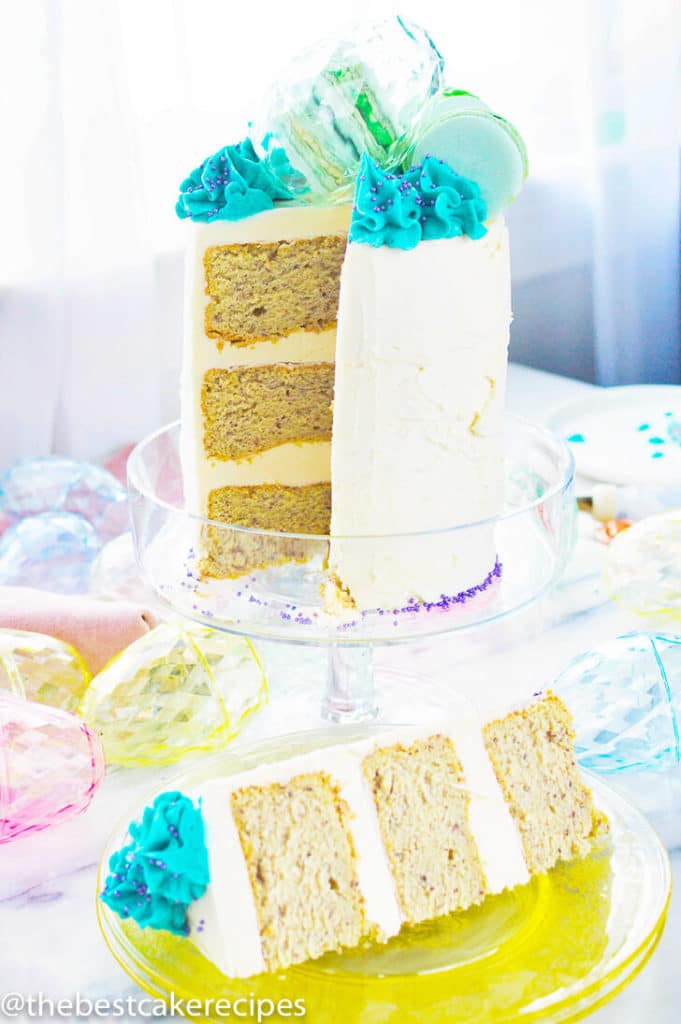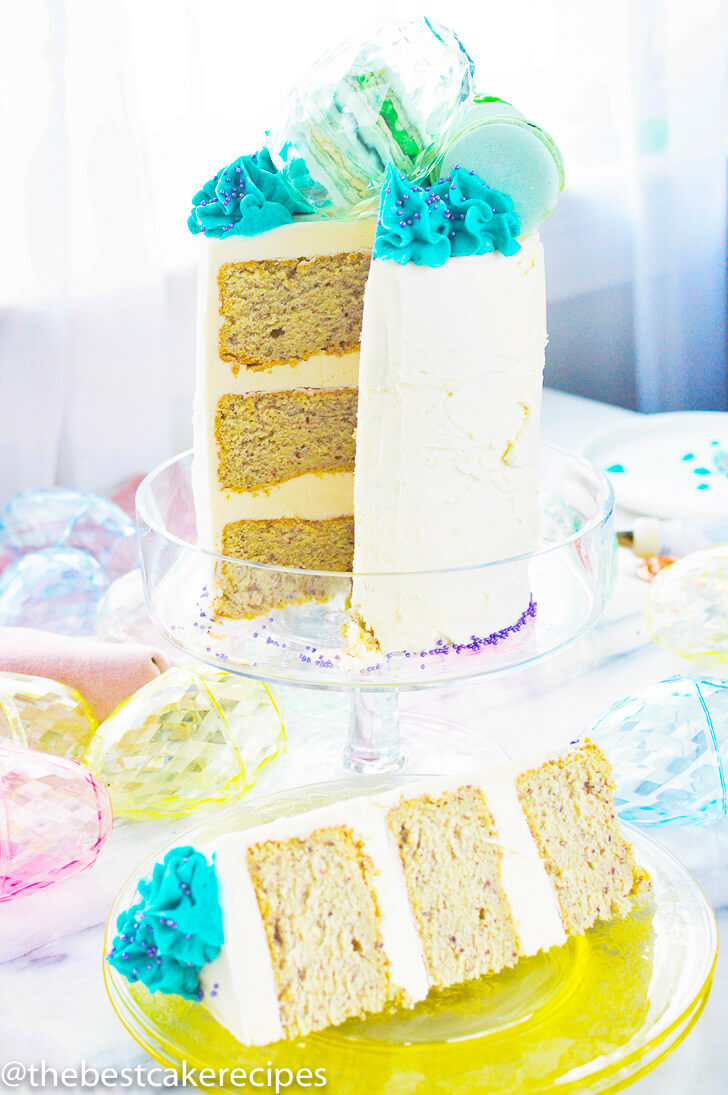 How to Store Cake
The frosting will "seal" the cake to keep it fresh so there is no need to refrigerate this cake. It stores well at room temperature before it is cut.
Once you cut the cake, store any leftovers in an airtight container in the refrigerator. It will keep well for about 4-5 days.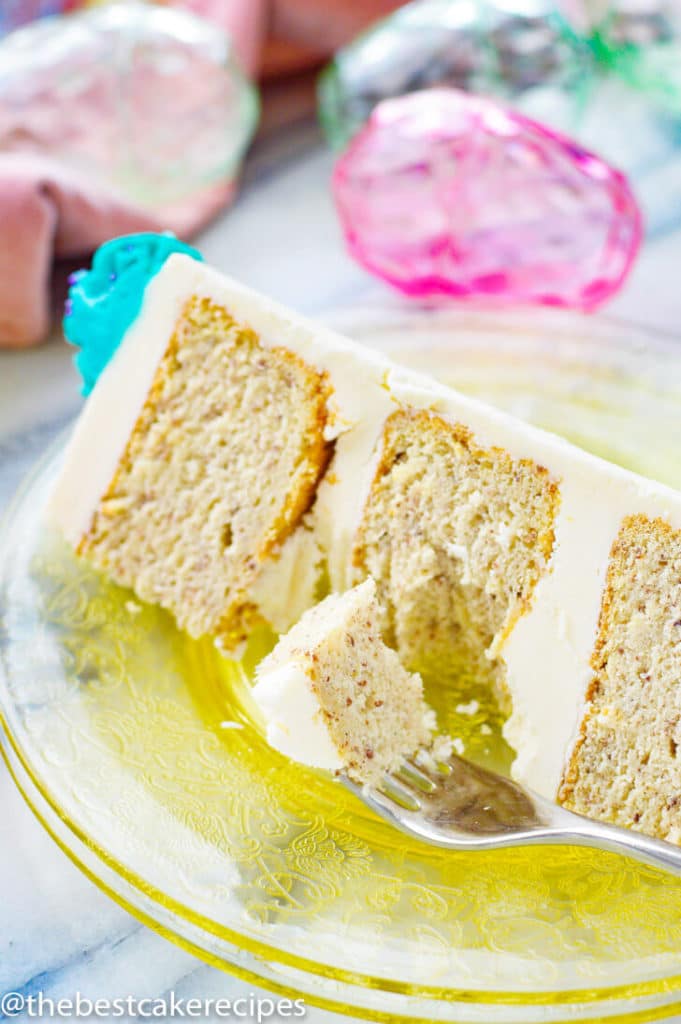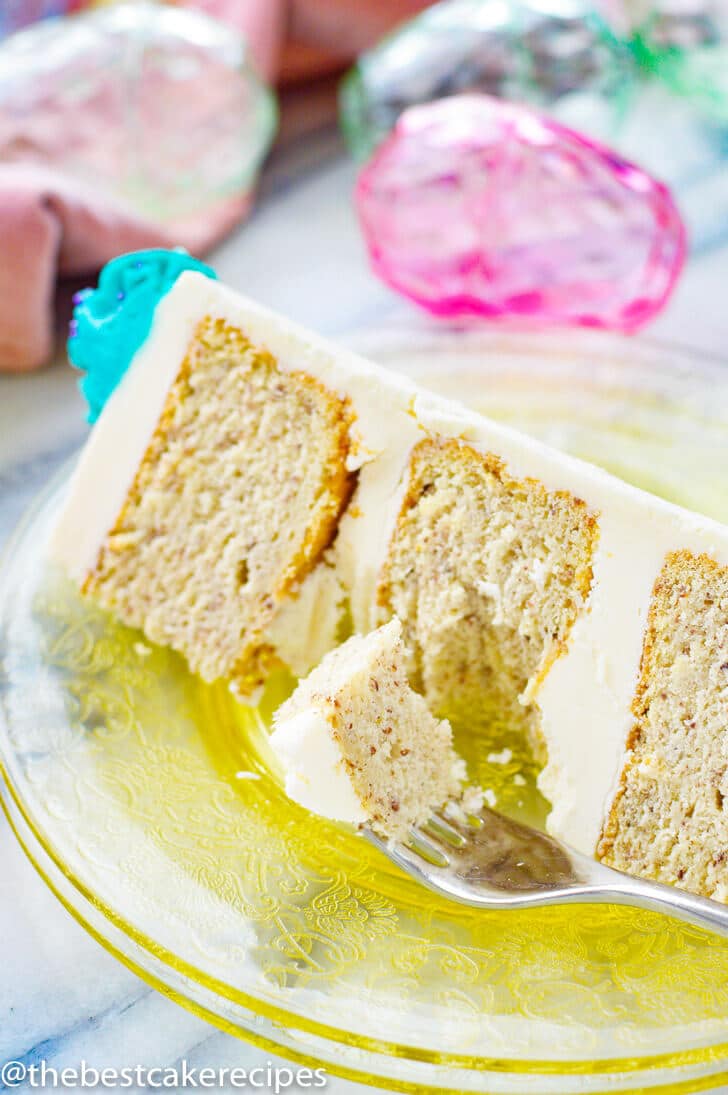 Other Layer Cakes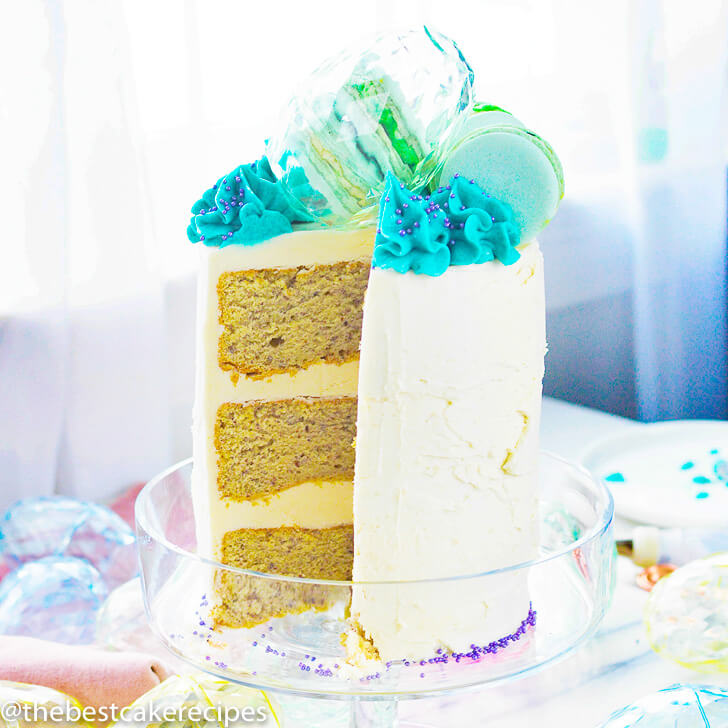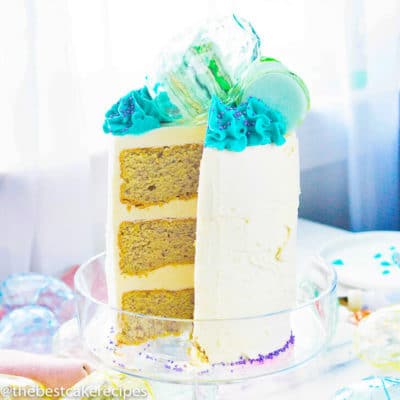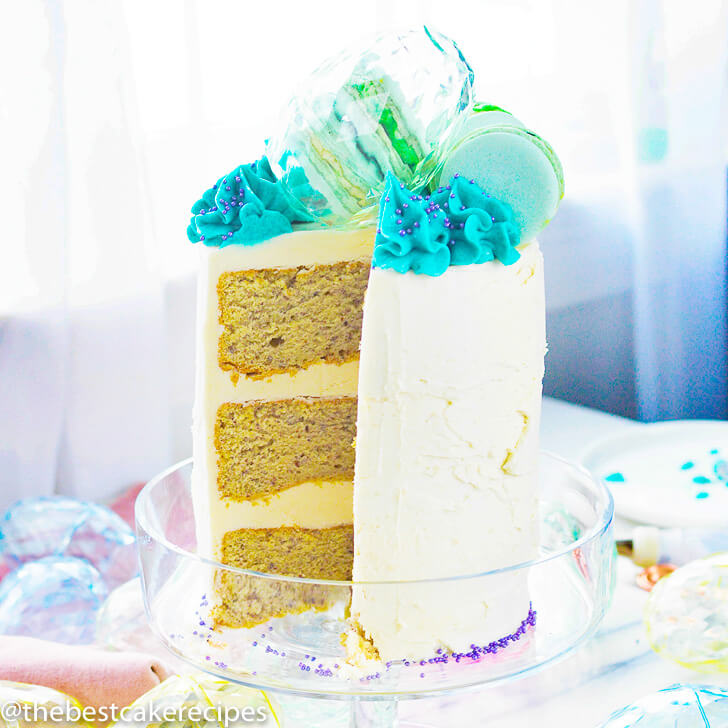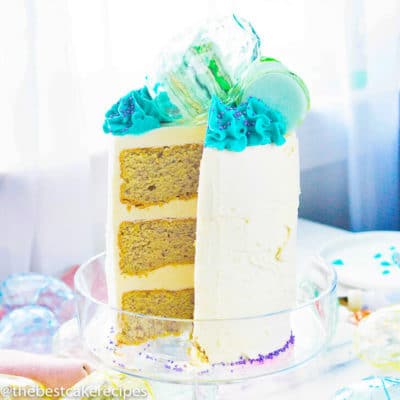 Easter Layer Cake
An egg free 3 layer homemade cake with buttercream frosting. Decorate this pretty Easter Layer cake with colorful macarons and Easter eggs for a spring dessert!
Total Time
1

hour
30

minutes
---
Ingredients
2 1/4

cups

cake flour

(plus a little more for flouring the baking pans)

1

tablespoon

baking powder

1 1/2

teaspoons

baking soda

½

teaspoon

quality salt

(I used Himalayan)

½

cup

salted butter

(room temperature)

1 3/4

cups

granulated sugar

1

cup

milk

at room temperature

2

tablespoons

ground flax seed

(or flax meal)

5

tablespoons

warm water
Optional toppings:
macaroons

plastic easter eggs
Instructions
Make the cake:
Combine the flour, baking powder, baking soda and salt together in a medium size bowl and whisk.

In another bowl, cream together the butter and the sugar. Then add in the milk. Mix to combine.

In a small bowl, mix together the flax meal and warm water until well combined. Let the mixture sit for a few minutes to thicken. Then add it to the sugar mixture. Mix well.

Then add the dry ingredients into the wet ingredients and use an electric mixer to combine. You should have a thick, fluffy and rich batter.

Heat the oven to 350 degrees Fahrenheit. Grease 3 5″ round cake pans with shortening, then dust them with flour.

Evenly divide the batter between the pans. Use a spatula to spread the batter evenly.

Bake for about 26 to 30 minutes (even though the pans are small, these are thick layers and you'll need to ensure the cakes are baked all the way through). Touch the center of the cake. It should spring back when you touch it.

Let the cakes cool for 5 minutes in the pan and then carefully transfer to a wire cooling rack until they are completely cool.

(If time allows, wrap the cakes tightly with plastic and chill for at least 3 hours before planning to frost them.)
Color the Frosting:
Choose your favorite frosting recipe. You'll need about 3-4 cups to cover this cake.

Separate out about 1 cup of frosting and color it any color you'd like. This will be for the swirls piped on the top outer edge of the cake.
Frost the cake:
When you are ready to frost and the cakes are cool, check that the cake layers are even. If needed, use a sturdy serrated knife or cake splitter to even out and remove the tops.

Put a small amount of frosting on the bottom center of the plate to help hold the cakes in place. Place one cake layer on the cake.

Cover the bottom cake with a thick and even layer of frosting.

Set the second cake layer on top, making sure it is level on top. Frost the top of this layer also.

Place the third layer on top and make sure it is sitting level.

Frost the top and sides of the cake in whatever style you'd like.

Use a large decorating tip such as Wilton 1M or 2D to pipe swirls around the top outer edge of the cake.

Place macarons and a few small plastic Easter eggs on top to decorate. Sprinkle spring colored sprinkles on top of the cake if you'd like.

Loosely cover and chill until you're ready to serve.
Notes
The calories shown are based on the cake being cut into 12 pieces, with 1 serving being 1 slice of cake. Since different brands of ingredients have different nutritional information, the calories shown are just an estimate. **We are not dietitians and recommend you seek a nutritionist for exact nutritional information.**
Nutrition
Calories:
521
kcal
|
Carbohydrates:
86
g
|
Protein:
3
g
|
Fat:
18
g
|
Saturated Fat:
7
g
|
Cholesterol:
22
mg
|
Sodium:
415
mg
|
Potassium:
179
mg
|
Sugar:
65
g
|
Vitamin A:
270
IU
|
Calcium:
77
mg
|
Iron:
0.5
mg