If you've ever wondered how to make simple syrup, here is an easy tutorial! Simple Syrup keeps cakes moist through the decorating process…and can add flavor, too!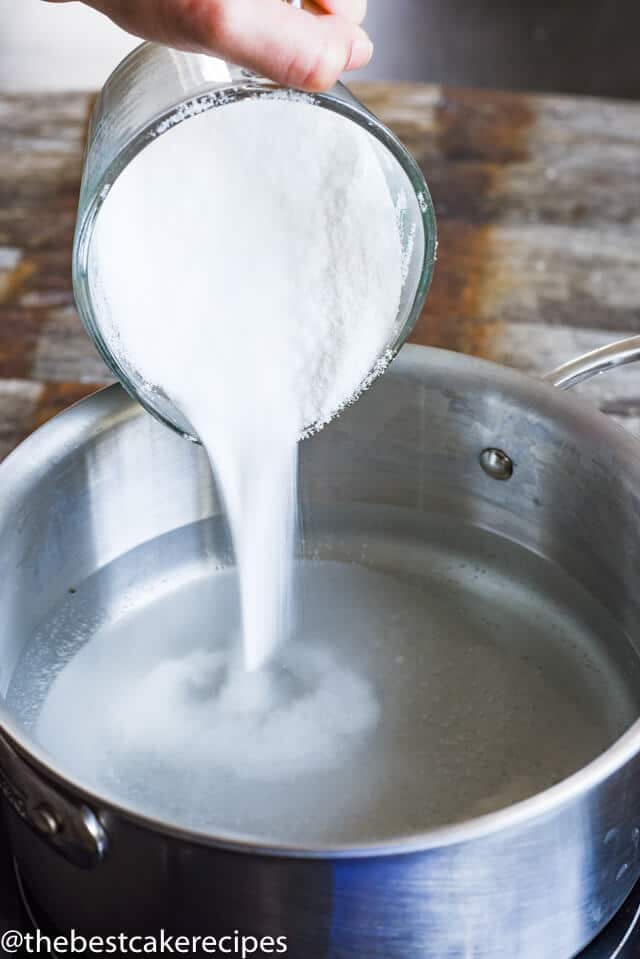 Simple syrup is called what it is for one reason. It's simple. And today we're talking all about how to make simple syrup!
What is simple syrup?
Simple syrup is a water & sugar combination, cooked together into a syrup. It is often used in mixed drinks, but is also delicious used on cakes.
Simple Syrup Ratio
No matter what size batch of syrup you want to make, always use a 1:1 ratio. However much water you put into the pot, that is how much sugar you'll use too. So you can use as little as ½ cup of each….or on up from there! Our sprinkle bottle holds nearly 4 cups of syrup, so that is what we generally make.
How to Make Simple Syrup
Remember…use equal amounts of water and granulated white sugar. Simply heat the water to a low boil in a pan on the stovetop, then add the sugar. Whisk the sugar into the water until all of the sugar is dissolved. This won't take long…ours took about 5 minutes from heating to when the sugar was completely dissolved.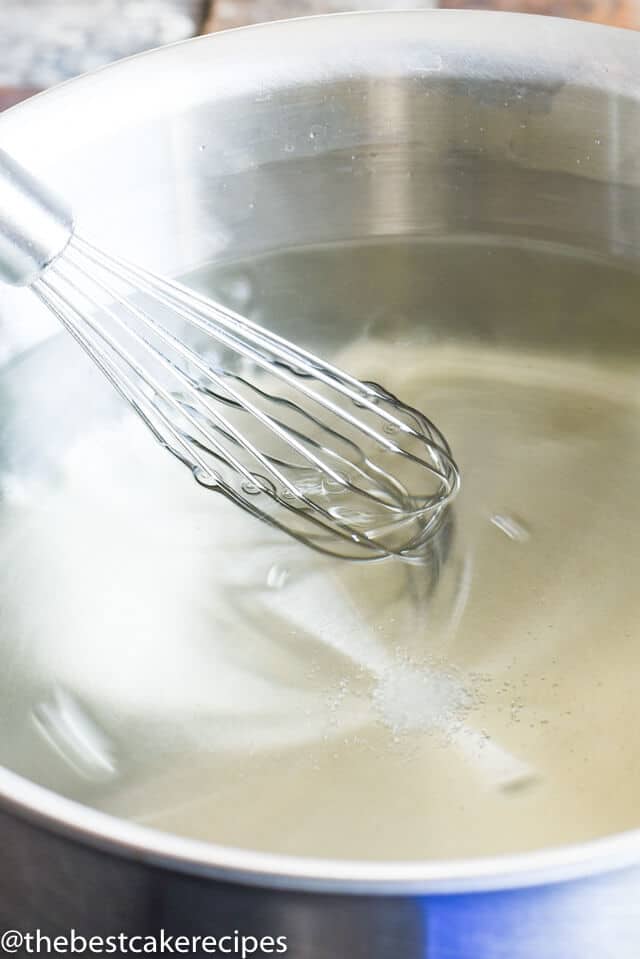 Can I flavor the syrup?
Yes! We don't usually flavor our syrup so we can use it for any type of cake. But you can add your favorite extract if you'd like. Think mint, vanilla, coffee, butter, almond…you name it, it would work!
How long can I keep simple syrup?
The way we make simple syrup as described in this recipe, it will keep in the refrigerator for about 1 month. The general rule is to only make an amount that you will use in a reasonable amount of time, such as within a month. That will keep you from having to constantly make it, but also keep it as fresh as possible.
Do I need to refrigerate simple syrup?
Yes, you should refrigerate simple syrup. I'm not a scientist or a food safety expert, so I'll not try to go into details. Syrup would be ok at room temperature for a day or two, but unless you have a small amount that you will be using up quickly, store it in the fridge.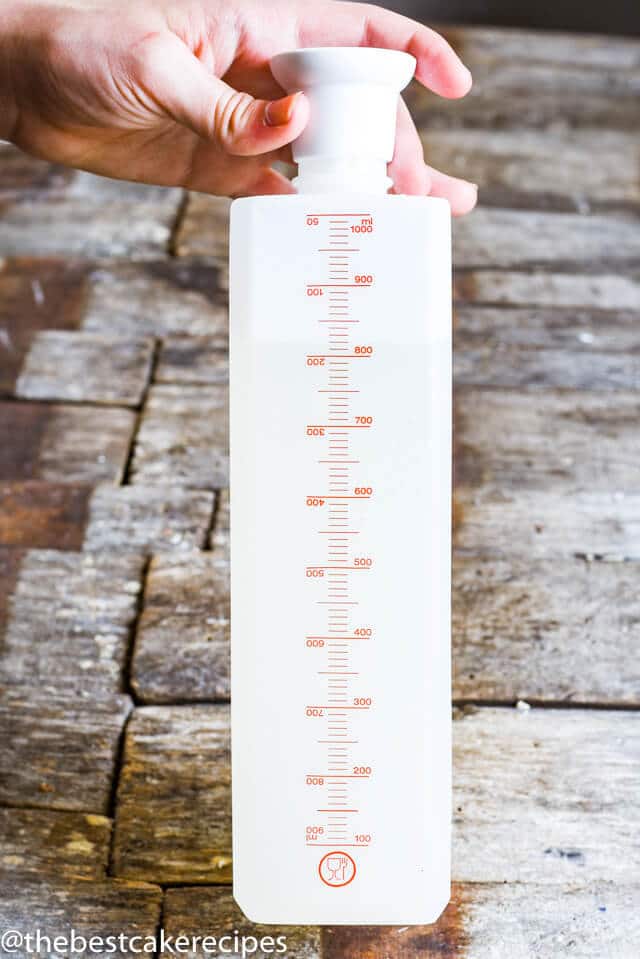 Simple Syrup for Cakes
What does simple syrup do for cakes? In short, it keeps cake moist. Most often, cake decorators who do intricate designs use simple syrup to keep cakes moist during all steps of the decorating process because it can sometimes take days to build a cake. Simple syrup can be used for homemade cakes which can sometimes seem drier and denser than box mix cakes.
How much simple syrup to I use for cake?
This is a hard question to answer with much preciseness, but in short I'd say a few tablespoons, depending on the size of the cake. You don't want to soak the cake so that it is soggy, but most cakes can handle a generous sprinkling of syrup.
Do I have to wait before I decorate the cake?
Yes, after you sprinkle the cake with syrup, allow it to totally soak into the cake before you start adding buttercream or fondant. You want to be sure the frosting sticks!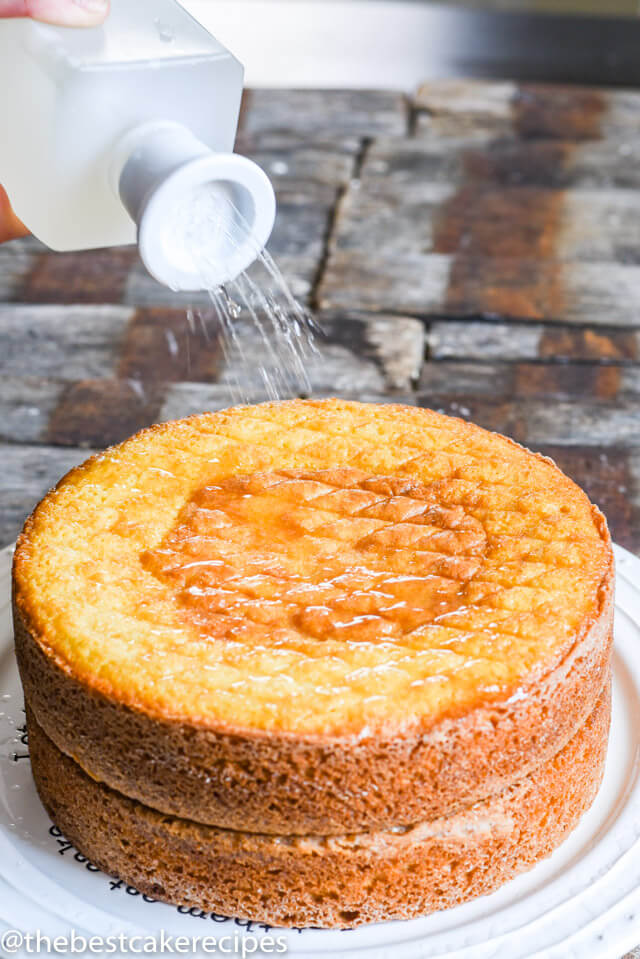 You'll LOVE this syrup sprinkler bottle that we use here. Buy it on Amazon!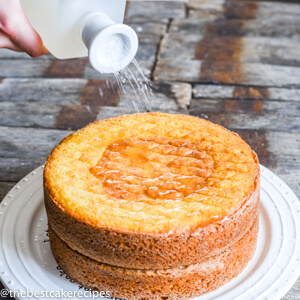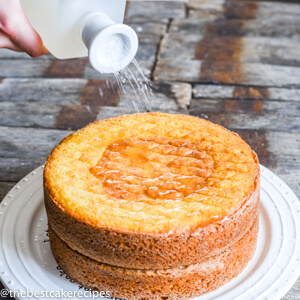 How to Make Simple Syrup Recipe
If you've ever wondered how to make simple syrup, here is an easy tutorial! Simple Syrup keeps cakes moist through the decorating process.
---
Ingredients
1

cup

water

1

cup

granulated sugar

Your favorite flavor extract

(optional)
Instructions
Heat the water in a saucepan.

Add the sugar and bring the water to a low boil.

Stir and cook until all of the sugar granules are dissolved into the water.

Store in a sprinkle bottle or airtight container in the refrigerator.
Notes
The calories shown are based on ¼ cup of simple syrup. Since different brands of ingredients have different nutritional information, the calories shown are just an estimate.
Nutrition
Calories:
96
kcal
|
Carbohydrates:
24
g
|
Sodium:
1
mg
|
Sugar:
24
g