Wondering how to use up brown bananas? Try this Easy Banana Cake with cream cheese frosting and a sprinkling of walnuts. It's a moist, flavorful from scratch cake recipe!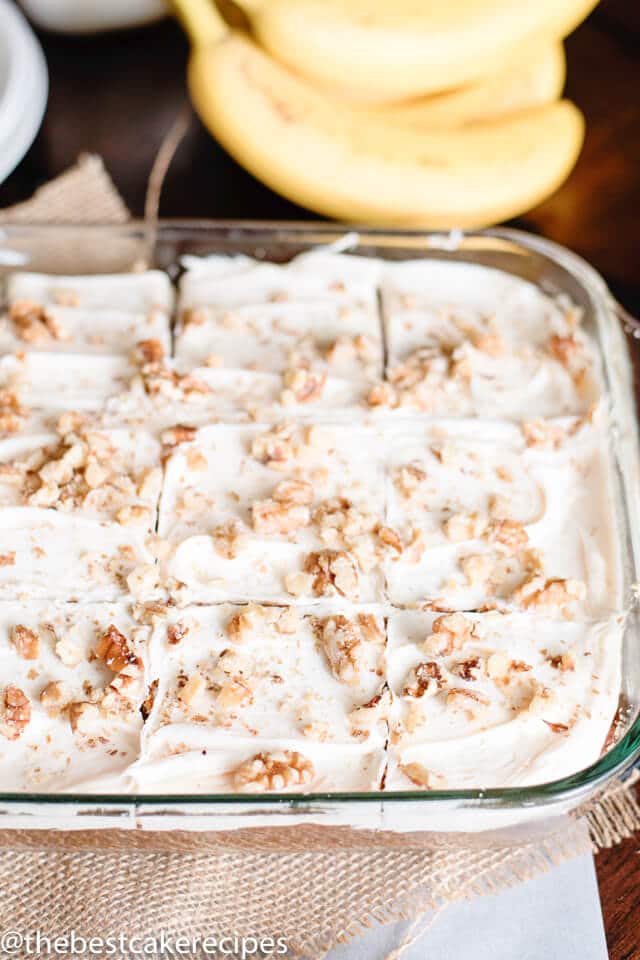 Easy Banana Cake
Bananas are a hot item in our house. I bring home at least two bunches of bananas anytime I go grocery shopping. I try to buy one bunch that is fairly yellow and at least one bunch that is still green. There have been so many times when I've wanted to make a banana cake, but found that the bananas had been gobbled up before they were anything near brown. Three teenagers in the house? Yeah…we go through food pretty quickly.
This easy banana cake recipe is one you're going to want to hide some bananas for. Not only is it easy, but it is a moist banana cake with a simply delicious flavor.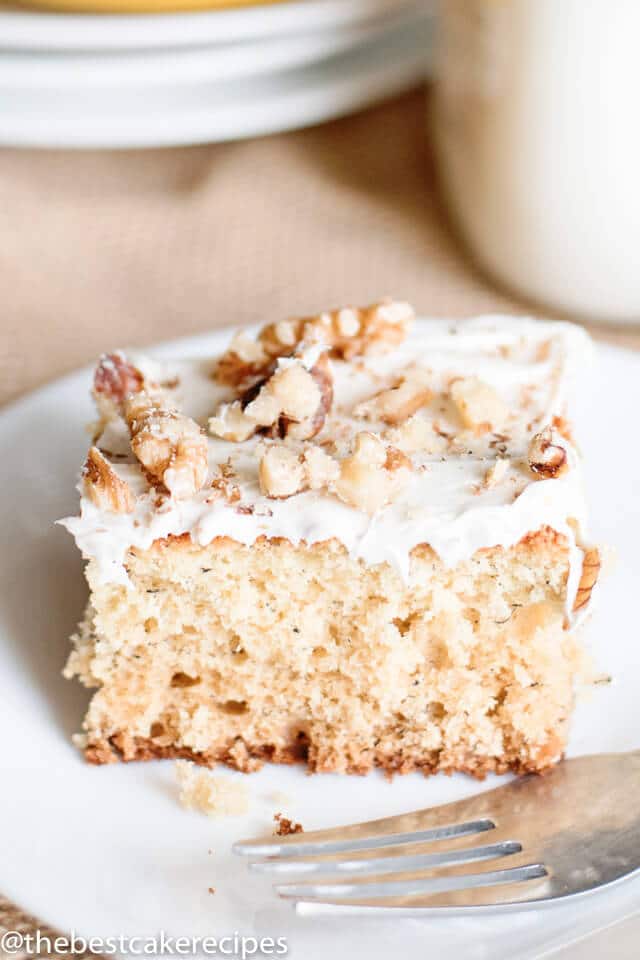 How to Make Banana Cake
This banana cake calls for several ingredients that make it soft and flavorful.
Butter. This is an old fashioned recipe taken from my most-loved Amish cookbook. Many times older recipes call for shortening, but we used butter here. Because butter increases the flavor all the more!
Buttermilk. Originally the old recipe called for sour milk which is not the same as buttermilk. But since we generally don't have sour milk on hand, buttermilk works just fine. Don't have buttermilk? Simply add a tablespoon of white vinegar to the bottom of the measuring cup and fill it the rest of the way with milk. Allow it to sit for 5 minutes and voila…buttermilk!
Cream of Tartar. What is cream of tartar? It's actually an "acidic by-product from the process of making wine".  It's the sediment left in the wine barrels after the wine ferments. Isn't that so strange? Science is fascinating. Cream of tartar can act as a stabilizer and also helps to keep baked goods soft.
Mashed Bananas. Because this is banana cake, after all. Over-ripe bananas add moisture and flavor to this cake!
How to Ripen Bananas
If you are craving banana cake and don't have any browned bananas, here's a trick. Place the unpeeled bananas in the oven preheated to 300 degrees. Bake for about 30 minutes, checking the bananas every 10 minutes or so. The exact time the bananas need in the oven will depend on how ripe they were to start. The peels will turn black as they bake, but the insides will turn soft and mushy…yucky for eating raw, but perfect for all things banana cake and banana bread.
Banana Cake with Cream Cheese Frosting
Banana cake is delicious with many different toppings. A dollop of whipped cream, a sprinkling of sugar, even caramel frosting (which reminds me of bananas foster!). But what we really love is a light layer of cream cheese frosting and a sprinkling of nuts. This cream cheese frosting is easy to whip up and will literally melt in your mouth. It's that good.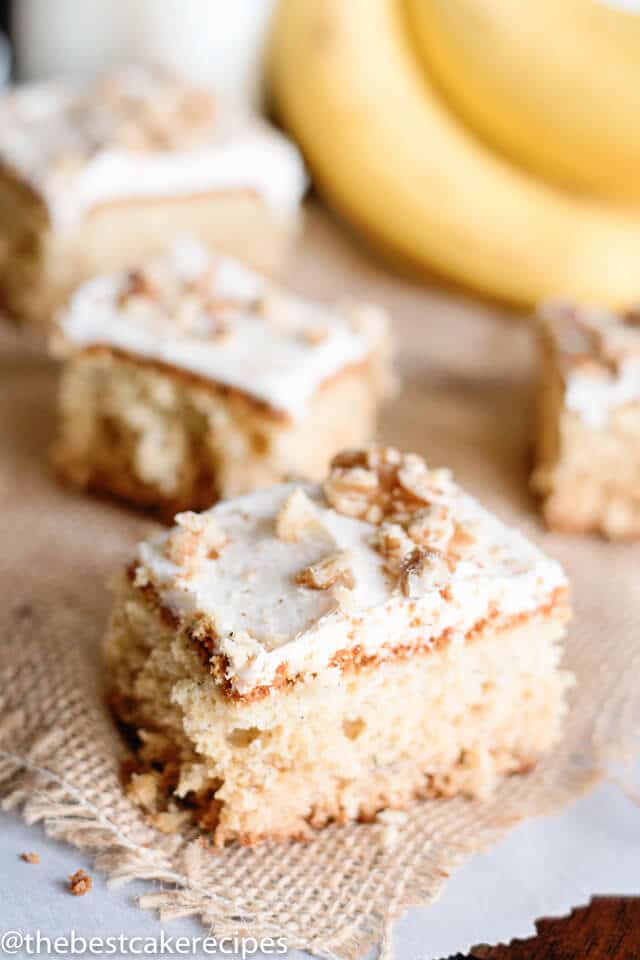 Tools Needed to Make This Cake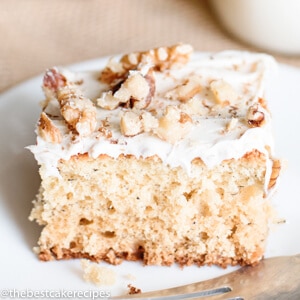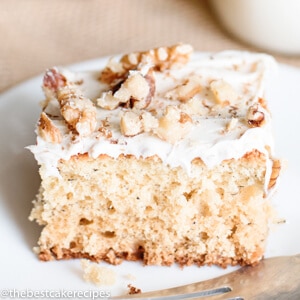 Easy Banana Cake
Wondering how to use up brown bananas? Try this Easy Banana Cake with cream cheese frosting and a sprinkling of walnuts. It's a moist, flavorful from scratch cake recipe!
---
Instructions
Preheat the oven to 375 degrees.

Grease and flour a 9x13 cake pan.

In a large bowl, cream together the sugar and butter.

Add the eggs, milk and vanilla. Set aside.

In another bowl, combine the flour, baking soda, baking powder, salt and cream of tartar. Mix well.

Add the flour mixture to the wet ingredients and mix well, then fold in the bananas and walnuts.

Pour the batter into the prepared cake pan and smooth it to cover the bottom of the pan evenly.

Bake for 40 minutes, or until the middle of the cake springs back when you touch it.

Allow the cake to cool while you prepare the frosting.

Using an electric mixer, mix the butter and cream cheese, scraping down the sides as needed, until the mixture is light and fluffy. This will take about 3 minutes.


With the mixer on low speed, add the powdered sugar, ½ a cup at a time, until it is thoroughly mixed.


Add the vanilla and beat the frosting on medium speed for about 2 minutes.


Spread the frosting on the cooled cake, then top with chopped walnuts.
Video
Notes
The calories shown are based on the cake being cut into 15 pieces, with 1 serving being 1 slice of cake. Since different brands of ingredients have different nutritional information, the calories shown are just an estimate.
Nutrition
Calories:
489
kcal
|
Carbohydrates:
59
g
|
Protein:
5
g
|
Fat:
26
g
|
Saturated Fat:
13
g
|
Cholesterol:
82
mg
|
Sodium:
269
mg
|
Potassium:
230
mg
|
Fiber:
1
g
|
Sugar:
43
g
|
Vitamin A:
730
IU
|
Vitamin C:
1.3
mg
|
Calcium:
62
mg
|
Iron:
1.3
mg