Creamy, easy to spread frosting made with white chocolate! Use this white chocolate frosting on cakes, cupcakes and brownies. Try our white chocolate cake!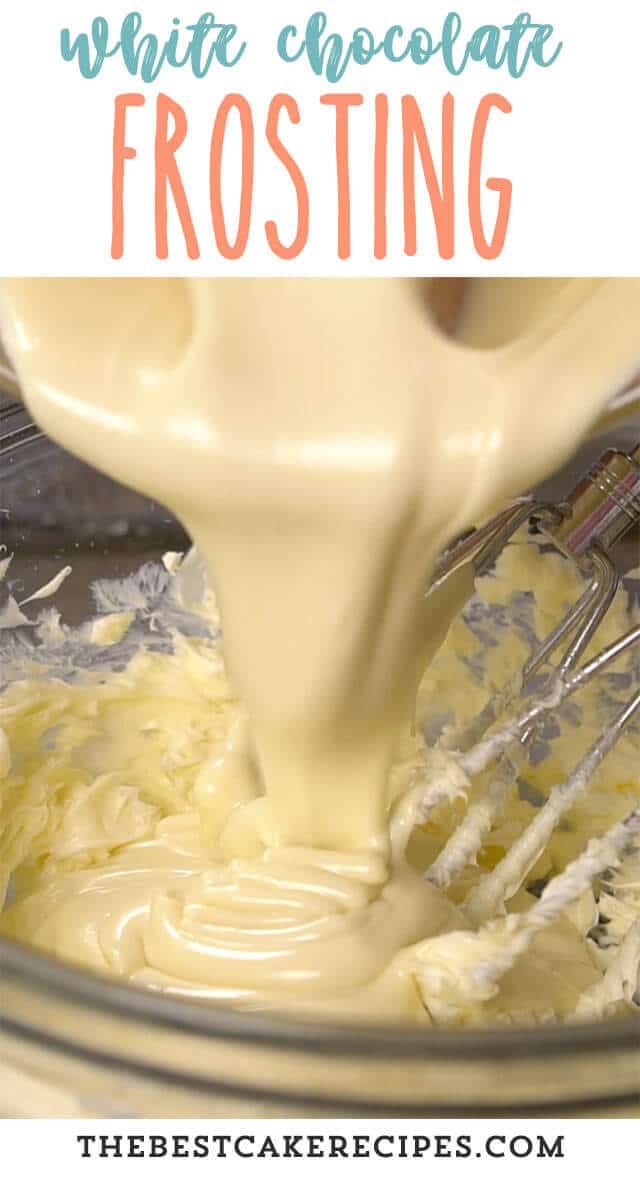 White Chocolate Frosting
If you love white chocolate and cake, you're in the right place! This white chocolate frosting has melted white chocolate added right to the frosting for an ultra rich, super smooth frosting for just about any cake you'd like.
Is white chocolate technically chocolate?
Technically, white chocolate is not considered chocolate. It's a blend of ingredients like cocoa butter, milk, sugar, vanilla and lecithin. It doesn't contain chocolate solids so doesn't taste like chocolate. But for those who can't eat official chocolate, white chocolate is a great option and you can normally switch out white chocolate for chocolate.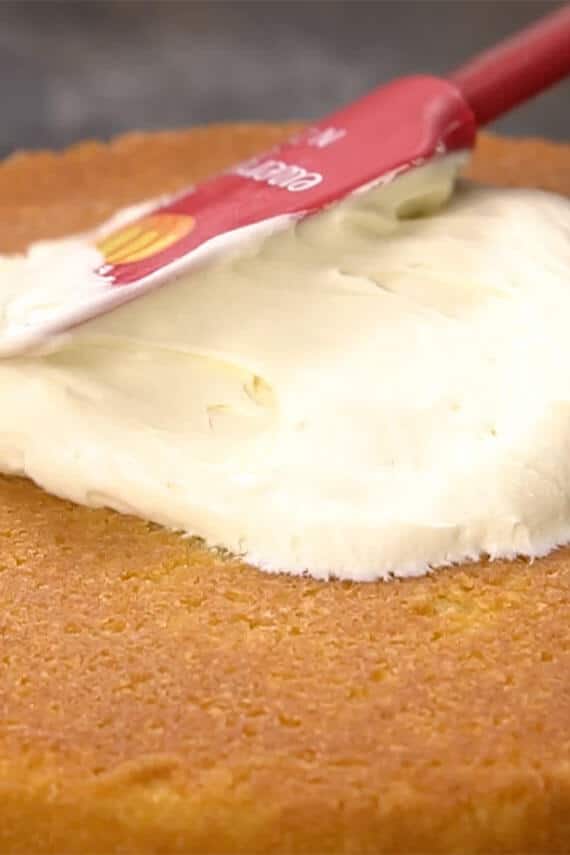 How do you melt white chocolate?
Because melted white chocolate is the base for this recipe, you'll need to melt 12 ounces of white chocolate in advance so it has a little time to cool to room temperature. The key to melting white chocolate is to melt it slowly and to be sure there is not even one drop of water in the bowl that you'll put the white chocolate in. Overheating the chocolate can cause it to burn, and even the littlest drop of water can cause white chocolate to seize up. If you are melting white chocolate and it becomes hard, it's best to just throw it away and start over.
I find it is easiest to start with high quality white chocolate when I need to melt it. Don't buy the cheap chips for this. And make sure the white chocolate is fresh. If it has sat in your pantry for many months, it won't melt well. Don't ask me how I know this. 🙂
It's easy to melt chocolate in a double boiler if you have one. If you don't have a double boiler, place the white chocolate in a glass bowl and microwave for 45 seconds. Stir the chocolate, then microwave for additional 10-15 second intervals, stirring between each time, until the chocolate is smooth.
It can also help to add a tablespoon of shortening to the chocolate when melting also. This makes it silky smooth!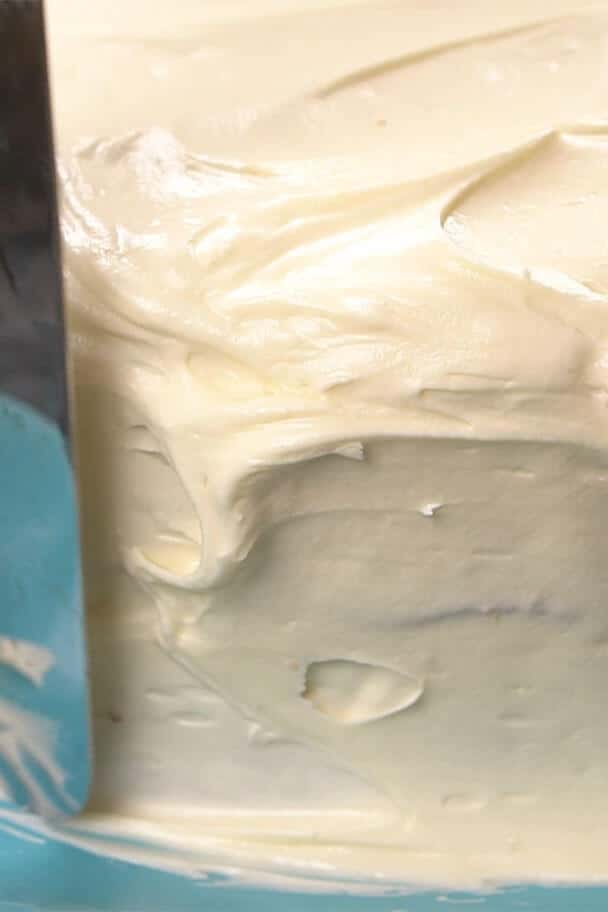 This white chocolate frosting is really smooth and easy to spread. This recipe makes enough to put a light coat of frosting on a 2 layer cake. Smooth with a spatula for a beautiful presentation!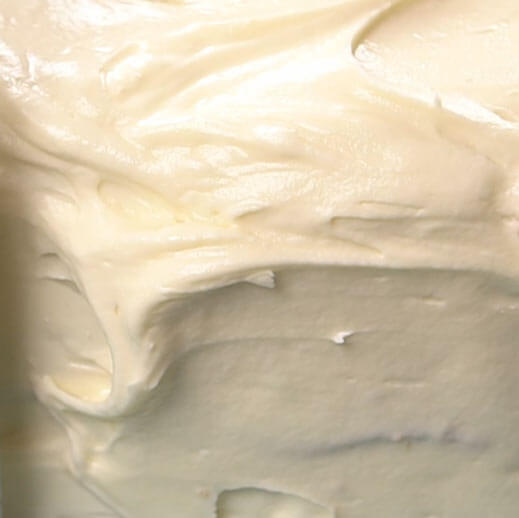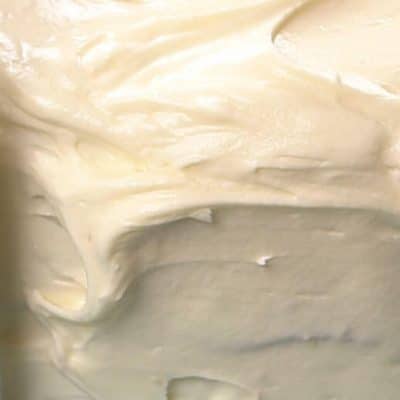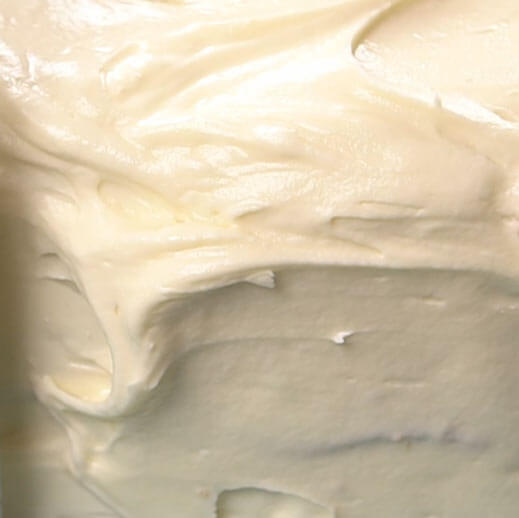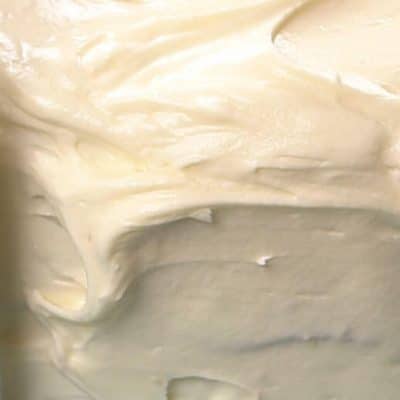 White Chocolate Frosting
Creamy, easy to spread frosting made with white chocolate! Use this white chocolate frosting on cakes, cupcakes and brownies.
---
Instructions
**Melt the white chocolate in advance and allow it to come to room temperature. If it is hot when you add it to the whipped butter, it will melt the butter and the texture of the frosting will be off.

Using a stand mixer, beat the butter for 2 minutes until it is almost white in appearance. Drizzle in the white chocolate, mixing and scraping the bowl as needed as you pour it in.

Add the powdered sugar and vanilla.

Beat the frosting for 2-3 minutes until the frosting is smooth and creamy.
Notes
The calories shown are based on the frosting serving 12, with 1 serving being 1/12 of the frosting. Since different brands of ingredients have different nutritional information, the calories shown are just an estimate. **We are not dietitians and recommend you seek a nutritionist for exact nutritional information.**
Nutrition
Calories:
328
kcal
|
Carbohydrates:
26
g
|
Protein:
1
g
|
Fat:
24
g
|
Saturated Fat:
15
g
|
Cholesterol:
46
mg
|
Sodium:
160
mg
|
Potassium:
85
mg
|
Sugar:
26
g
|
Vitamin A:
480
IU
|
Vitamin C:
0.2
mg
|
Calcium:
61
mg
|
Iron:
0.1
mg