Gorgeous three layer whiteout cake with white chocolate ganache and shards. This White Peppermint Cake makes a beautiful statement during the winter season.
I'm a sucker for colorful cakes, especially when they are full of berries. But give me a cake that is one solid color and I'll quickly fall in love with it too!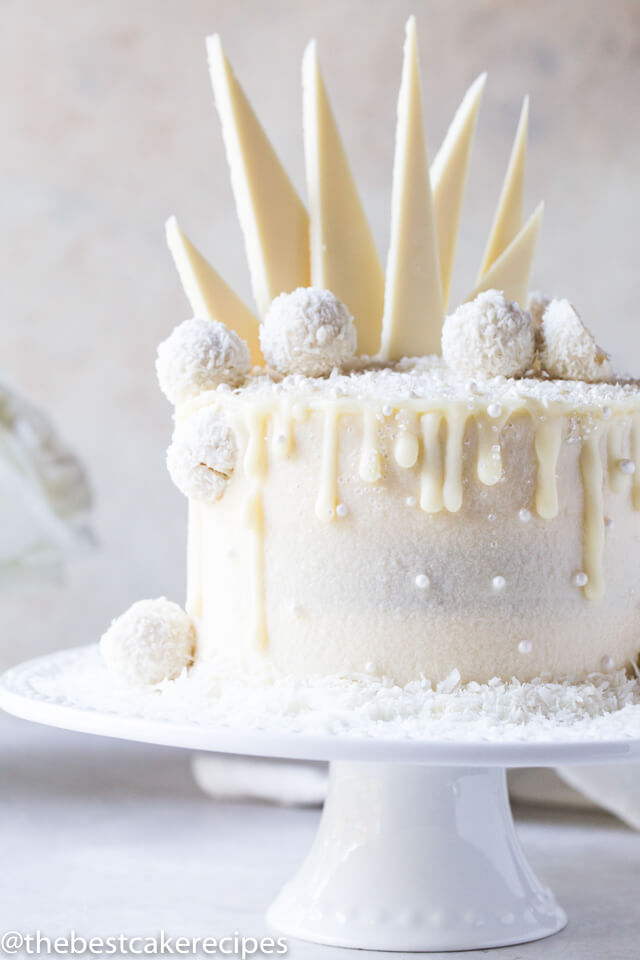 This cake reminds me of a snowy morning. I love the white chocolate drips and the Rafaello and the powdered sugar and coconut. So simple. Yet so elegant. Let's talk about how to make this beautiful cake!
Easy Peppermint Cake
Because this cake is so beautifully decorated, we took a shortcut and made the cake semi-homemade. We used a Duncan Hines white cake mix and added egg whites, oil, milk, vanilla and peppermint extract. Make sure you buy peppermint extract rather than mint. They taste different!
*You can use whole eggs if you'd like, but it will make your cake have a yellow color instead of pure white.*
Whip up the cake batter and divide it between 3 6″ round cake pans. You can use two 8″ cake pans for a 2-layer cake if you'd like. If you like tall cakes that make a statement, use 3 6″ pans. Be sure to grease the pans with shortening and then dust them with flour so the cakes come out cleanly. Or…use our cake release. It works perfectly every time!
Allow the cakes to cool completely and while they are cooling, you can make the buttercream.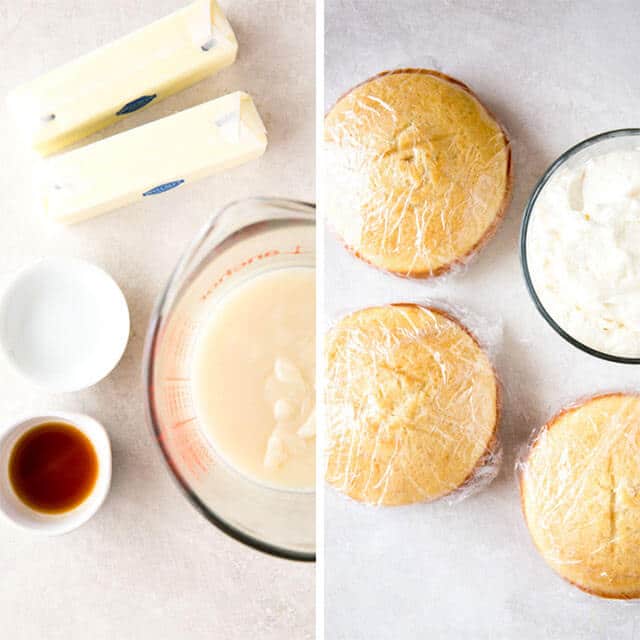 Peppermint Buttercream
The peppermint buttercream on this cake is a cooked flour frosting. It takes time to make the flour mixture and then allow it to cool to whip into the frosting, so you'll want to plan ahead.
Here are some hints:
Heat the flour mixture on the stove until it thickens. You'll want it to easily coat the back of a spoon and not be "drippy". You'll also want to mix it so there are no flour lumps.
Allow this mixture to cool for 45 minutes to 1 hour. Your frosting won't mix up right if the mixture is still warm.
Use a stand mixer (or hand mixer) to cream the butter until it is almost white in appearance.
Add the cooled flour mixture to the butter ¼ cup at a time, beating between each addition. This will take a few minutes to come together, but as you mix it, the "curdled" look will go away and you'll be left with a smooth, creamy frosting.
Use both peppermint and vanilla extract for the perfect flavor.
White Chocolate Ganache
Making ganache is easier than you think! To make the chocolate soften quickly, place the white chocolate in a microwave safe bowl and warm it for no more than 1 minute. (If you are using chips, warm for 45 seconds.) Heat the heavy cream until it is not quite boiling. Pour the heavy cream over the white chocolate, making sure the chocolate is completely covered. Allow it to sit for about 5 minutes, then stir it together. It might take a few minutes for the chocolate to mix in with the cream, but it should be 100% smooth and creamy after stirring.
The ganache will be very hot, but as it sits it will firm up. We like to let ours sit for 5-1o minutes before dripping it on the cake. If the cake is frozen or very cold, it will help the ganache harden and not drip down too far on the cake.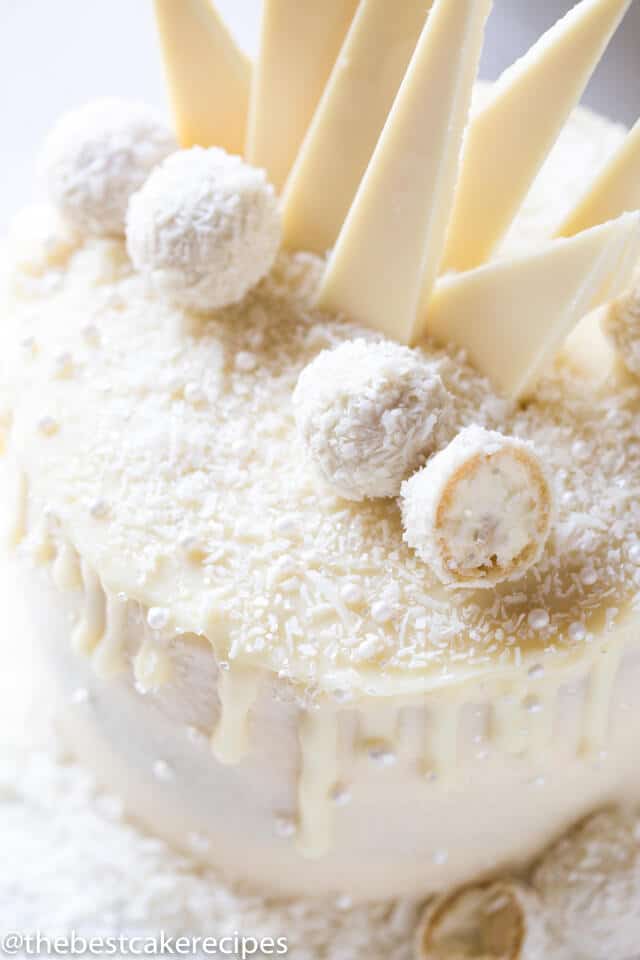 How to Decorate a White Cake
This cake has buttercream frosting in between the layers and all around the outside. It then has chocolate ganache dripped on the top and down the sides. Then it has white chocolate shards and Raffaello candy on it. You'll want to push the shards in and place the Raffaello on the cake before the ganache sets. From this point you can sprinkle some powdered sugar on top, place some edible white pearls on the side of the cake and even sprinkle some coconut around the bottom edges. The possibilities are endless!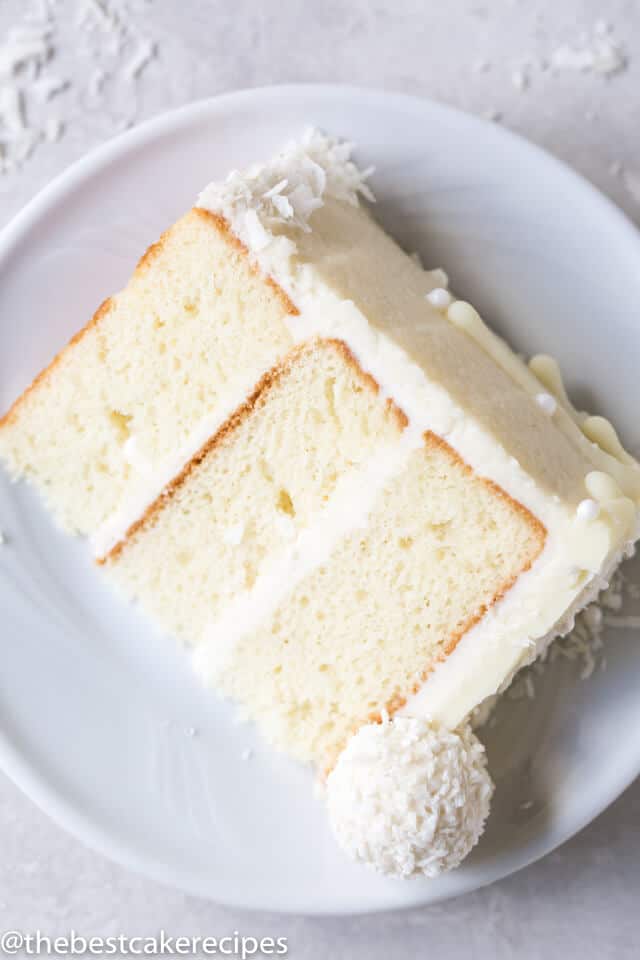 How to Store Cake
After the cake is iced you can store it at room temperature. The frosting will seal the cake and keep it fresh. After the cake is cut you'll want to be sure the cut part is covered either by plastic wrap or a cake carrier. If you refrigerate the cake, you may end up with condensation on it which will make the frosting not look as pretty.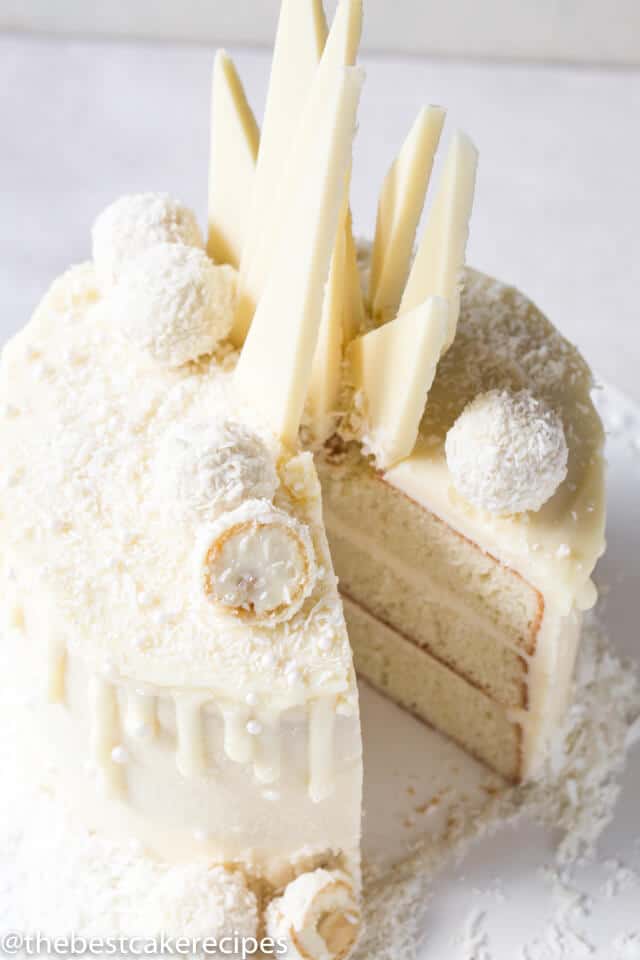 Other White Cake Recipes
TOOLS TO MAKE THIS CAKE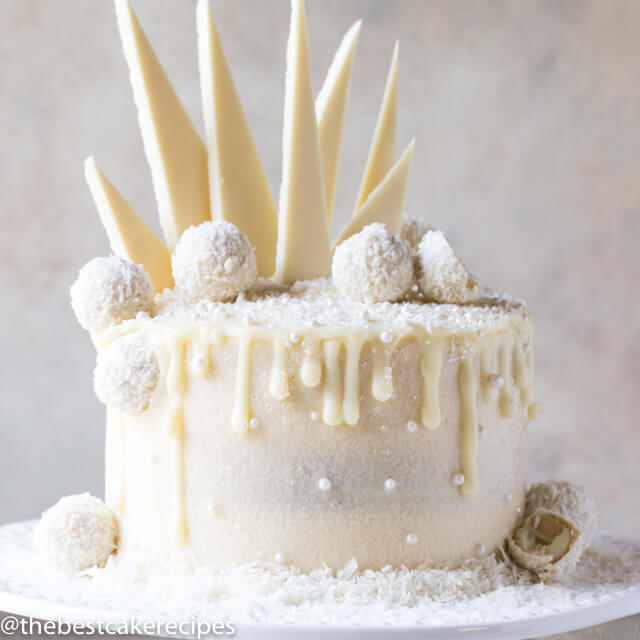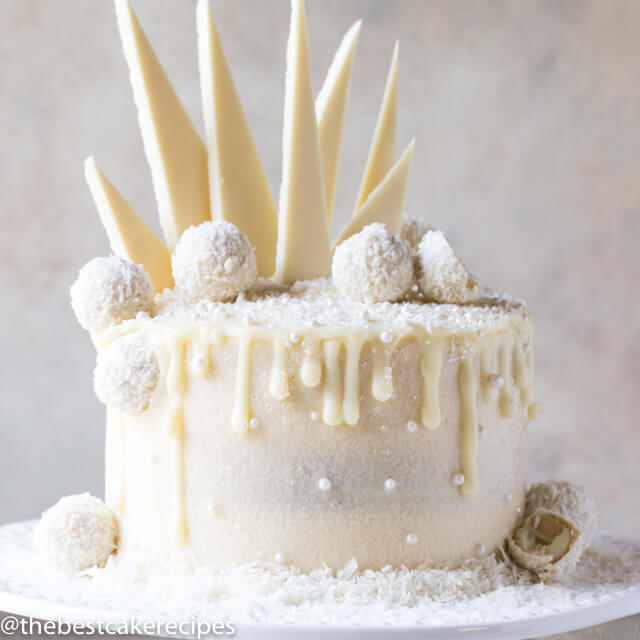 White Peppermint Cake
Gorgeous three layer whiteout cake with white chocolate ganache and shards. This White Peppermint Cake makes a beautiful statement during the winter season.
---
Ingredients
For the Peppermint Buttercream:
For the ganache:
6

ounces

white chocolate

2

ounces

heavy cream
For decorating:
White Chocolate Shards

Coconut
Instructions
Make the cake:
Preheat oven to 350° Fahrenheit. Line 3 5- or 6-inch cake pans with parchment paper and spray with nonstick cooking spray; set aside.

Mix cake mix, egg whites, milk and oil together in a large bowl, mixing until combined.

Divide the batter between the prepared pans and bake 27-32 minutes until a toothpick inserted in the center comes out clean. Remove from the oven and let cool 10 minutes, then remove cakes from pans to a cooling rack to cool completely.
Make the buttercream:
In a medium saucepan, whisk together sugar and flour until well blended.

Place saucepan on stove over medium heat and, while whisking, add in milk. Whisk until no lumps remain.


Continue to whisk until mixture comes to a low boil and thickens enough to coat the back of a spoon. Remove from heat and cool for 45 minutes-1 hour.


In a stand mixer fitted with a whisk attachment, or with a hand mixer, beat butter for 3-5 minutes until pale and creamy.

Pour in cooled milk mixture ¼ cup at a time, mixing well between additions, until light and creamy. Don't stress if it looks a bit curdled – just give it a few more minutes and it will come together.
When it's almost ready, add peppermint and vanilla and whip until incorporated.
Make the ganache:
Microwave chocolate in microwave safe bowl for 1 minute to soften. 
Bring heavy whipping cream just to a simmer then pour over chocolate. 
Make sure the chocolate is fully covered
. Let set for 5 minutes
.

Whisk gently to combine cream and chocolate, do not incorporate air.


Allow the ganache to cool slightly before decorating the cake. Make sure your cake is very cold so ganache sets quickly.
Assemble the cake:

Use freshly made ganache for drips (make sure your cake is very cold so ganache sets quickly)

Frost the first cake layer with the white frosting.

Top with the second layer of cake, then repeat by frosting this layer.


Place the third cake layer on top.

Spread a thin crumb coat layer of buttercream over the entire cake, smoothing it out as best as possible.

Freeze the cake for 30 minutes before applying a second layer of buttercream to cover the cake.

Make sure the cake is cool from freezing and that the ganache has cooled. Drizzle the ganache onto the center of the cake and push it towards the edges of the cake so it drips down.

Decorate the top of the cake by placing chocolate shards in the center.

Sprinkle with powdered sugar or coconut, then decorate the top with Ferrero Rafaello candy.

Store at room temperature.
Notes
The calories shown are based on the cake being cut into 12 pieces, with 1 serving being 1 slice of cake. Since different brands of ingredients have different nutritional information, the calories shown are just an estimate. **We are not dietitians and recommend you seek a nutritionist for exact nutritional information.**
Nutrition
Calories:
534
kcal
|
Carbohydrates:
64
g
|
Protein:
5
g
|
Fat:
29
g
|
Saturated Fat:
18
g
|
Cholesterol:
54
mg
|
Sodium:
346
mg
|
Potassium:
142
mg
|
Sugar:
45
g
|
Vitamin A:
610
IU
|
Vitamin C:
0.1
mg
|
Calcium:
176
mg
|
Iron:
1
mg