Another classic homemade cake mix recipe for you to try! This irresistible cake mix buttermilk cake frosted with cinnamon buttercream is so simple yet so comforting.
Maybe it's because this cake is similar to coffee cake, but we find this easy cake recipe extremely comforting. It's so moist, slightly tangy, and full of cinnamon spice. When it comes out of the oven, I just want to devour it before it gets frosted – but we can't leave out frosting, right?!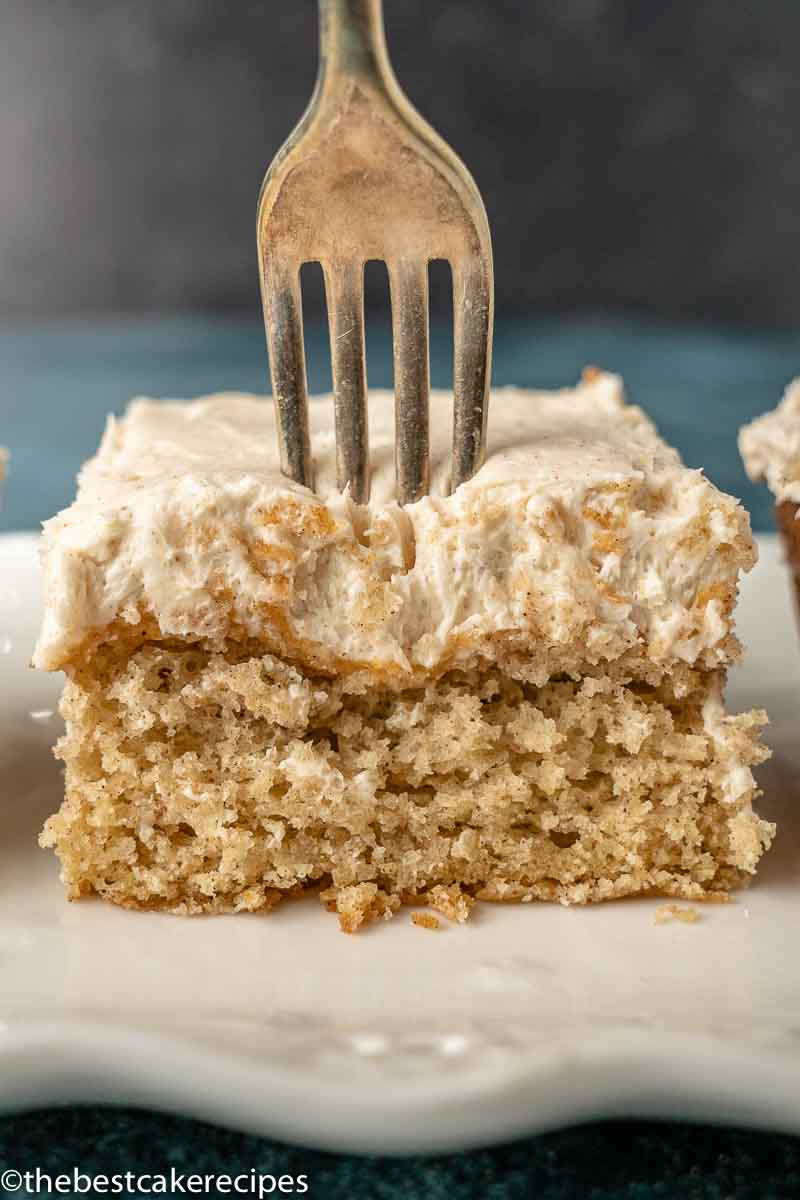 What's To Love About This Cake?
It's SO simple. With our homemade cake mix recipe, you have the same ease of a box mix cake but with all of the amazing qualities of a homemade cake!
Buttermilk and cinnamon. If you don't like a classic buttermilk cake, then you're simply wrong. (Not really, but I don't think there are many people who wouldn't enjoy this cake).
It takes about 5 minutes to whip up and get in the oven. If there's anything better than that when making a cake, let me know.
What is Homemade Cake Mix?
We'll spare you the long explanation and just say this: It's a mixture of ingredients that you can mix up in bulk and store for a long time – and it's the base ingredient of this amazing cake recipe.
This mix is great to use because it's so incredibly easy. And no, the preparing of the cake mix is not long and tedious either.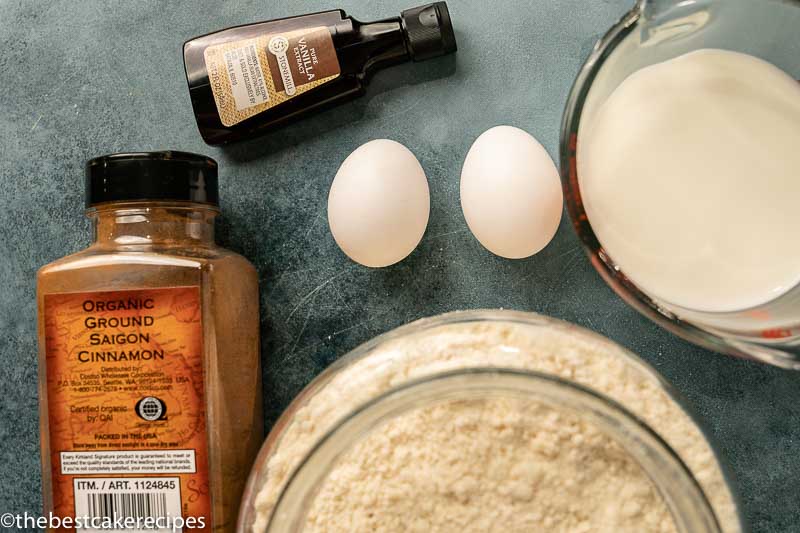 What does Buttermilk Do to Cake?
What's the difference between buttermilk in a cake and just plain milk? Buttermilk gives your cakes a more tangy flavor. Because it's acidic, it can easily break down gluten in your cake, which makes your cake softer and more moist. The flavor of it isn't too noticeable, but we love the subtle tang it gives to this cake.
How to Make Buttermilk
Buttermilk can be found in your local grocery store. But if you're unable to get some, don't worry! For every one cup of milk, add in a tablespoon lemon juice or vinegar. Whole milk is best for this, but any milk will work.
To achieve best results, let the milk and vinegar mixture sit for a few minutes before adding to your recipe.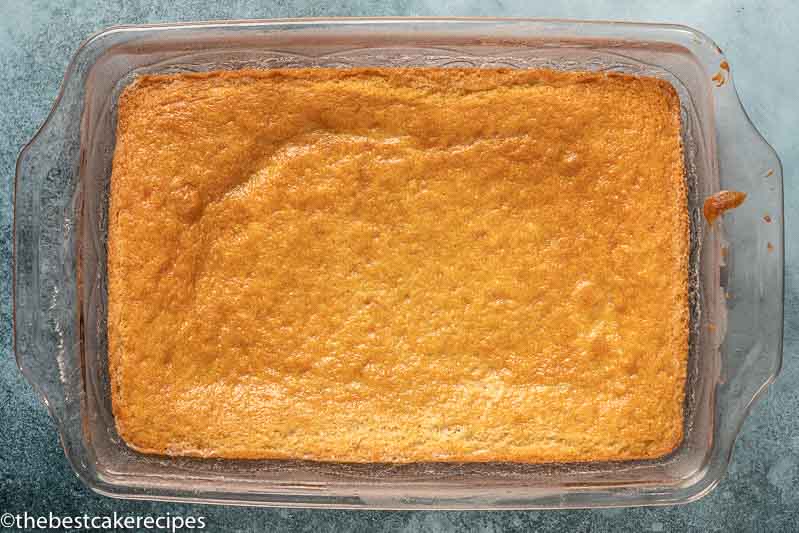 Can I Use Sour Cream Instead of Buttermilk?
Sour cream can also be a substitute for buttermilk! To do this, add 3-4 tablespoons of regular milk into a 1 cup measuring cup, and fill the rest of the measuring cup with sour cream.
What's the Difference Between Buttermilk Cake and Coffee Cake?
The most identifiable difference between buttermilk cake and coffee cake is how it is made. While the batter may be similar, coffee cake tends to have a cinnamon-sugar streusel on top of the cake. It's also common to put glaze on a coffee cake, while buttermilk cake is frosted. The difference gets slightly confusing, though, because coffee cake is often made with buttermilk!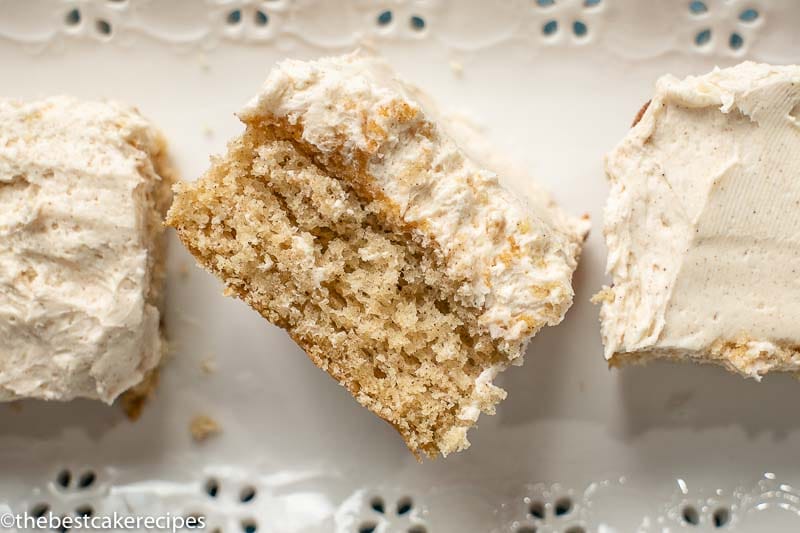 How to Make Buttermilk Cake
This recipe doesn't require any extra mixing or sifting. Simply add the cake mix, eggs, vanilla, cinnamon and buttermilk into a mixing bowl and mix in the stand mixer with the paddle attachment. After it's combined, it's ready to go in the oven!
If you're worried about the cake sticking to the pan, use this amazing cake release mixture. We use this for all of our cakes and they come out clean EVERY time!
Frosting Options for This Cake
Once your cake is cooled, you can frost it with your frosting of choice. Here are a few options for you to pick from: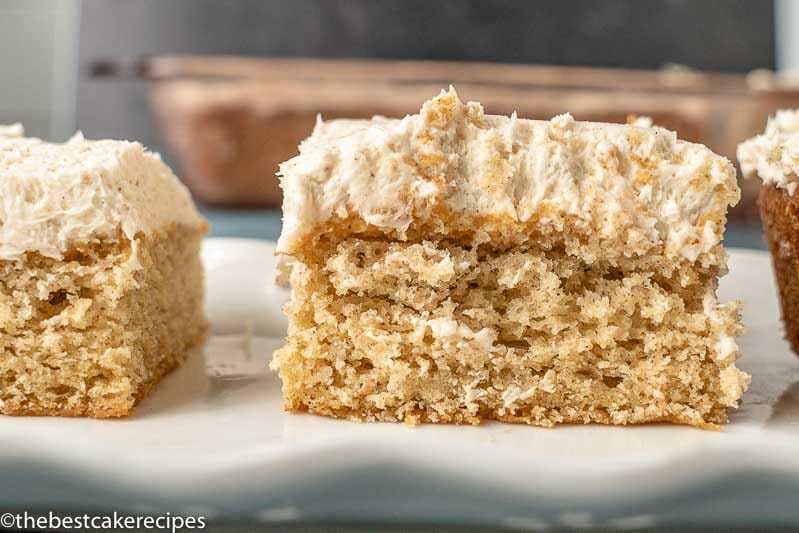 Why Does My Cake Fall in the Middle?
For cakes that will easily sink in the middle, it's best to leave them in the oven for the amount of time that the recipe calls for. Even opening the oven slightly can release cold air into the oven, resulting in the uncooked center to sink down. Use an oven light to estimate when your cake may be done.
Our recommendation for this cake is to not open until at least the 30 minute mark, if not the 35 minute mark.
How to Store Cake
This cake will keep if stored in an airtight container in the fridge. However, if you want to store it for a longer period of time, wrap the pieces in plastic wrap, store in an airtight container and place in the freezer. Especially when using buttercream frosting, it's important to keep your cake cold for long term storage.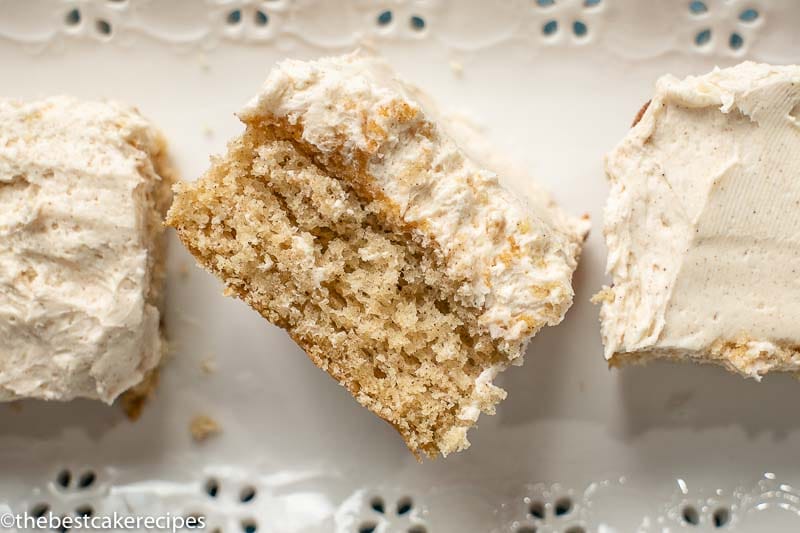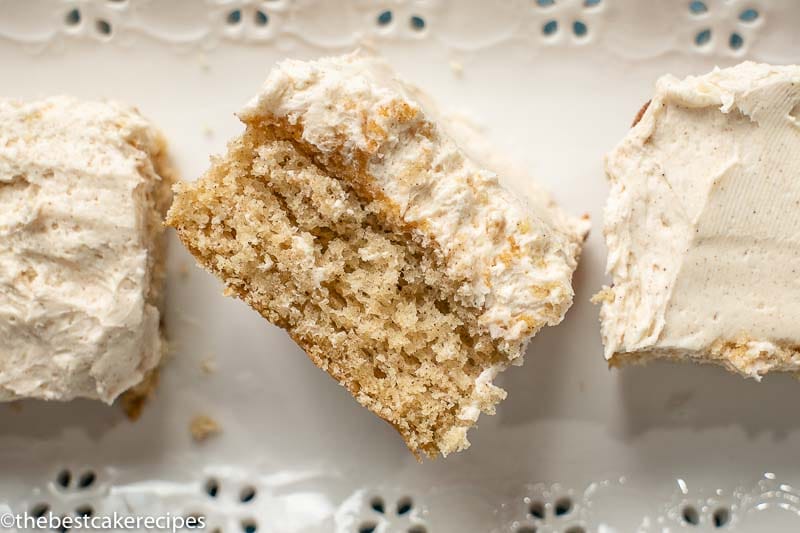 Cake Mix Buttermilk Cake
Another classic homemade cake mix recipe for you to try! This irresistible cake mix buttermilk cake frosted with cinnamon buttercream is so simple yet so comforting.
---
Instructions
Preheat the oven to 325 degrees Fahrenheit.

Add the cake mix, soda, buttermilk, eggs, vanilla, and cinnamon together in a bowl. Mix on medium speed with a whisk attachment until fully combined.

Pour in a greased and floured 9×13 pan. Bake in the oven at 325 degrees for 35 minutes or until a toothpick comes out clean. Do not open the oven door before at least the 30 minute time mark so the cake doesn't fall in the middle.

Frost with your choice of buttercream and store in an airtight container in the fridge. If storing in the freezer, wrap in plastic wrap and place in an airtight container.
Notes
The calories shown are based on the cake being cut into 15 pieces, with 1 serving being 1 slice of unfrosted cake. Since different brands of ingredients have different nutritional information, the calories shown are just an estimate. **We are not dietitians and recommend you seek a nutritionist for exact nutritional information.**
Nutrition
Calories:
285
kcal
|
Carbohydrates:
59
g
|
Protein:
4
g
|
Fat:
4
g
|
Saturated Fat:
2
g
|
Cholesterol:
27
mg
|
Sodium:
591
mg
|
Potassium:
75
mg
|
Fiber:
1
g
|
Sugar:
31
g
|
Vitamin A:
62
IU
|
Calcium:
179
mg
|
Iron:
2
mg