A fun vibrant patriotic cake great for your upcoming Memorial Day or 4th of July Season. This Firecracker Cake is one your family will love!
'Tis the season for red, white and blue! Celebrate the upcoming Fourth of July with this fun and absolutely colorful Firecracker Cake!
An easy and delicious bundt cake, the inside matches the outside with layers of red, white and blue cake. It is then drizzled with colorful melted candy and decorated with equally colorful sprinkles.
This cake entices fun, patriotism and flavor! This will sure be a conversation starter and show stopper at the next BBQ or get together that you attend.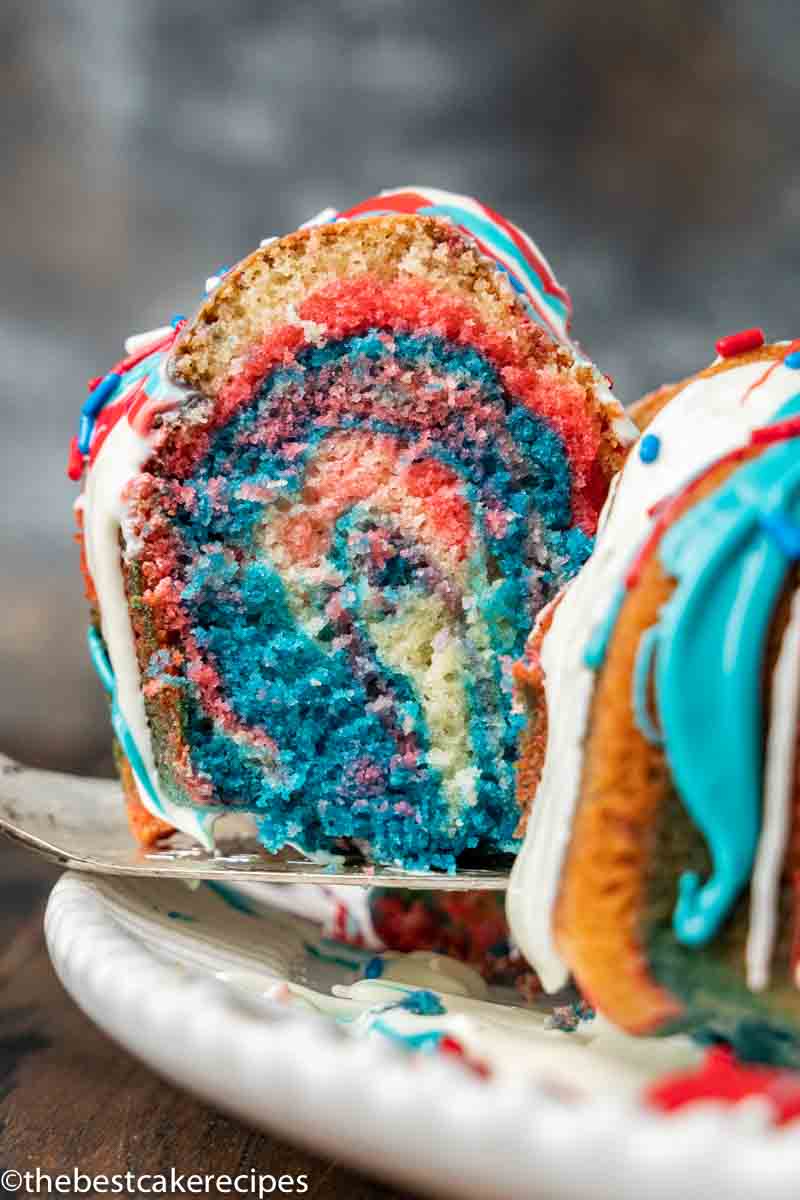 What You'll Love About This Firecracker Cake:
While it looks complicated, this cake is surprisingly simple. We love bundt cakes because they take minutes to whip up and are always so deliciously moist coming out of the oven!
The flavor gets better even on the second day. Bundt cakes are more dense and flavorful – and when you wait until the next day to eat them, the cake gets more time to settle and the moisture becomes more evenly distributed than when it first comes out of the oven!
You can use bright and beautiful colors. Not all cakes are this cool!! Using a red and blue food coloring, we made the cake swirled with patriotic colors.
It stores and freezes well. Because this cake is so packed with moisture, it's not hard to leave it in the freezer for awhile and have it taste just as good when it thaws.
How Do You Use Food Coloring In A Cake?
For this recipe, we use red and blue food coloring to color parts of the cake. You'll want to split your batter into 3 equal parts and use color in 2 of the three parts. We use Wilton's gel food coloring, because you only need a tiny bit to create deep, saturated colors.
Does Food Coloring Change The Taste Of Cake?
Food coloring does not change the taste of a cake. Especially when using gel food coloring, the small amount doesn't add any unwanted flavor to the cake. Since this recipe also uses the food coloring in the cake batter, most of that flavor would be much less noticeable after baking. If you were to add a lot of food coloring to frosting, however, the taste would change a little more.
How Much Food Coloring Do I Need To Color A Cake?
When using gel food coloring, use a toothpick and take small amounts into the batter, mixing in between. Keep adding little amounts until you reach your desired color. You should not need more than ¼ of a teaspoon of food coloring for this cake.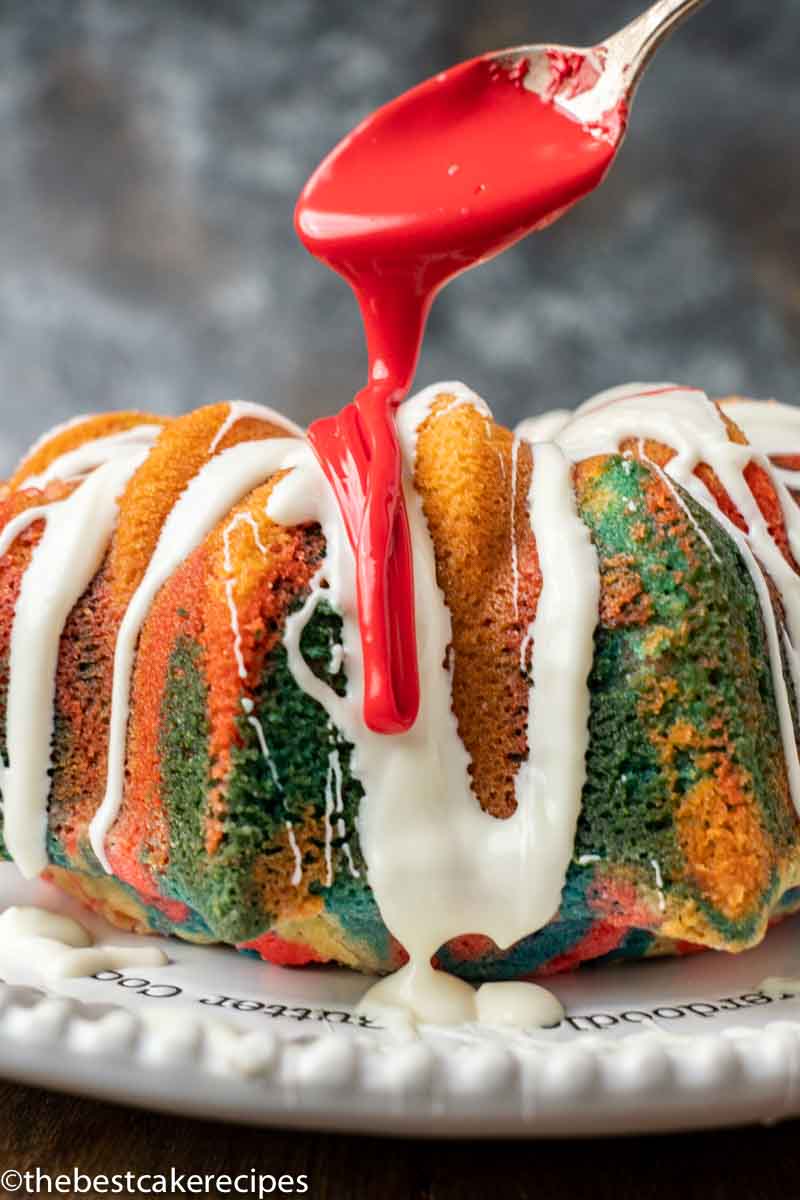 How To Make Firecracker Cake
Here are a couple of tips to making this cake amazing!!
Blend your ingredients well. You don't have to overmix, but make sure all of your butter and other ingredients are incorporated!
When coloring the batter, start with a smaller amount of food coloring. Then, if you need to add more, feel free! This way you know you can get the results you want.
Coat your bundt pan well with cake release, or spray and flour your pan. Make sure even the little corners are covered!
You can either spoon in your batter in layers or pour it from the bowl. Do your best to not spill color on the sides of the pan, so that the swirls show through more!
Use an end of a fork or spoon to gently mix the colors in the bundt pan. Only do this one time around so your red and blue don't become purple! This achieves the swirled look in the picture.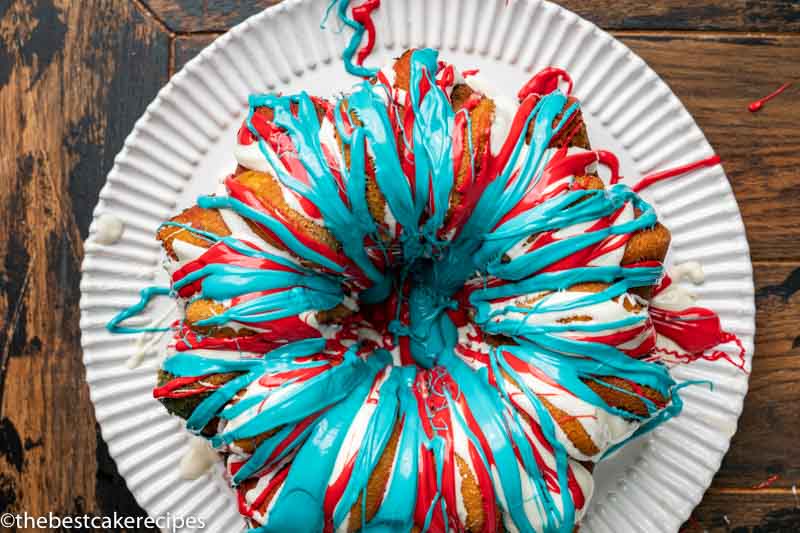 How To Decorate And Serve Firecracker Cake
While we use candy melts to drizzle over this cake, you can do multiple other things to make this cake your own! Here are a few options:
Use white chocolate or candy coating and patriotic sprinkles.
Use candles or sparklers (with caution!)
Use dark chocolate instead to incorporate a different flavor.
Use a cream cheese/powdered sugar glaze or drizzle.
Use only red or blue candy melts for the top and add sprinkles.
You could either serve this cake warm or room temperature. If you want a warm cake, you can use the glaze option and serve it along with some ice cream and patriotic sprinkles! Or, you could add some ice cream to a room temperature cake and use whatever toppings you want.
If you love this cake, make one at Christmas, too!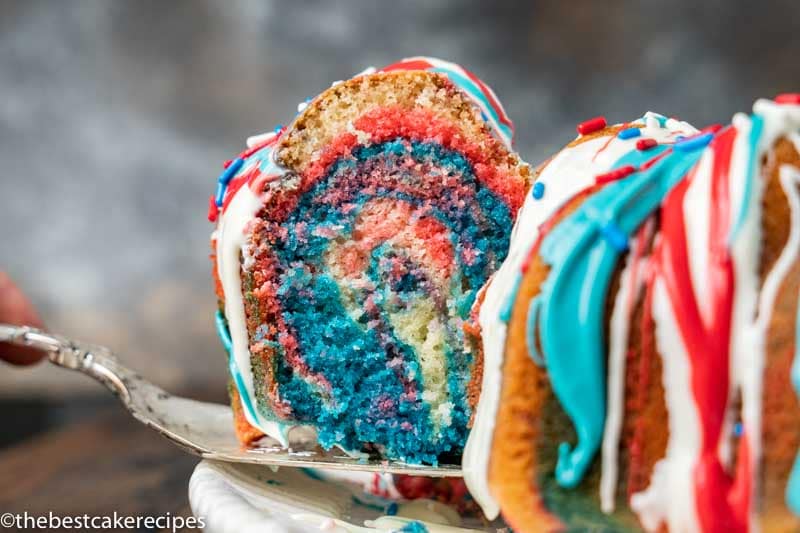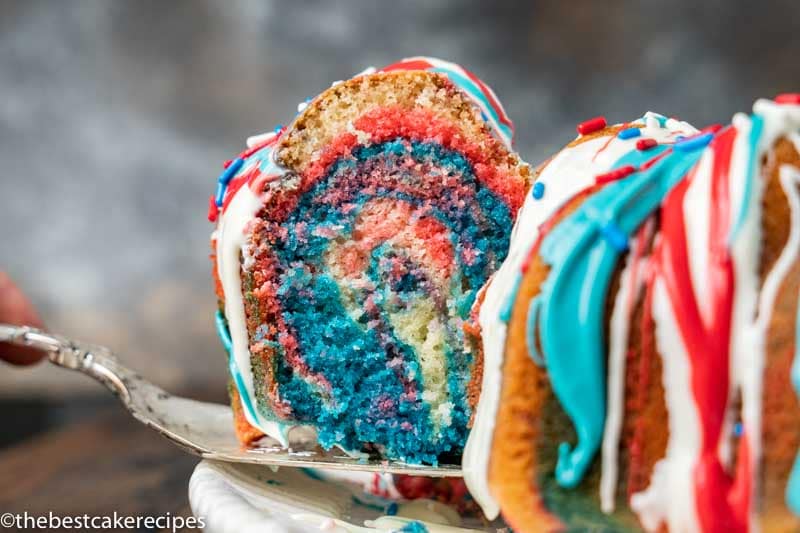 Firecracker Cake
A colorful and incredibly delicious cake that will be perfect for the Fourth of July! Serve that day or store in the fridge for the next day for best results.
Total Time
1

hour
5

minutes
---
Instructions
Preheat the oven to 350 degrees Fahrenheit.

Combine flour, baking powder and salt in medium bowl.

Cream together butter and sugar. Add in eggs and milk.

Slowly add the flour mixture and mix until well blended.

Divide the batter into 3 bowls, ⅓ of the batter in each bowl.

Add food coloring to two of the bowls to create red and blue batter.

Grease and flour a bundt pan.

Pour small amounts of the red, white, and blue batter, alternating between them so that there are layers of colors in the bundt pan.

Using the end of a spoon, gently swirl the colors in the bundt pan, making sure not to fully mix.

Bake the cake at 350 degrees for 45 to 50 minutes or until a toothpick comes out clean.

Allow the cake to cool for 10 minutes, then turn out onto a wire rack.

Using red, white and blue candy melts, drizzle the top of the cake and top it with patriotic sprinkles.

Store at room temperature in an airtight container.
Notes
The calories shown are based on the cake being cut into 15 pieces, with 1 serving being 1 slice of cake. Since different brands of ingredients have different nutritional information, the calories shown are just an estimate. **We are not dietitians and recommend you seek a nutritionist for exact nutritional information.**
Nutrition
Calories:
239
kcal
|
Carbohydrates:
39
g
|
Protein:
4
g
|
Fat:
8
g
|
Saturated Fat:
5
g
|
Cholesterol:
55
mg
|
Sodium:
101
mg
|
Potassium:
136
mg
|
Fiber:
1
g
|
Sugar:
24
g
|
Vitamin A:
269
IU
|
Calcium:
63
mg
|
Iron:
1
mg
Recipe Inspiration from Love Bakes Good Cakes