This Sour Cream Pound Cake recipe is a traditional bundt cake that is easy to make. It's simple flavor makes the cake a great base to fruit toppings and ice cream! You may also like our honey pound cake and lemon pound cake.
A traditional old fashioned pound cake is a recipe everyone must have in their baking arsenal. You may be tempted to pick up a store bought pound cake, but after seeing how easy this cake is to make, you'll always want homemade. It has a tender crumb and is full of moisture thanks to the sour cream.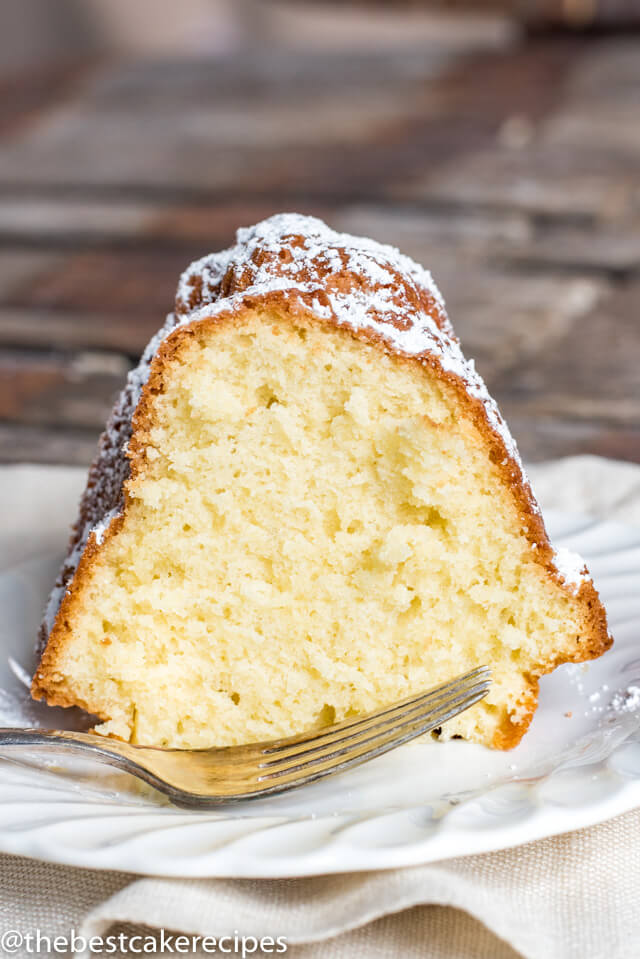 Why do we call it a pound cake?
The name pound cake dates back to the 1700's. Traditionally, pound cake recipes called for a pound each of butter, sugar, eggs and flour. Recipes have changed a bit over time to get different textures and flavors, but you can still make an authentic pound cake if you'd like!
What is the taste of a pound cake?
Pound cake has a very simple flavor, traditionally flavored with vanilla extract. It is not overly sweet, but sometimes has a powdered sugar glaze over it to sweeten and flavor it a bit more than it is when it is plain. We show this sour cream pound cake flavored with both almond and vanilla extract (use only one flavoring if you prefer) and then sprinkled with powdered sugar which makes a pretty look.
How to Make Sour Cream Pound Cake
Here are a few hints when you make this cake:
Make sure the butter is soft, but not melted. Allow the butter to come to room temperature so it mixes in easily. But don't melt it!
Divide the eggs, cracking the yolks and whites into separate bowls. Whip the egg whites until they can hold stiff peaks. You'll need a high powered mixer to do this effectively. Place the egg whites in the refrigerator until you fold them in at the end.
Mix the flour alternately with the sour cream. Half the flour, half the cream, the rest of the flour, the rest of the cream. You get it, right?
The mixture at this point should be well blended and smooth.
The last step is folding in the egg whites. Whipping the egg whites helps the pound cake to have a light texture. Don't skip that step! Fold the egg whites in gently. Don't mix vigorously, but make sure the egg whites get fully incorporated.
 Be sure to grease and flour your bundt cake pan. Greasing with shortening works the best. You'll want do do both steps so that the bundt cake does not stick.
Allow the cake to cool in the bundt cake pan for only 10 minutes in the pan before turning it out onto a plate or wire rack to cool completely. Letting it cool too long in the pan could cause it to stick.
How to Store Sour Cream Pound Cake
Pound cake is often best served the day after you make it. I love cakes like this because it allows you to get the cake made and kitchen cleaned before you may be serving it to company.
Store the cake at room temperature in an airtight container. If you are sprinkling it with powdered sugar, you may want to wait until right before serving since the powdered sugar may soak in.
This cake also freezes well. Double wrap the cake and freeze for up to 6 weeks.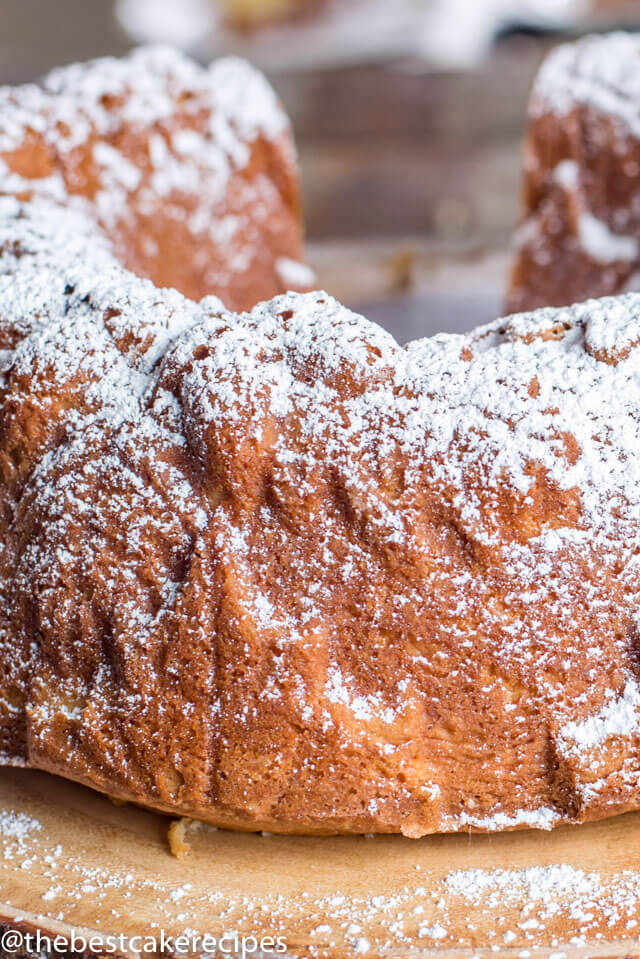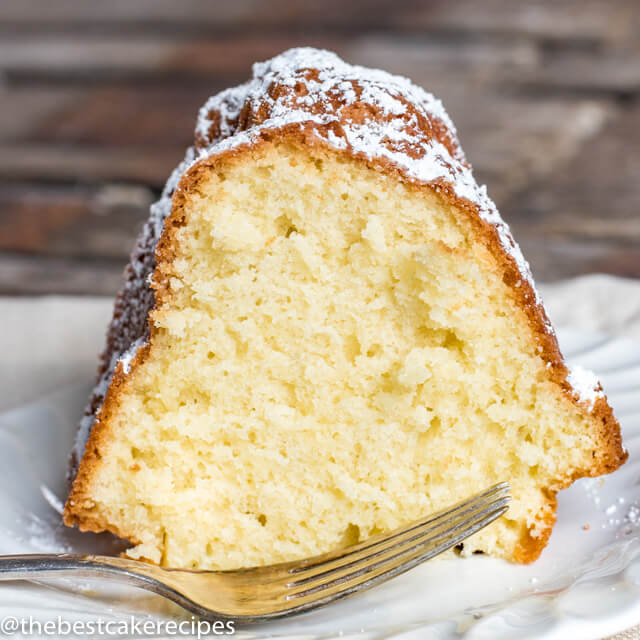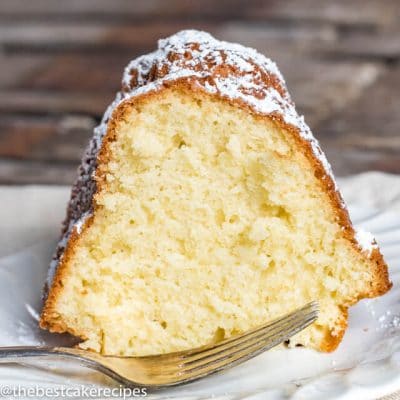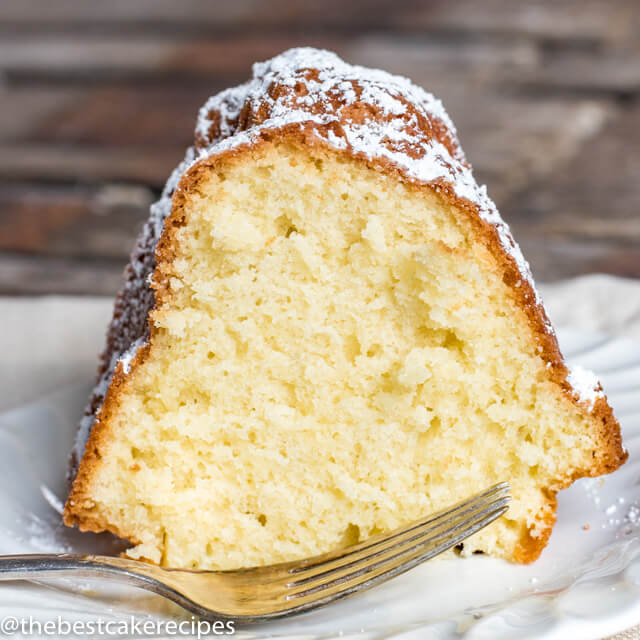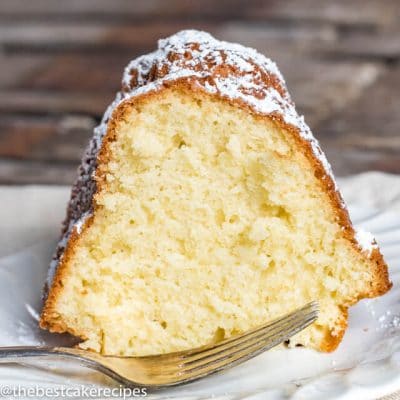 Sour Cream Pound Cake
Sour Cream Pound Cake is a traditional bundt cake that is easy to make. It's simple flavor makes the cake a great base to fruit toppings and ice cream!
Total Time
1

hour
10

minutes
---
Instructions
Preheat the oven to 350ºF.

Grease a 10 cup bundt pan with shortening, then dust it with flour.

Using a mixer, cream together the butter and sugar in a large bowl.

Add the egg yolks (reserve the egg whites) one at a time, beating between each addition. Scrape the sides of the bowl as needed.

Add the vanilla and almond extracts. Beat again.

Add the baking soda, salt and half of the flour.

Add in half of the sour cream, mixing well.

Add in the remaining flour, mixing well, then mix in the rest of the sour cream. Beat until well combined.

In a clean bowl, beat the egg whites until they are stiff and can hold peaks.

Gently fold the egg whites into the cake batter, folding until completely combined.

Pour the batter into the prepared pan and bake for 60-70 minutes or until the cake bounces back when you touch it or a toothpick inserted in the center comes out clean. The exact time will depend on the size and shape of your pan so watch it closely.

Allow the cake to cool for 10 minutes, then turn it out onto a cake plate to cool completely.

Once the cake is completely cool, dust with powdered sugar.

Serve with pie filling or fresh berries.

Store the cake in an airtight container at room temperature.
Notes
The calories shown are based on the cake being cut into 12 pieces, with 1 serving being 1 slice of cake. Since different brands of ingredients have different nutritional information, the calories shown are just an estimate.
Recipe Source: Mennonite Country Style Recipes
Nutrition
Calories:
476
kcal
|
Carbohydrates:
66
g
|
Protein:
5
g
|
Fat:
21
g
|
Saturated Fat:
12
g
|
Cholesterol:
142
mg
|
Sodium:
298
mg
|
Potassium:
74
mg
|
Sugar:
42
g
|
Vitamin A:
715
IU
|
Vitamin C:
0.2
mg
|
Calcium:
41
mg
|
Iron:
1.7
mg
Tools to Make This Cake
Other Bundt Cake Recipes
We have bundt cakes for all occasions and made with all flavors. Try one of these!