An easy spice cake loaded with raisins and nuts. Applesauce Bundt Cake stays moist, fresh and flavorful with unsweetened applesauce.
The house I grew up in had apple trees in the backyard. My mom and dad worked tirelessly to keep those apples healthy from spring til fall. And if the weather cooperated, we ended up with bushels upon bushels of apples come September.
We made apple pies, crisps and apple dumplings, but most apples were made into unsweetened applesauce. We'd put fresh apples through a food mill and out would come the best tasting sauce. Many winters we had jars upon jars or homemade applesauce. It was the best.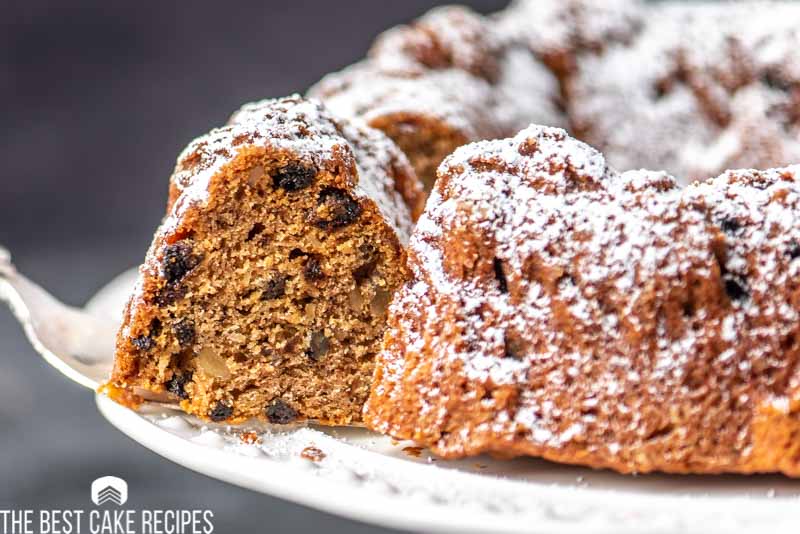 Although I love to eat applesauce just by the spoonful or with a sprinkling of cinnamon, but you can also use it in cakes, such as this Applesauce Bundt Cake. It's loaded with raisins, walnuts and spices. It's the perfect easy cake recipe, and your kitchen will explode with warm, comforting memories when you smell that cinnamon and nutmeg baking.
What does applesauce do in baking?
Applesauce is often a replacement for fat in recipes. It has a high moisture content so it keeps baked goods moist and tender. Other benefits is that it reduces the amount of calories in a recipe, but also adds a touch of flavor. Note: This cake does still have butter, but it is only ½ cup for the entire cake.
What type of applesauce do you use for baking? Use unsweetened applesauce in baking recipes unless the recipe says otherwise. Apples are sweet enough, you don't need the added sugar.
Why mix wet and dry ingredients separately?
This cake is easy to mix up, but as you'll notice in the instructions, you mix the wet and dry ingredients together. Have you ever wondered why you do this? Here's why. Eggs and butter should be mixed in really well. You want to be able to make sure those ingredients are fully incorporated. When it comes to flour, however, over mixing can be a problem. Gluten strands forms in flour the more you mix it, which means the cake can be tough. No one wants tough cake!
The solution is to mix the wet ingredients well first, then add in dry ingredients and mix just until combined. Yes it takes an extra bowl, but your cake will turn out better in the long run.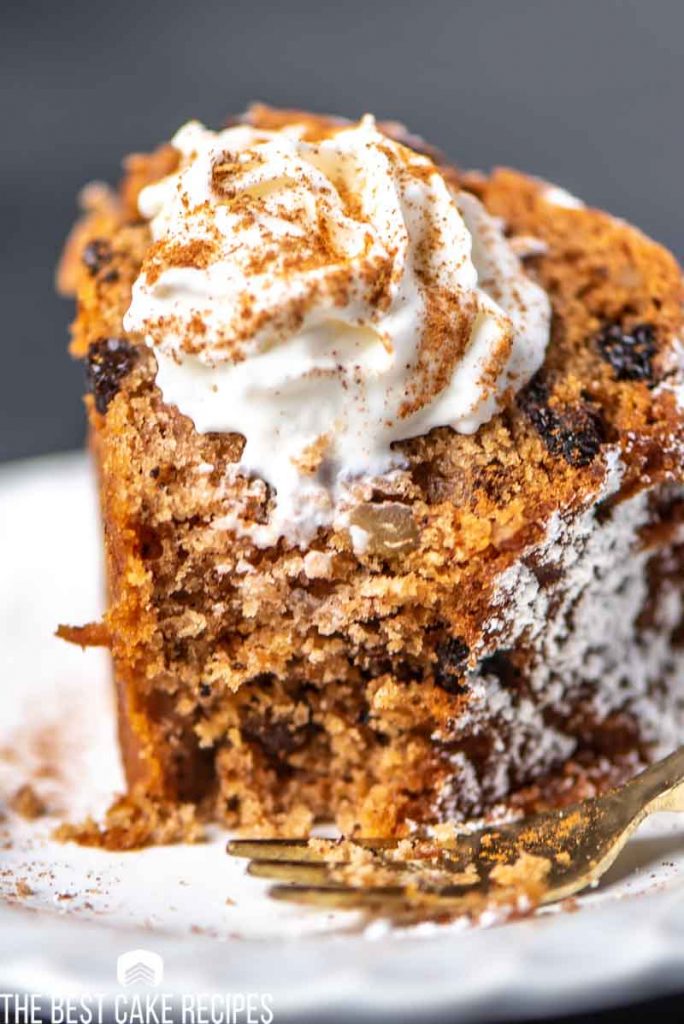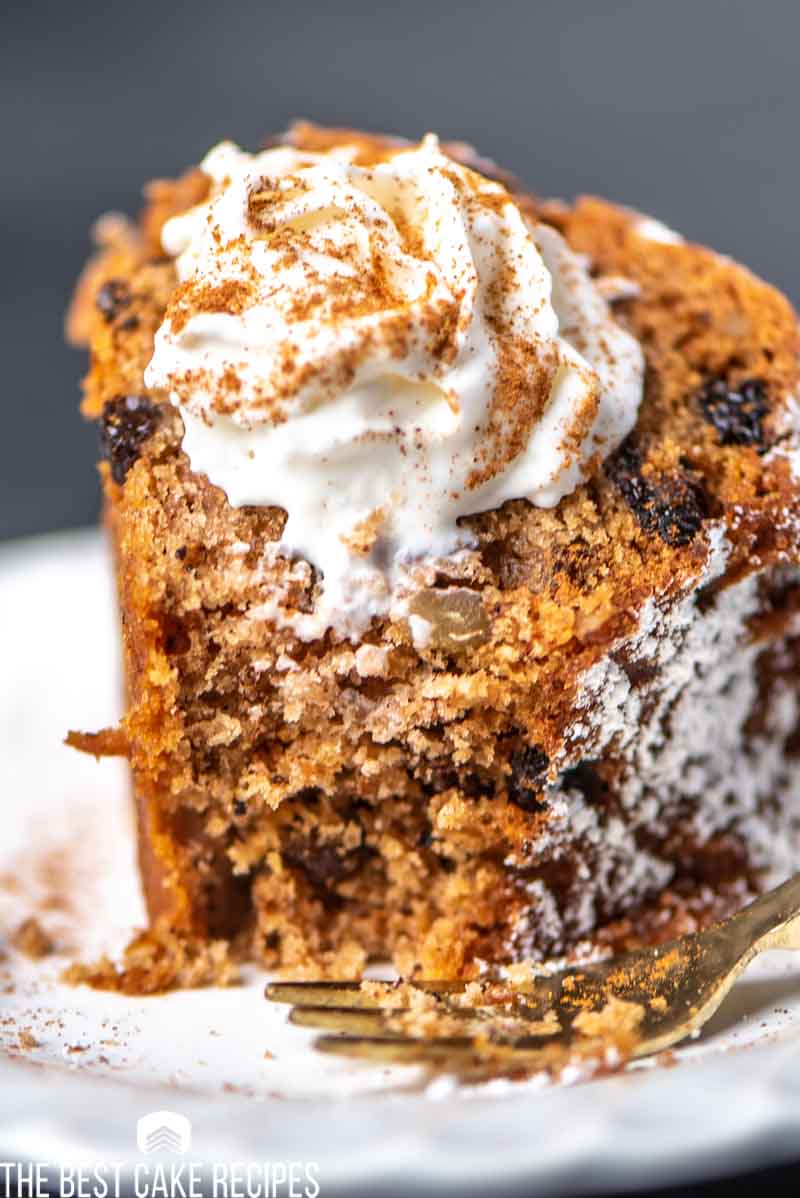 What is the best topping for spiced bundt cake?
Bundt cakes make a gorgeous presentation because of all the different pretty bundt cake pans out there. But what if you want to add something just a little extra on top? Try one of these:
dusted powdered sugar
dusted cocoa powder
powdered sugar glaze
whipped cream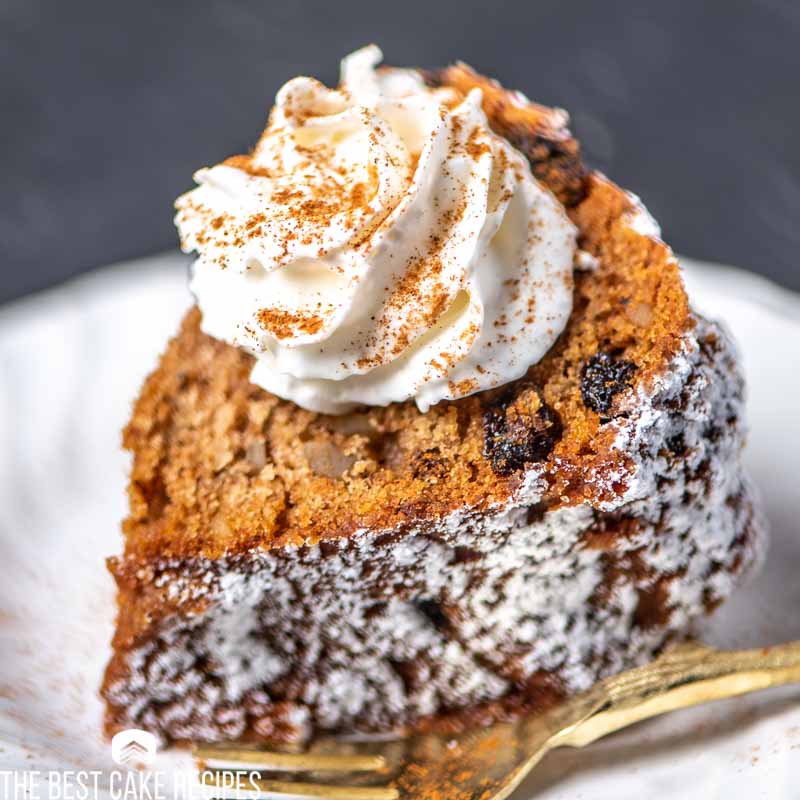 ---
Instructions
Grease a 10 cup bundt cake pan generously with shortening, then dust with flour (or use our perfect cake release). Preheat the oven to 350º Fahrenheit.

In the bowl of a stand mixer (or using a hand mixer), cream the butter and sugar until well blended and smooth, scraping the sides of the bowl as needed.

Add the egg. Mix until blended.

Mix in the raisins and walnuts.

In a small bowl, whisk together the flour, soda, salt, cloves , nutmeg and cinnamon.

Add the applesauce and flour to the butter mixture alternately, mixing well between each addition. Batter will be thick.

Add the batter to the pan by large spoonfuls and smooth out evenly.

Bake for 45 minutes or until the top of the cake springs back when you touch it. The exact time will depend on the shape of your bundt cake pan. If it makes a thicker cake, it could take up to an hour to bake. Ours took 45 minutes in the Autumn Wreath Bundt Pan.

Allow the cake to cool in the pan for 5 minutes, then turn out on a cake plate to cool completely.

Dust with powdered sugar if desired.
Notes
The calories shown are based on the cake being cut into 12 pieces, with 1 serving being 1 slice of cake. Since different brands of ingredients have different nutritional information, the calories shown are just an estimate. **We are not dietitians and recommend you seek a nutritionist for exact nutritional information.**
Nutrition
Calories:
329
kcal
|
Carbohydrates:
47
g
|
Protein:
6
g
|
Fat:
15
g
|
Saturated Fat:
5
g
|
Cholesterol:
38
mg
|
Sodium:
219
mg
|
Potassium:
206
mg
|
Fiber:
3
g
|
Sugar:
20
g
|
Vitamin A:
271
IU
|
Vitamin C:
1
mg
|
Calcium:
21
mg
|
Iron:
2
mg
More Apple Cake Recipes