Red Velvet Cream Cheese Bundt Cake
Easy filled red velvet cake. This frosted Red Velvet Cream Cheese Bundt Cake with cream cheese frosting is beautiful!
Red velvet cakes are beautiful no matter what form they take. Red velvet bundt cakes with snowy glaze or beautifully elegant layer cakes. They're the perfect dessert for Christmas, Valentine's Day or even July 4th.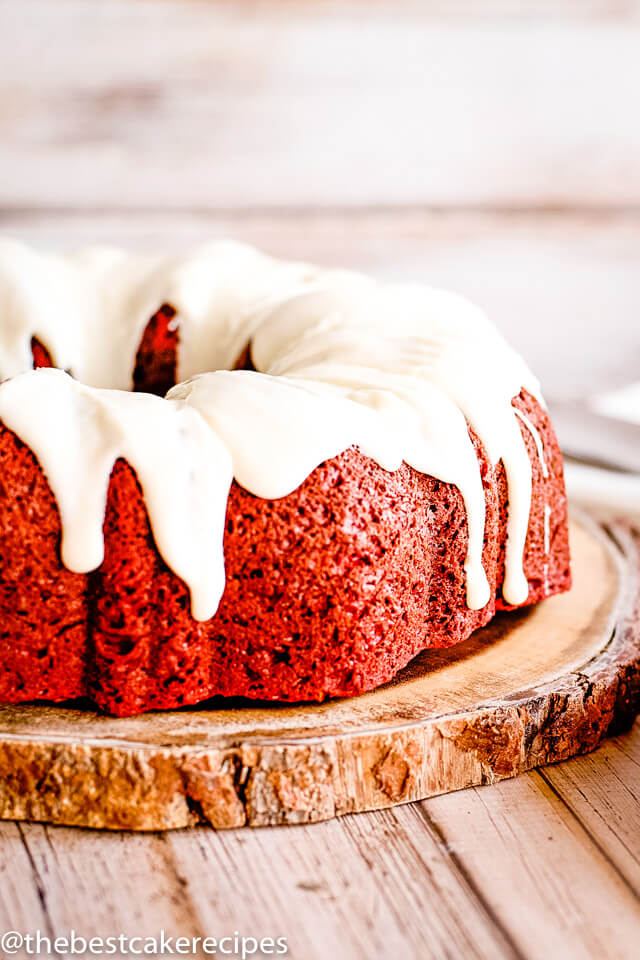 Red Velvet Cream Cheese Bundt Cake
Anytime you can have a cheesecake filling baked inside a cake, it's always a good idea. This red velvet cream cheese bundt cake starts with a box cake mix. Easy, right? Then make a cream cheese filling and put it in the middle of the cake batter. This cake is best made a day in advance so the cheesecake filling has time to cool. It's a great make-ahead dessert.
Is red velvet cake just a chocolate cake?
The short answer is no. In many red velvet cake recipes there is just a touch of cocoa powder, but the main flavor of the cake is not chocolate. The cake has a sweet, simple flavor that goes so well with cream cheese.
Red Velvet Cake Mix
Although we love our from scratch red velvet cake, this cake starts with a red velvet cake mix. Skip the ingredients on the back of the box and instead add 1 cup of sour cream, 4 large eggs and ½ cup oil. When you mix this up you will have the most beautiful red color cake.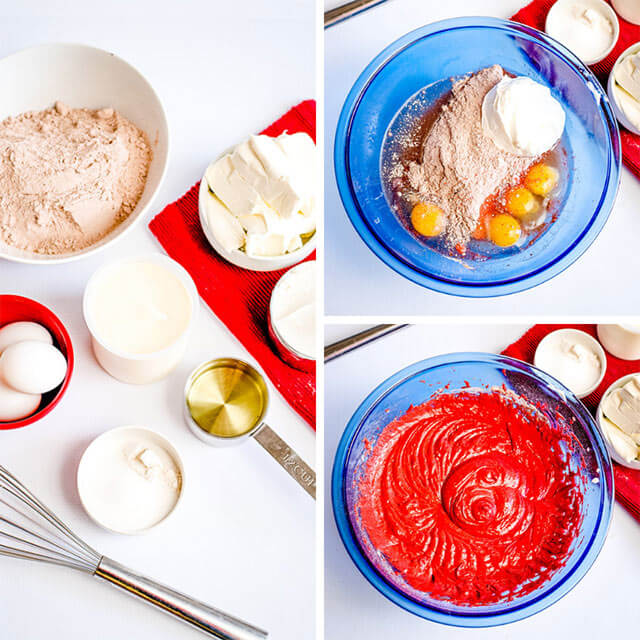 Cream Cheese Filling for Cake
After you mix up the batter, it's time to make the cream cheese filling. Make sure your cream cheese is at room temperature. You don't want it warm and melty, just softened at room temperature.
Use a hand mixer or a stand mixer to cream the sugar and flour with the cream cheese. That touch of flour just helps with the texture of the cake filling.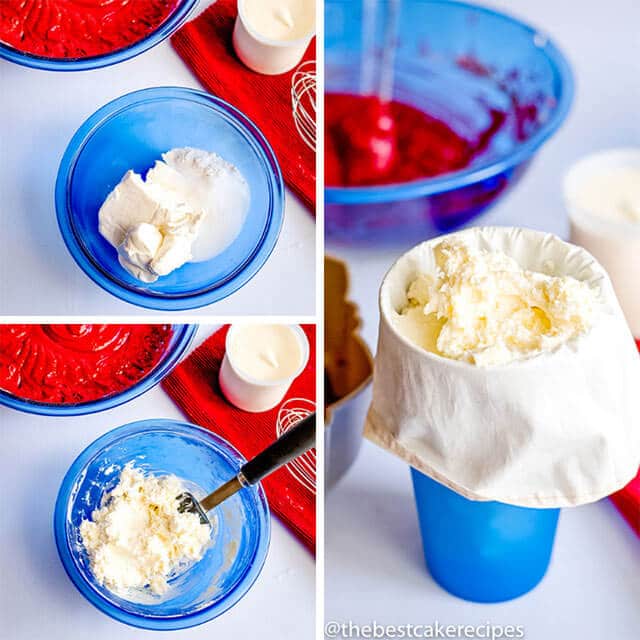 How to Fill a Bundt Cake
With some cake fillings, you can just spoon it in. If you want to be sure the filling is in the center of the cake and doesn't touch the edges, you'll want to pipe it in. Put half of the red velvet batter in a greased and floured pan. Use a rubber spatula to put the cream cheese mixture in a zippered plastic bag or a frosting bag.
Pipe the cream cheese into the center of the cake, not touching the sides. Top with the remaining red velvet batter, then bake!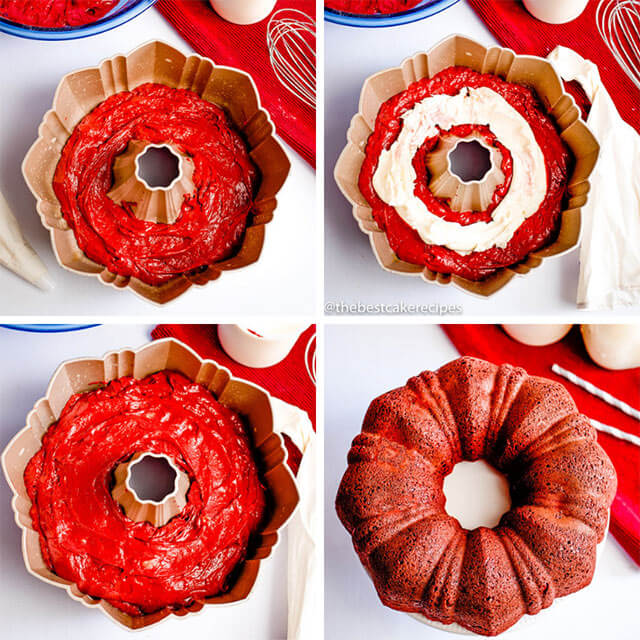 Cream Cheese Frosting for Red Velvet Cake
Allow the cake to cool for 20 minutes in the pan, then turn it out onto a wire rack to cool completely. Once the cake is cool you can spoon some frosting on top. You can use store bought cream cheese frosting or homemade. You'll want about 2 cups of frosting for a nice thick glaze.
Warm the frosting in the microwave for 10 seconds so that it can drizzle the cake and run down the sides for a beautiful look. Be careful not to microwave for too long. Just 10 seconds should make it soft enough.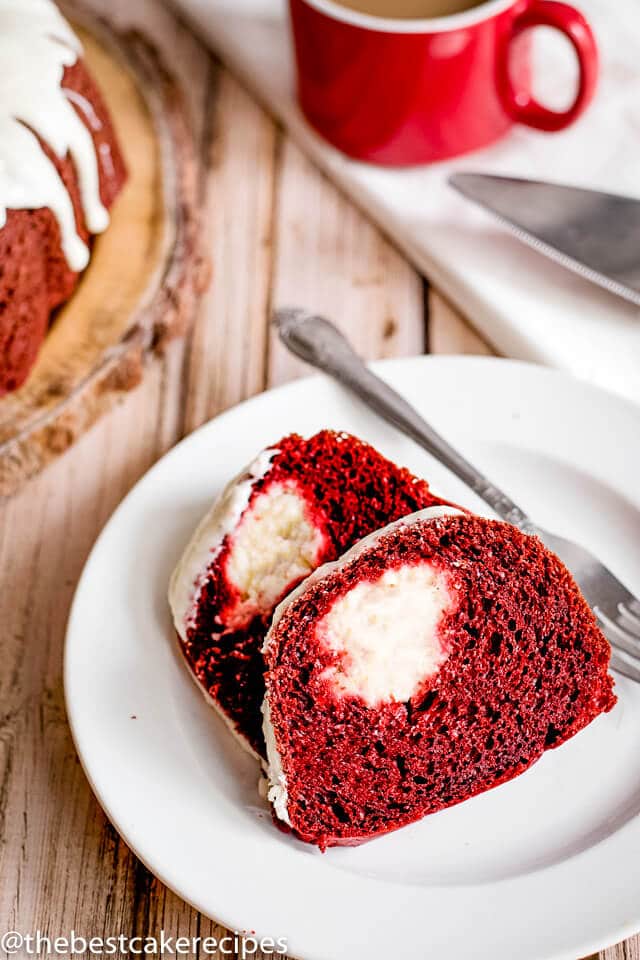 Other Bundt Cake Recipes
Tools to Make Cake
Bundt Cake Pan: This is a classic, must-have kitchen tool.
Bundt Cake Carrier: Store your cake in this carrier to keep it fresh and easy to transport!
Cake Plate: I have this cake plate and everyone loves it! It comes with the cute server too.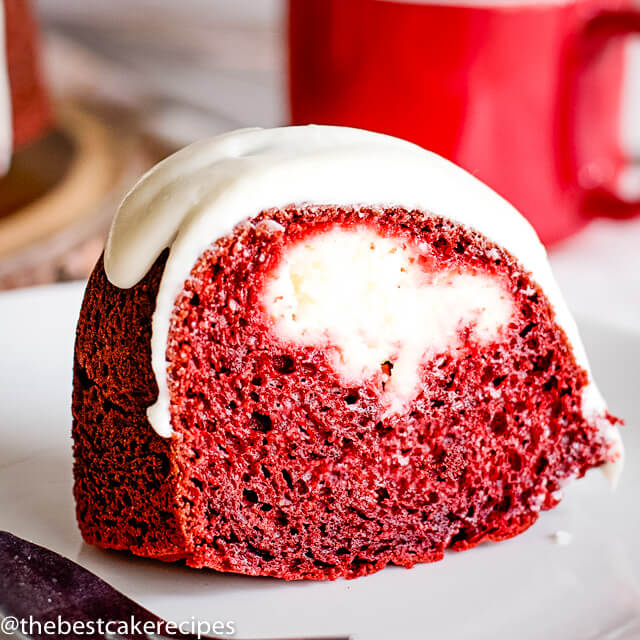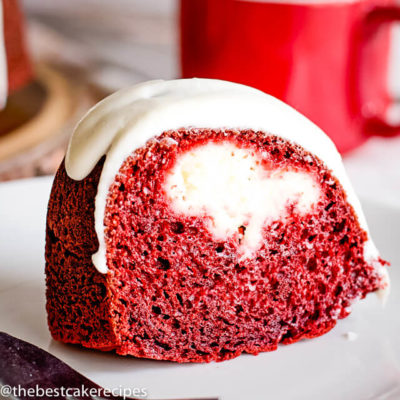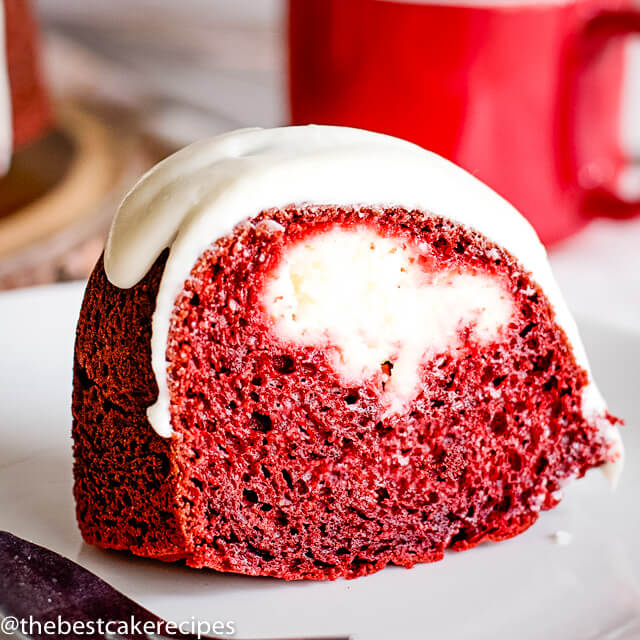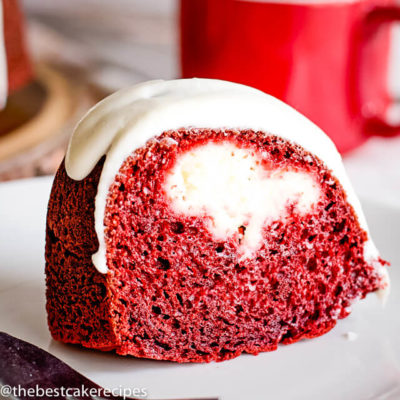 Red Velvet Cream Cheese Bundt Cake
Easy filled red velvet cake. This frosted Red Velvet Cream Cheese Bundt Cake with cream cheese frosting is beautiful!
Total Time
1

hour
10

minutes
---
Ingredients
For the Cream Cheese Filling:
For the Frosting:
16

ounces

cream cheese frosting

(store bought or homemade)
Instructions
Preheat oven to 325 degrees. Grease a non-stick* 10 cup bundt cake with shortening, then dust with flour.

In a large bowl, combine the cake mix, sour cream, oil and eggs and mix until well combined. Set aside.

In a medium bowl, using either a stand or hand mixer, combine the cream cheese, sugar and flour and mix until creamy. Set aside.

Pour half of the cake batter into the bottom of your pan. Then, either spoon the cream cheese filling around the center or you can use a piping bag to squeeze it more precisely into the center. Be sure to leave a border on the outside and inside edges of your cake. Pour the remaining batter over the top and spread around evenly.

Bake for 50-55 minutes or until a toothpick comes out clean. Allow the cake to cool in the pan completely, then turn the pan over and cool the cake on a cake plate.

To frost the cake, simply remove the foil from the frosting container and remove the lid. Place the frosting into the microwave and cook for 10 seconds, take it out and stir. Continue cooking for 5 seconds at a time, until desired consistency has been reached. Spoon the frosting over the top of your cake. Cut and enjoy!

Refrigerate cake until serving.
Video
Notes
*It's important to use a non-stick pan for this recipe since you'll need to allow the cake to cool in the pan.
*If you don't allow the cake to cool completely in the pan, you top of the cake may fall since the cream cheese center won't be set. You'll drizzle frosting so it won't matter too much, but for the best look, allow it to cool completely in the pan before turning over.
The calories shown are based on the cake being cut into 12 pieces, with 1 serving being 1 slice of cake. Since different brands of ingredients have different nutritional information, the calories shown are just an estimate. **We are not dietitians and recommend you seek a nutritionist for exact nutritional information.**
Nutrition
Calories:
576
kcal
|
Carbohydrates:
68
g
|
Protein:
6
g
|
Fat:
32
g
|
Saturated Fat:
18
g
|
Cholesterol:
111
mg
|
Sodium:
519
mg
|
Potassium:
125
mg
|
Sugar:
49
g
|
Vitamin A:
600
IU
|
Vitamin C:
0.2
mg
|
Calcium:
151
mg
|
Iron:
1.4
mg