Chocolate Chip Bundt Cake
You've never had a bundt cake like this! Easy chocolate chip bundt cake with gooey chocolate center. This cake is best served warm!
Bundt cakes have always been a favorite of mine. Fruit bundt cakes are always a good choice as are chocolate bundt cakes. But when you stuff a bundt cake with chocolate chips for a deliciously sweet layer? Count me in every time.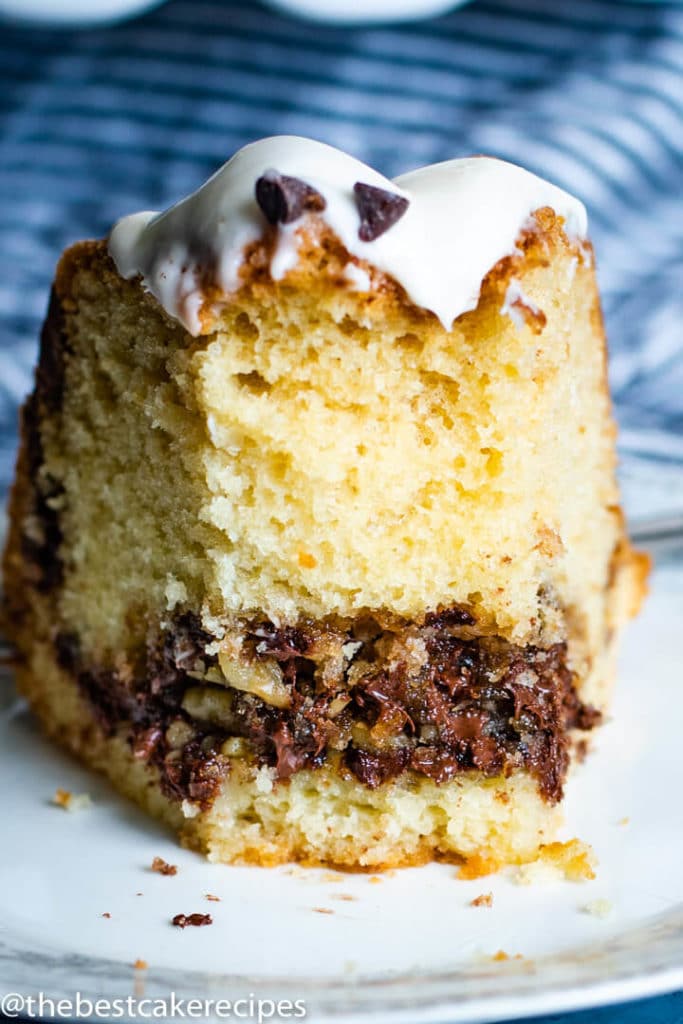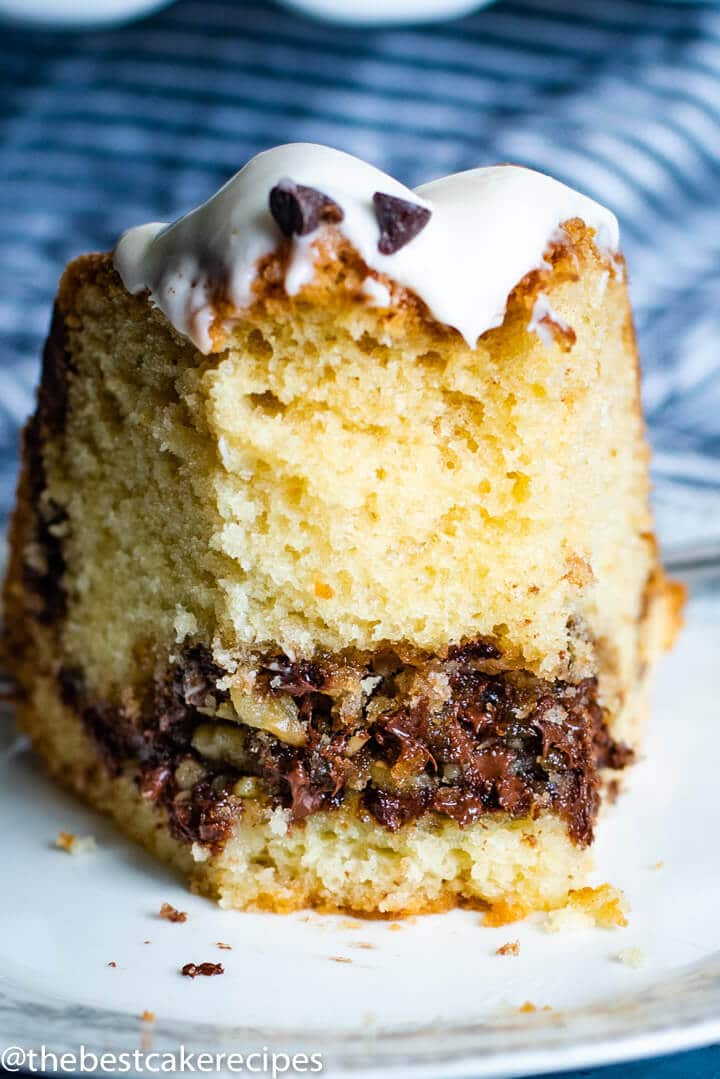 Bundt cakes are always popular and I think it is because they are so versatile. Many times bundt cakes are ideal because you can make them in advance. Often they are actually better if you wait 24 hours to eat them.
But what happens if you want a cake right.now? This chocolate chip bundt cake for you. It's best served warm, fresh from the oven. and I think you'll love it!
Why do they call it a bundt cake?
Bundt cakes are traditionally baked in molded pans. Nordic Ware popularized the bundt pans back in the 50's and 60's.
You can read the word etymology on Wikipedia, which talks about bundt cakes coming from a popular Jewish cake called Bundkuchen. "kuchen" means "cake" and from that you can see where we may have gotten "bundt cake".
I'm not a historian and depend 100% on others for knowing the history of our favorite cakes. I'd love to hear from you if you have more information on this popular cake!
Bundt Cake Batter
Bundt cake batter is traditionally very thick. This cake has both butter and sour cream, meaning the cake is rich and thick.
Mix the dry ingredients separately from the wet ingredients. This will ensure you don't overmix the batter (which would make for a tough cake).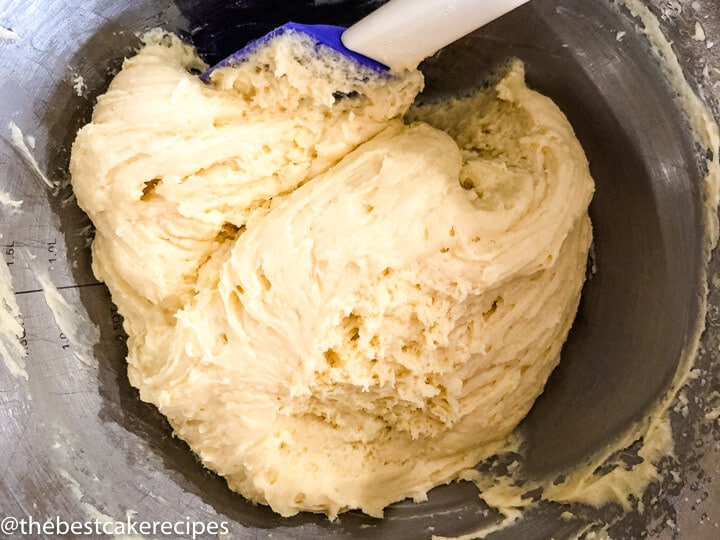 Bundt Cake Filling
You'll place half of the cake in the prepared cake pan. Then you'll mix up the chocolate chip filling.
This filling calls for brown sugar, chocolate chips and nuts. The chocolate and brown sugar mix together to form a fantastic chocolate layer when eaten warm. After the cake cools, the chocolate layer will become more firmer, but honestly it is still just as good.
Could you leave out the nuts? Yes, you probably could, but the nuts give just a little crunch that I think you'll like.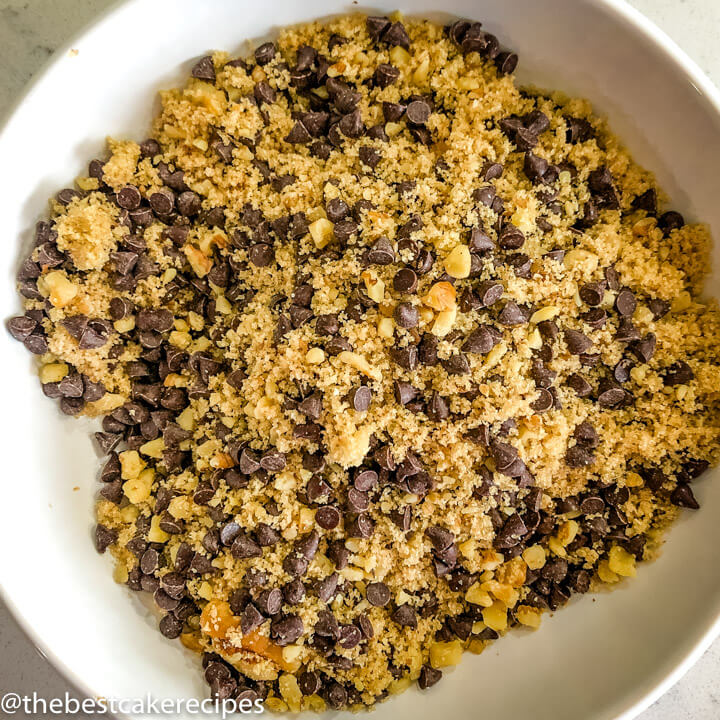 How long to bake a bundt cake?
The hardest part of making a bundt cake is the waiting! Bundt cakes can take at least 45 minutes to bake, and sometimes even up to 90 minutes.
The exact amount of time this cake will take to bake slightly depends on the size pan you use. We recommend planning 45 minutes, but you may want to check the cake at 40 minutes to make sure it isn't done yet.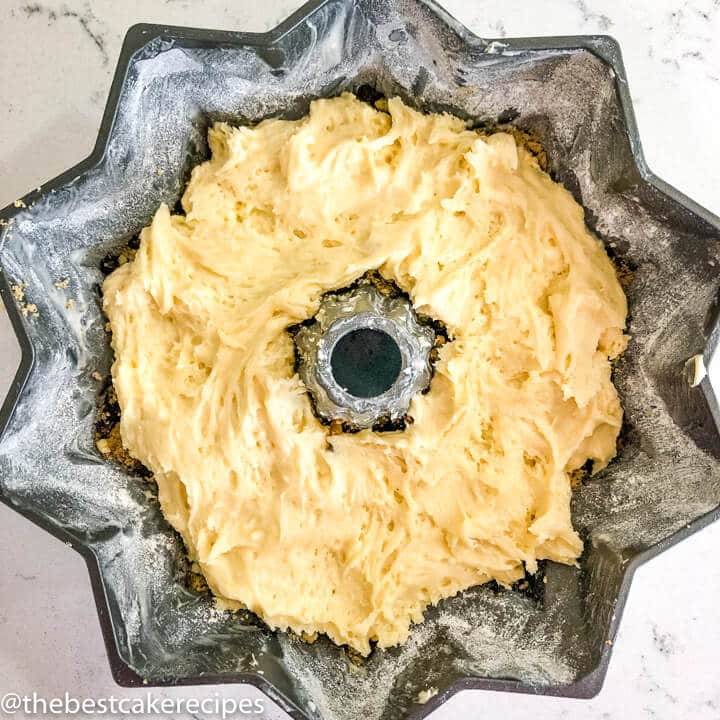 Do you let a bundt cake cool in the pan?
You'll want to be sure not to let the cake cool too much in the pan. If it does, the sugar that is melted upon baking may end up cooling and sticking to the pan.
You should always follow the instructions for the recipe you are using because each cake is different, but we try not to leave our cakes longer than 5 minutes in the pan to cool.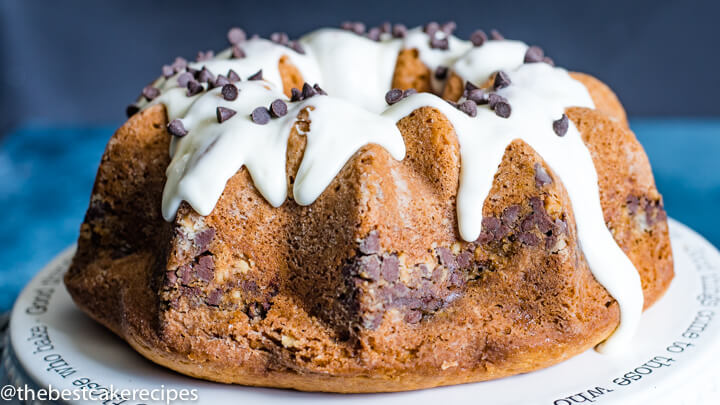 Why does my bundt cake stick in the pan?
Sometimes, even if you are careful not to let the cake cool to long, the cake may stick. Here are a few ways to prevent it.
Use cake release. This 3 ingredient formula works great nearly every time.
Use Bake Easy non-stick spray. People LOVE this stuff and swear it works beautifully!
Loosen the edge of the cake from the pan with a long knife before you turn it onto a plate.
Powdered Sugar Glaze
I love a good powdered sugar glaze. It can take a bland dessert and turn it into something beautiful and delicious. And that's with only 3 ingredients.
You'll need powdered sugar, cream and flavor (we used vanilla extract). Add the cream just a tablespoon at a time so that the glaze doesn't get too runny.
If you'd like, you can use half and half creamer or whole milk. You won't need as much liquid if you use one of these because they are thinner, so just keep that in mind when adding the milk.
Be sure to prepare the glaze right before drizzling it on the cake. It can form a "crust" on top and then not end up smooth. Thankfully, glaze is easy to mix up at the last minute.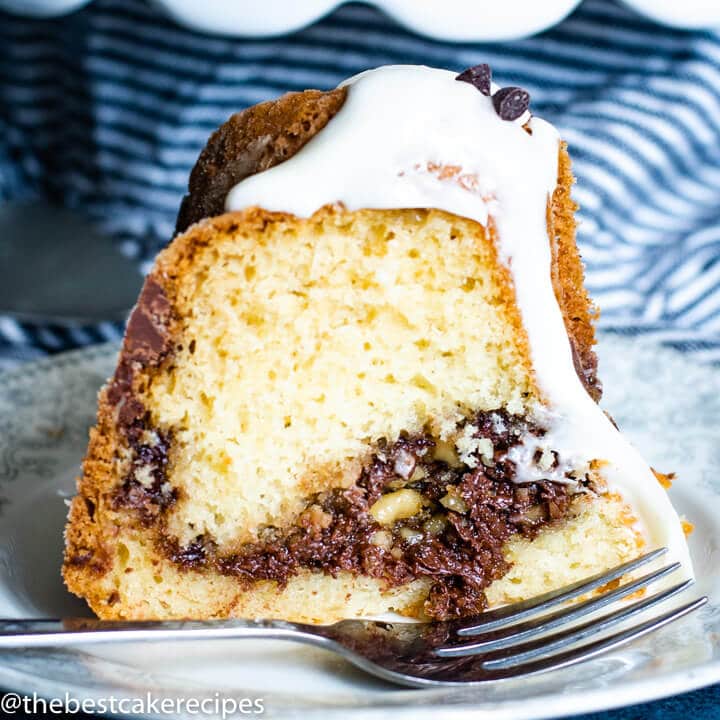 What is the best bundt cake pan?
Newer isn't always better. If you have a bundt cake pan that works well and doesn't stick, stay with it!
If you're looking to buy a new one, we've had the most success with non-stick pans. The non-stick coating, plus the spray or cake release are sure to give you success.
We have this classic Wilton bundt cake pan and it works really well!
Other Bundt Cake Recipes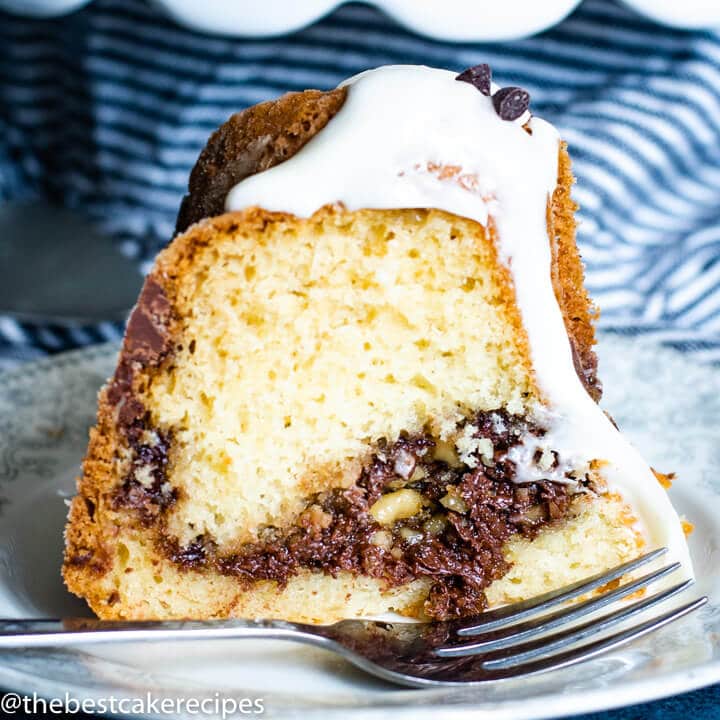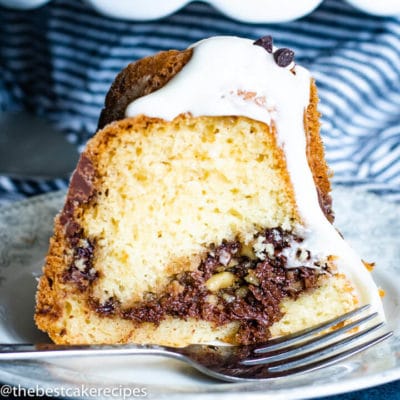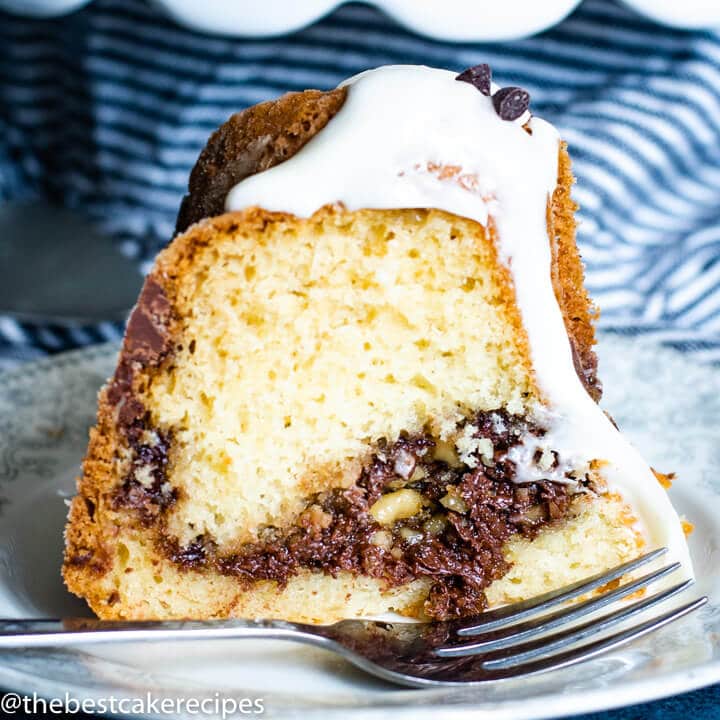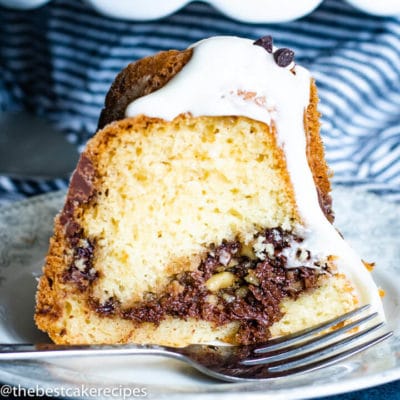 Chocolate Chip Bundt Cake
You've never had a bundt cake like this! Easy chocolate chip bundt cake with gooey chocolate center. This cake is best served warm!
Total Time
1

hour
5

minutes
---
Instructions
Make the cake:
Preheat the oven to 350º Fahrenheit.

Grease a bundt cake pan with shortening, then dust with flour. (Or use cake release.)

In a large bowl, cream the sugar and butter together until well mixed. (We use a hand mixer for this.)

Add the eggs and vanilla. Mix again.

Add the dry ingredients and mix until well blended.

Spoon half of the batter into the prepared bundt cake pan.

In a small bowl, mix together the filling ingredients. Sprinkle over the batter in the cake pan.

Dollop the remaining batter on top and spread gently to cover the entire top.

Bake in preheated oven for 40-45 minutes or until the cake tests done.

Allow the cake to cool in the pan for 5 minutes, then loosen the edges and turn out onto a plate to cool completely.
Make the glaze:
In a small bowl, whisk together the powdered sugar, vanilla and 3 tablespoons of cream. If the glaze is too thick, add another tablespoon or two of glaze until you reach a good drizzling consistency.

After the cake has cooled, drizzle the glaze on top.

Sprinkle with additional chocolate chips if desired.
Notes
The calories shown are based on the cake being cut into 15 pieces, with 1 serving being 1 slice of cake. Since different brands of ingredients have different nutritional information, the calories shown are just an estimate. **We are not dietitians and recommend you seek a nutritionist for exact nutritional information.**
Nutrition
Calories:
360
kcal
|
Carbohydrates:
50
g
|
Protein:
4
g
|
Fat:
16
g
|
Saturated Fat:
8
g
|
Cholesterol:
58
mg
|
Sodium:
161
mg
|
Potassium:
117
mg
|
Fiber:
1
g
|
Sugar:
36
g
|
Vitamin A:
395
IU
|
Vitamin C:
0.2
mg
|
Calcium:
68
mg
|
Iron:
1.3
mg