From Scratch Strawberry Cake Recipe
Looking for a homemade strawberry cake? This is it! This from scratch strawberry cake has a tender crumb with melt in your mouth strawberry buttercream. Need something a little quicker? Try our easy strawberry cake.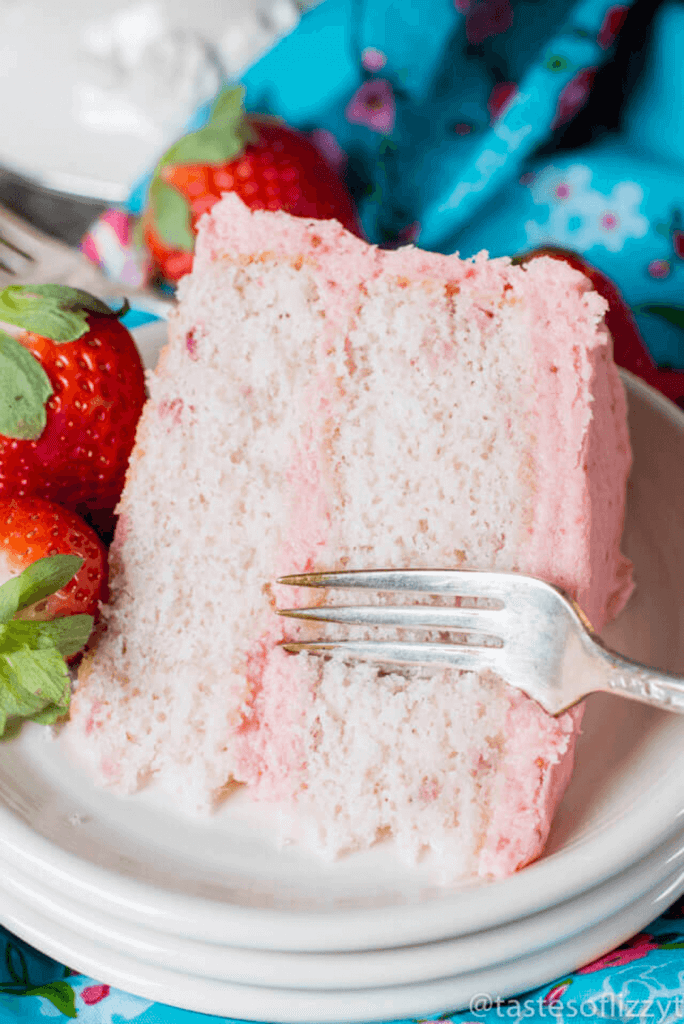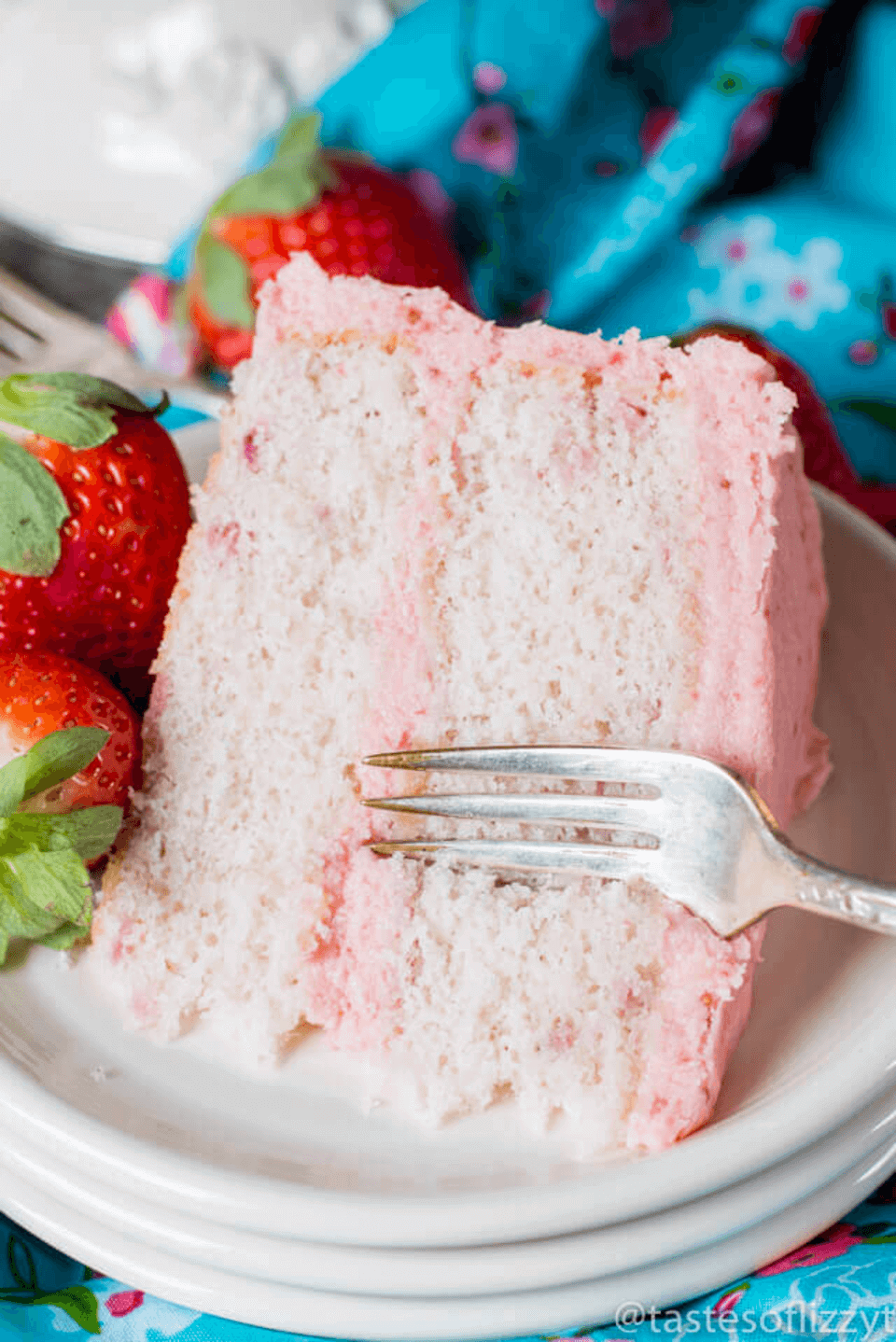 From Scratch Strawberry Cake Recipe
Fresh strawberries…. there's nothing like them! Unless you're talking cake, that is. Have you ever wished you had a from scratch strawberry cake recipe? With no red coloring…no frozen berries or freeze-dried berries? You've found the cake!
Fresh Strawberry Reduction
This cake uses a strawberry reduction for the ultimate in strawberry flavor. Puree fresh strawberries, then cook them down to about half of the original amount. Use that puree in the cake itself and the buttercream also.
You'll want to be sure you plan ahed on this part. You can make the strawberry reduction a day in advance if you'd like so it is completely cooled in order to add it to the cake and frosting.
Strawberry Cake
Homemade cakes have a different texture than cake mixes. Many times they can seem dry, although they are really just more dense than a box mix cake. We worked hard (like several months of recipe testing!) to get this cake to a texture we loved. For the ultimate cake texture, it is important to use cake flour.
If you'd like to try to make this cake lighter, whip the egg whites until they are frothy and hold peaks, then fold them in as a last step to making the cake batter. We often do this with homemade cakes and it helps!
Strawberry Buttercream
Oh, and that strawberry buttercream? It tastes like a strawberry milkshake. The most important thing to remember when making this cake is to make sure the strawberry puree is totally cooled (even cold) when you mix it in. Otherwise the butter will melt and the frosting may  separate.
We like our cakes with a lot of frosting, but if you'd like less calories, reduce the frosting amount and make it more of a "naked cake". It's beautiful that way, too!
Other Strawberry Cake Recipes
Tools to Make This Cake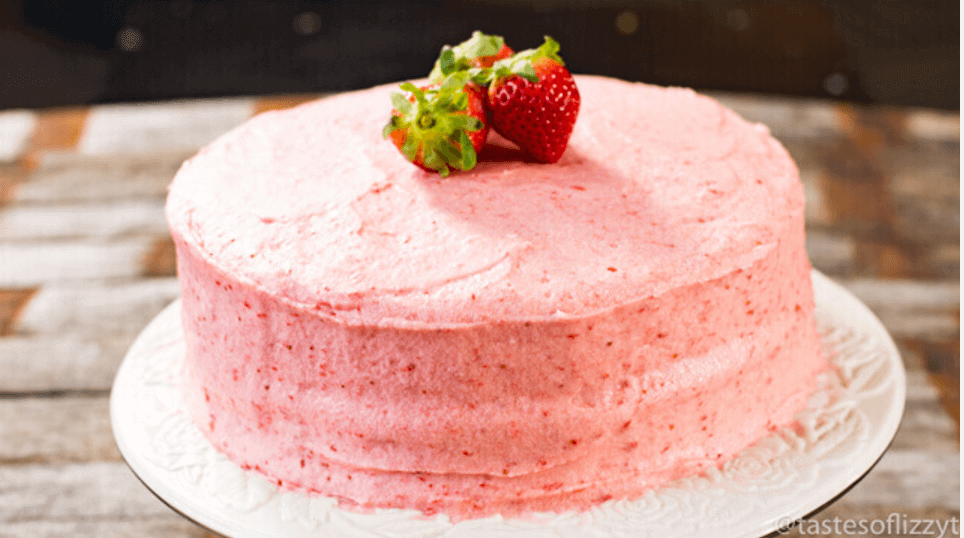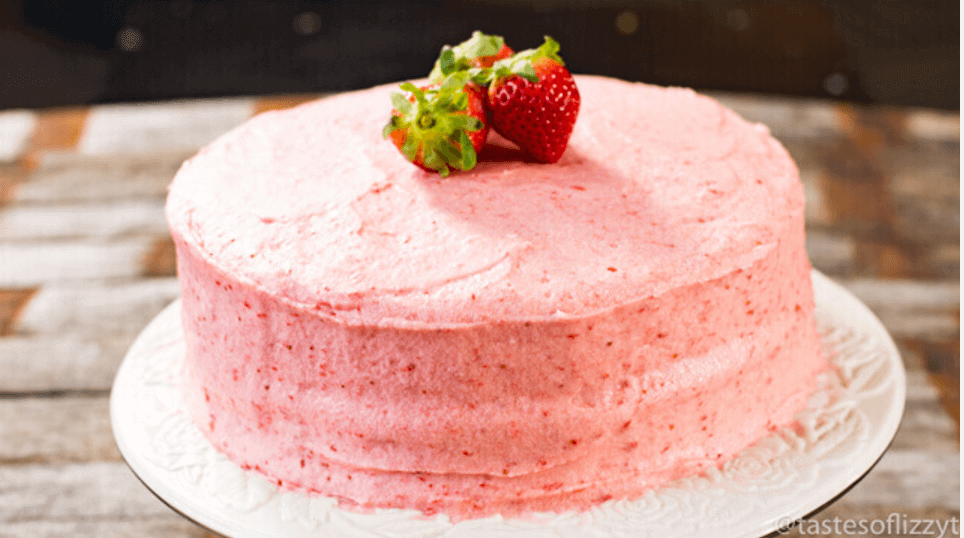 From Scratch Strawberry Cake
Looking for a homemade strawberry cake? This is it! This from scratch strawberry cake has a tender crumb with melt in your mouth strawberry buttercream.
Total Time
1

hour
20

minutes
---
Ingredients
*For the Strawberry Puree:
3

cups

strawberries pureed*
Instructions
*For the Strawberry Puree:
Clean and remove the stems on about 1 quart of strawberries. Cut them in half and place them in a food processor to blend them into a puree. You should end up with about 3 cups of strawberry puree.

Place the strawberry puree in a small saucepan. Cook over medium-low heat, stirring often to prevent burning, until the strawberries have reduced to 1 ½ cups of puree. I've found this to take about 30-45 minutes.

Allow the reduced strawberry puree to cool completely. (I often make this a day in advance so it has plenty of time to cool.)
For the Cake:
Preheat the oven to 350 degrees.

Sift together the cake flour, baking powder, soda and salt into a medium size bowl. Set aside.

In the bowl of stand mixer, cream together the softened butter and sugar.

Add the milk, oil and extracts. Beat on medium speed for 2 minutes.

Add the reduced strawberry puree and egg whites. Beat for an additional 2 minutes.

Add the flour mixture and stir until well combined, but be careful not to overmix. Scrape the sides of the bowl as needed.

Grease and flour two 9" round cake pans. Divide the batter between the cake pans.

Bake at 350 degrees for 25 minutes, or until the cake springs back when you touch the center of it. Allow the cakes to sit for 5 minutes, then remove them from the pans to a wire rack to cool completely.
For the Buttercream:
In a stand mixer bowl, with the mixer on medium speed, whip the butter for 2-3 minutes until it is almost white in color. Add in the salt, powdered sugar, vanilla extract. Mix on low speed until blended. Add in the reduced strawberry puree, ¼ a cup until the frosting is the consistency you'd like. Add a drop or two of red food coloring if you'd like the cake to be a little pinker. Beat on low speed again for 1-2 minutes.
Assemble the Cake:
Frost the top of one of the round cakes, then place the second cake on top of that.

Frost the entire outside of the cake with the strawberry frosting, making it as smooth as possible.

Decorate the top with cut or whole strawberries, if desired.

Cover and refrigerate until serving.
Video
Notes
You can make this recipe into a 9x13 cake. Simply bake at the same time and temperature, watching it closely until the center of the cake springs back when you touch it.
If you'd like less frosting, try:
2 sticks of butter
¼ teaspoon salt
4 cups powdered sugar
1 teaspoon vanilla
1 cup strawberry puree (added slowly until the frosting is at the correct consistency.)
Make as directed above.
The calories shown are based on the cake being cut into 15 pieces, with 1 serving being 1 slice of cake. Since different brands of ingredients have different nutritional information, the calories shown are just an estimate.