Instant Pot Snickers Cheesecake
This creamy cheesecake is loaded with chocolate candy! Make this small Instant Pot Snickers Cheesecake for an easy dessert. It's delicious!
I have a love that runs deep for Snickers bars. When I was a teenager with those shiny braces, I wasn't supposed to eat Snickers bars. It was a long two years. But my celebration for getting those braces off? An unholy amount of those chocolate, caramel and nut candy bars.
In my grown up years, I try to add candy to dessert recipes as much as possible. It's a great way to come up with new flavors! And for that reason, today I introduce to you the Instant Pot Snickers Cheesecake.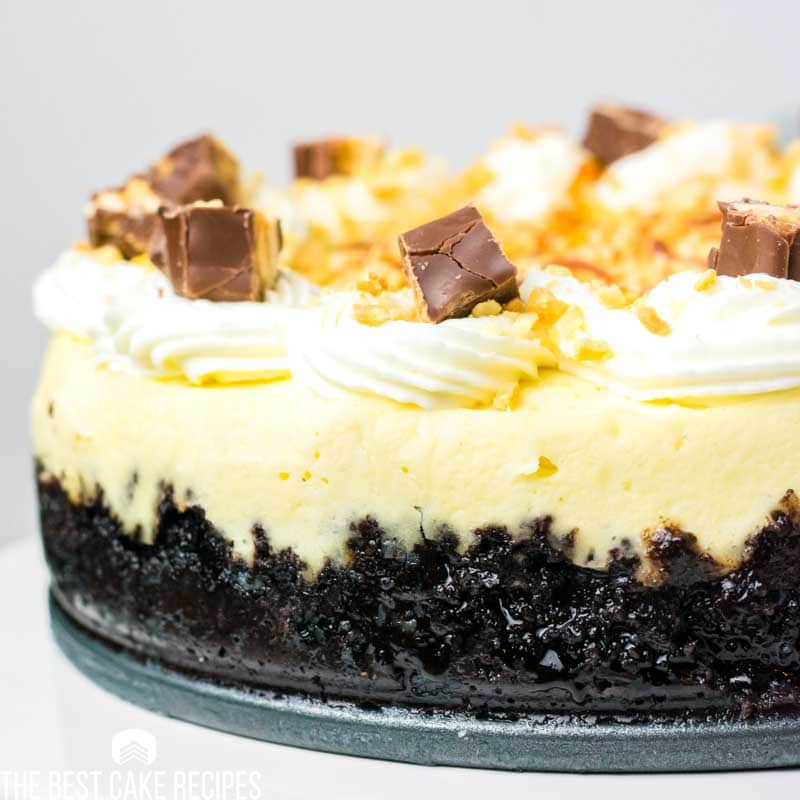 What I love about Snickers cheesecake:
You may wonder…can I really make dessert in the Instant Pot? Yes, you can…especially cheesecakes! The moisture from the Instant Pot just makes your cheesecake even better. Here's what we love about our IP cheesecake:
Classic Oreo crust. You can make a graham cracker crust if you'd like…or use any type of sandwich cookie.
It's super creamy. Sour cream helps with the extra creamy texture.
It's small. When it comes to having cheesecake in the house, smaller is better, because I lack all control, haha!
Snickers! You can use this recipe to add your own favorite chocolate candy actually. Reese's, Twix, Almond Joys…you name it, you can add it.
Toppings. Cheesecakes are delicious just on their own, but when you add toppings, they are perfect for holidays and special occasions. Toppings are easy and it makes the cheesecake look impressive.
Tips for making cheesecake:
Here are a few tips when you make this cheesecake:
Use room temperature ingredients. They key to a creamy cheesecake is that the ingredients are well blended. This works best if the cream cheese, sour cream and eggs are at room temperature.
Blend the cream cheese first, and blend it really well. You don't want to see any "chunks" in the cream cheese.
Scrape the sides of the bowl. Harder cream cheese can sit on the side so be sure to scrape the sides of the bowl several times during the mixing process.
Add the eggs one at a time. And after you add the eggs, mix on low speed, just until combined. This prevents air from being whipped into the batter.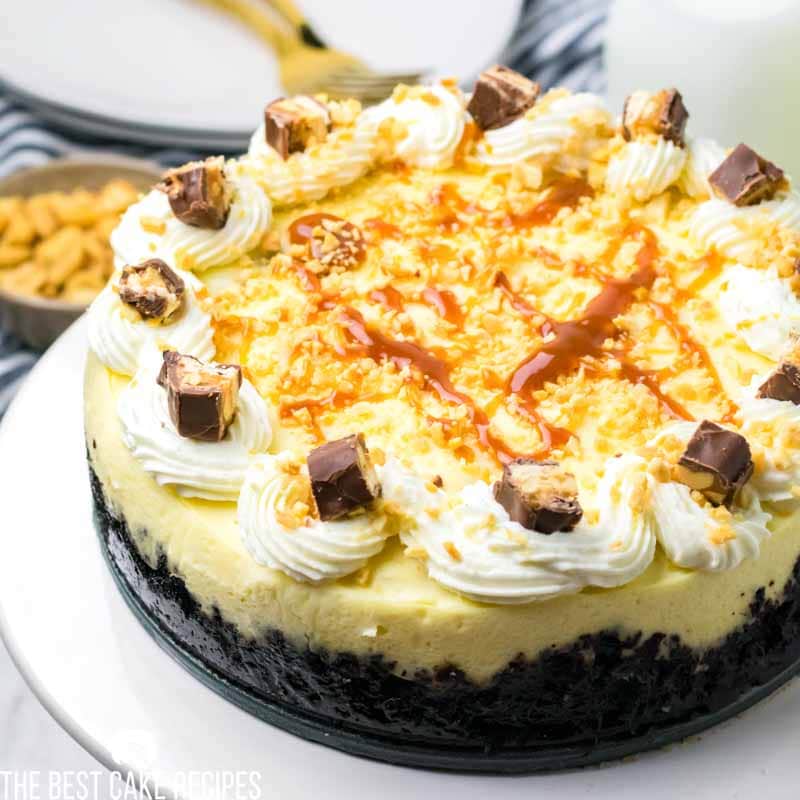 How long does cheesecake take in the Instant Pot?
You'll want to plan about an hour for cheesecake to cook in the Instant Pot. Actual cooking time is only 35 minutes, but the pot will need time to come to pressure, and then you'll also need time for the pot to naturally decompress.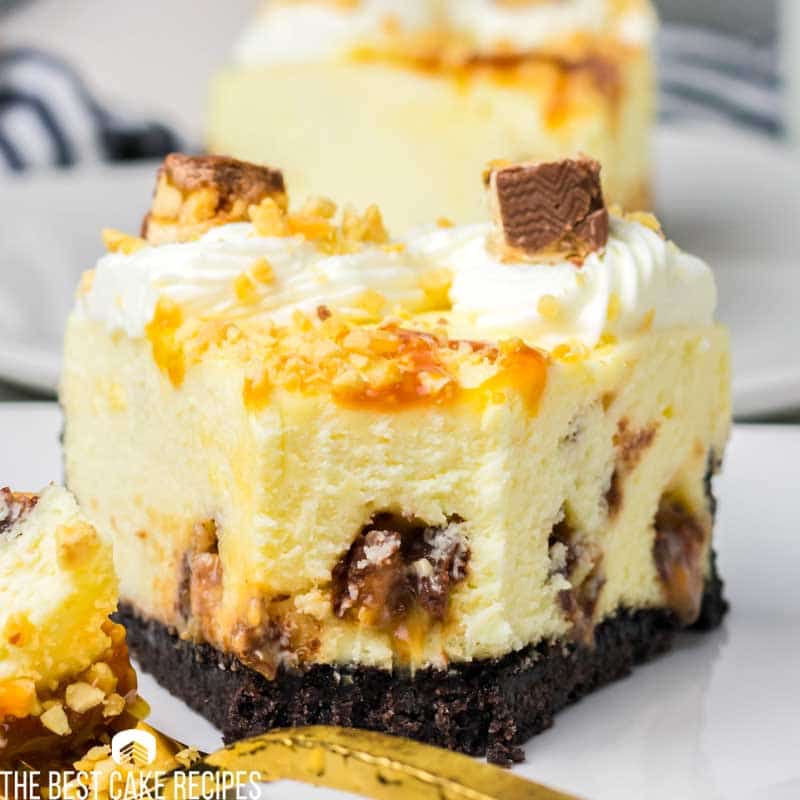 Cooling Cheesecake
The hardest part of making cheesecake is waiting for the cheesecake to chill. Cheesecake tastes best after it has chilled for at least 6 hours. Preferably, chill it overnight. It's a great make ahead dessert!
Scroll down underneath the recipe to see more Instant Pot cheesecakes.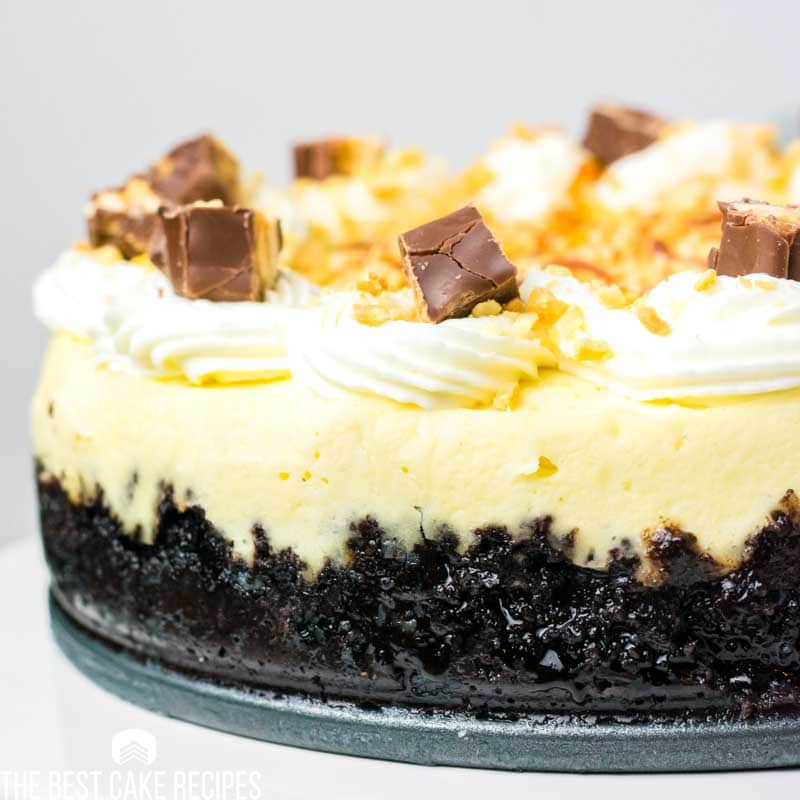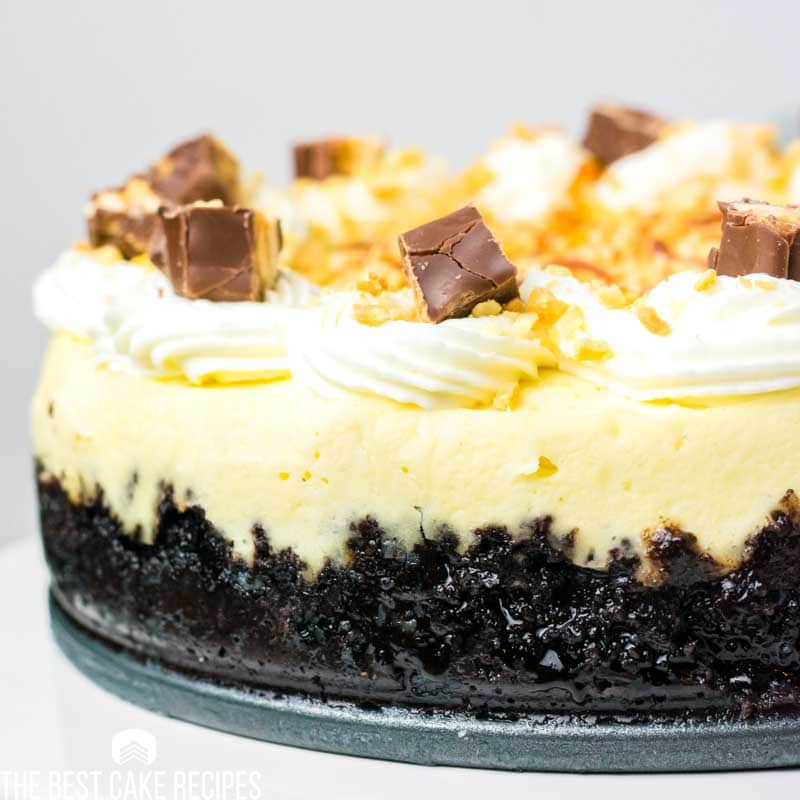 Instant Pot Snickers Cheesecake
Creamy cheesecake loaded with Snickers candy and topping with caramel, nuts and whipped cream.
---
Ingredients
Topping:
fun-size Snickers

salted peanuts

caramel syrup
Instructions
Make the crust:
Prepare a 7" springform pan with nonstick spray including the sides.

Prepare the crust by adding the chocolate cookies, melted butter, and salt into a food processor and pulse until you get a fine crumb.

Pour into the bottom of the springform and press into the bottom to form the crust. Place in the freezer.
Make the cheesecake:
In a large bowl using a hand mixer (you can also use a stand mixer with a paddle attachment) cream the cream cheese for 3-4 minutes until there are no lumps and it is completely smooth. Be sure to scrape the bowl at least 2 times during this time.

Add in the sugar and flour and mix well until combined and fluffy. Scrape the sides and bottom of the bowl.

Add in the sour cream and vanilla extract and mix until just combined.

Scrape the sides and bottom of the bowl and make sure there are no lumps in the batter. If there is, mix for an additional few minutes.

Add the eggs one at a time, making sure to completely combine the first before adding the second (use low speed). Be careful not to overmix here, you just want to mix long enough that you don't see the yolk anymore.

Add in the snicker's pieces and fold into the batter until evenly distributed throughout. Fold as little as possible.

Remove the crust from the freezer and add the cheesecake batter. Tap on the counter a couple times to release any air bubbles.

Cover the spring form pan completely with aluminum foil making sure to seal well around the top.

Using another piece of aluminum foil, make a sling by folding the foil from long end to long end. Place underneath the cheesecake to help you drop it down into the Instant Pot.

Prepare your Instant Pot by adding in the trivet and adding one cup of water.

Place the cheesecake on the trivet and seal the lid.

Set your pot on high pressure for 35 minutes and allow to naturally release.

Once you can open the lid, remove the cheesecake and allow to cool on the counter. Once cooled, place in the refrigerator for at least four hours but best overnight.

Once you are ready to serve, top with whipped cream, snickers pieces, caramel topping and salted peanuts.
Notes
The calories shown are based on the cheesecake being cut into 8 pieces, with 1 serving being 1 slice of cake. Since different brands of ingredients have different nutritional information, the calories shown are just an estimate. **We are not dietitians and recommend you seek a nutritionist for exact nutritional information.**
Nutrition
Calories:
578
kcal
|
Carbohydrates:
50
g
|
Protein:
9
g
|
Fat:
39
g
|
Saturated Fat:
20
g
|
Cholesterol:
138
mg
|
Sodium:
489
mg
|
Potassium:
255
mg
|
Fiber:
1
g
|
Sugar:
38
g
|
Vitamin A:
1105
IU
|
Vitamin C:
1
mg
|
Calcium:
112
mg
|
Iron:
3
mg
Instant Pot Cheesecake Recipes