Learn how to make a tangy and creamy lime cheesecake with a buttery graham cracker crust. Find our best tips and tricks in this easy-to-follow recipe.
Lime cheesecake, with its tangy citrus flavor and creamy texture, is a delicious and refreshing dessert that's perfect for any occasion, from birthdays and holidays to backyard barbecues and summer parties.
Making a baked cheesecake can be intimidating, but in this article we'll provide you with an easy-to-follow recipe for making the perfect lime cheesecake with a buttery graham cracker crust.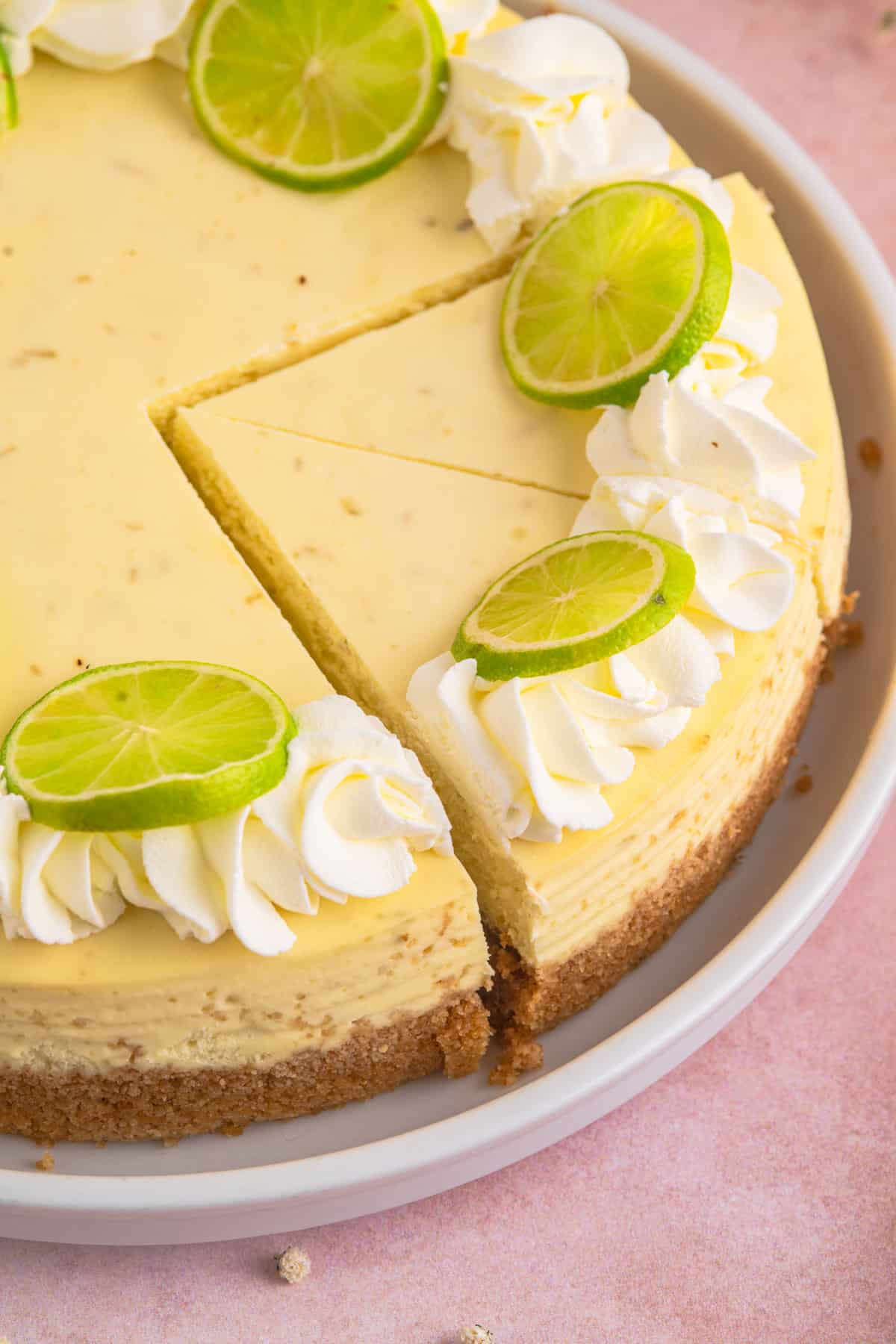 You may also love our key lime pie.
About this Lime Cheesecake Recipe:
Flavor: A wonderfully zesty lime flavor throughout the cheesecake pairs wonderfully with the sweetness in this cheesecake and the buttery graham cracker crust.
Texture: This lime cheesecake has a creamy, smooth and velvety texture. The crust adds a little bit of texture with the crushed graham cracker crumbs. Finished off with whipped cream swirls and lime slices for a pretty presentation.
Method: This cheesecake bakes in a 9″ springform pan. You'll need a large, deep pan to place the springform pan in (we'll talk about a water bath below) so that it bakes up smooth on top.
Ingredients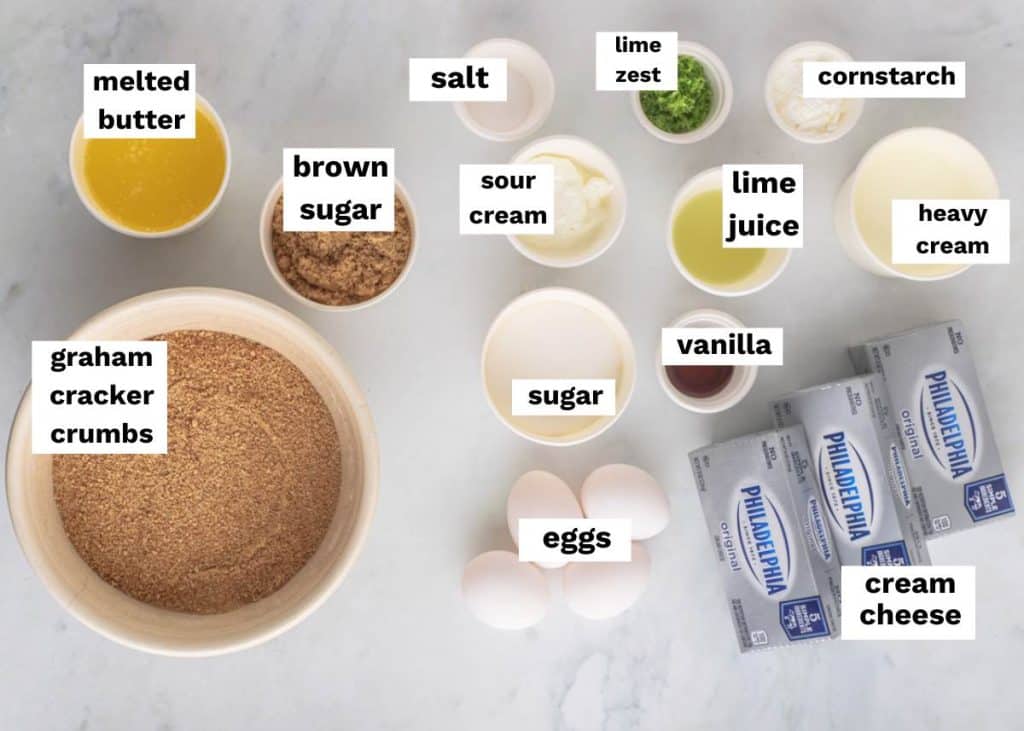 Cream cheese. Full fat cream cheese is best for a firm cheesecake. You may use a lower fat version, but the cheesecake will be much softer.
Granulated sugar.
Eggs. Use large eggs, and mix them in at room temperature. They'll mix into the cream cheese the best this way.
Heavy cream. This is a thick milk product you can find in the dairy section of the grocery store. Sometimes it is called heavy whipping cream.
Sour cream. Again, use full fat sour cream for the best textured cheesecake.
Limes. Have about 2 limes on hand, especially if they are small. You'll need 1 tablespoon of the zest and ¼ cup of the fresh lime juice.
Vanilla extract.
Salt.
Cornstarch. Cornstarch sets and provides structure for the cheesecake. It helps prevent cracks on top of the cheesecake and makes it easier to slice.
Graham crackers.
Brown sugar. Using brown sugar in the crust adds richness and depth of flavor.
Butter.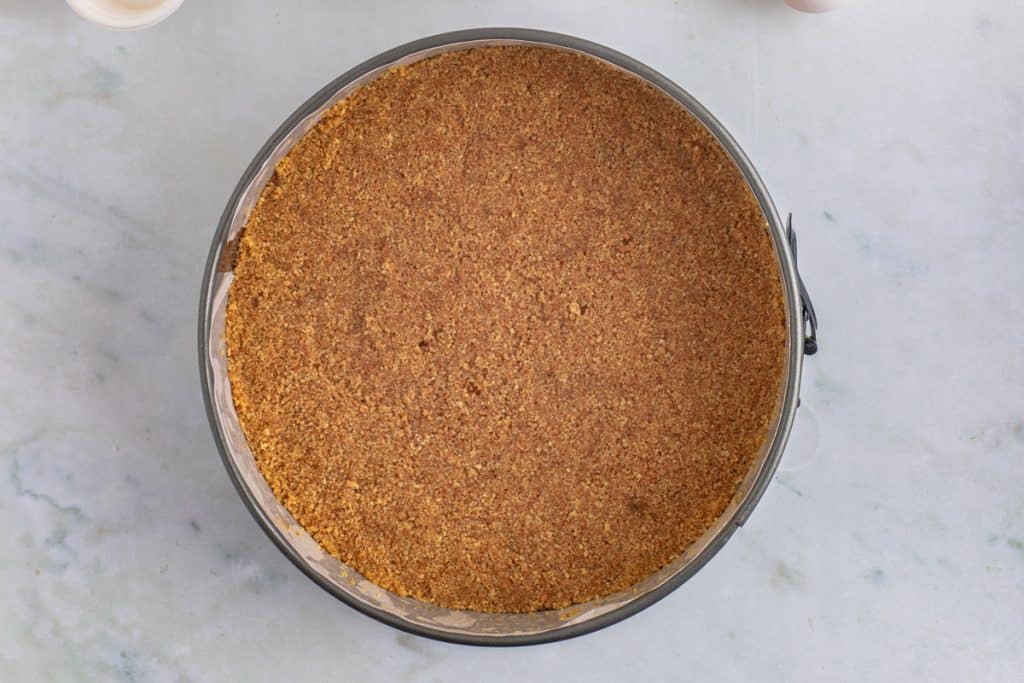 Tips for Making Lime Cheesecake
The crust can be pressed in an even layer on the bottom and up the sides of the pan if desired.
The batter will come together easily if the cream cheese and eggs are at room temperature.
When mixing up the cheesecake filling, make sure you occasionally stop the mixer and scrape down the sides of the mixing bowl with a rubber spatula. This will ensure that all of the ingredients are well incorporated, resulting in a smooth and lump free cheesecake.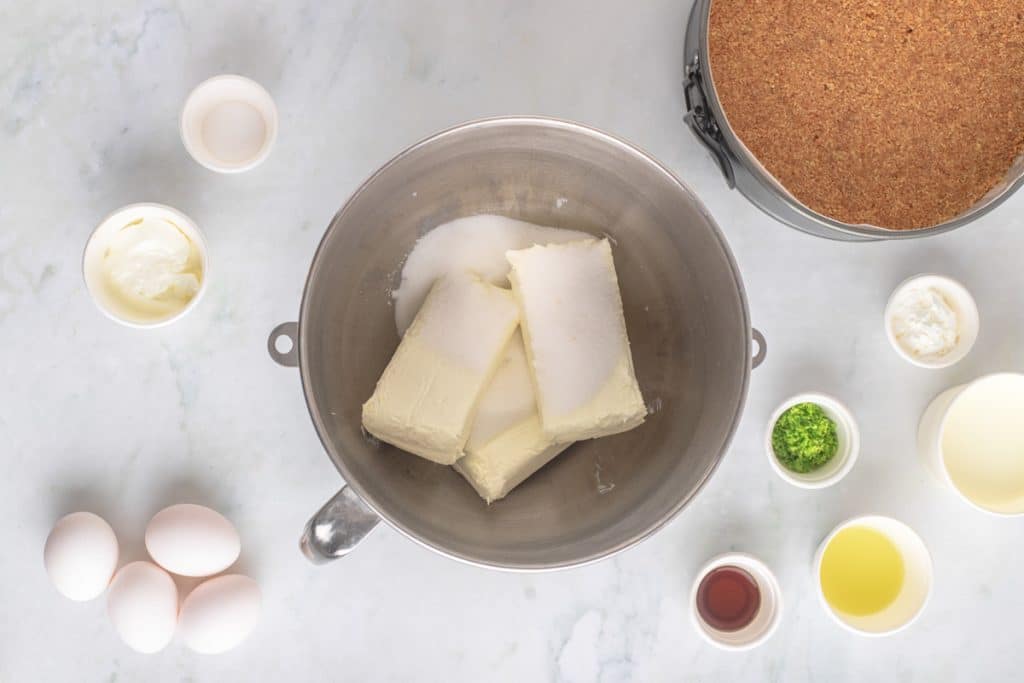 Do not skip the water bath. This will help to prevent any cracker from forming in the cheesecake while it's baking. If you do not have a broiler pan large enough to hold the springform pan, then you may use a baking sheet with enough of a lip on it to hold a little bit of water.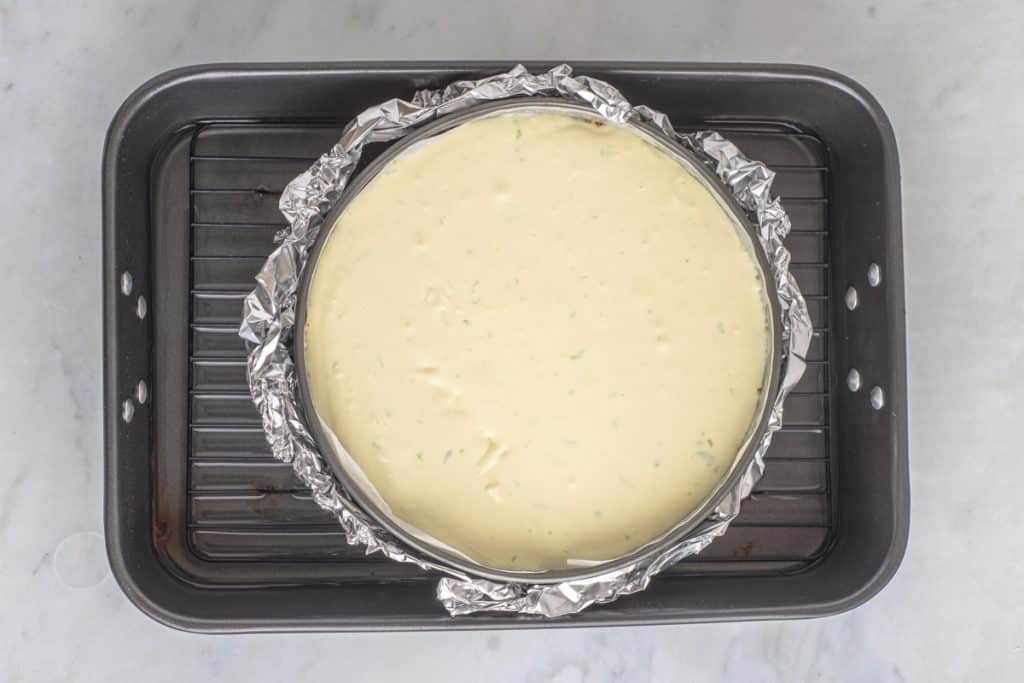 Following the cool downs times as instructed is a very important process for this recipe. Allowing the cheesecake to cool down slowly is key to that wonderfully velvety texture.
Recipe Variations
'Nilla wafers or even golden Oreo cookies would make a delicious crust.
You may use plain or greek yogurt in place of the sour cream in the cheesecake batter.
Use key limes for a key lime cheesecake. Key limes are small and more "seedy" than larger limes (Persian limes). The skin is thin and they are full of tangy juice.
Storage Instructions
Room temperature: Cheesecakes should not be stored at room temperature. It should always be chilled.
Refrigerator: Store this cheese cake in an airtight container in the fridge for up to 5 days. Bring to room temperature before eating.
Freezer: Freeze the cake whole or sliced in an airtight container for up to 2 months. Thaw at room temperature before eating.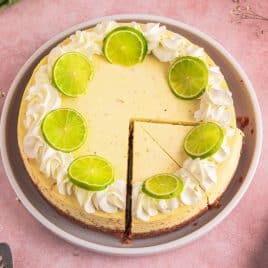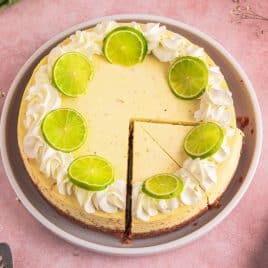 Lime Cheesecake Recipe
Learn how to make a tangy and creamy lime cheesecake with a buttery graham cracker crust. Find our best tips and tricks in this easy-to-follow recipe.
Total Time
11

hours
30

minutes
---
Instructions
Preheat the oven to 400°F. Line the bottom and sides of a 9-inch springform pan with parchment paper. Set aside.
For the crust:
In a medium sized mixing bowl combine crushed graham cracker crumbs and brown sugar.

Add in melted butter and mix until well coated and the texture is like wet sand.

Press the mixture evenly into the bottom of the prepared springform pan. Set aside.
For the cheesecake:
In the bowl of a stand mixer fitted with a paddle attachment (or a large mixing bowl with a handheld electric mixer), combine cream cheese and sugar. Beat together on medium speed for 2 minutes, until smooth.

Add in eggs and mix for 30 seconds on low speed. Scrape the sides of the bowl as needed and mix just until eggs are combined into the cream cheese mixture.

Add in heavy cream, sour cream, lime juice, lime zest, vanilla and salt. Mix on low speed just until combined.

Add in cornstarch and mix until just combined.

Transfer the batter onto the prepared crust.

Wrap the outside of the springform pan with aluminum foil to prevent water from seeping in, then place into a large broiler pan or baking dish. Fill the broiler pan with 1" of water. Place both pans into the preheated oven on the center rack. Bake for 15 minutes, then without opening the oven, reduce the temperature to 250°F. Continue baking the cheesecake for 1 hour.

Once baked, turn the oven off with the cheesecake left inside. Do not open the oven door. Let the cheesecake rest inside of the oven for 30 minutes.

Open the oven door and let the cheesecake rest inside of the oven for an additional 30 minutes.

Remove from the oven and place onto a wire cooling rack until completely cooled.

Cover the cooled cheesecake, then place into the fridge to chill for 8 hours before serving. Top the chilled cheesecake with whipped cream swirls and lime slices if desired.

Store any leftovers in the refrigerator in an airtight container.
Notes
Refer to the article above for more tips and tricks.
The calories shown are based on the cheesecake being cut into 10 pieces, with 1 serving being 1 slice of cheesecake. Since different brands of ingredients have different nutritional information, the calories shown are just an estimate. **We are not dietitians and recommend you seek a nutritionist for exact nutritional information. The information in the nutrition box are calculated through a program and there is room for error. If you need an accurate count, I recommend running the ingredients through your favorite nutrition calculator.**
Nutrition
Calories:
639
kcal
|
Carbohydrates:
46
g
|
Protein:
9
g
|
Fat:
47
g
|
Saturated Fat:
27
g
|
Polyunsaturated Fat:
2
g
|
Monounsaturated Fat:
13
g
|
Trans Fat:
1
g
|
Cholesterol:
198
mg
|
Sodium:
640
mg
|
Potassium:
209
mg
|
Fiber:
1
g
|
Sugar:
30
g
|
Vitamin A:
1673
IU
|
Vitamin C:
2
mg
|
Calcium:
127
mg
|
Iron:
2
mg
You may also love: