Crescent Roll Breakfast Cheesecake
This Crescent Roll Breakfast Cheesecake is an easy brunch or dessert cheesecake that is quick and delicious. Bakes in under 30 minutes!
Apple cakes, cinnamon cakes and even peaches and cream cakes…all are great for breakfast alongside a cup of coffee.
The newest cake in our collection of breakfast cakes is this Crescent Roll Breakfast Cheesecake!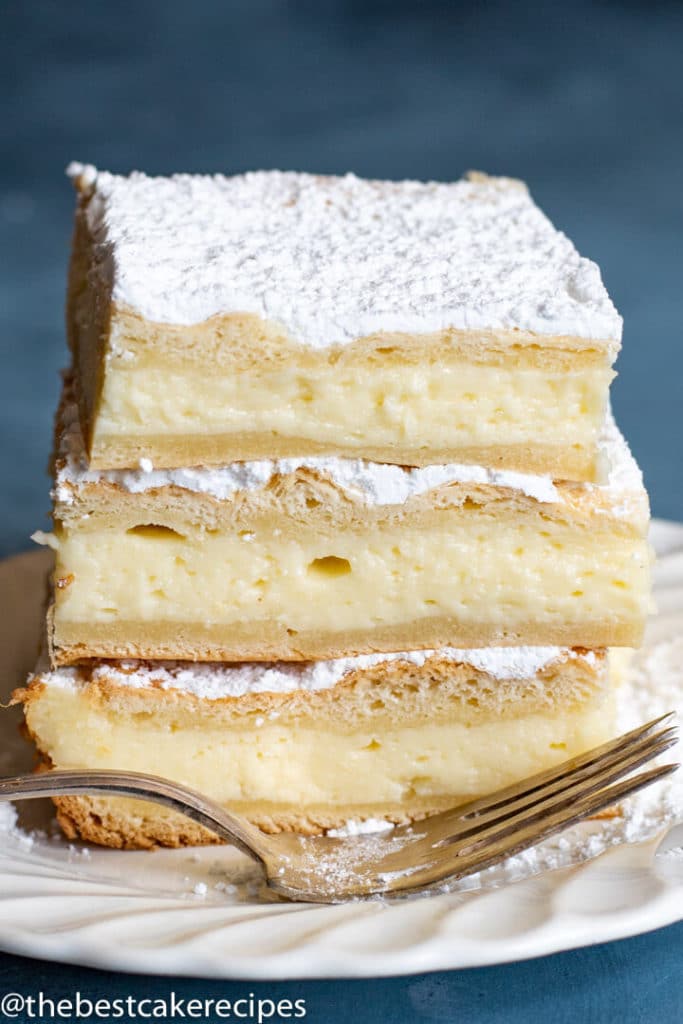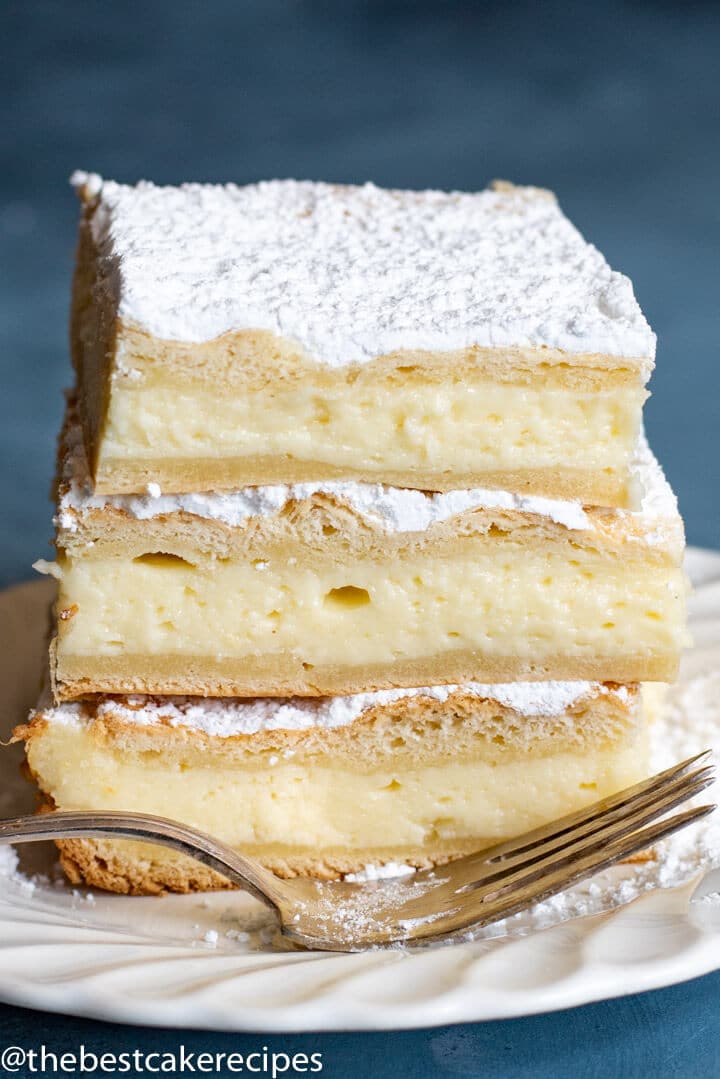 Crescent Roll Breakfast Cheesecake
I've had this dessert often over the years and it amazes me every time. It's so easy, yet fantastically delicious.
Yes, it uses store bought crescent rolls as a base and topping, but honestly no one will care. This easy cake would be perfect for brunch alongside a cup of coffee!
What are crescent rolls?
Crescent rolls are a crescent shaped puffy pastry. When a recipe calls for crescent roll dough or a "can of crescent rolls", that is usually referring to a refrigerated can of crescent pastry dough made popular by Pillsbury. You can find it by the refrigerated biscuits and cookie dough in the grocery store.
If you want to try to make your own homemade crescent rolls, here is a great recipe.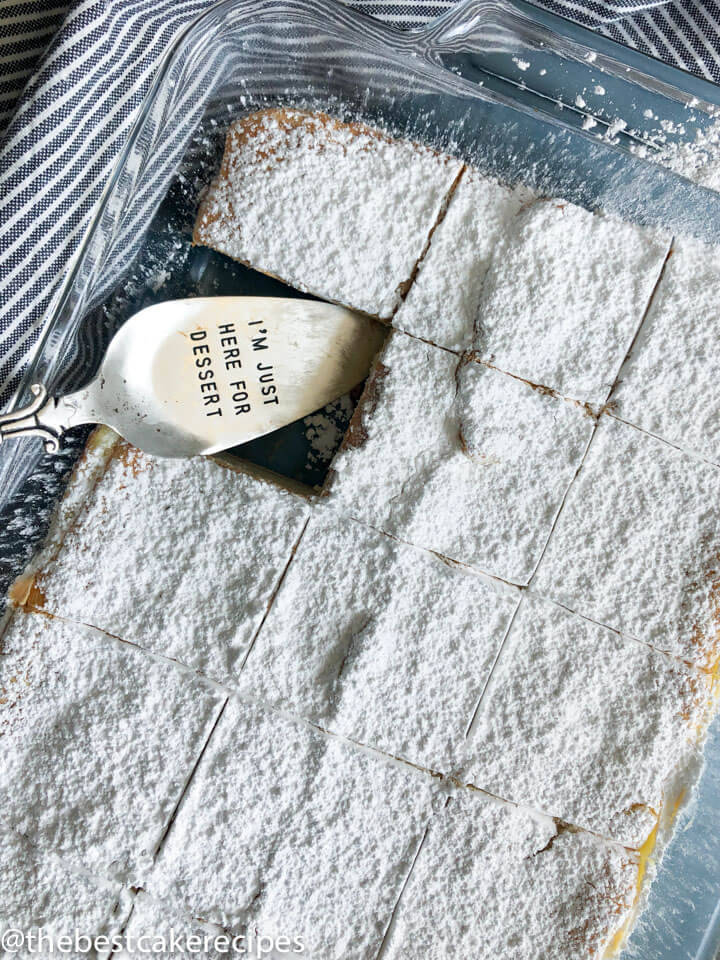 Is a crescent roll the same as puff pastry?
No. Crescent rolls and puff pastries are different. Puff pastries rely on a bunch of butter and flour folded together to create flaky layers. Crescent rolls add in yeast and milk to make the pastry more like a bread.
For this recipe, you will want to use crescent roll dough…not puff pastry.
Breakfast Cheesecake Filling
The base and top of this cake are both crescent rolls, but the filling is a beautifully sweet, creamy cheesecake filling.
It starts with 16 ounces of cream cheese that you'll want at room temperature. Having the cream cheese at room temperature allows it to cream smoothly and blend well with the other ingredients.
You'll mix in sugar, egg yolk, lemon juice and vanilla with the cream cheese. This creates that classic cheesecake texture and flavor.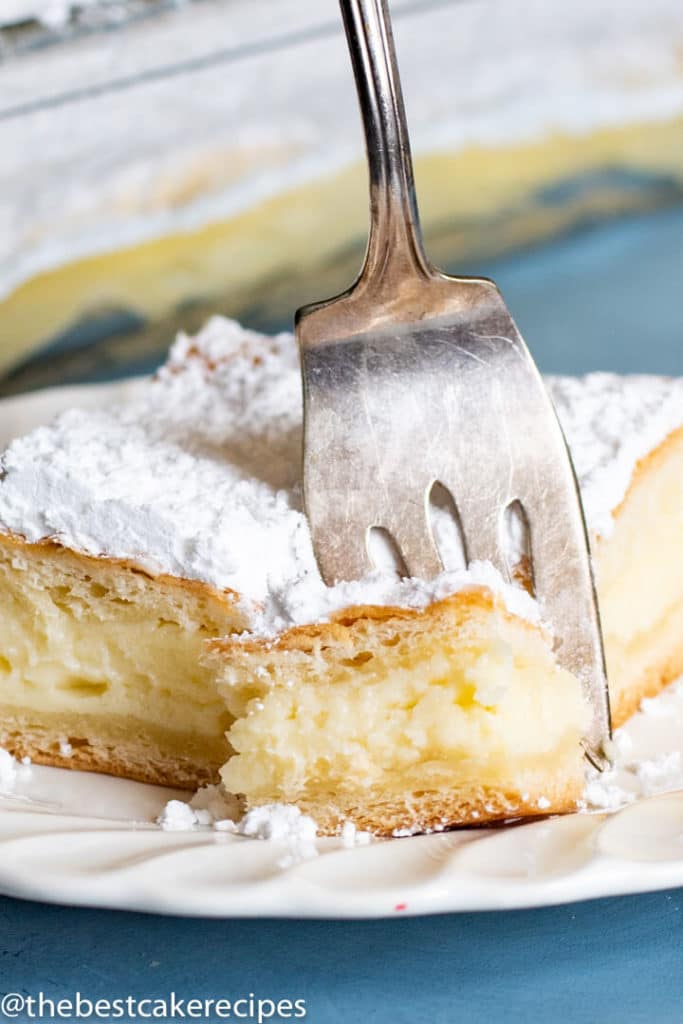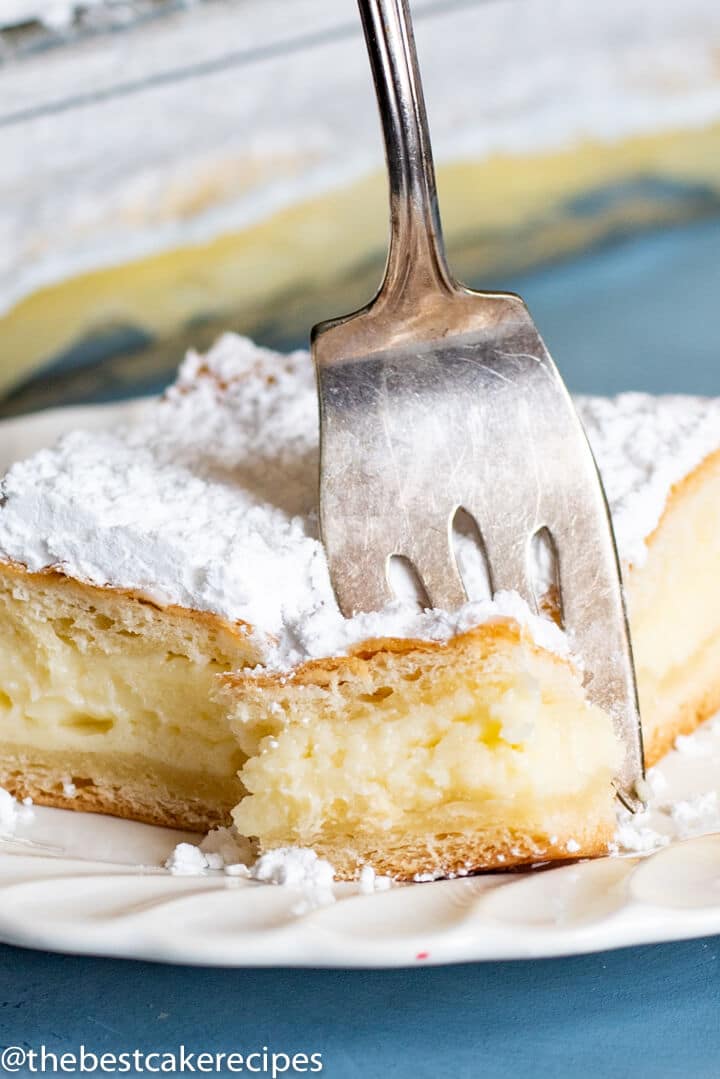 How to Bake Breakfast Cheesecake
Spray a 9×13 baking pan with cooking spray.
Press 1 can of crescent rolls on the bottom of the pan, sealing the perforated edges.
Pour the cheesecake filling over the dough.
Cover the cheesecake filling with the 2nd tube of crescent roll dough. This may be easiest if you press out the dough on the counter first, then pick up the sheet and place it on top of the filling.
Brush the top of the dough with a beaten egg white. This gives the top of the cheesecake a beautiful golden brown color.
Bake for 25 minutes.
Sprinkle with powdered sugar.
Do you serve cheesecake cold?
Honestly? It's hard to wait for this breakfast cheesecake to cool down before diving in. We like to serve it warm, but since cheesecake is traditionally served cold, this recipe is good cold, too!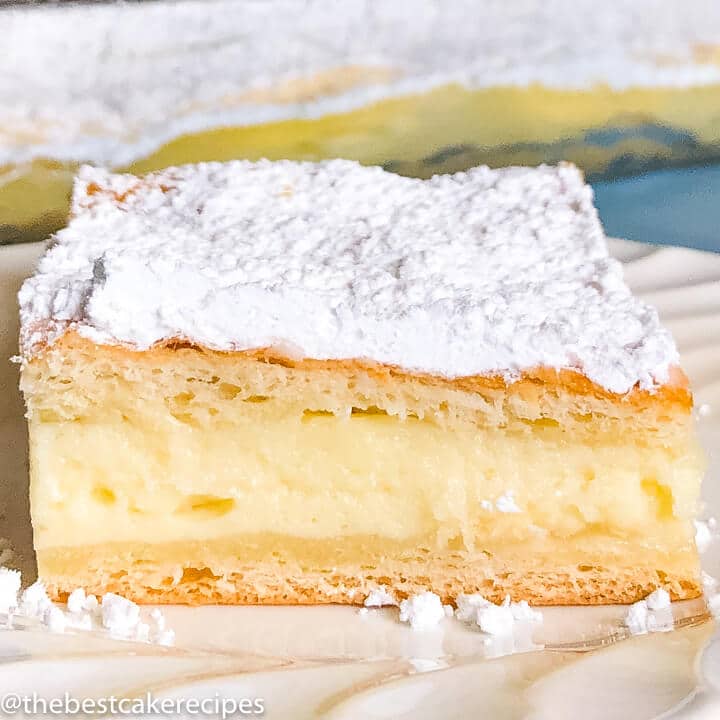 Does cheesecake need to be refrigerated?
Yes, you should refrigerate this breakfast cheesecake after it has cooled to room temperature. It will store in the fridge for 3-5 days.
Other Breakfast Cakes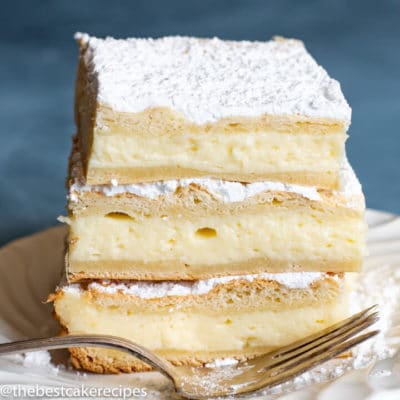 ---
Instructions
Preheat the oven to 375º Fahrenheit. Spray a 9×13 baking pan with cooking spray.

Open one can of crescent roll dough. Lay out the rolls on the bottom of the prepared pan. Press the seams together.

In a mixing bowl, use a hand mixer to cream the cream cheese until it is smooth.

Add in the sugar, egg yolk only, lemon juice and vanilla. Mix well.

Pour the cheesecake batter in the baking pan and spread it over the dough.

Lay out the 2nd can of crescent rolls on the counter. Press the seams together. Then pick up the sheet of dough and place it on top of the filling.

Use a fork to beat the egg white, then brush the egg white on top of the dough using a pastry brush.

Allow the cake to cool for about 10 minutes, then sprinkle powdered sugar over the top.

Once the cake is at room temperature, cover the cake with plastic wrap and store in the refrigerator.

Cut and serve as desired.
Notes
The calories shown are based on the cake being cut into 15 pieces, with 1 serving being 1 slice of cake. Since different brands of ingredients have different nutritional information, the calories shown are just an estimate. **We are not dietitians and recommend you seek a nutritionist for exact nutritional information.**
Nutrition
Calories:
269
kcal
|
Carbohydrates:
27
g
|
Protein:
3
g
|
Fat:
17
g
|
Saturated Fat:
9
g
|
Cholesterol:
47
mg
|
Sodium:
340
mg
|
Potassium:
47
mg
|
Sugar:
18
g
|
Vitamin A:
425
IU
|
Vitamin C:
0.2
mg
|
Calcium:
32
mg
|
Iron:
0.6
mg
This cake recipe came from an old church cookbook that my grandma gave me.