A deliciously simple crumb cake, filled with amazing cinnamon flavor. You'll go crazy for this easy spice crumb cake and the generous amount of streusel on top!!
I love spice cake just because of its simplicity. Sometimes, I don't want a strong/fancy flavor that overloads my taste buds. A simple cake with a little density and a lot of crumb topping will top a lot of other things for me!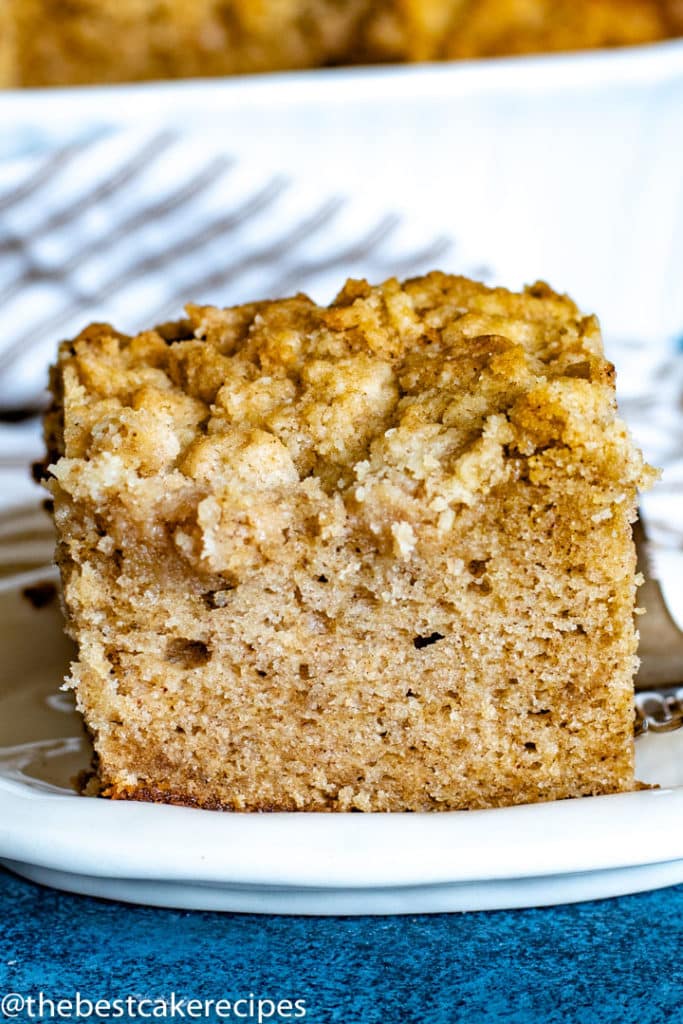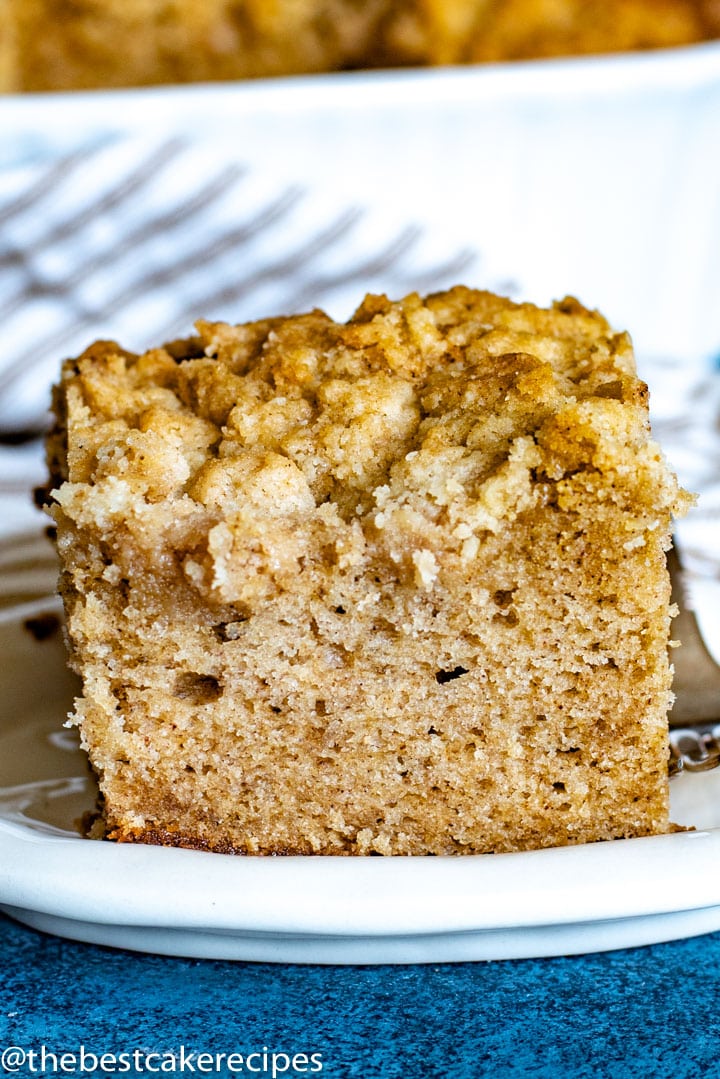 Because it's so similar to a coffee cake, you'll definitely want to consider having this Spice Crumb Cake along with your morning coffee (and with your lunch and dinner too).
This is a quick cake baked in an 9×9 or 8×8 baking pan. That means it doesn't make a lot, which is good, because you're going to want to eat it all! My kids were thrilled that this didn't have fruit or nuts…just simply cake and crumb topping. With delicious spice flavor!
What's the difference between spice cake and carrot cake?
Spice cake is such a delicious cake all on its own without any added fruits or veggies to it!! You'll find a lot of the similar spices in this cake that you do in carrot cake, except this cake does not include carrots.
You'll also find a similar version of this cake if you were to make apple spice cake. Basically, this is a traditional cake that takes on a delicious combination of spices.
What spices are in spice cake?
You'll find different combinations of nutmeg, cloves, cinnamon and even allspice in spice cake. These spices are strong so you'll want to use them sparingly.
You may find that you don't particularly enjoy one of the spices. It's ok to leave that out and add a little more of another spice, such as cinnamon.
How to Make Spice Cake
This easy breakfast cake has sour cream in it which makes it extra moist. Here are a few hints when making spice cake:
Make sure the butter is at room temperature, but not melted.
Cream the butter and sugar together really well. Let it beat until there are no chunks of butter at all. This will encourage even baking.
Many times the eggs and sour cream will mix in better if they are at room temperature. Allow them to come to room temperature at least an hour before mixing up the cake if you'd like.
Mix the dry ingredients separately. Why do you have to do this? It simply allows you to make sure all of the ingredients are mixed together without overmixing. Sometimes overmixing can make baked goods dry and tough.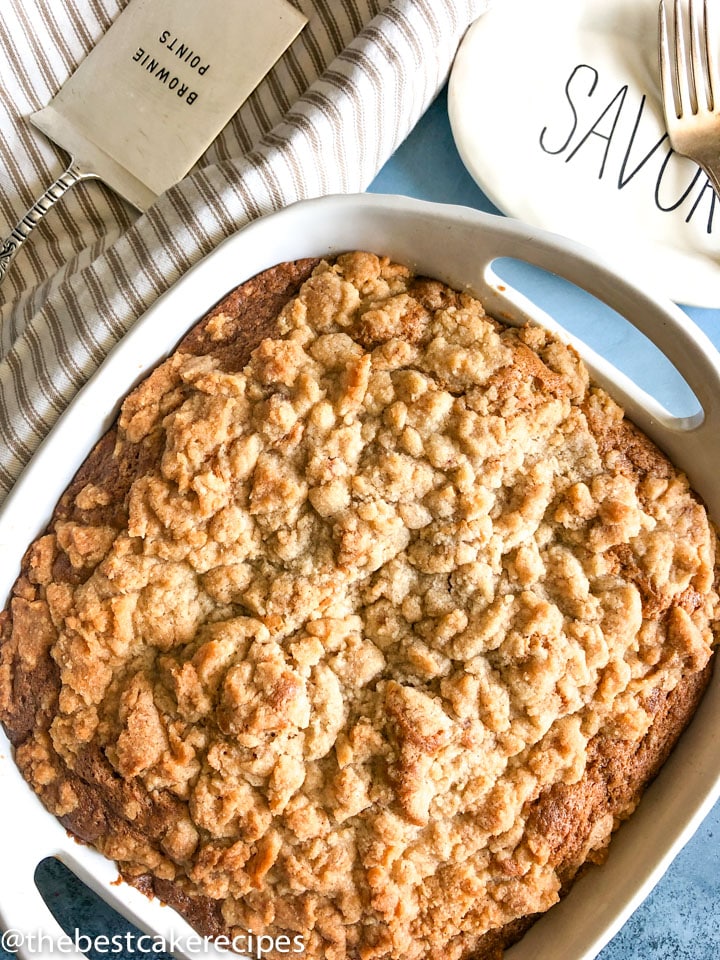 Crumb Cake Topping
The key to a good crumb topping is to use melted butter. You may find that some toppings call for cutting in cold butter, but if you'd like that traditional crumb cake topping, use melted butter. This makes it really easy to mix together.
We used both brown sugar and white sugar which deepen the flavor of this streusel.
How do you store cake?
This spice crumb cake is ok to store at room temperature. Make sure it is covered well with plastic wrap or sealed in an airtight container.
Can you freeze spice cake?
Yes!! You'll want it totally covered though, like everything else. We cut this spice cake into pieces and stored it in a plastic container in the freezer.
When you're wanting to thaw it, DON'T open the lid of the container for awhile. Just let it warm up for a while on your counter. This helps the moisture stay in the cake and prevents it from drying out.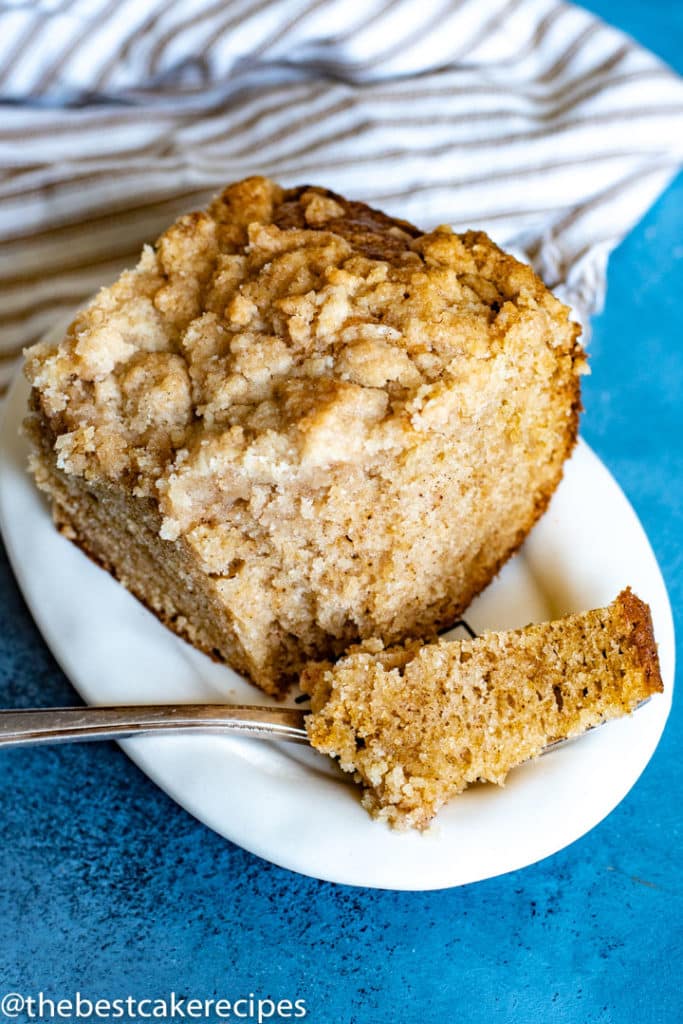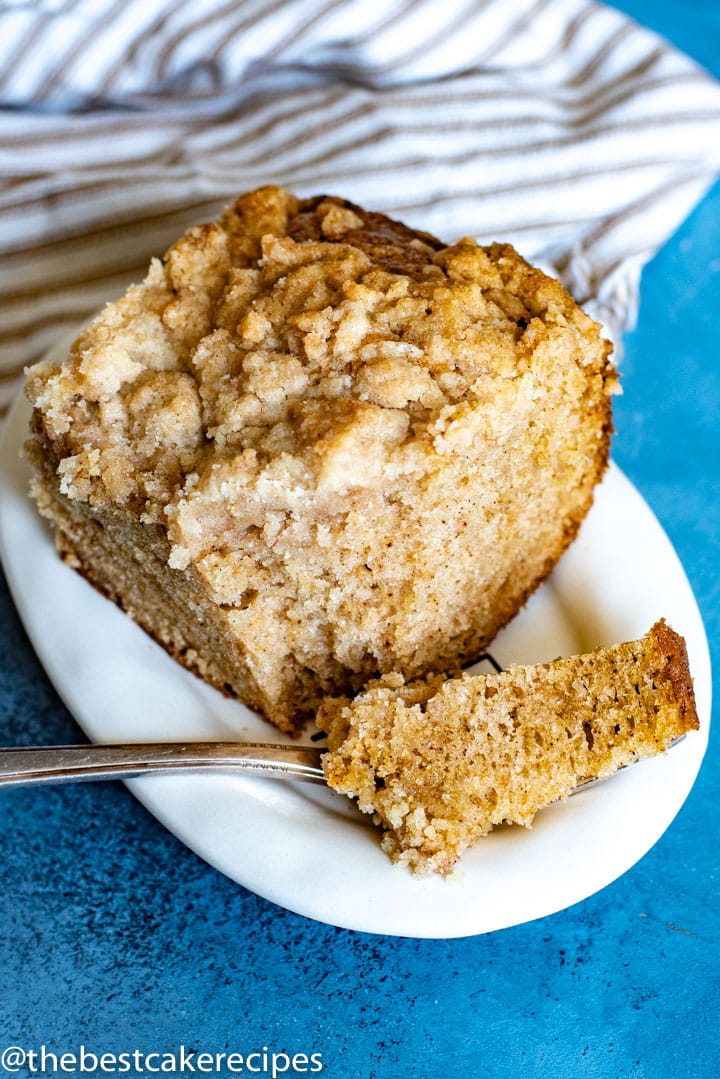 What's the difference between crumb cake and coffee cake?
In some recipes, you'll find that coffee cake does have a crumb/streusel topping (much like the topping you'll see on these pictures). Some coffee cake recipes do not have crumb topping.
Usually, a crumb cake is simply a cake with a TON of streusel. In some places in NY, they put almost as much crumb topping as they have cake!
Moral of the story: while a lot of people use the terms 'crumb cake' and 'coffee cake' interchangeably, you'll find that there are some differences between the two.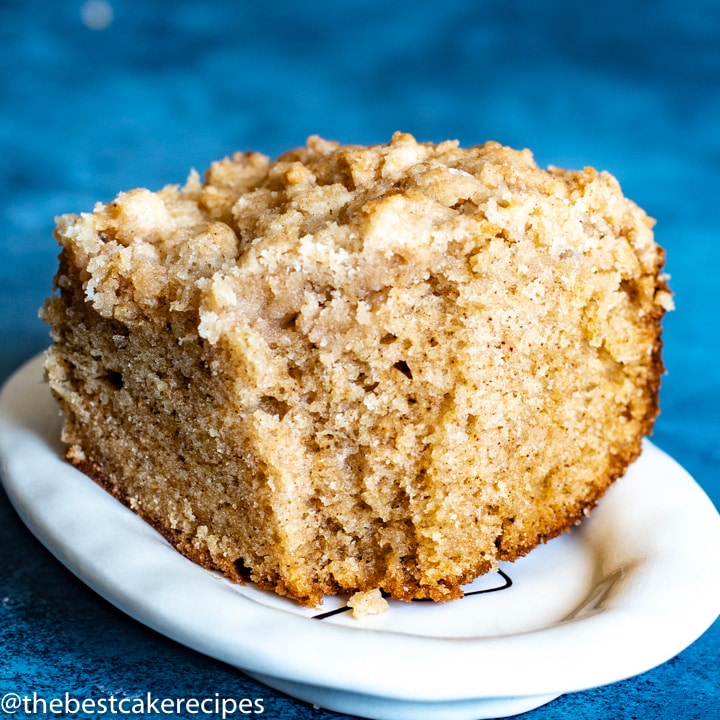 Other coffee cake recipes you'll enjoy: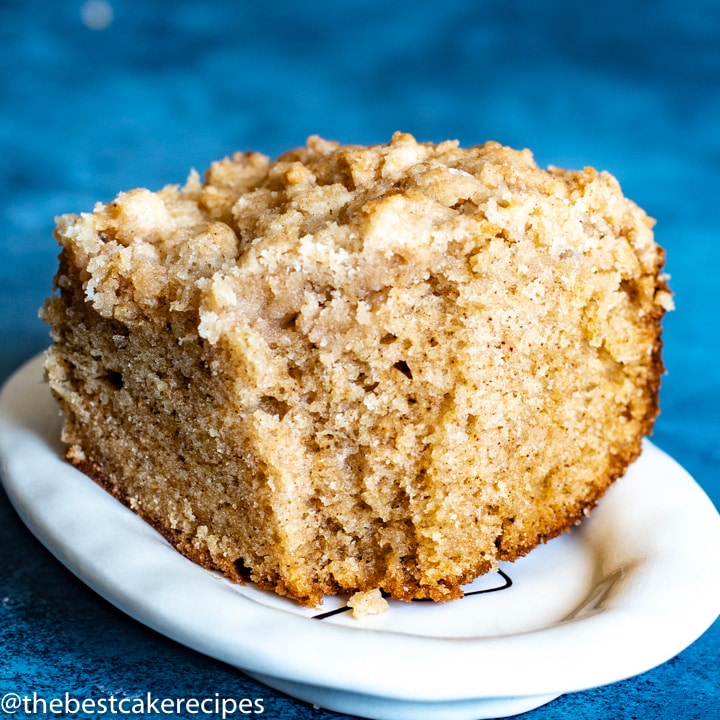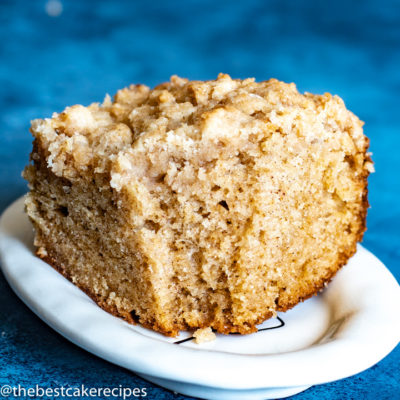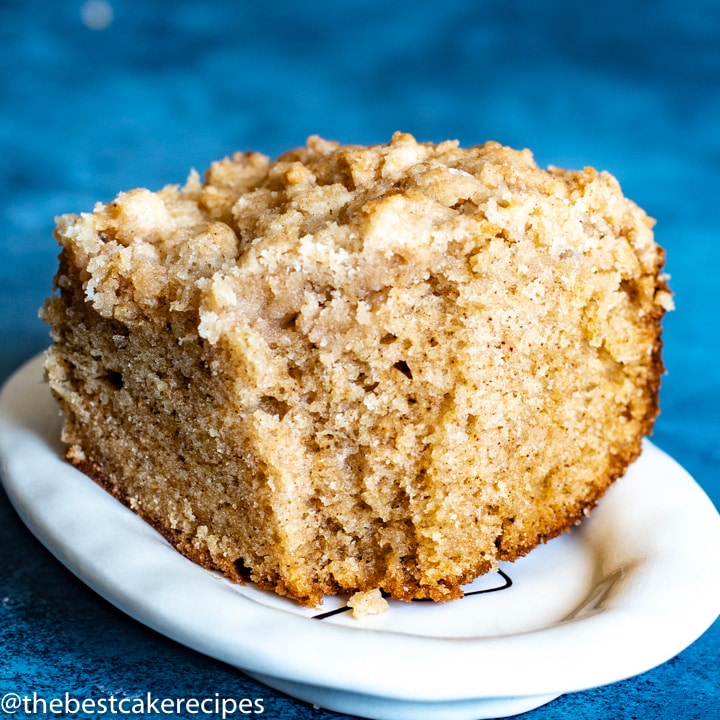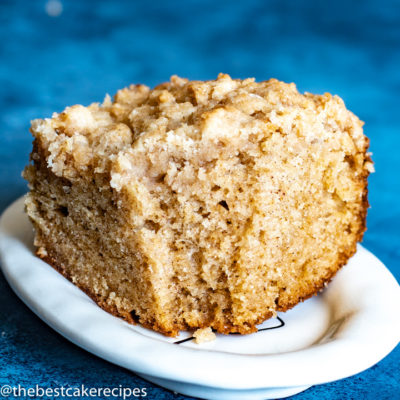 Spice Crumb Cake
A deliciously simple crumb cake, filled with amazing cinnamon flavor. You'll go crazy for this easy spice crumb cake and the generous amount of streusel on top!!
---
Instructions
Make the cake:
Preheat the oven to 350º Fahrenheit. Spray a 9×9 baking pan with cooking spray.

In a large bowl, cream together the sugar and butter.

Add the beaten eggs. Mix well.

Add the sour cream. Mix well.

In a small bowl, whisk together the flour, baking soda, cinnamon and cloves.

Add the dry ingredients to the wet ingredients in 2 parts, mixing between each addition.

Pour the batter in the prepared pan.
Make the crumb topping:
Mix together the flour, sugars, butter, cloves and cinnamon. Mix well.

Crumble the topping over the cake batter evenly.

Bake for 50-55 minutes or until a toothpick inserted in the center comes out clean.

Allow the cake to cool, then store covered at room temperature.
Notes
The calories shown are based on the cake being cut into 12 pieces, with 1 serving being 1 slice of cake. Since different brands of ingredients have different nutritional information, the calories shown are just an estimate. **We are not dietitians and recommend you seek a nutritionist for exact nutritional information.**
Nutrition
Calories:
390
kcal
|
Carbohydrates:
48
g
|
Protein:
4
g
|
Fat:
20
g
|
Saturated Fat:
12
g
|
Cholesterol:
85
mg
|
Sodium:
257
mg
|
Potassium:
76
mg
|
Sugar:
28
g
|
Vitamin A:
645
IU
|
Vitamin C:
0.2
mg
|
Calcium:
42
mg
|
Iron:
1.5
mg