Keto Chocolate Fudge Cake
A true chocolate lover's dream! This intensely flavored Keto Chocolate Fudge Cake is rich, dense and fudgy. Pair with homemade whipped cream.
When the chocolate craving hits, there's nothing that will satisfy it better than rich, fudgy chocolate cake. This recipe will satisfy that craving…and you'll love it because it fits in a Keto diet! Have your cake without breaking your eating goals.
This cake is very rich, dense and fudgy, but not overly sweet. A true chocolate lover will love this cake!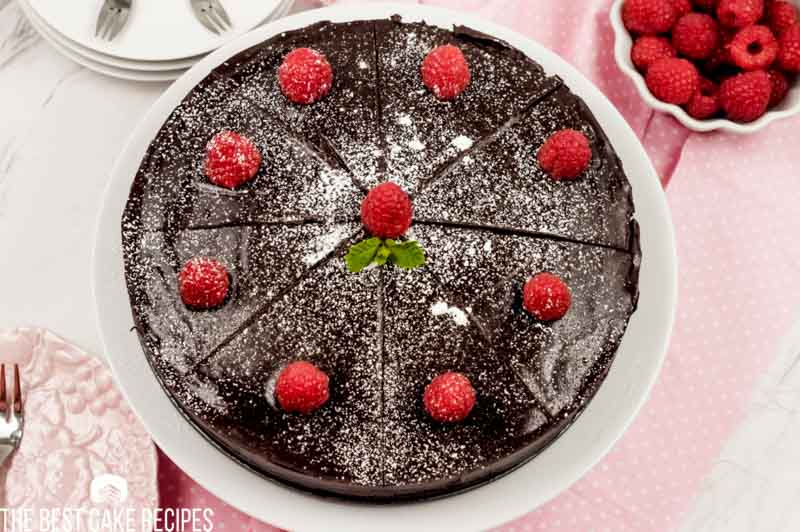 Why you'll love this cake:
lower in carb
uses monk fruit for sweetener
dense and fudgy
rich, intense chocolate flavor
makes just a small cake
chocolate ganache topping!
What kind of sweetener is best for a keto cake:
For the low carb sweeter, I used Lakanto Classic Monk Fruit Sweetener, which is a cup-for-cup alternative to regular granulated sugar. There are other sweetener options available like Swerve and Pyure which are also 1:1 sugar replacement and are also excellent choices to use. But whatever low carb sweetener you choose, make sure that they are an exact 1:1 sugar replacement or else the sweetness will be off balanced.
Are there low carb chocolate chips?
For chocolate chips, I love Lily's Sweets Dark Chocolate. And because it is sweetened with stevia, you do not need any additional sweetener.
Do you have to use espresso powder?
The espresso flavor enhances the chocolate flavor, but it's optional. The cake will be good even without it. If you've never added coffee to chocolate cake though, try it! It boosts the flavor and is a secret ingredient in many chocolate recipes.
Tips for Making the Keto Cake
Use an 8″ round springform pan to easily make this cake. Don't have a springform pan? Use an 8″ round cake pan, but line it with parchment paper hanging over the sides so you can easily pull it out to slice it.
This takes 3 bowls. Yes that's a lot, but it will be what gives you the best cake texture.
Your eggs will mix best if they are at room temperature.
We used unsalted butter, but you can use salted butter if that is all you have.
Tips for Making the Ganache
You can make the ganache either on the stovetop or in the microwave.
Heat the cream until it is just barely at a boil. You want it hot and steaming, but not really bubbling.
Pour the hot cream over the chocolate chips. Make sure you have them in a bowl that can handle the heat of the cream.
Let the mixture sit for 5 minutes. The heavy cream will work its magic and melt the chocolate. You can cover the bowl if you'd like to trap in the heat.
After 5 minutes, use a rubber spatula or spoon and mix until the chocolate is smooth and creamy. It may take a bit of stirring, but it will eventually come together into silky smooth chocolate.
What to Serve with Keto Chocolate Fudge Cake
This cake pairs very well with a low carb vanilla ice-cream or whipped cream. You can just whip heavy whipping cream or add a touch of powdered monk fruit for a bit of sweetness to offset the rich chocolate.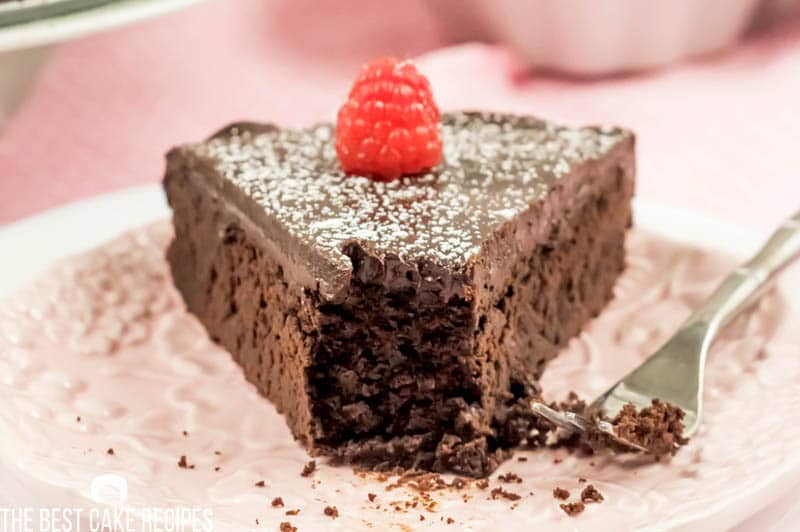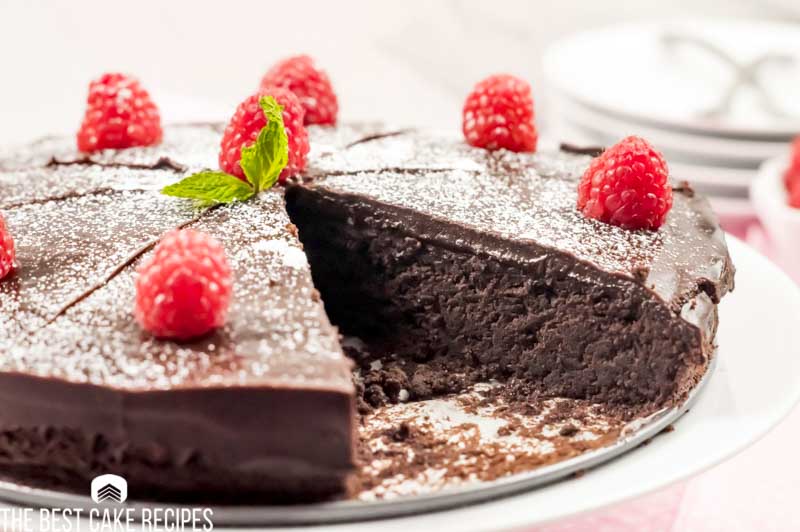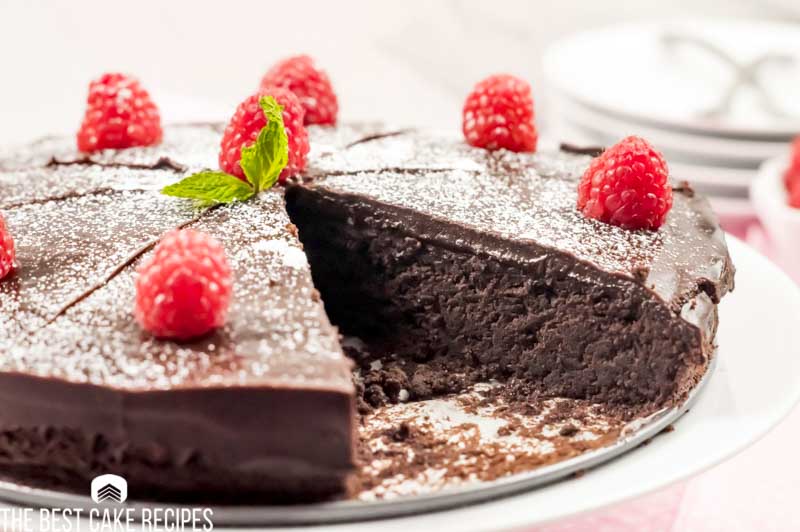 Keto Chocolate Fudge Cake
A true chocolate lover's dream! This intensely flavored Keto Chocolate Fudge Cake is rich, dense and fudgy. Pair with homemade whipped cream.
---
Instructions
Make the cake:
Preheat the oven to 325º Fahrenheit and generously grease an 8 inch springform cake pan and line it with parchment paper.

Combine the butter and unsweetened baking chocolate in a small saucepan and place it on medium-low heat. Kept stirring, until melted. Keep aside to cool.

In another bowl, combine the almond flour, cocoa powder, espresso powder and the baking soda. Mix well.

In another large bowl combine the low carb sweetener and the eggs. Beat it on high speed for 3 to 4 minutes till pale and fluffy.

Add the cooled melted butter-chocolate mixture. Beat for another minute.

Now add the almond flour-cocoa powder mixture and gently mix in with a spatula. The batter will be thick.

Spread the batter into the prepared pan as evenly as possible.

Let it cool inside the pan for about 2 hours.
Make the ganache glaze:
Place the chocolate chips in a heat-safe bowl.

Heat the heavy whipping cream over medium heat until it is hot. There should be steam and tiny bubbles on the sides but it should not be boiling.

Take it off the heat and pour over the chocolate chips.

Leave it undisturbed for 5 minutes and then gently stir the chocolate till its all melted into a smooth and silky ganache. Keep aside the ganache for 10 minutes, to cool down.

Add the ganache glaze on top the cooled cake and tilt and tap the pan to evenly spread the glaze.

Chill the cake in the fridge for an hour.

Open the springform pan and take out the ring.

Dust it with a low-carb powdered sweetener and decorate with berries.

Slice and serve.

Keep the leftovers, tightly covered, in the fridge.
Notes
The calories shown are based on the cake being cut into 9 pieces, with 1 serving being 1 slice of cake. Since different brands of ingredients have different nutritional information, the calories shown are just an estimate. **We are not dietitians and recommend you seek a nutritionist for exact nutritional information.**
Nutrition
Calories:
410
kcal
|
Carbohydrates:
23
g
|
Protein:
7
g
|
Fat:
37
g
|
Saturated Fat:
21
g
|
Cholesterol:
121
mg
|
Sodium:
107
mg
|
Potassium:
241
mg
|
Fiber:
6
g
|
Sugar:
1
g
|
Vitamin A:
674
IU
|
Calcium:
59
mg
|
Iron:
5
mg
Other Keto Cakes