You won't believe this gorgeous naked cake starts with a cake mix! This Berry Mascarpone Cake has three layers of rich white cake topped with mascarpone cream and fresh fruit. You may also like our chocolate blackout cake!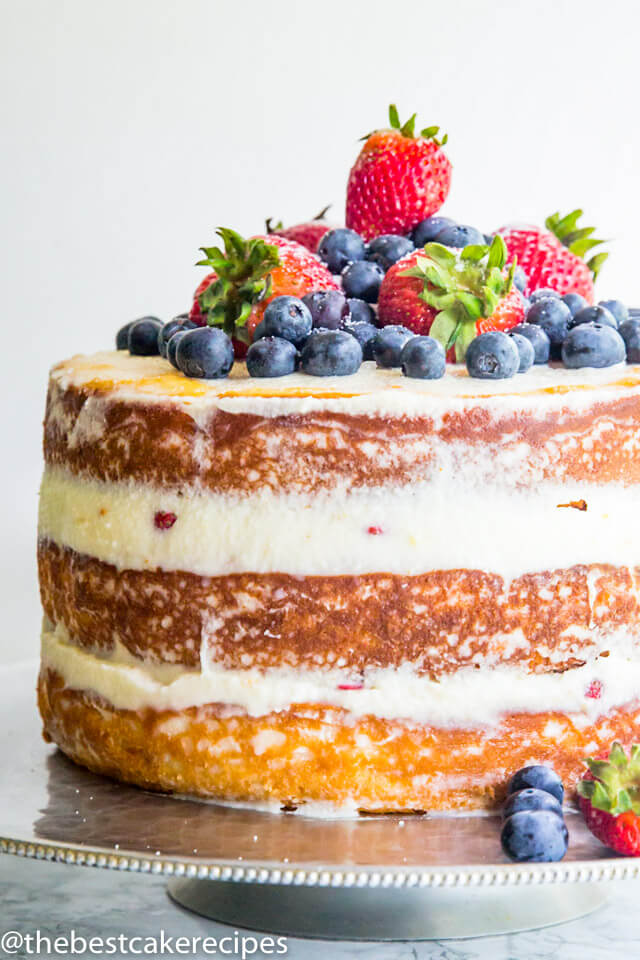 Berry Mascarpone Cake Recipe
If you're looking for an easy cake recipe that makes a big impression, this Berry Mascarpone Cake will do just that! This naked cake is semi-homemade meaning it starts with a box cake mix but by the look of the pretty white frosting and fresh berries, friends and family will never know it is not from scratch. And naked cakes are brilliant because there is no special frosting skills needed!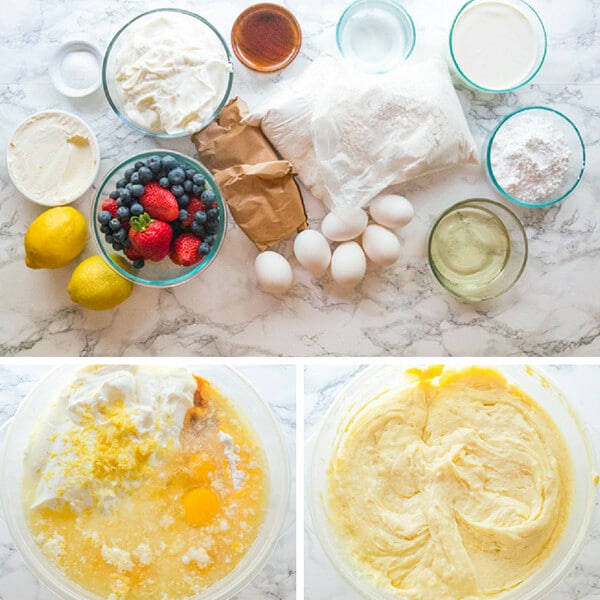 How to Make Box Cake Better
There are many ways you can turn a box cake mix into a cake that tastes like homemade. Sometimes swapping out the oil for butter or the water for milk is all it takes. For this cake, we used 2 cake mixes so put in a lot of sour cream to make it rich and more dense, like homemade cakes tend to be. You'll also add vanilla pudding mix which not only adds to the flavor but adds to the texture as well.
This berry mascarpone cake batter makes enough to fill 3 9″ cake pans. This is a TALL cake so just a small sliver will do. It feeds about 15 people.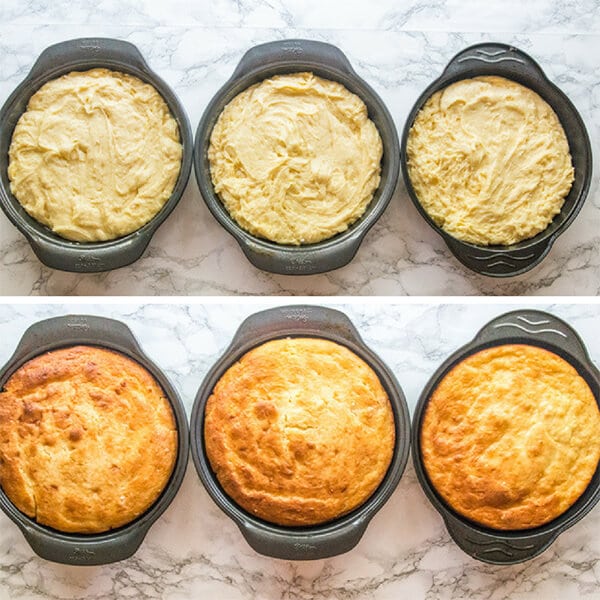 What is mascarpone?
This cake has a mascarpone frosting, so what actually is mascarpone? It is a soft, mild, Italian cream cheese. It is made with cream and an acid to thicken the cream. Mascarpone is most often known for being an ingredient in tiramisu, but it is a great addition to many sweet and savory recipes. If you don't want to use mascarpone, you can use cream cheese instead.
Mascarpone Frosting
Mascarpone frosting is made just like a cream cheese frosting. Blend the ingredients together, then whip until the mixture is thick and can hold a peak.  It has a buttery, rich flavor and is not overly sweet. When you have a cake that is this big, "not too sweet" is a good thing!
Frosting a Naked Cake
You don't need any special skills to decorate a naked cake. No perfectly smooth frosting..no making sure it is the same thickness all over the cake. Easy as ever. Here are some hints to ensure success:
Make your cake layers even. Because there won't be a lot of frosting to hold the cake together and even it out, you'l want to cut off any dome tops on the cakes so that each layer is totally flat. Having the cake flat also helps the fresh fruit to not roll off.
Put a nice layer of frosting between each layer. Don't go overboard, but the "naked" part is one the outside, so this cake has more frosting between the layers.
When it comes time to put the frosting on the outside of the cake, you can go with as much or as little as you'd like. If you've ever done a "crumb coat" on a cake, a naked cake is made very similarly.
Put more frosting on than needed, then scrape it off using an offset spatula until you achieve the look you'd like. It's ok if you scrape off too much and then have to put more on. The idea of a naked cake is that it looks very rustic, so you don't have to worry about perfection!
You can leave a thicker layer of frosting on top of the cake if you'd like. We chose to make the top of the cake more "naked" also, so we scraped off most of the frosting to allow the berries too shine through.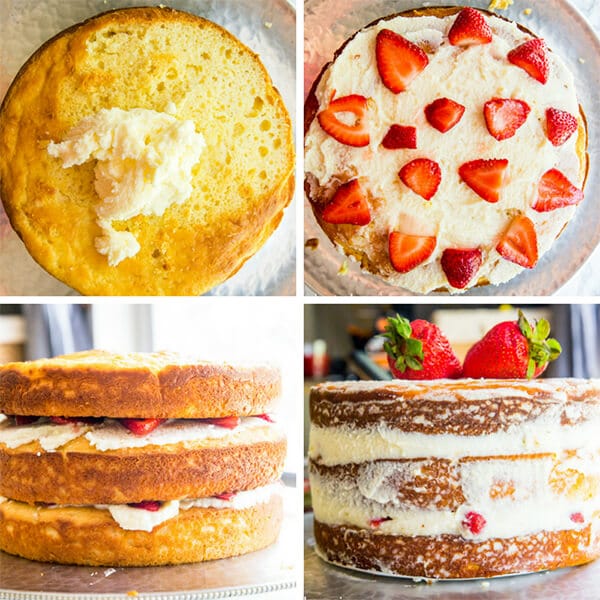 Fresh Berry Cake
After your berry mascarpone cake is frosted to the way you'd like it, put fresh berries on top of the cake. They are just going to sit on the top of the cake and won't have much frosting to "grab" them and hold them there. If your cake isn't flat, the blueberries may roll off. Decorate the top with as much fruit as you'd like. Sprinkle the top with additional sugar if you'd like for a pretty look.
Be careful moving the cake at this point so your fruit doesn't roll off. If you have to transport the cake to a party or picnic, you may want to wait to top it with fruit until you arrive.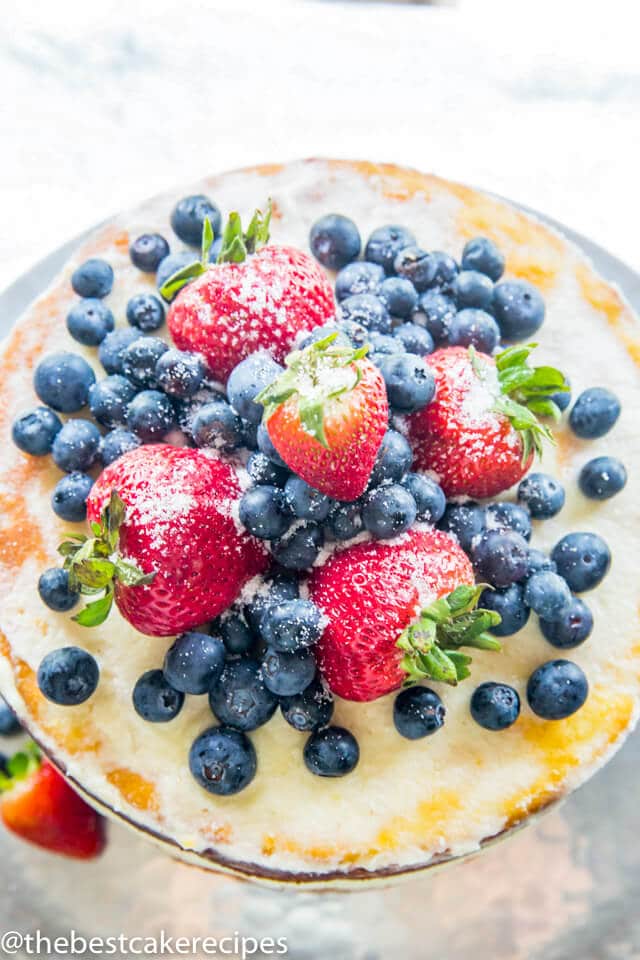 Other Berry Cakes
TOOLS TO MAKE THIS CAKE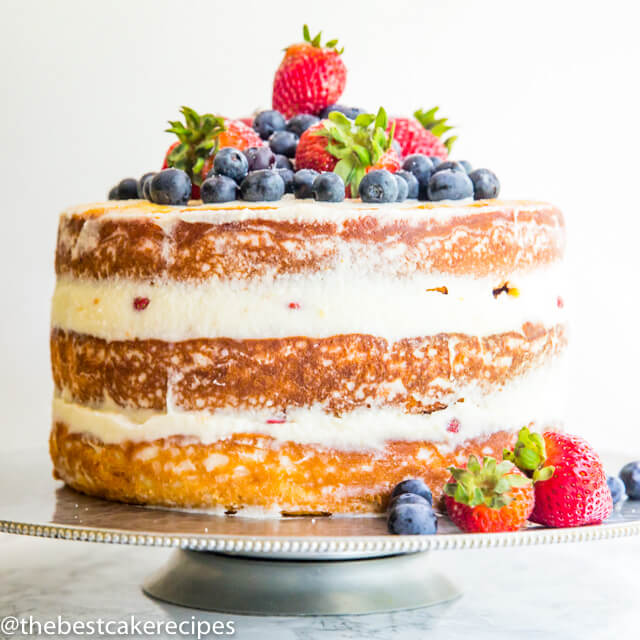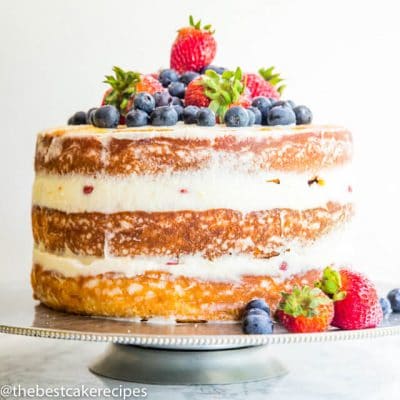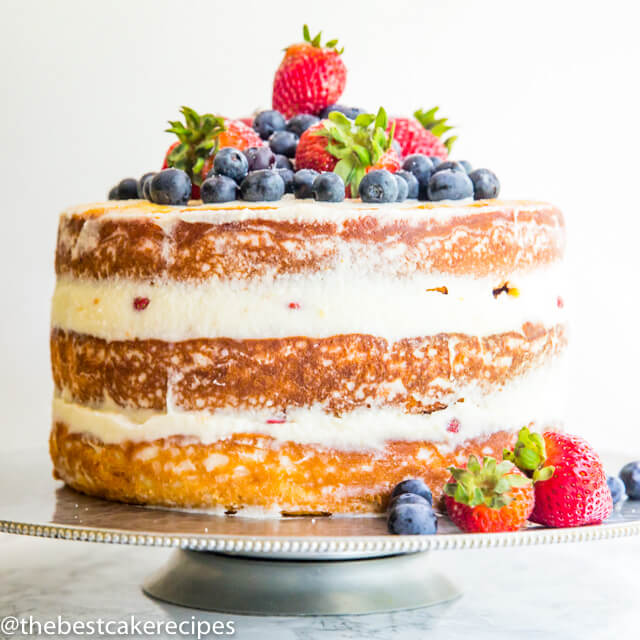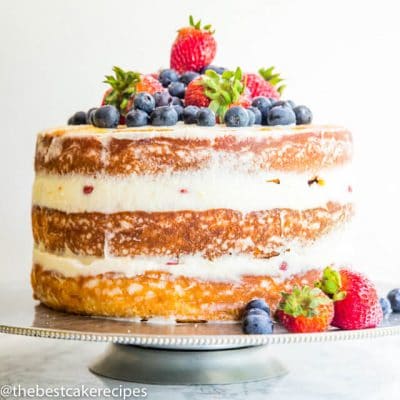 Berry Mascarpone Cake
You won't believe this gorgeous naked cake starts with a cake mix! This Berry Mascarpone Cake has three layers of rich white cake topped with mascarpone cream and fresh fruit.
Total Time
1

hour
15

minutes
---
Instructions
Preheat oven to 350 degrees. Grease and flour 3 9-inch cake pans.

Using a hand mixer, combine cake mix, pudding, sour cream, eggs, oil, water, zest and lemon juice. Mix well.

Pour into prepared pans, dividing the batter equally into the prepared pans.

Bake for 40 min or until a toothpick when inserted comes out clean.

Allow the cakes to cool for 10 minutes in the pan then turn them out on a wire rack to cool completely.
Prepare the Fruit and Frosting
Take 4 -5 strawberries, slice them thin and add the tablespoon of sugar. Mi well. Set aside to be used when decorating.

Prepare mascarpone frosting while cake is baking.

Beat together the mascarpone cheese and powdered sugar. Add in the vanilla, salt and heavy cream. Whip until stiff peaks form. Place into refrigerator and chill until cake is cooled and ready to be frosted.
Assemble the Cake
Place one cake after completely cooled onto a cake disc or a plate.

Frost the top of the cake lightly and put 1 layer of strawberries that have been sitting in the sugar over the frosting. Repeat for next layer also.

Using the rest of the frosting start at the top working your way down the cake. Using the side of the knife take off excess icing to reveal the cake. This will give a naked cake effect.

Place extra strawberries and blueberries on top for decoration and sprinkle with sugar if desired.

Store this cake in an airtight container in the refrigerator.
Notes
The calories shown are based on the cake being cut into 15 pieces, with 1 serving being 1 slice of cake (all of the frosting used). Since different brands of ingredients have different nutritional information, the calories shown are just an estimate.
Nutrition
Calories:
761
kcal
|
Carbohydrates:
89
g
|
Protein:
8
g
|
Fat:
42
g
|
Saturated Fat:
19
g
|
Cholesterol:
153
mg
|
Sodium:
655
mg
|
Potassium:
296
mg
|
Fiber:
2
g
|
Sugar:
55
g
|
Vitamin A:
1070
IU
|
Vitamin C:
40.8
mg
|
Calcium:
277
mg
|
Iron:
2.1
mg