Three layers of homemade chocolate cake, sweet raspberry filling and homemade whipped cream. This cake makes a delicious statement!
Cake, cake, cake! Chocolate cake is our jam around here. Whether it is Oreo, dark chocolate, german chocolate or black forest, We'll take a slice of cake any time of day. (If you've never had cake with a cup of coffee for breakfast, you're not living.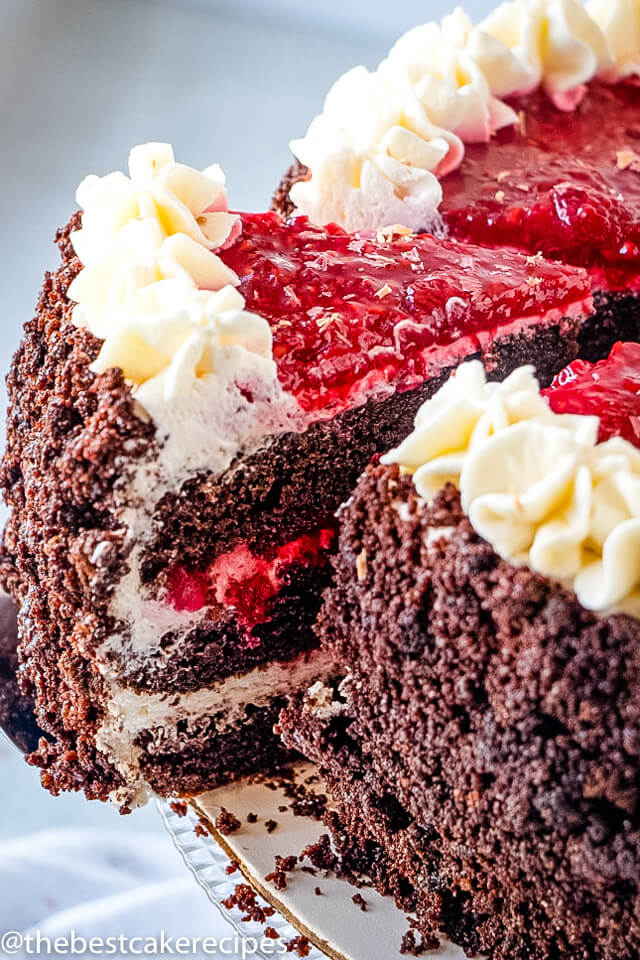 Chocolate Raspberry Cake
This chocolate raspberry stands tall and proud. It looks beautiful for the holiday season, boasts a gorgeous red color for Valentine's Day and makes an amazing birthday cake. Three layers of chocolate cake, homemade raspberry filling and cool whipped cream might seem overwhelming, but I promise you it's not. If you take one step at a time, you'll end up with a cake to be proud of. Let's talk through each part of this cake.
Homemade Chocolate Cake
This cake boasts three ultra-moist, chocolate cake layers with a rich chocolate flavor. This cake recipe is 100% from scratch but is one of the easiest cakes to make. I've never had it turn out poorly. It calls for coffee to enhance the chocolate flavor. Don't like coffee? Don't worry… you won't taste it in this cake. However, if you are set against using coffee, just use water. I highly recommend the coffee, though.
Buttermilk keeps this cake soft and helps it to rise. If you don't have buttermilk, simply add a tablespoon of vinegar into a measuring cup, then fill it the rest of the way with milk. Allow it to sit for a few minutes and voila…you have an easy substitute for buttermilk! Buttermilk keeps quite awhile in the fridge though, so if you bake often I recommend buying pre-made buttermilk so it is thick and rich.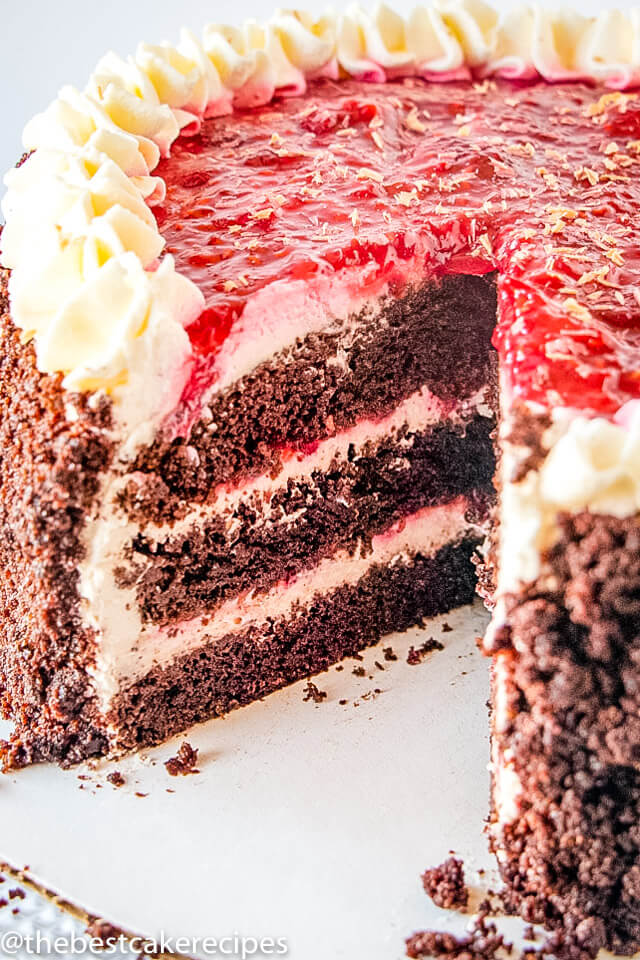 How do you make raspberry filling for cake?
Homemade raspberry filling is easy. We use frozen raspberries because they are generally cheaper and available all year round. Simply put 1 ½ cups raspberries (they can still be frozen) in a saucepan with sugar and water. Cook over medium-low heat until the mixture is at a gentle boil. Reduce the heat and add vanilla.
In a small cup, combine the cornstarch and water. Whisk this together until it is smooth. Don't just throw the cornstarch into the raspberry mixture or you'll end up with little globby clumps of white cornstarch in your beautiful red raspberry sauce. And nobody wants that. Mixing the cornstarch with water first helps the cornstarch to completely mix in.
Once the cornstarch and water are mixed, add it to the raspberry sauce. Cook and stir this mixture until it is slightly thickened. Maybe 3-4 minutes, depending on how hot your mixture is.
Then remove it from the heat and add butter. The butter just adds a delicious richness to the raspberry sauce. Let the mixture cool, then add the remaining raspberries (from the original 12 ounce bag) and stir gently. Refrigerate this filling while the cake is finishing up. Then it will be nice and cool when you build your cake.
Whipped Cream Frosting
The homemade whipped cream frosting really makes this cake stand out. Making your own homemade whipped cream is not hard at all. And there are two hints that make it even easier. Use a COLD metal bowl to whip the cream in. And make sure your whipping cream is VERY COLD. Don't pull out the whipping cream with other ingredients at the start of making this cake. Make sure it stays in the fridge. Cold heavy cream will make your whipped cream come together beautifully!
Whip the cream and powdered sugar until it holds stiff peaks but be careful not to over beat it. Sometimes over beating can make the cream have a weird texture.
*Don't want to make whipped cream from scratch? Buy 16 ounces of frozen whipped topping and allow it to thaw before frosting the cake..*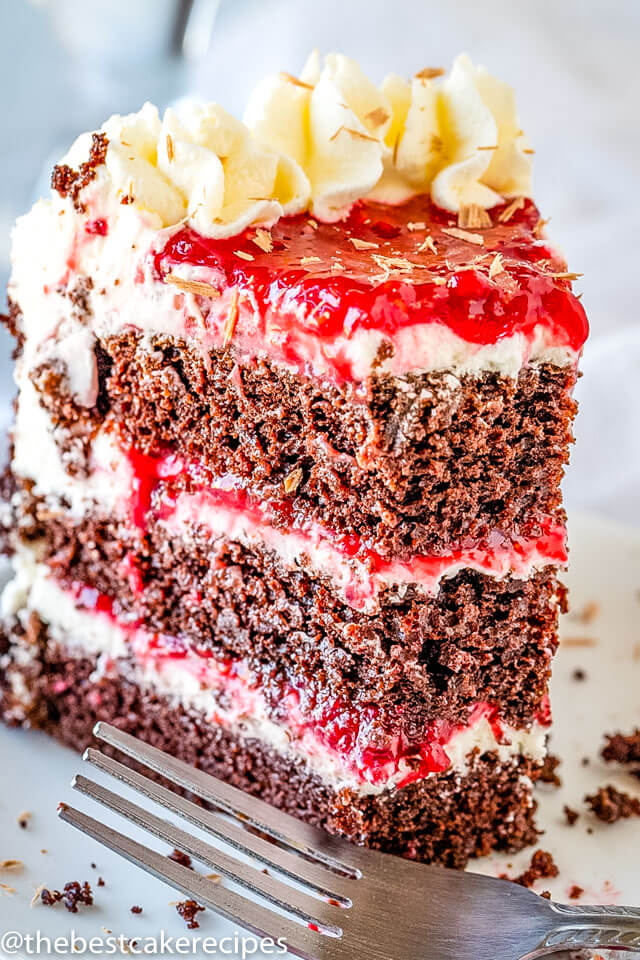 How to Store Cake with Fruit Filling
Because of the fruit and fresh cream in this homemade chocolate raspberry cake you'll want to store this cake in an airtight container in the refrigerator. It's a great dessert for warm weather because it is cool and creamy!
TOOLS TO MAKE THIS CAKE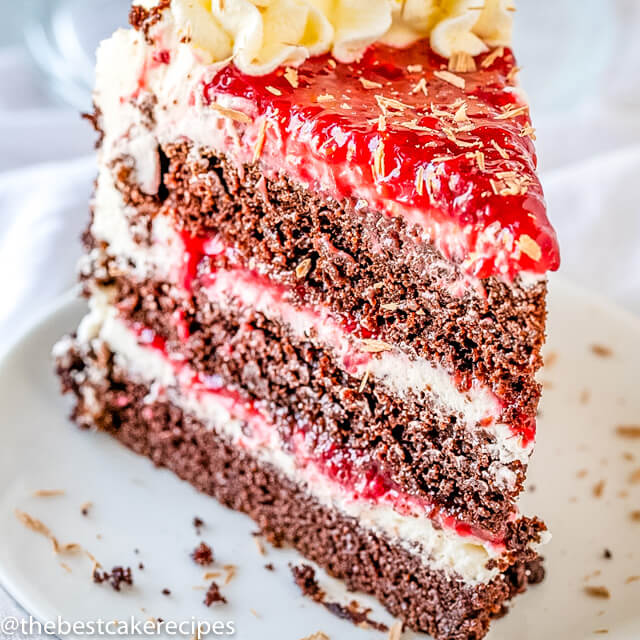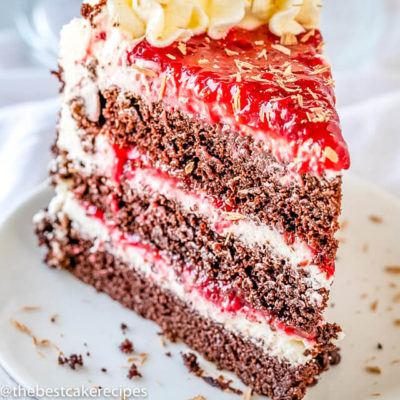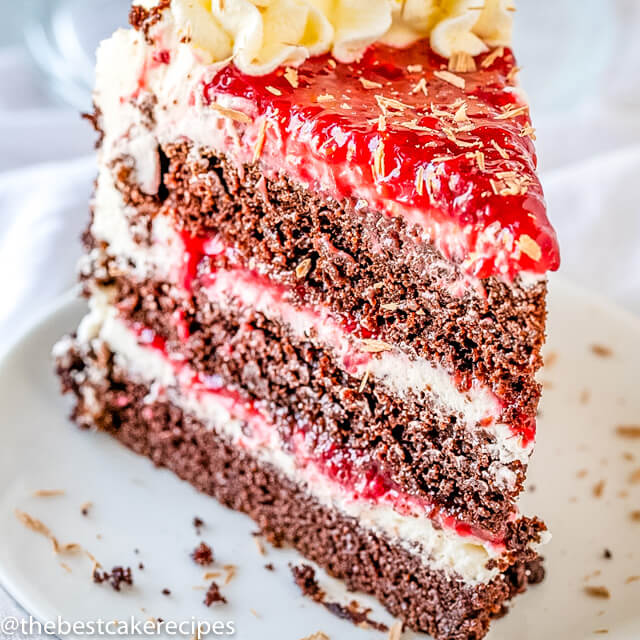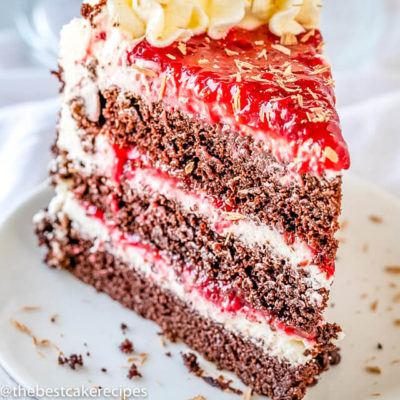 Chocolate Raspberry Cake
Three layers of homemade chocolate cake, sweet raspberry filling and homemade whipped cream. This cake makes a delicious statement!
Total Time
1

hour
10

minutes
---
Ingredients
For the Raspberry Filling (prepare in advance):
For Garnishing:
1/4

cup

shaved milk chocolate
Instructions
Make the Raspberry Filling:
In a saucepan over medium heat, stir together 1 ½ cups raspberries, sugar and water until the sugar is dissolved. Heat the mixture to boiling, stirring often. Reduce heat and add the vanilla.

In a small cup, combine the cornstarch and two tablespoons of water. Mix well.

Pour this into the boiling raspberry mixture. Stir and boil over medium-low heat for 4 minutes or until the mixture has thickened a bit.

Remove the pan from the heat.

Add 1 tablespoon of butter and mix until the butter has completely melted.

Allow the mixture to cool for 15 minutes, then add the last of the raspberries and stir to mix. Refrigerate the filling until you assemble the cake.
Make the Cake:
Preheat oven to 350 degrees. Grease and flour 2 round 8-inch cake pans.

Place the flour, sugar, cocoa, baking powder, baking soda and salt in a bowl and whisk together.

In a stand mixer, mix the buttermilk, oil, eggs, vanilla together. Slowly add in the mix of dry ingredients while the mixer is on low. Add the coffee and make sure everything is combined. The batter will be very thin.

Pour the batter into the prepared pans and bake for about 30 minutes or until a toothpick inserted in the middle comes out clean.

Allow the cakes to cool on a wire rack for 10 minutes. Turn the cakes out onto a cooling rack.

Once the cakes are cooled, slice each cake layer in half so you end up with 4 layers.

Crumble one layer into cake crumbs. These crumbs will be used to decorate the cake.
Make the Whipped Cream Frosting:
Chill the metal bowl of a stand mixer (or a large metal bowl to use with a hand mixer) for at least 5 minutes.

Add the heavy cream and powdered sugar to the bowl. Beat on high for 3-5 minutes or until stiff peaks form.

Place the frosting in the refrigerator until you are ready to assemble the cake.
To Assemble the Cake:
Place one cake layer down on a cake plate.

Top with 1 cup of whipped topping. Spread to cover the cake.

Spread ¾ cup cooled raspberry filling over the whipped cream.

Place a 2 layer of cake on top of the filling.

Repeat with another cup of whipped cream, ¾ cup of raspberry topping and third cake layer.

Frost the entire outside of the cake with the whipped frosting, setting aside about 1 ½ cups for making dollops of frostings around the top.

Press the crumbled cake crumbs onto the bottom half of the cake all around the sides.

Spoon the remaining raspberry filling on top of the cake to about 1" from the edge.

Place the reserved whipped frosting into a large decorating bag with a Wilton 1M tip. Squeeze stars around the outer top edge of the cake.

Sprinkle the cake with shaved milk chocolate if desired.

Refrigerate immediately until serving. Store any leftovers in the refrigerator in a covered cake container.
Notes
The calories shown are based on the cake being cut into 15 pieces, with 1 serving being 1 slice of cake. Since different brands of ingredients have different nutritional information, the calories shown are just an estimate. **We are not dietitians and recommend you seek a nutritionist for exact nutritional information.**
Nutrition
Calories:
490
kcal
|
Carbohydrates:
57
g
|
Protein:
5
g
|
Fat:
28
g
|
Saturated Fat:
13
g
|
Cholesterol:
93
mg
|
Sodium:
355
mg
|
Potassium:
217
mg
|
Fiber:
3
g
|
Sugar:
39
g
|
Vitamin A:
795
IU
|
Vitamin C:
6.2
mg
|
Calcium:
79
mg
|
Iron:
1.7
mg