Homemade Strawberry Shortcakes
Are you trying to recreate grandma's Homemade Strawberry Shortcakes? Maybe you don't know where to start. You know you want that delicious flavor in your mouth, but where to begin? Soon you'll have the taste of sweet strawberries, cake, and cream right in front of you. Don't worry, we'll walk you through the process of the making and baking.
Homemade Strawberry Shortcakes are actually easy to make. Whether you're a beginner or have been baking for a while, this recipe is sure to not disappoint. Once you know a little more about making this dessert, I'm confident you'll start making it for every family gathering.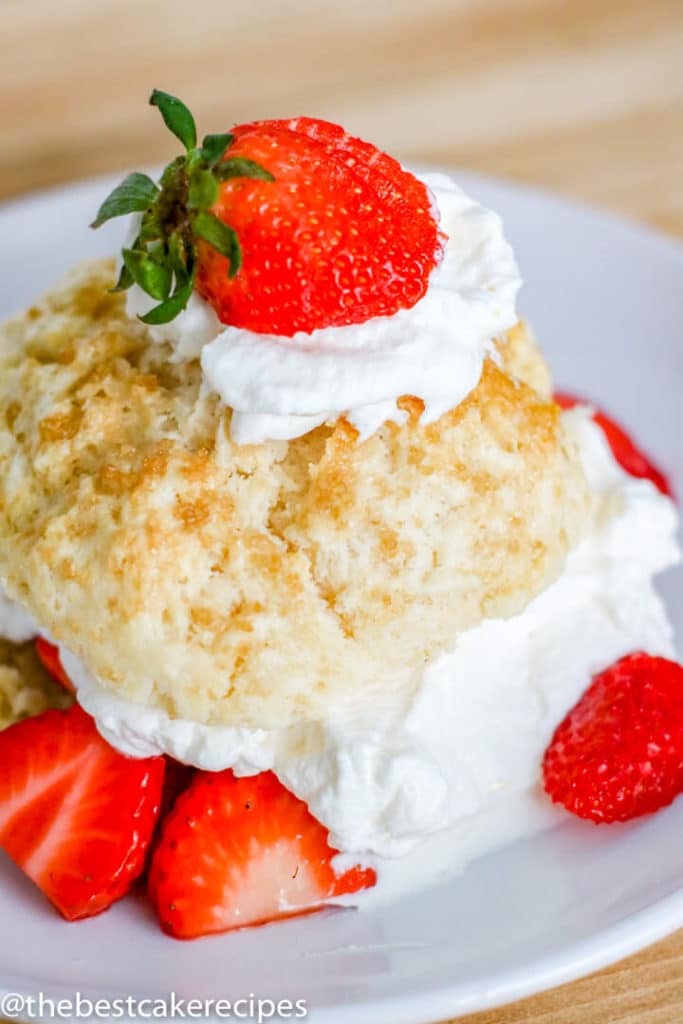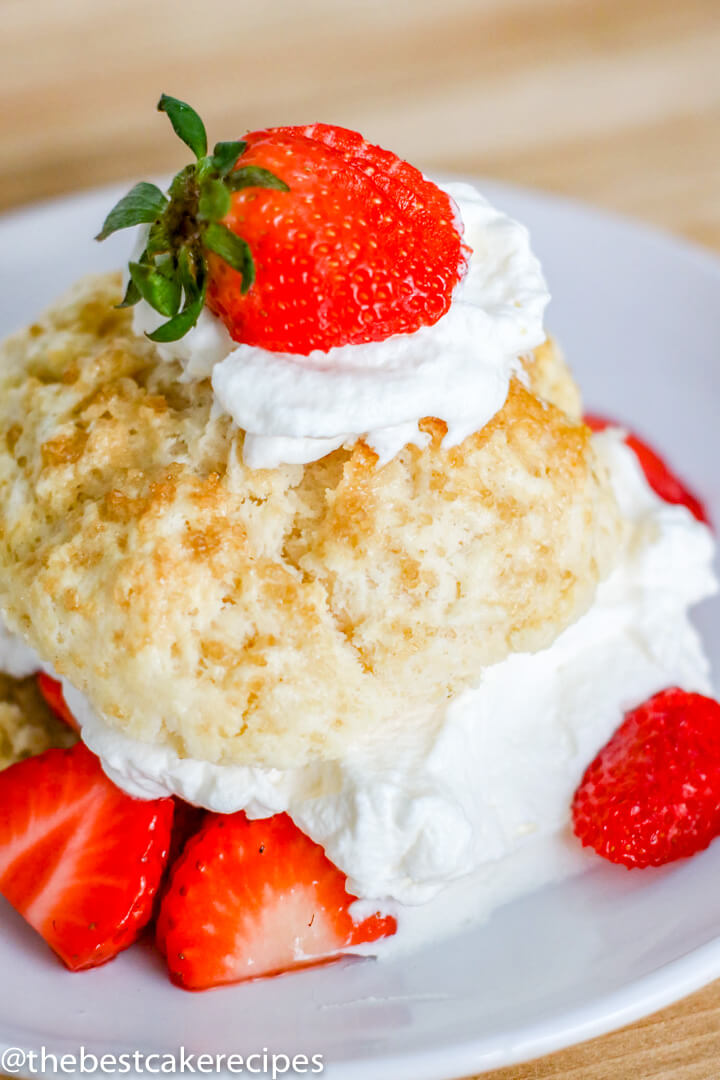 Homemade Strawberry Shortcakes
There are no shortage of recipes on the Internet of Homemade Strawberry Shortcake. However, I don't think there is quite one out there like ours. Here are a few questions people ask when they think of making strawberry shortcake.
WHAT IS STRAWBERRY SHORTCAKE MADE OF?
It's obvious that there are strawberries in shortcake, but what ingredients help make up this delicious dessert? In our recipe of shortcake, you will find flour, baking soda, and sugar. These are typical ingredients in any shortcake, but the way we make it makes it even better.
The best ingredient though? Butter. Don't forget the butter!
WHY IS IT CALLED SHORTCAKE?
Besides the cartoon character Strawberry Shortcake, most people don't really think about the funny name of this dessert. Ya, there are strawberries in it, but why the name?
The word "short" is an important part of this recipe name. It's an English word that stands for crisp. You could say that a shortcake has the same consistency of a biscuit, but of course way yummier.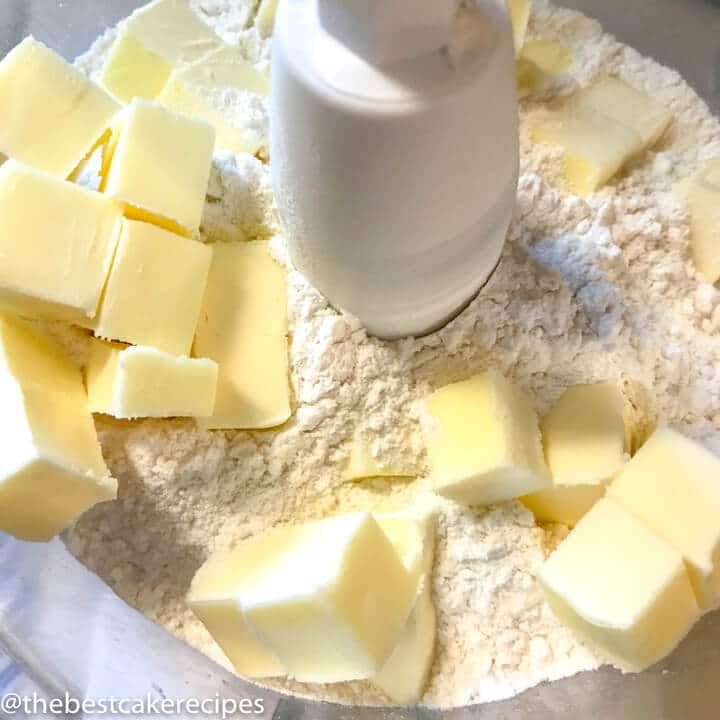 How to Make Shortcakes
Any good baking recipe requires the mixing the ingredients together. However, most of the time it is HOW you mix the ingredients together.
In this recipe, you will notice that the dry ingredients are mixed together first. Only after you have done this step, will you add the butter and pulsate it in a food processor.
You want to be careful not to overmix this type of batter. After you have the crumbly butter/flour mixture, add the buttermilk and mix just until combined. This will help the shortcakes stay tender.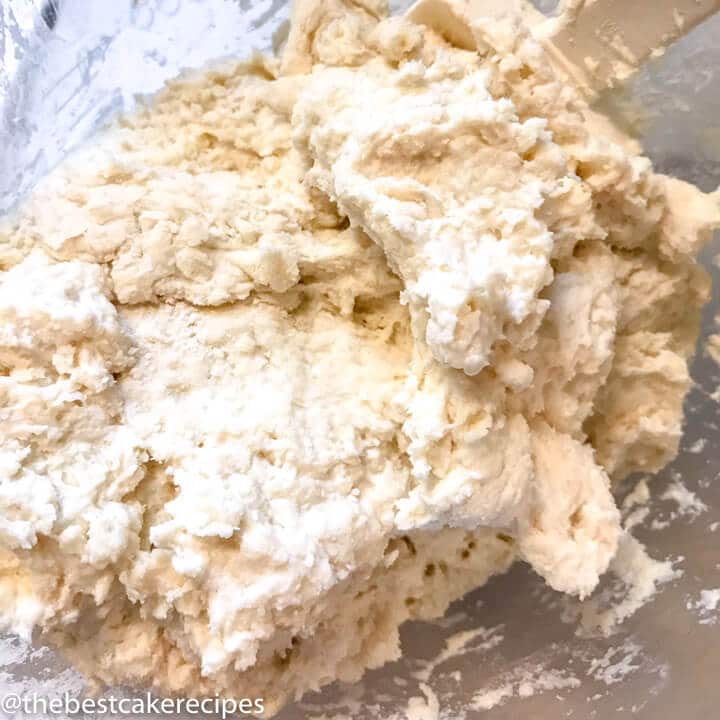 HOW DO YOU MAKE WHIPPED CREAM?
Let's be honest, making whipped cream can be very intimidating. Making whipped cream for this recipe is actually super simple. You're going to add cold heavy whipped cream, sugar, and vanilla into a stand mixer bowl. Once it's in the bowl, you're going to whip at a very high speed. Soon enough, after you start whisking, stiff peaks are going to form.
This is actually really cool to watch. Making your own homemade whipped cream is something that may take a little practice. Just follow the directions with this and you will do just fine!
**Pro Tip: Whipped cream comes together best if you use very cold cream and even a cold mixing bowl.**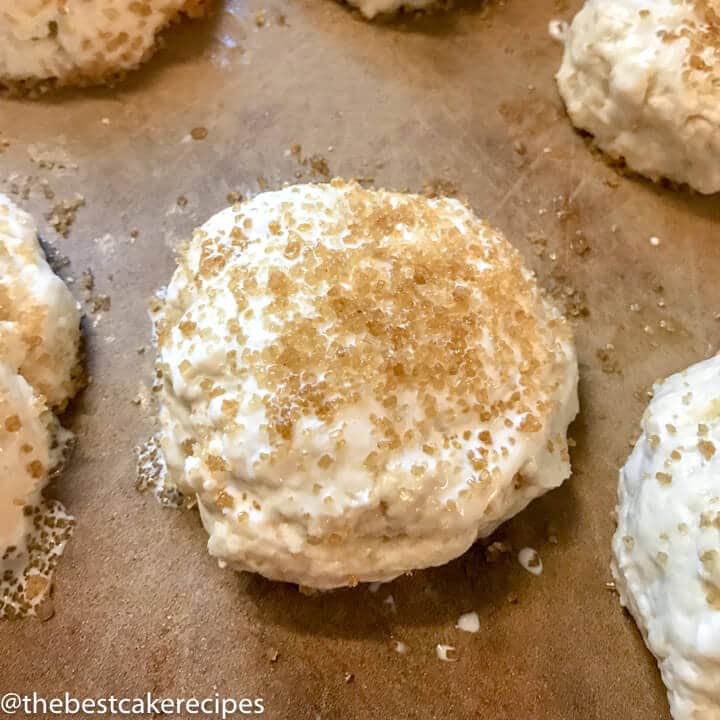 WHY SHOULD YOU ADD SUGAR TO THE STRAWBERRIES?
You don't HAVE to add sugar, especially if you're trying to cut out some sugar. I don't like adding a ton of sugar to recipes, but for this recipe, you don't want sour strawberries. Depending on the time of the year, your strawberries could be very tangy.
The other yummy part about sugar on strawberries is it draws the moisture out of the fruit. This is called "macerating" the strawberries. I like to toss the strawberries with sugar and then put them in the fridge overnight. You don't have to do this, but you do get a nice strawberry glaze on them this way!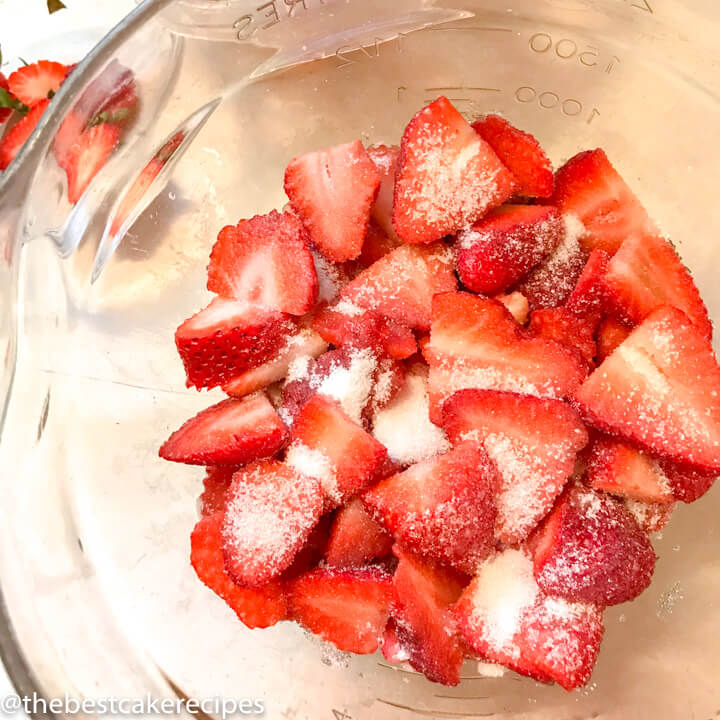 ARE SHORTCAKE AND SHORTBREAD DIFFERENT?
Most people know there is a difference between shortcake and shortbread, but what is the difference? The difference is that shortcake can be considered more of a bread type substance. Shortcake also needs to be made using some sort of baking powder.
Shortcake is more spongier and has a fluffier texture. Although there is Strawberry Shortcake and Strawberry Shortbread, this Homemade Strawberry Shortcakes recipe is something that will win you over. You won't even care about shortbread after this!
SHOULD I PUT SHORTCAKE IN THE FRIDGE?
The answer is yes! While, there are a lot of cakes you can leave out, you don't want to leave this cake out. Homemade Strawberry Shortcakes should be put in the fridge. There are a few reasons you'll want it in the fridge…
The shortcakes will last longer
The strawberries won't get soggy
The whipped cream will keep
There is nothing more delicious than cold strawberry cake
If you get the chance, make sure you give it a try as a cold dessert. I don't care for it after it's been sitting out all night. It's not that type of cake!
HOW TO SERVE HOMEMADE STRAWBERRY SHORTCAKES
After you have put in the hard work, it's time to serve this deliciousness. It's simple to serve this, but how you do it is so important.
Serve strawberry shortcake by slicing shortcakes in half across the width.
Place bottom cake on a serving dish and top with sugar-soaked strawberries.
Add a layer of whipped cream and top with the remaining shortcake.
The only thing left to do is enjoy this amazing recipe. It's a favorite around here and no doubt will it be a fav at your house too!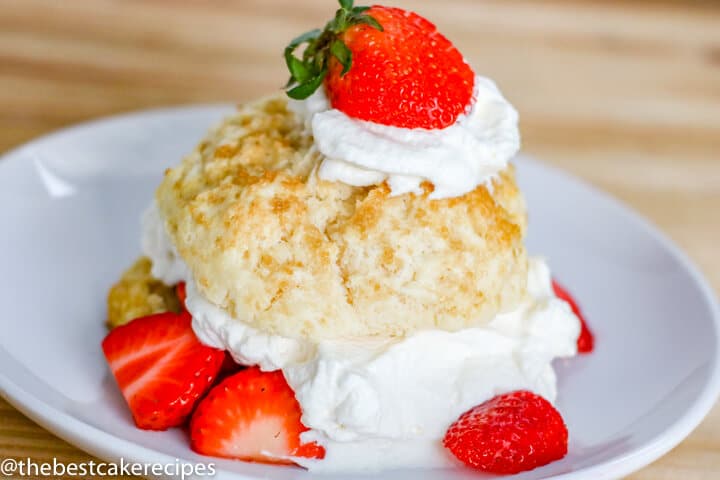 Other Strawberry Cakes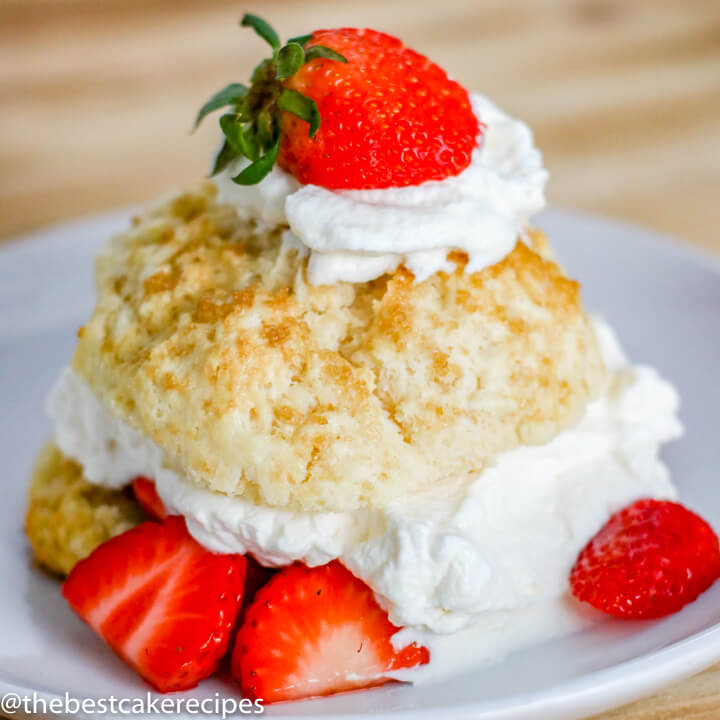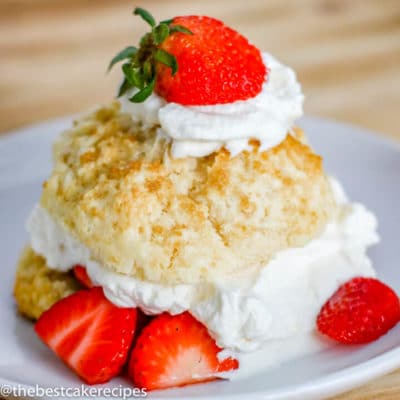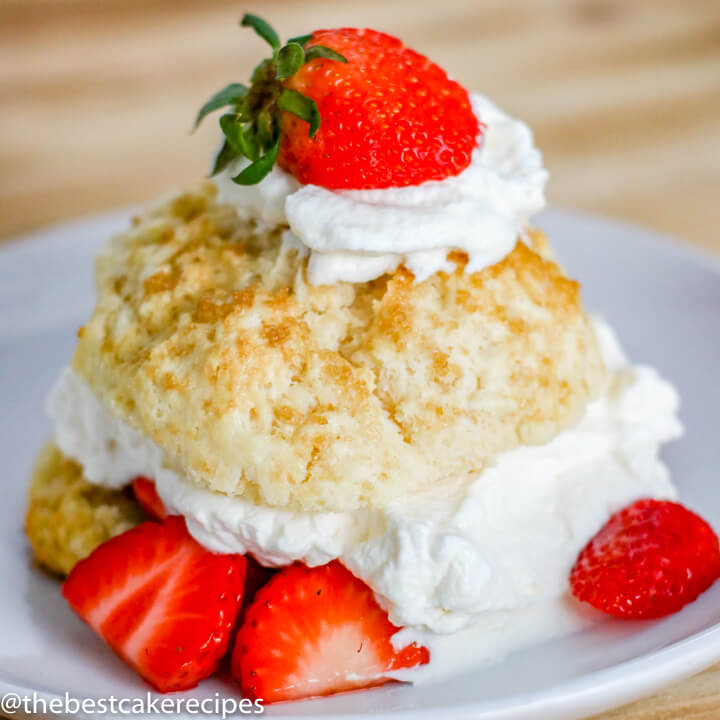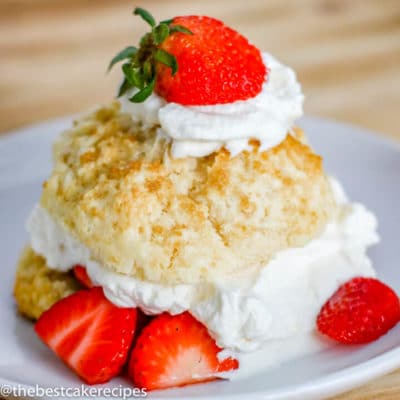 Homemade Strawberry Shortcakes
Everything you need to know about how to make the most delicious homemade strawberry shortcakes. This easy dessert is perfect for summer picnics!
---
Ingredients
For the strawberries:
4 to 6

cups

strawberries

(washed, hulled, and sliced)

1/4

cup

sugar

(or more, to taste)
Instructions
Prepare the strawberries:
Toss sliced strawberries with sugar. Cover and set aside. The strawberries will create juice as they sit.
Make the shortcakes:
Preheat oven to 400 degrees.

Place flour, sugar, baking powder, baking soda, and salt in a food processor. Pulse to combine.

Add butter to food processor and pulse until the butter is incorporated and the flour has a sand-like texture.

Pour 1 ¼ cups buttermilk into a mixing bowl. Stir in flour mixture until completely moistened. (Add additional ¼ cup buttermilk if needed to get completely combined.)

Divide dough into 8 portions. Create mounds on a baking sheet. Pat down to flatten slightly if desired. Brush with heavy whipping cream. Sprinkle with turbinado sugar.

Bake until edges are lightly browned, about 18 to 20 minutes. Allow to cool completely before serving,
Make the whipped cream:
To make whipping cream, add cold heavy whipping cream, sugar, and vanilla to a stand mixer bowl. Whisk at high speed until stiff peaks form, about 1 to 2 minutes.

Serve strawberry shortcake by slicing shortcakes in half across the width. Place bottom cake on a serving dish and top with sugar-soaked strawberries. Add a layer of whipped cream and top with the remaining shortcake.

Refrigerate any leftovers.
Notes
The calories shown are based on the recipe making 8 shortcakes, with 1 serving being 1 shortcake and ⅛ of the strawberries. Since different brands of ingredients have different nutritional information, the calories shown are just an estimate. **We are not dietitians and recommend you seek a nutritionist for exact nutritional information.**
Nutrition
Calories:
556
kcal
|
Carbohydrates:
63
g
|
Protein:
7
g
|
Fat:
31
g
|
Saturated Fat:
19
g
|
Cholesterol:
94
mg
|
Sodium:
347
mg
|
Potassium:
427
mg
|
Fiber:
3
g
|
Sugar:
23
g
|
Vitamin A:
1080
IU
|
Vitamin C:
53.1
mg
|
Calcium:
163
mg
|
Iron:
2.7
mg