Pineapple Angel Food Cake
You'd never think that this would be a low fat cake! Easy angel food cake with pineapple topping combines to make the ultimate summer dessert.
We've got a new angel food cake to add to our collection today. Have you tried our cherry or chocolate angel food cake? They're amazing!
Angel food cake lives up to its name because it truly is brought from heaven. The light texture combined with the sweet pineapple makes this cake soooo addicting – and guess what?! It's only 5 ingredients.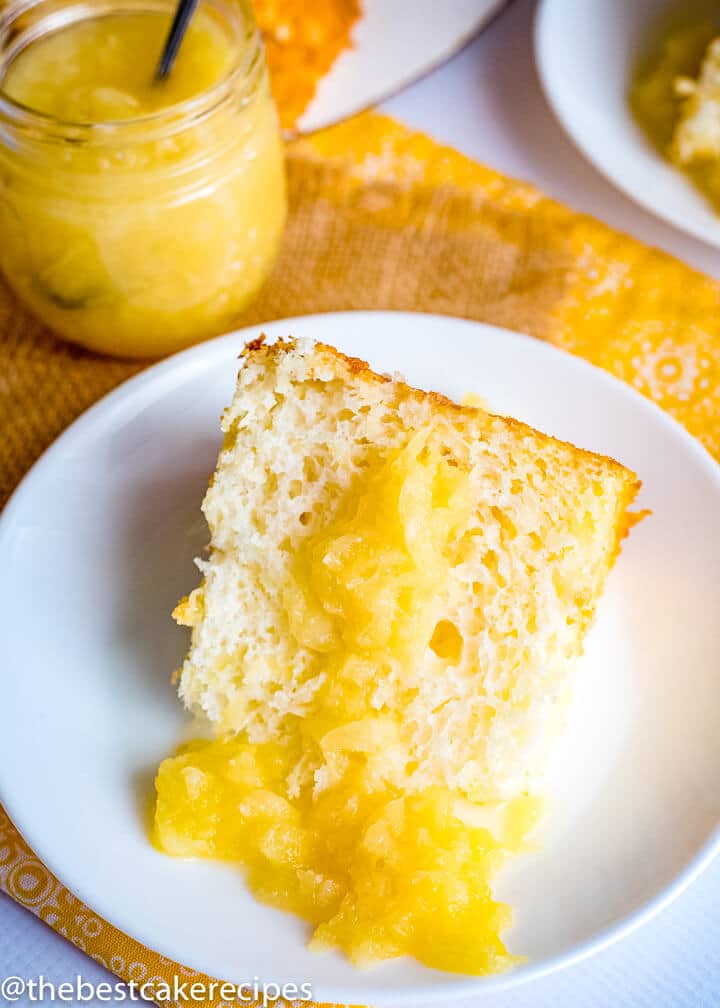 Are you ready for summer picnics and good food? We are for sure!! We're getting ready by creating some INCREDIBLY easy recipes for you guys to enjoy.
Your friends will love this 5 ingredient cake, and you won't have to slave all day in the kitchen.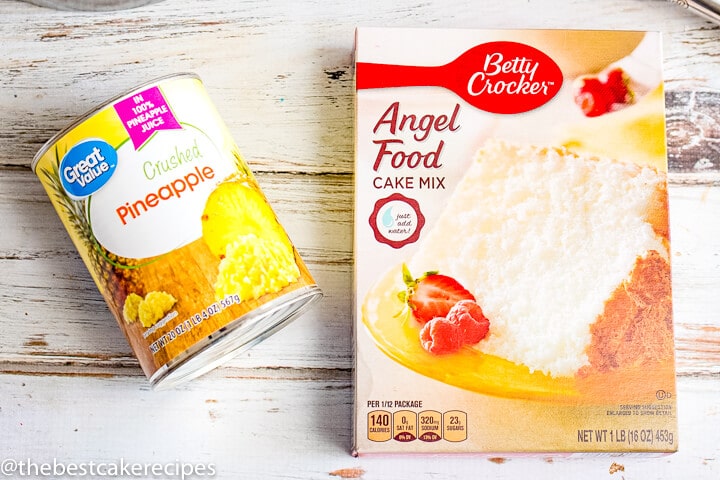 How do you make boxed angel food cake taste better?
This recipe calls for a box of angel food cake mix. But, with the pineapple you're adding in, it makes the flavor just explode!! With an angel food cake mix, adding a bit of pineapple is a super easy way to make it taste just like homemade.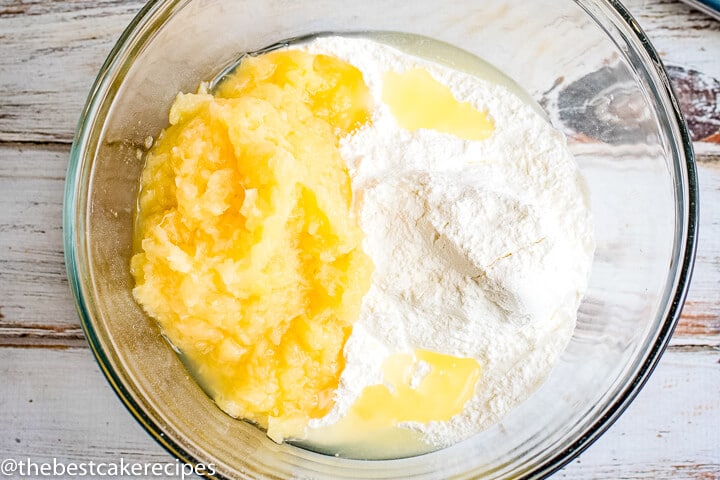 Is angel food cake healthy?
This recipe has no egg yolks and no butter – meaning the amount of fat in this cake is much, much less than many other cakes. Because of the light and airy texture of this cake, it's not the same as diving into a dense, thick, buttery piece of cake.
Although that sounds great, this cake will leave you feeling a little bit less…weighed down afterwards!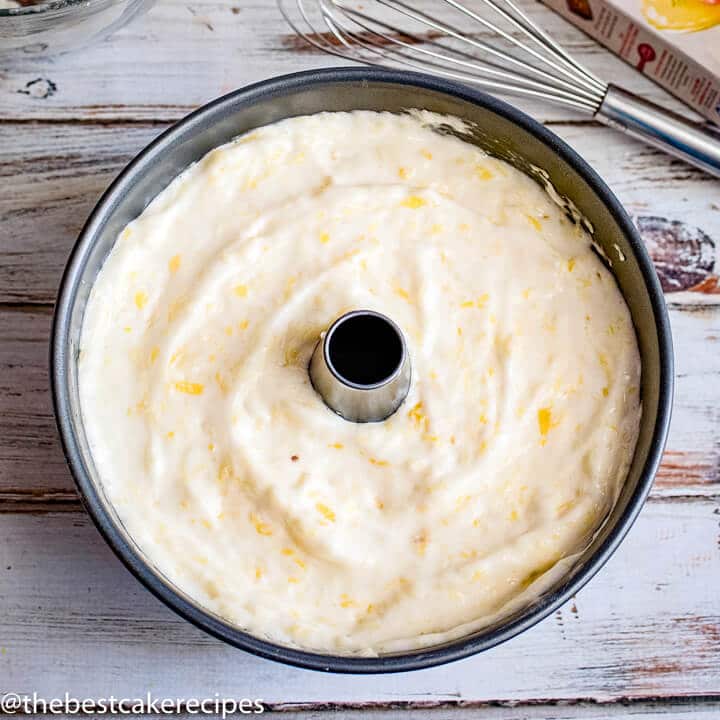 Can you make angel food cake in a regular cake pan?
Short answer? Yes! But you're not going to want to grease your pan, and you're still going to need to cool it off upside down.
The best size for this recipe if you don't use an angel food cake pan would be a 13×9 cake pan – you don't want too small of a pan, or your cake will overflow when it bakes!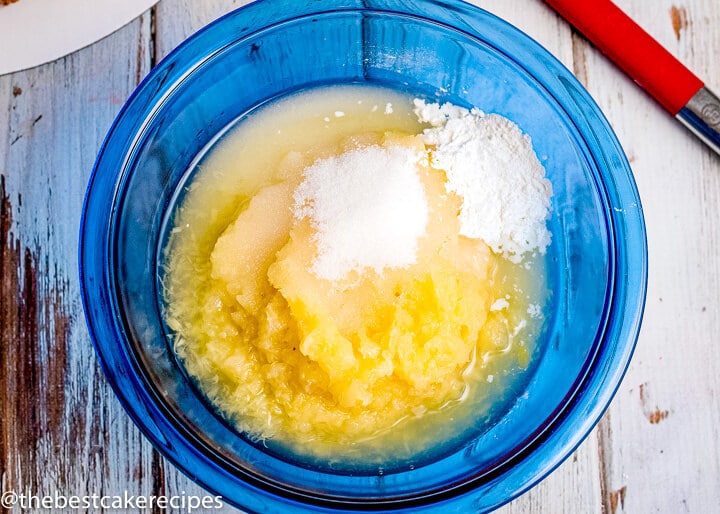 What's the difference between a sponge cake and an angel food cake?
Sponge cakes are just a bit different from angel food cakes because in traditional recipes, you use the egg yolks as well as the egg whites in the recipe. This still makes a light and airy cake, but it is denser and richer than an angel food cake.
Most other cakes use at least some amount of butter or egg yolk. This includes sponge cake, chiffon cake, traditional white cake… and so on.
Angel food cake is different because you don't need ANY of that – and for this recipe, we've made it even simpler: just a box mix and pineapple.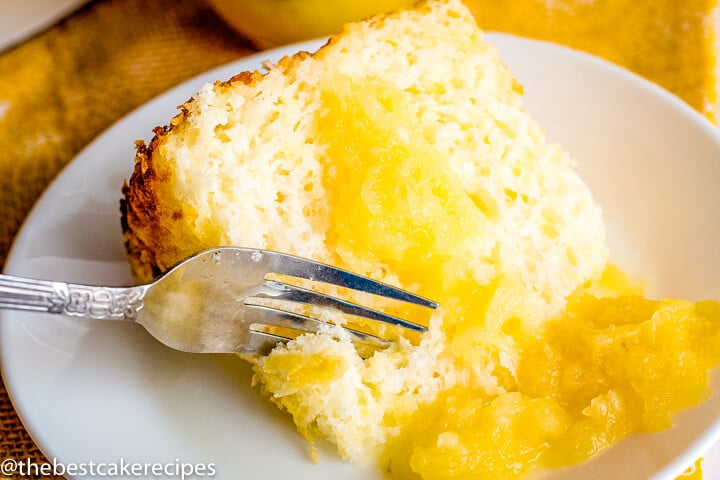 How do I make pineapple topping?
You'll need simply three ingredients for this pineapple topping for this cake! Just pineapple, sugar, and cornstarch. You'll heat this up over the stovetop for a bit, and then you're done!
You can use this pineapple topping for lots of other things too – traditional cake, cheesecake, or ice cream!!
Other pineapple recipes you might like:
Glazed Pineapple Cake
Pineapple Cream Cake
Walnut Pineapple Cake
Pineapple 7up Cake


Need an angel food cake pan? Buy one here.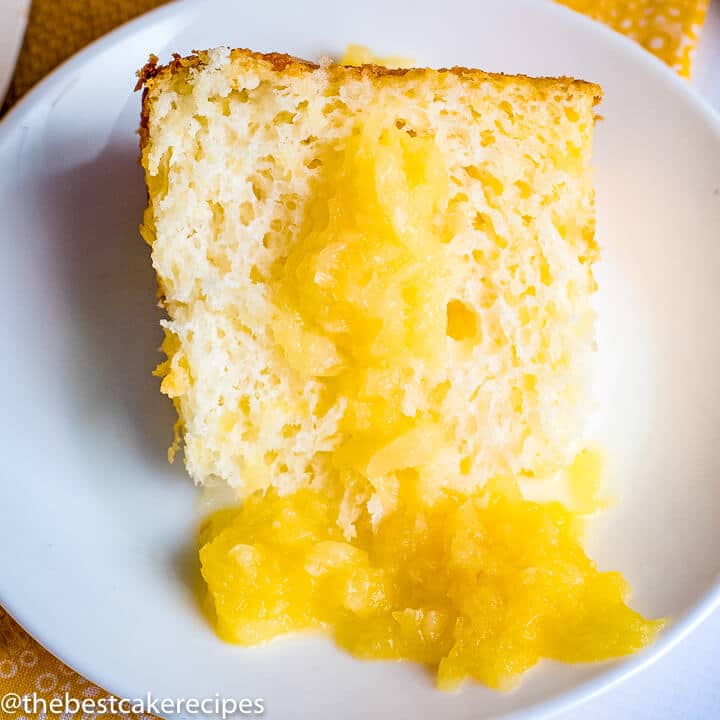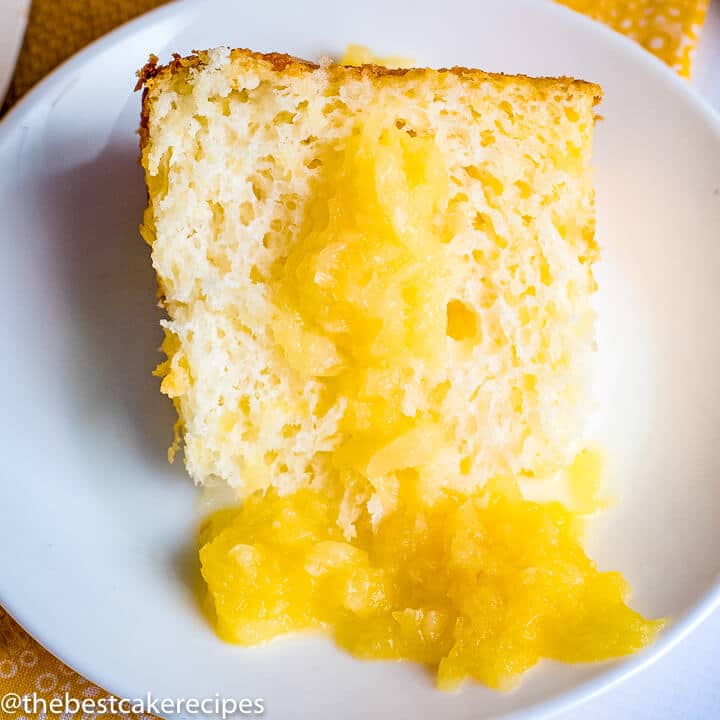 Pineapple Angel Food Cake
You'd never think that this would be a low fat cake! Easy angel food cake with pineapple topping combines to make the ultimate summer dessert.
---
Ingredients
Ingredients
20

ounces

crushed pineapple

(WITH juice)

1

box angel food cake mix
Instructions
For the Cake:
Preheat oven to 350 degrees.

In a large bowl, beat together the crushed pineapple and cake mix on medium speed for about 1 minute.

Pour the batter into an ungreased 10 inch angel food cake pan and bake for about 40 minutes, until the top is golden brown.

Once the cake comes out of the oven, immediately turn the cake upside down, resting the pan on glasses. Allow it to cool for about 2 hours.

To remove from the pan, slide a knife down the sides of the cake and remove the middle insert. Then, slide a knife around the middle section of the cake to release it from the pan.

Place the cake on a cake plate.
For the Pineapple Topping:
Add all of the dessert topping ingredients into a bowl and mix together. Pour into a saucepan and simmer for a 3-5 minutes to thicken up the sauce. Allow the sauce to cool and chill for at least 30 minutes.

Slice up the angel food cake, top with the sauce and enjoy!

Store any leftover pineapple topping in the refrigerator. Store the cake in a sealed container at room temperature.
Notes
The calories shown are based on the cake being cut into 12 pieces, with 1 serving being 1 slice of cake with 1/12 of the topping. Since different brands of ingredients have different nutritional information, the calories shown are just an estimate. **We are not dietitians and recommend you seek a nutritionist for exact nutritional information.**
Nutrition
Calories:
229
kcal
|
Carbohydrates:
56
g
|
Protein:
2
g
|
Sodium:
311
mg
|
Potassium:
151
mg
|
Fiber:
1
g
|
Sugar:
44
g
|
Vitamin A:
45
IU
|
Vitamin C:
8.9
mg
|
Calcium:
73
mg
|
Iron:
0.4
mg