If you're craving sheet cake you don't have to settle for chocolate! This homemade White Texas Sheet Cake has a simple frosting and classic white cake flavor. Don't forget the sprinkles!
When you think of Texas sheet cake, most likely a huge chocolate cake comes to mind. Chocolate takes second place to this White Texas Sheet Cake today though!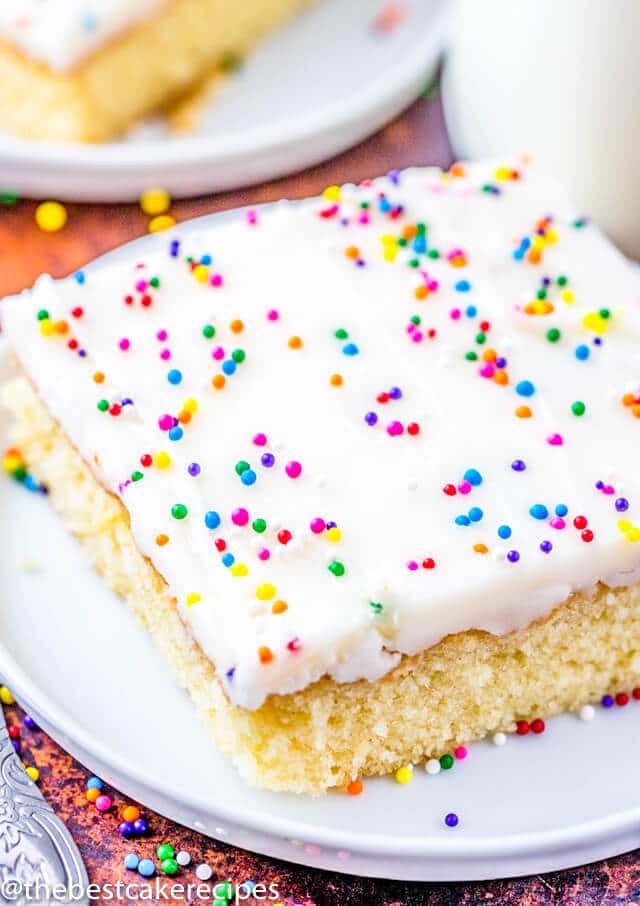 White Texas Sheet Cake Recipe
I'm a sucker for any white cake. Especially homemade white cakes. Sheet cakes are one of the easiest cakes to make from scratch. They are frosted with a simple icing, can be decorated to fit any occasion and are perfect for serving a crowd!
Why is it called a Texas sheet cake?
It's really a mystery! Historians who research the origins of food say that the Texas sheet cake may have been inspired by the German chocolate cake. Others say it is because the cake is "as big as Texas" or that it was created or named by Lady Bird Johnson (although there isn't evidence to prove this). If you want to read all the different possibilities of where sheet cake originated, read this article. Otherwise, can we just be thankful for whoever invented sheet cake, please?
This sheet cake is a twist on traditional sheet cake in that it is white which means it doesn't have cocoa powder or chocolate. It gives the perfect blank canvas to so many different possibilities!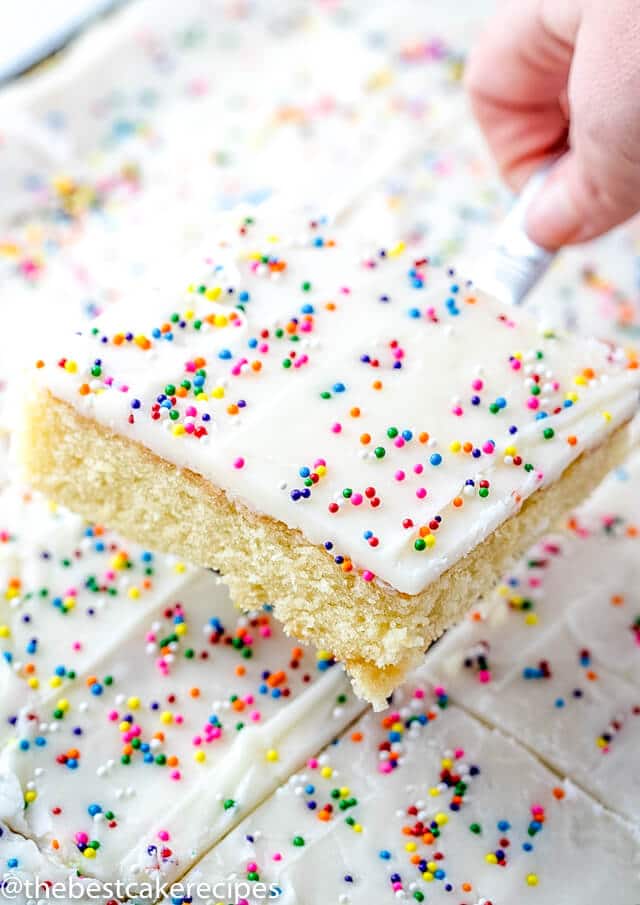 How to Make Texas Sheet Cake
This cake is a little unique in that it starts with boiling the butter and water together on the stove. Most recipes cream the butter, but this recipe calls for just a little different technique to give the cake a perfect texture. Here are a few hints:
Bring the butter & water to a boil, then let it cool for just 5 minutes before adding the other ingredients.
Don't add eggs first. If the water/butter is too warm, the eggs will cook and you don't want that yet!
Mix all of the ingredients together, then pour into a greased 10×15″ pan. If you use a different size pan, make sure you watch the baking time. This recipe was tested with a 10×15″ pan.
While the cake is baking, make the frosting (see below).
Spread the frosting on the cake while it is still warm.
Texas Sheet Cake Frosting
Although I'm a huge fan of buttercream frosting, there's something comforting about easy texas sheet cake frosting. Simply bring the butter and milk to a boil in a saucepan. Add the sugar and flavoring. Mix it together and spread it on the warm cake. So easy! This is more like an icing that will just barely soak into the top of the cake making it extra moist.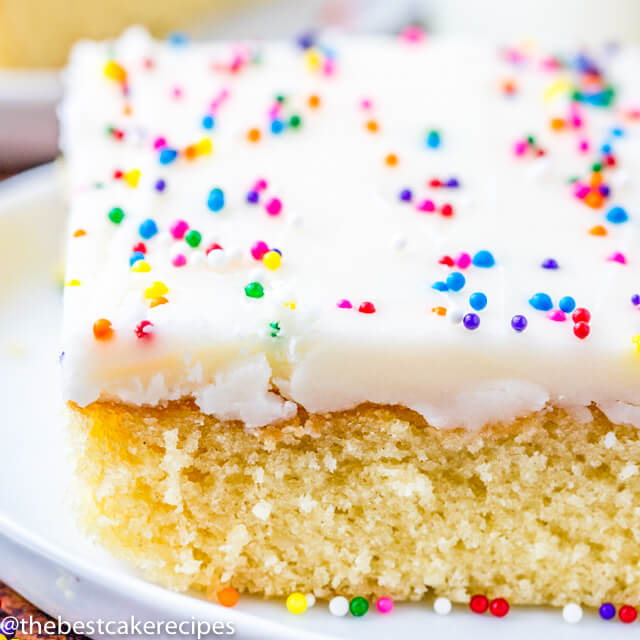 How long do you bake a Texas sheet cake?
The exact timing will depend on the pan size, but for a 10×15″ sheet cake, it will need to bake about 20-22 minutes. Watch it closely! The cake will spring back in the center when you touch it.
Does Texas Sheet Cake need to be refrigerated?
White Texas sheet cake is just fine at room temperature. The icing acts as a "cover" so it will protect the cake and keep it moist. No need to cover it until you've cut into it.

OTHER SHEET CAKE RECIPES
TOOLS TO MAKE THIS CAKE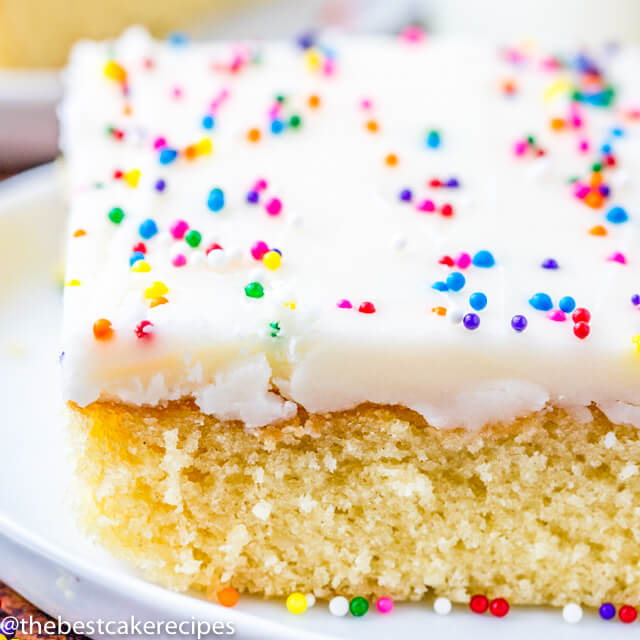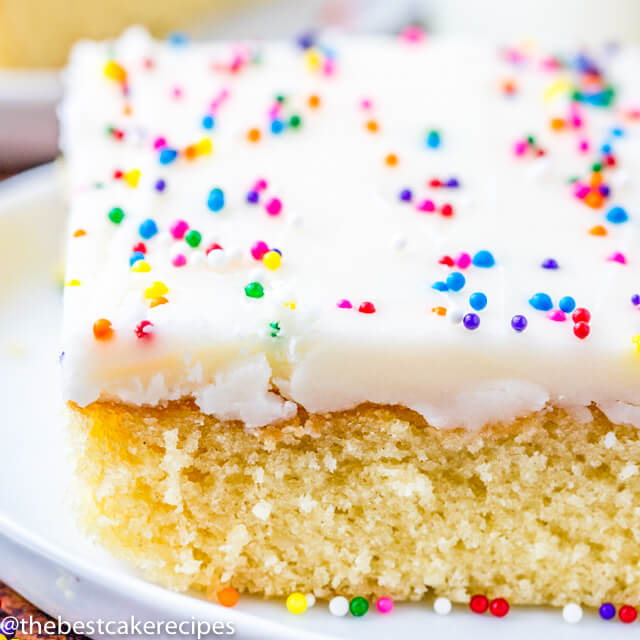 White Texas Sheet Cake
If you're craving sheet cake you don't have to settle for chocolate! This homemade White Texas Sheet Cake has a simple frosting and classic white cake flavor. Don't forget the sprinkles!
---
Ingredients
For the Frosting:
1/2

cup

butter

1/4

cup

milk

4 1/2

cups

confectioners' sugar

1/2

teaspoon

almond extract

Colored Sprinkles for Topping
Instructions
Preheat oven to 375 degrees Fahrenheit.

In a large saucepan, bring butter and water to a boil.

Remove from heat and let cool for 5 minutes.

Stir in flour, sugar, eggs, sour cream, extracts, salt, and baking soda until smooth.

Pour batter into a greased 10x15-inch baking pan.

Bake in the preheated oven for 20 to 22 minutes, or until cake is golden brown and tests done.

Combine butter and milk in a saucepan. Bring to a boil. Then remove from heat.

Mix in sugar and extract. Spread frosting over the cake while it is still warm.
Notes
The calories shown are based on the cake being cut into 20 pieces, with 1 serving being 1 slice of cake. Since different brands of ingredients have different nutritional information, the calories shown are just an estimate. **We are not dietitians and recommend you seek a nutritionist for exact nutritional information.**
Nutrition
Calories:
370
kcal
|
Carbohydrates:
56
g
|
Protein:
2
g
|
Fat:
15
g
|
Saturated Fat:
9
g
|
Cholesterol:
58
mg
|
Sodium:
249
mg
|
Potassium:
35
mg
|
Sugar:
46
g
|
Vitamin A:
495
IU
|
Vitamin C:
0.1
mg
|
Calcium:
19
mg
|
Iron:
0.7
mg