Chocolate Strawberry Cake
The most amazing chocolate & strawberry combo: 100% homemade Chocolate Strawberry Cake! Everyone can easily make this from scratch cake with delicious flavor.
Do you love chocolate and fruit combinations? I'll be honest. I never really did. My husband loved chocolate covered cherries and chocolate blackberry cake, but I preferred either one or the other.
In my older age I've come to appreciate the chocolate & fruit combo, especially chocolate & strawberry. That's why I decided to take our favorite homemade cake and easy strawberry frosting to make this chocolate strawberry cake you'll love.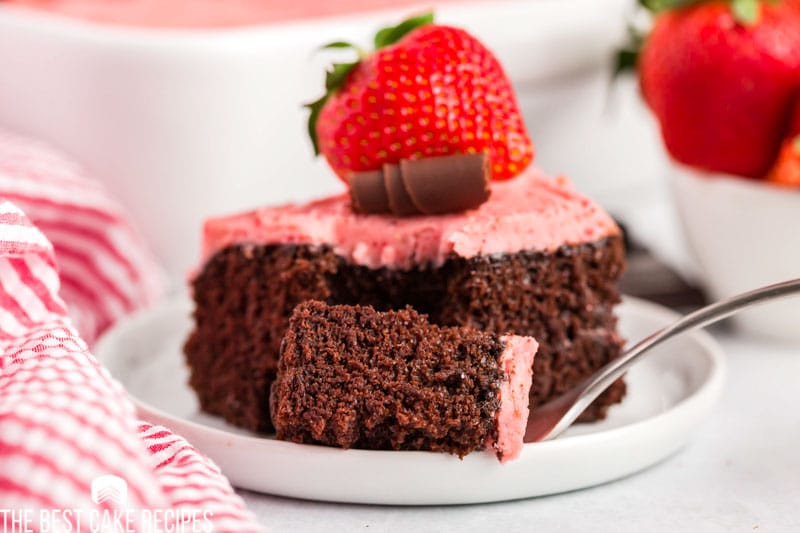 ❤️ Why you'll love this cake:
100% homemade, but it is easy. I promise!
Super soft texture. The best textured homemade cake!
Melt in your mouth frosting with real strawberry powder.
Makes a simple 9×13 cake.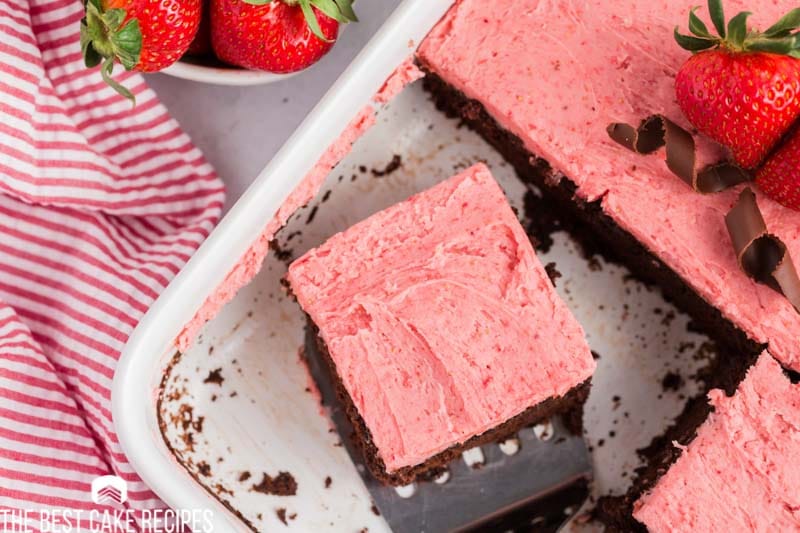 🍫 No Fail Homemade Chocolate Cake
This is our favorite homemade chocolate cake recipe. We've made it for years and it never fails us! You can make it as cupcakes and layer cakes…or in simple sheet cakes like this one. Here are a few tips:
You can use a stand mixer or a hand mixer to mix this cake batter.
Mix the wet ingredients and dry ingredients separately. Yes it uses another bowl, but your cake will turn out beautifully.
If you don't have buttermilk, place one teaspoon of white vinegar in a measuring cup, then fill it the rest of the way with milk. This is a simple substitute.
Use vegetable oil or canola oil if you'd like. We've used all varieties with success.
This cake batter will be very thin. That's exactly how it is supposed to be! Don't open the oven before you think the cake is done or it may fall in the middle.
🍓 Easy Strawberry Frosting
Strawberries can be tricky to add to baked goods and frostings because they are so juicy. And sugar just brings out more juices. Our solution is to use freeze dried strawberries instead of fresh strawberries. You get intense strawberry flavor that way!
Pulse the freeze dried strawberries into a powder using a food processor. Then add that powder to the frosting.
It's easiest to use a stand mixer for frosting if you have one because of creaming the butter and sugar and getting a light airy texture.
*Pro Tip: Add the heavy cream slowly, but add a touch more if needed to get the consistency you'd like.**
🍰 Recipe Variations:
Add mini chocolate chips to the cake batter for extra chocolate punch.
If you want a gorgeous dark color to your cake, use half black cocoa powder and half regular cocoa powder.
Add sprinkles, nuts or strawberry slices to the top of the cake.
You can also use a different freeze dried fruit to make various flavored frostings. Try raspberry!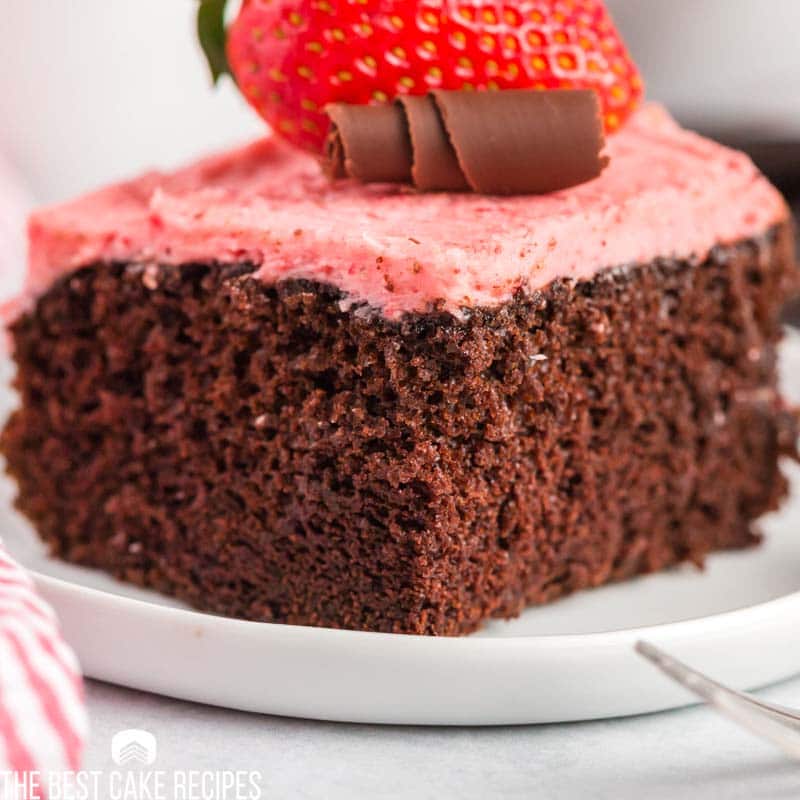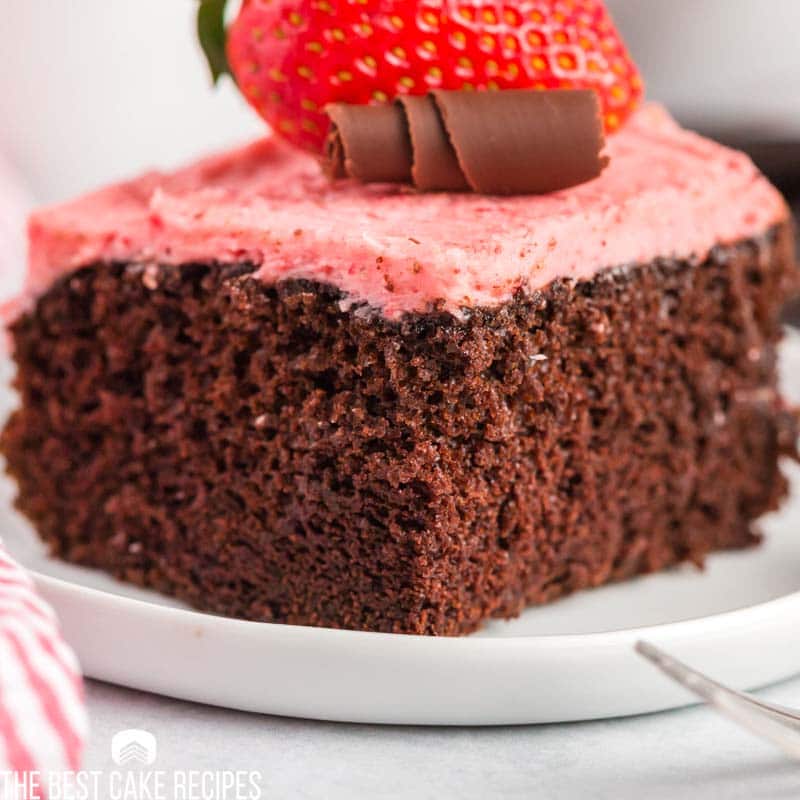 Chocolate Strawberry Cake
The most amazing chocolate & strawberry combo: 100% homemade Chocolate Strawberry Cake! Everyone can easily make this from scratch cake with delicious flavor.
---
Ingredients
For the frosting:
1 ½

cups

freeze dried strawberries

1

cup

salted butter

room temperature

4

cups

powdered sugar

1

teaspoons

vanilla

¼

cup

heavy cream

plus more if needed for desired consistency
Instructions
Make the cake:
Spray a 9×13 baking pan with cooking spray. Preheat the oven to 350 degrees Fahrenheit.

Put flour, sugar, cocoa, baking powder, baking soda and salt in a bowl and whisk well.

In a stand mixer, mix the buttermilk, oil, eggs, vanilla together. Slowly add in the mix of dry ingredients while the mixer is on low. Add the coffee and make sure everything is combined. The batter will be very thin.

Pour the batter into the prepared pan and bake for about 30-35 minutes or until the center of the cake springs back when you touch it.

Allow the cake to cool on a cooling rack. While the cake is cooling, make the frosting
Make the frosting:
Place the freeze dried strawberries into a food processor and pulse until it makes a fine powder.

In a stand mixer bowl, with the mixer on medium speed, whip the butter for 2 minutes until it is almost white in color. Make sure the butter is at room temperature, but not melted.

Add in the powdered sugar, strawberry powder, vanilla and cream.

Beat on low speed for 3-5 minutes, adding in another tablespoon of milk if the buttercream needs to be thinner.

Spread the frosting on the cooled cake.

Garnish with strawberries and chocolate shavings or curls.
Frequently Asked Questions:
Do you have to add coffee to the cake?
Not necessarily, although we highly recommend it. You can't taste the coffee in this cake. It simply enhances the chocolate flavor. You can add water if you don't have any coffee.
Can you make cupcakes with this recipe?
Yes. Bake for about 18-21 minutes.
Can you freeze this cake?
Yes. This cake freezes well.