Blueberry Lemon Cake Roll
Creamy lemon curd and fresh blueberries fill this Blueberry Lemon Cake Roll! This pretty dessert is easy to make and great for picnics and parties!
If you love lemon and blueberry, you'll love our easy coffee cake, yeast based coffee cake and our butter cake. They are classics!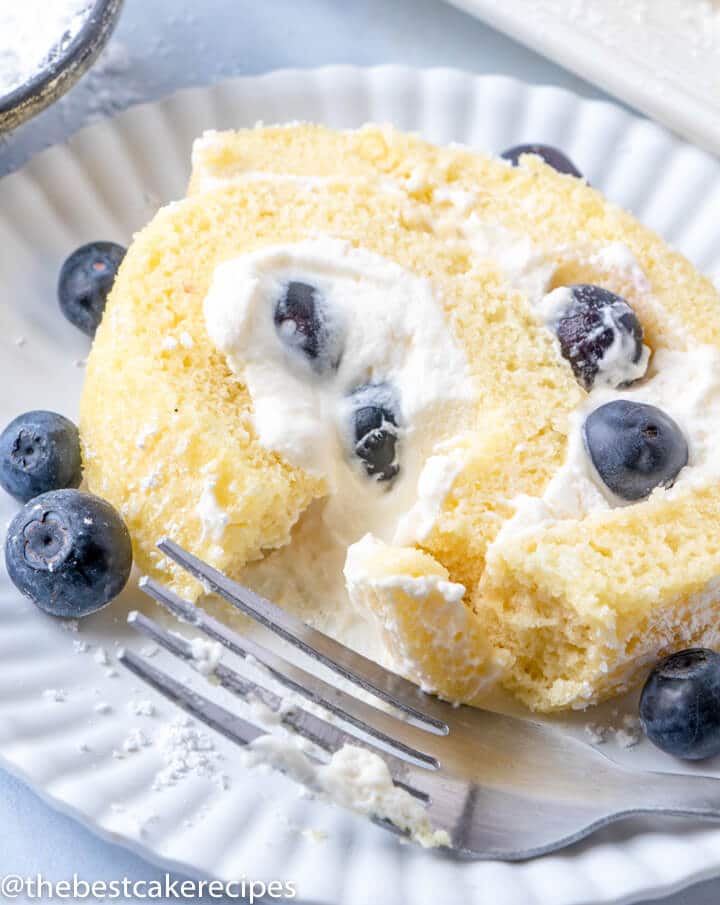 Blueberry Lemon Cake Roll Recipe
Nothing says spring and summer like fresh blueberry and lemon flavor. Cake rolls always make a beautiful presentation.
Whether it is a bridal shower, spring luncheon or family gathering, this easy cake roll recipe with tart lemon flavor will have your guests oohhing and aahhing.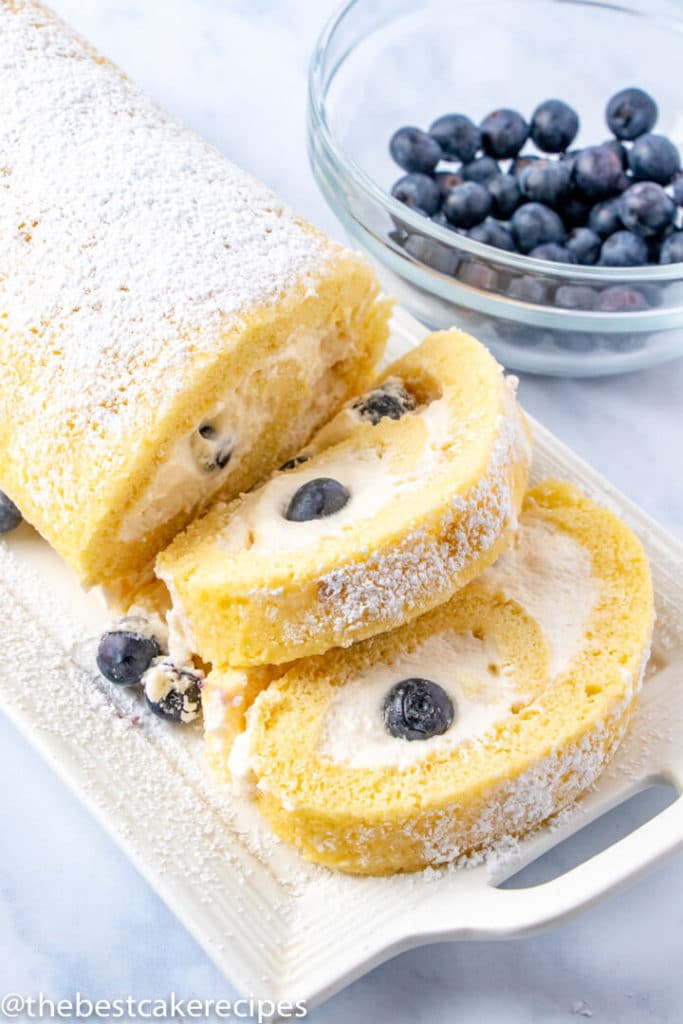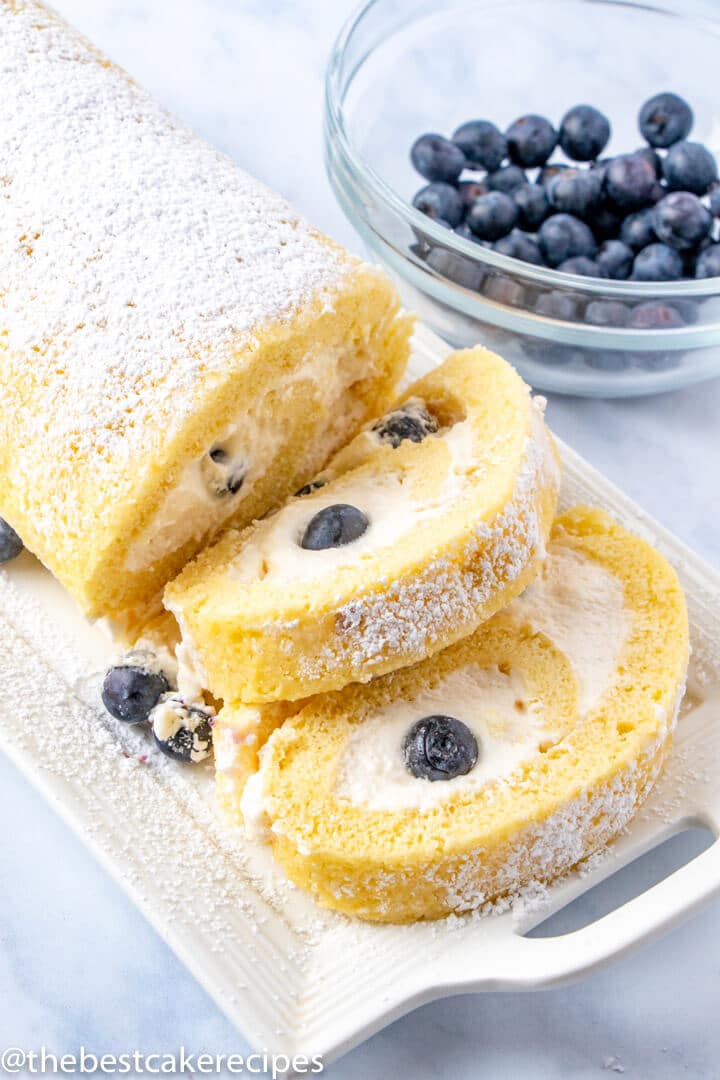 Lemon Cream Filling
Lemon cream filling gets stuffed inside this yellow sponge cake. You'll take heavy cream and whip it until it is light, fluffy and can hold a stiff peak. Add in some sugar to sweeten and lemon curd for amazing flavor.
If you have homemade lemon curd you'll definitely want to use it in this. If you need a shortcut, buy store-bought lemon curd.
How do you make a jelly roll cake?
This cake recipe makes enough cake batter to fill a 10″x15″ pan.
Line the jelly roll pan with parchment paper (or foil) and then spray it with cooking spray. If you are having trouble keeping the parchment paper in place, spread a light coating of butter on one side of the paper and place the buttered side down in the pan. It will help it to "stick" into place.
Mix the cake and bake as directed.
Lay out a piece of parchment paper that is a little bigger than the cake itself. Sprinkle it with powdered sugar and turn the cake out onto that parchment paper.
Peel off the parchment paper that the cake was baked on and cut off any edges of the cake that may be crispy or browned. (You have my permission to eat those scraps!)
Roll up the cake starting on the short end and refrigerate the cake for at least 20 minutes while it cools.
Unroll the cake once it is cool, spread it with the cream and sprinkle with blueberries, then roll it back up.
Place the cake roll seam side down on a serving plate. Cover it with plastic wrap.
Refrigerate the cake roll for at least 1 hour before serving.
Before serving, sprinkle the cake roll with a mixture of powdered sugar and whipped cream if desired!
Other Cake Roll Recipes: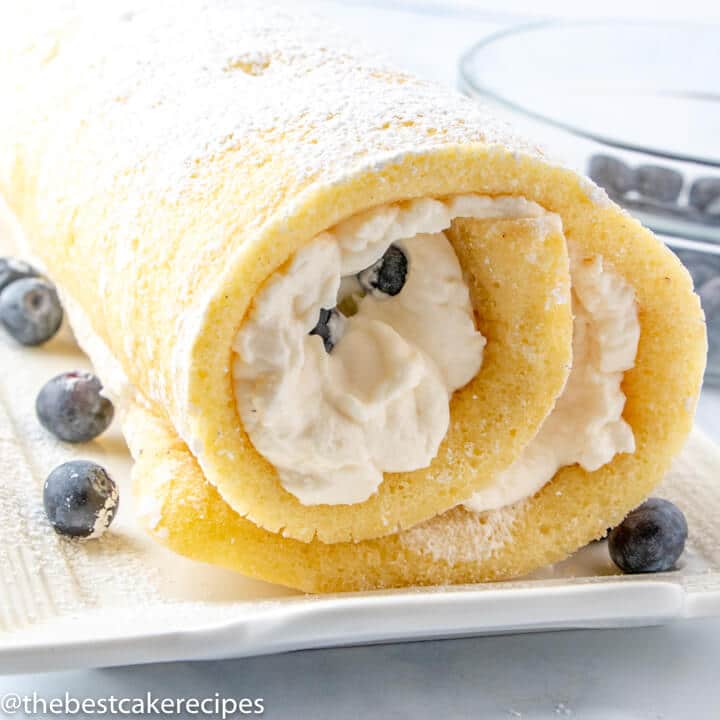 Tools to Make This Cake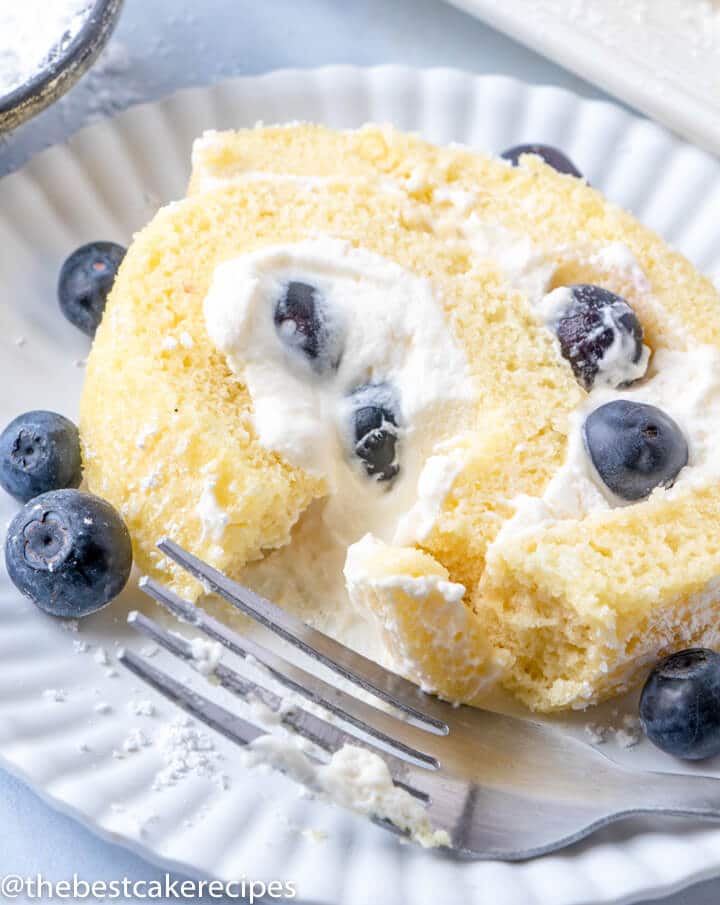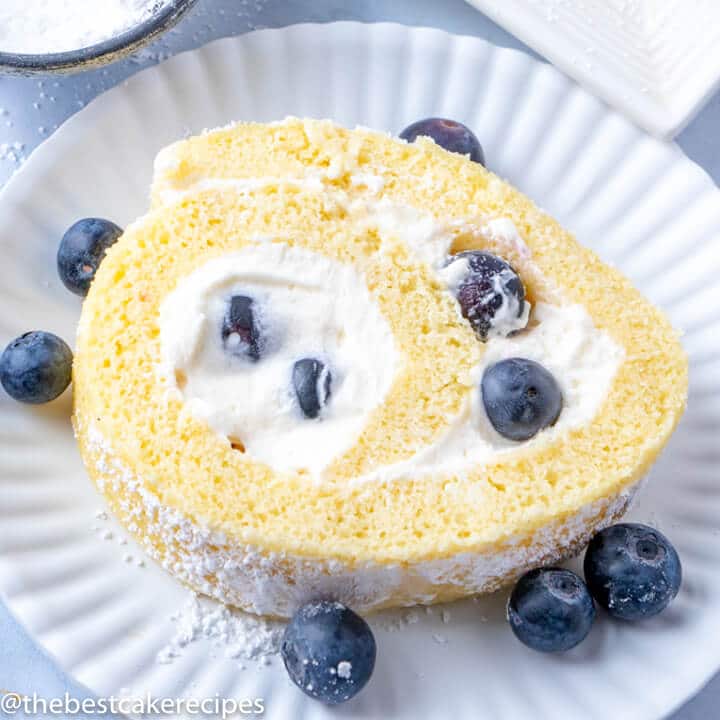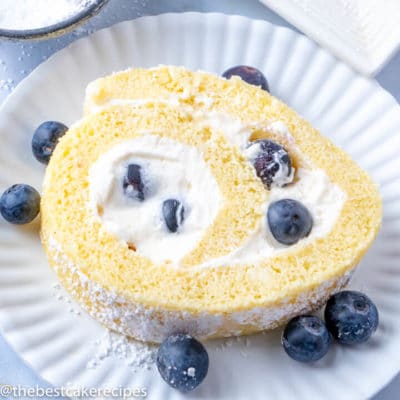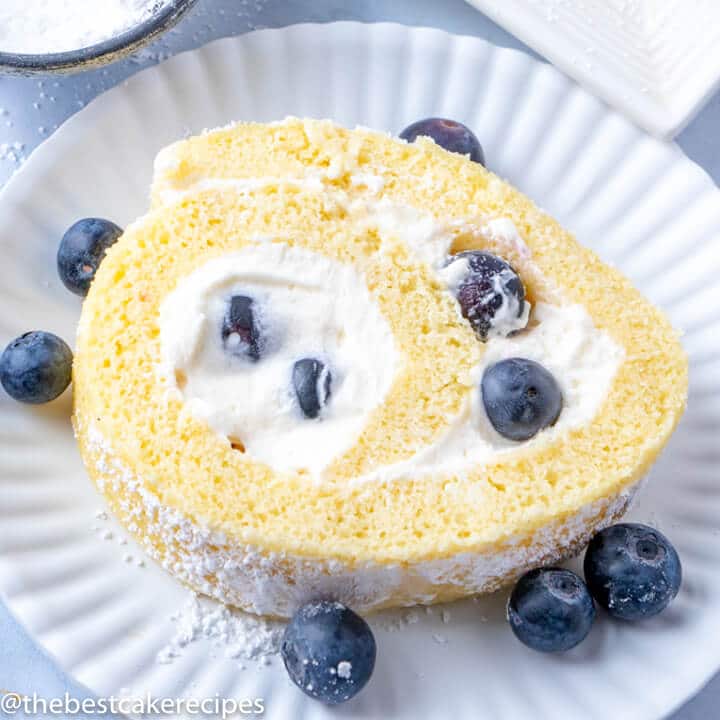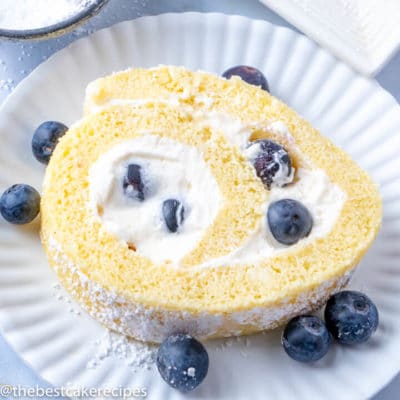 Blueberry Lemon Cake Roll
Creamy lemon curd and fresh blueberries fill this Blueberry Lemon Cake Roll! This pretty dessert is easy to make and great for picnics and parties!
---
Ingredients
Instructions
Preheat oven to 375 F. Line a jelly roll pan (10″x15″) with parchment paper and spray with cooking spray.

In the bowl of a stand mixer with the whisk attachment (or using a hand mixer), beat the eggs for 5 minutes on medium speed until they are bubbly.

While continuing to mix on low, gradually add the sugar. Then mix in water and vanilla extract.

With the mixer still on low speed, sift in flour, baking powder and salt. Mix until well combined, scraping the bowl as needed. The batter will be thin. Pour the batter into the prepared pan.

Bake for 7-9 minutes. Cake will be springy to the touch and start to shrink away from the sides of the pan.

Lay out a sheet of parchment paper slightly longer than the cake and sprinkle lightly with powdered sugar. Turn the sheet cake out onto the prepared parchment paper. Peel off the parchment paper and cut away the crusty edges of the cake.

Roll the cake up in the parchment paper sprinkled with powder sugar. Place in the refrigerator to cool.

Whip heavy whipping cream on high in a stand mixer until cream is thick. Fold in powdered sugar and lemon curd until well combined.

Unroll cake and spread the lemon cream filling over the cake. Add blueberries over the top of the filling.

Tightly roll the cake back up and refrigerate for an hour before serving.

Sift powdered sugar over the top of the cake to garnish. Add blueberries to the top if desired.

To slice, run hot water over a knife and wipe dry before slicing straight through. Rinse in hot water and dry knife in between cutting each slice. This allows for a cleaner slice.
Notes
The calories shown are based on the cake roll being cut into 8 pieces, with 1 serving being 1 slice of cake roll. Since different brands of ingredients have different nutritional information, the calories shown are just an estimate.
Nutrition
Calories:
382
kcal
|
Carbohydrates:
59
g
|
Protein:
5
g
|
Fat:
14
g
|
Saturated Fat:
8
g
|
Cholesterol:
110
mg
|
Sodium:
154
mg
|
Potassium:
131
mg
|
Sugar:
45
g
|
Vitamin A:
550
IU
|
Vitamin C:
2.2
mg
|
Calcium:
55
mg
|
Iron:
1.2
mg