You've never had a bundt cake like this! Crack Cake starts with a box mix, but white wine makes it extra special! The most delicious cake.
You know we love our jazzed up box cake mix recipe. We stuff them with cream cheese, sprinkle them with cinnamon and sugar and now we're soaking them with white wine!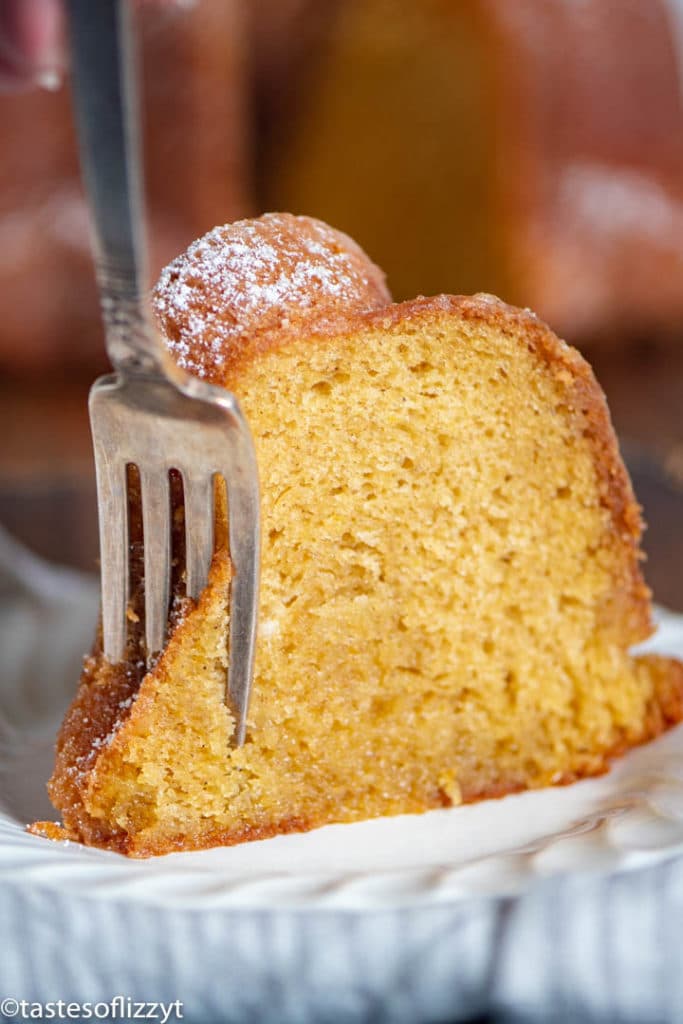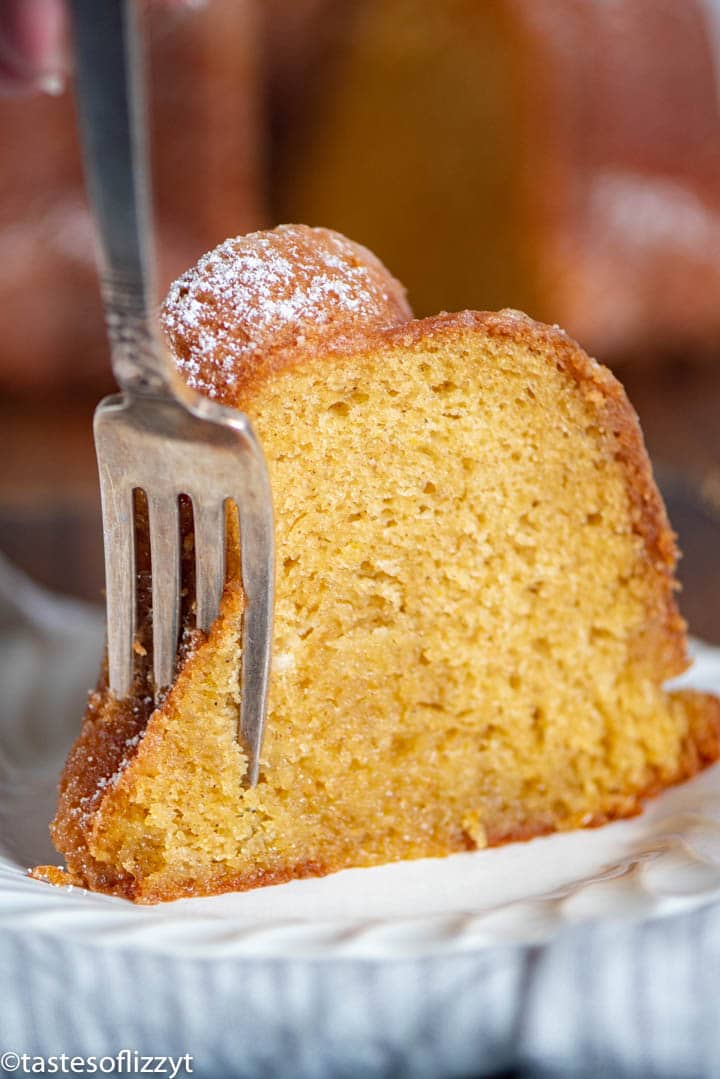 The internet is full of recipes claiming to dangerously addictive: Crack Candy and Crack Chicken just to name two.
A few years ago I came across a recipe for Crack Cake. I'm not sure exactly where it came from, but the earliest reference to it I find here.
White Wine Cake
So what makes this cake extra special? White wine. Although I don't think alcohol tastes good at all, we do like to cook with it every once in awhile, and this cake is no exception.
It starts with a box cake mix and gets additions of both white AND brown sugar, pudding mix and cinnamon for an AMAZING flavor and moist texture.
Why is it called crack cake?
This cake is often called "crack cake" because it is so addicting!
Seriously though…we put this cake in the freezer after we made it. That evening, we pulled it back out and devoured it all. Amazing. It's THAT good.
How to Make Crack Cake
This cake is a no-fuss cake. You'll only need one bowl to mix it up! Here's how to do it:
This cake is a very dense, heavy cake. That's what makes it so good!!
**Pro Tip: If you'd like to lessen the calories slightly, leave the glaze off and use a sugar free pudding mix. Honestly we don't think it will be *quite* as amazing, but if you are used to making healthier substitutes, it will work!**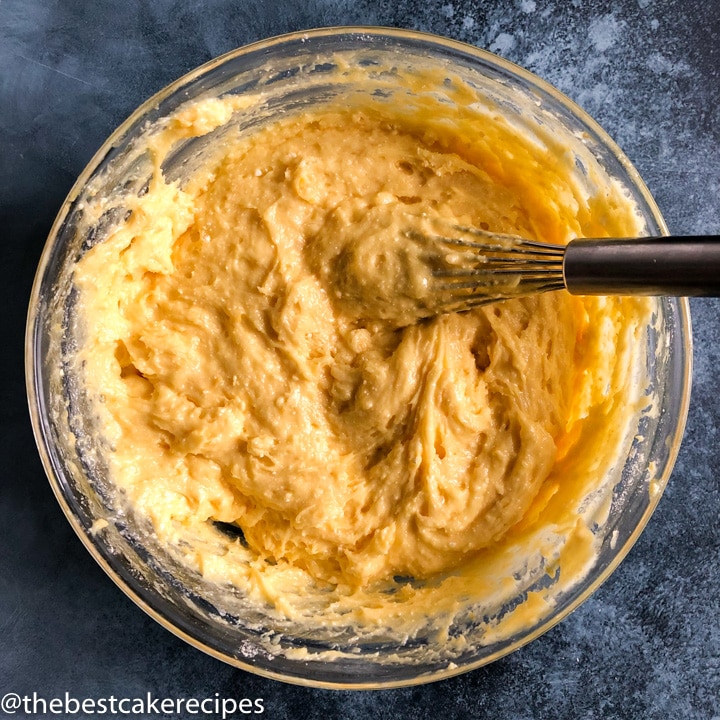 How to Get a Bundt Cake Out of the Pan
Here are a few tricks you can use to help your cakes come out easily: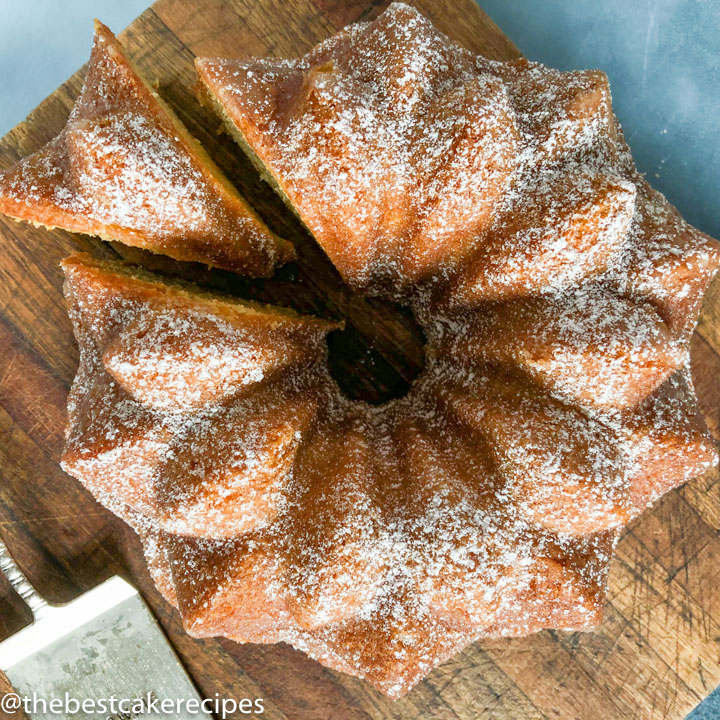 What can you substitute in cake recipe for white wine?
If you don't want to use white wine, try white grape juice. It will give the cake a slightly different flavor, but it is a good substitute.
Does white wine cake have any alcohol content after baking?
Yes. It will have some alcohol content. The question is…how much?
You may have heard that alcohol will bake out when cooking, but the fact is that it will take about 3 hours of cooking for all alcohol content to bake out.
Studies have found that after baking anywhere from 4-78% of the alcohol content remained in dishes. That's a big range. If you are sensitive to alcohol, this may not be the cake for you. (source)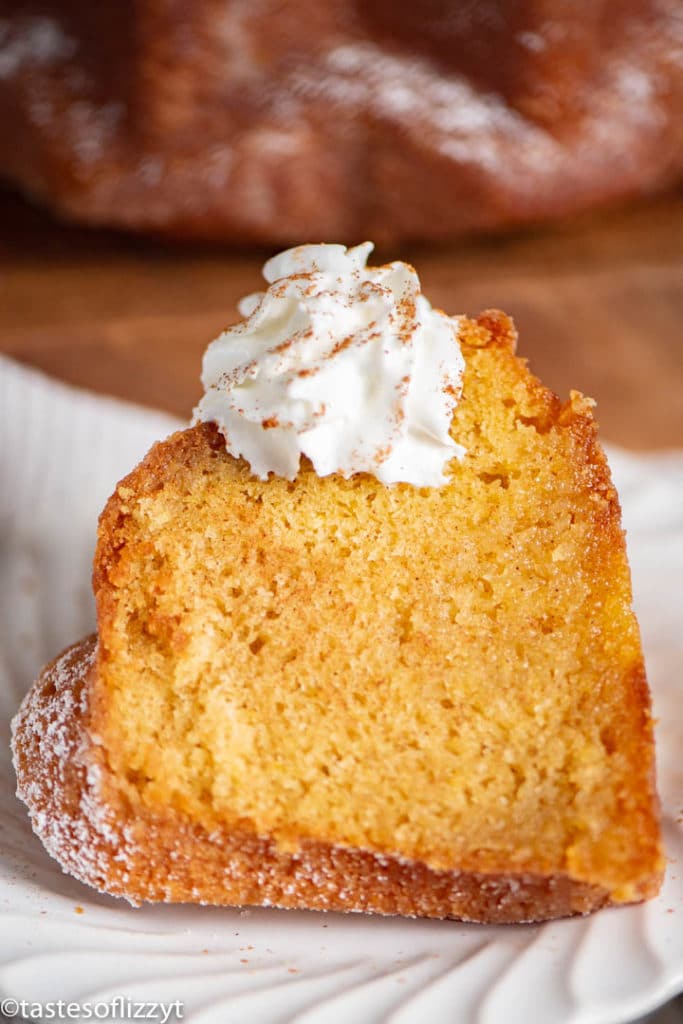 How to Store Crack Cake
This cake is best stored at room temperature in a sealed container.
Can you freeze crack cake?
Yes! Because this cake is so moist, it freezes well. Wrap the cake in plastic wrap, then place it in a zippered bag or an airtight container. Freeze for up to 2 months.
Allow the cake to defrost completely before opening the packaging. This will keep your cake fresh!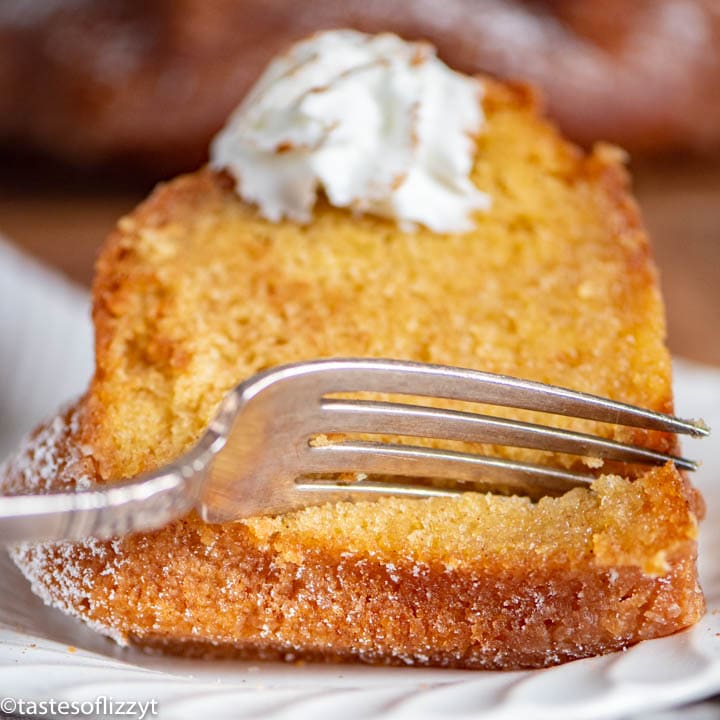 Other Bundt Cake Recipes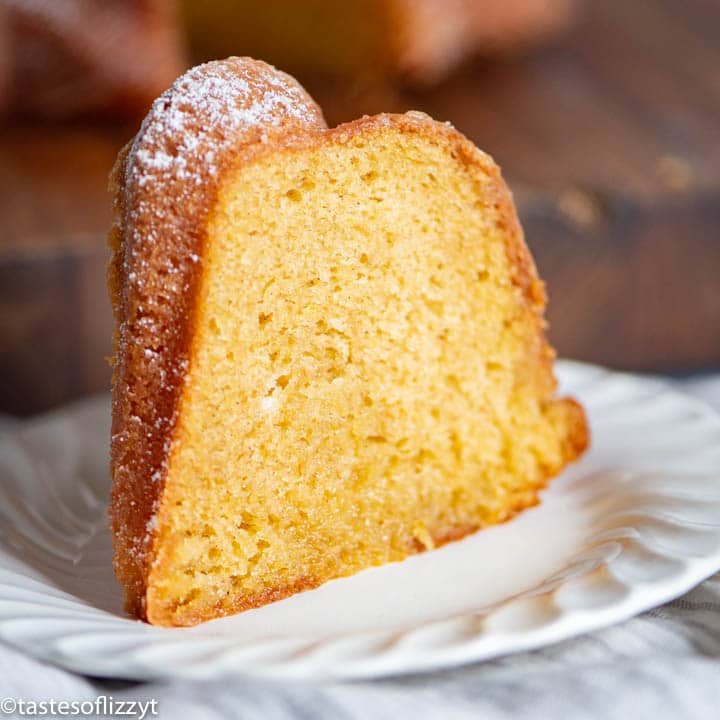 Tools to Make This Cake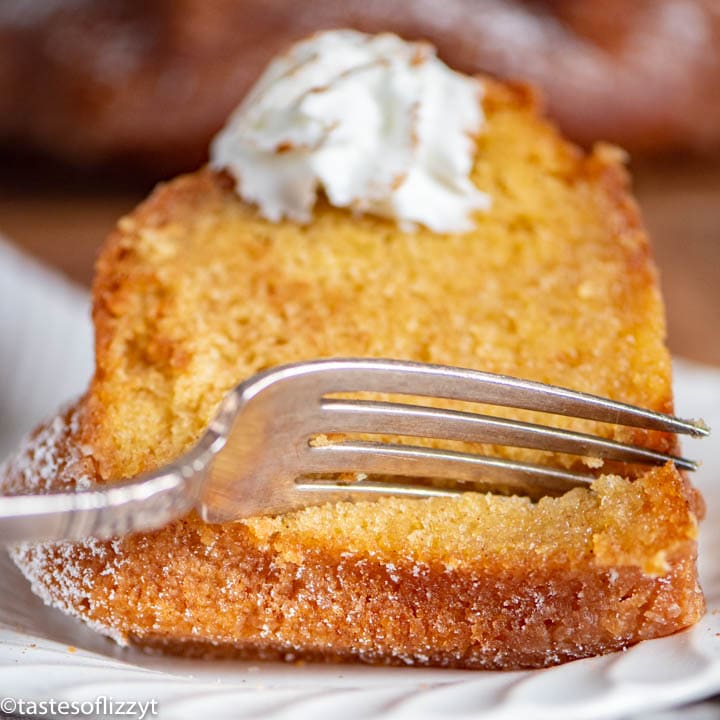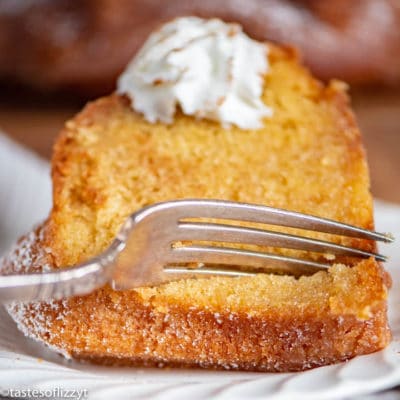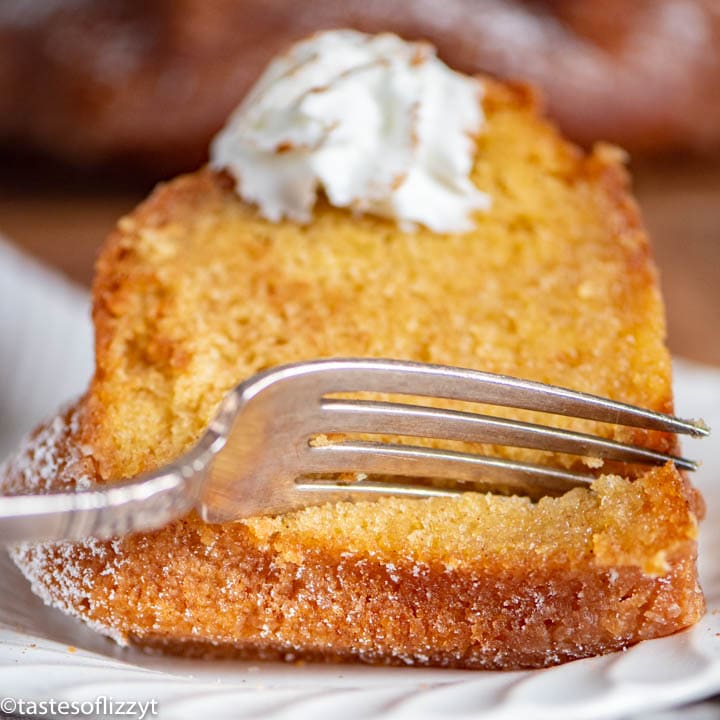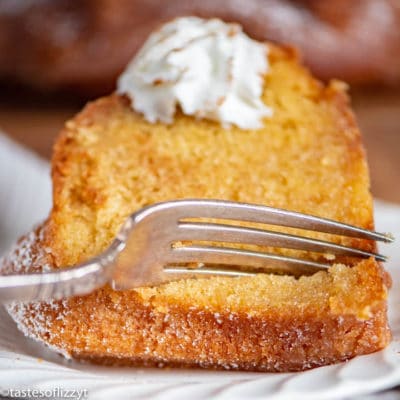 Crack Cake
You've never had a bundt cake like this! Crack Cake starts with a box mix, but white wine makes it extra special! The most delicious cake.
---
Ingredients
For the cake:
1

box yellow cake mix

(around 15.25 ounces)

¼

cup

brown sugar

¼

cup

white sugar

1

small box instant vanilla pudding mix

(around 3.4 ounces)

2

teaspoons

cinnamon

4

large

eggs

¾

cup

water

¾

cup

oil

½

cup

white wine
Instructions
Preheat oven to 350 degrees.

Mix all of the cake ingredients in a large bowl with a hand mixer until well combined.

Grease and flour a 10"bundt cake pan.

Pour the batter into the prepared pan.

Bake for 45-50 minutes or until a toothpick comes out clean.

For the glaze, melt the butter and sugar together in a small saucepan until the sugar crystals dissolve. , mix in the white wine.

Use a toothpick to poke holes into the top of the cake while it is still hot and in the pan.

Slowly drizzle the glaze over the cake and allow it to soak in.

Allow the cake to cool for 5-10 minutes in the pan.

Loosen the sides of the cake from the pan with a butter knife or a rubber spatula. Jiggle the pan slightly to loosen the cake.

Turn the cake out onto a cake plate to serve.

Store any remaining cake in an airtight container at room temperature.