This easy rum cake starts with a butter flavored cake mix. Vanilla pudding keeps the cake moist. There's rum in both the cake and the glaze!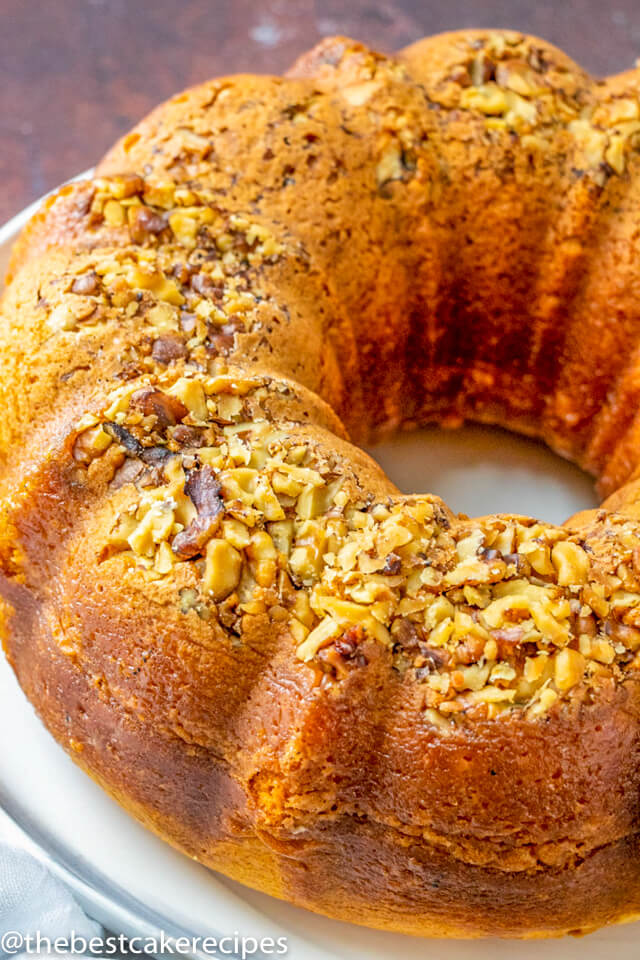 Easy Rum Cake Recipe
Rum cake is a classic, old fashioned recipe that has been made often over the years. This easy version starts with a cake mix and a homemade glaze that you drizzle over the top of the baked cake. It has a strong rum flavor and is perfect for an evening dessert alongside a scoop of ice cream or cup of coffee.
Butter Rum Cake Recipe
One rich flavor combination is butter and rum. This recipe tastes best if you start with a butter golden cake mix. If you can't find a butter cake mix, use yellow cake and add ½ teaspoon to 1 teaspoon of butter extract to get the same flavor. This cake has a rich, warm flavor that many love!
Does alcohol cook off in baking?
Alcohol actually doesn't cook off as much as you might think during cooking. It takes a long time of simmering in order for most of the alcohol to burn off. Will you get drunk off of rum cake? Not likely. But you may want to think twice if you are serving this cake to someone who is sensitive to alcohol.  If you'd like to do more reading on this, I found this article very informative.
What can I use instead of rum?
The rum in this cake gives it the flavor it has so there is not a good substitution for the rum. If you'd like you can use a fruit juice, ginger ale or lemon-lime soda. But just please know that it will not really be a rum cake then. If you don't like rum, you could try a 7up cake or our butter pecan cake.
How do you make a rum cake?
Because this cake is made with a cake mix, it's not hard at all to mix up. Here are some tips:
Grease and flour the bundt cake pan. Grease it with shortening…or use our cake release for perfect cakes every time!
Sprinkle walnuts in the bottom of the pan. Then your cake will look so pretty as the batter bakes around the walnuts.
Make the rum glaze while the cake is baking.
While the cake is still in the pan, poke holes in the top using a fork or toothpick. Drizzle the warm glaze over the cake and allow it to soak down in the holes.
Let the cake sit for 30 minutes, then turn it out onto a plate to cool completely.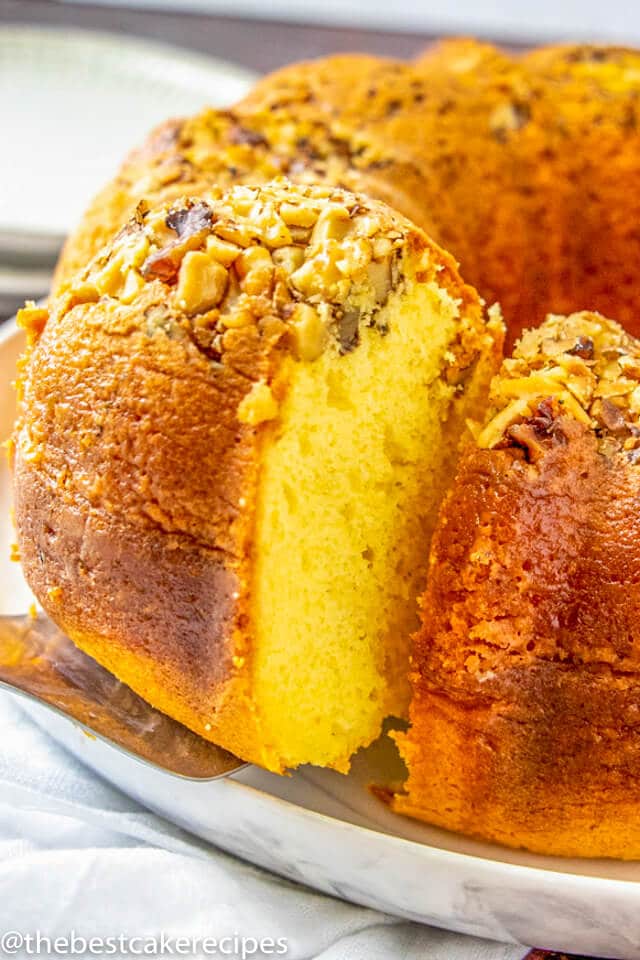 How do I make a glaze for rum cake?
To make the glaze for rum cake, boil together sugar, water, butter and rum. Allow it to boil gently for only about 5 minutes. All the sugar crystals will melt in giving you a nice simple syrup to pour over your cake. Buttery glaze makes the cake taste so rich!
Does rum cake need refrigerated?
This easy rum cake is ok at room temperature. Just make sure it is in an airtight container. The rum acts as a natural preservative.
Can you freeze rum cake?
Rum cake can easily be frozen! Store the cake in a zippered freezer bag, or wrap it tightly with several layers of plastic wrap. Store the cake in the freezer for up to 3 months. When you are ready to defrost it, remove the cake from the freezer. Don't unwrap the cake until it is completely thawed out. All of the moisture will stay in the cake that way. You can defrost the cake slowly in the refrigerator (this will take at least 12 hours) or if you need it more quickly, defrost it at room temperature.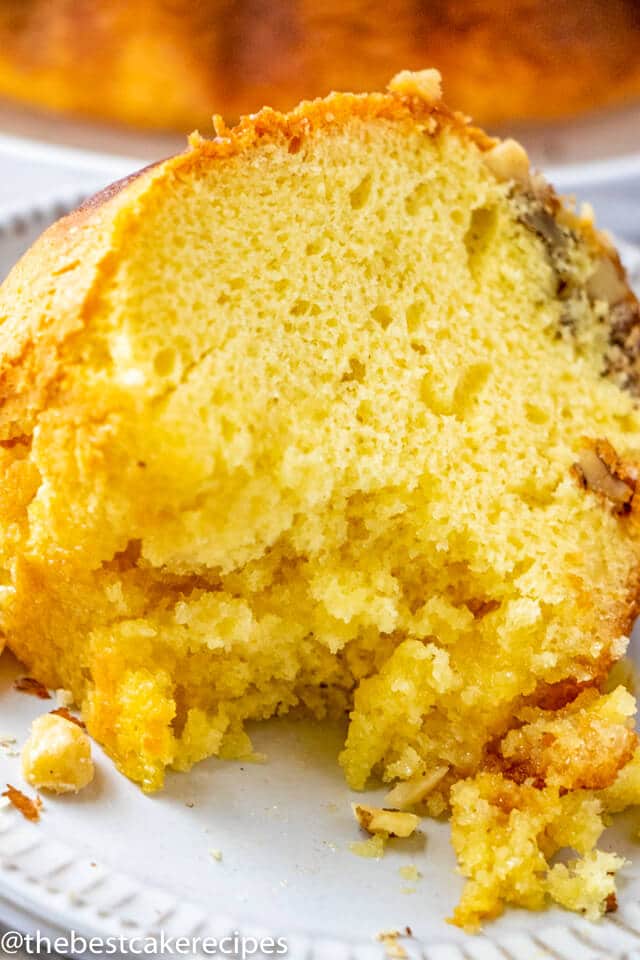 Other Bundt Cake Recipes
WHAT YOU NEED TO MAKE THIS CAKE
Bundt Cake Pan: This is a classic, must-have kitchen tool.
Bundt Cake Carrier: Store your cake in this carrier to keep it fresh and easy to transport!
Cake Plate: I have this cake plate and everyone loves it! It comes with the cute server too.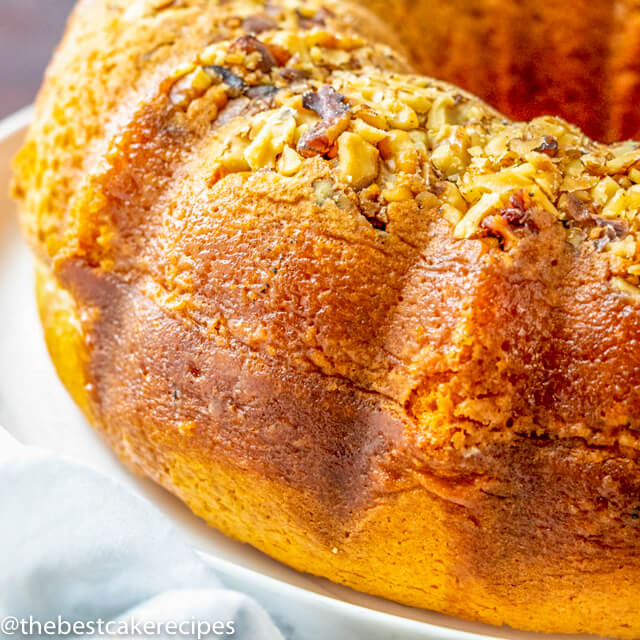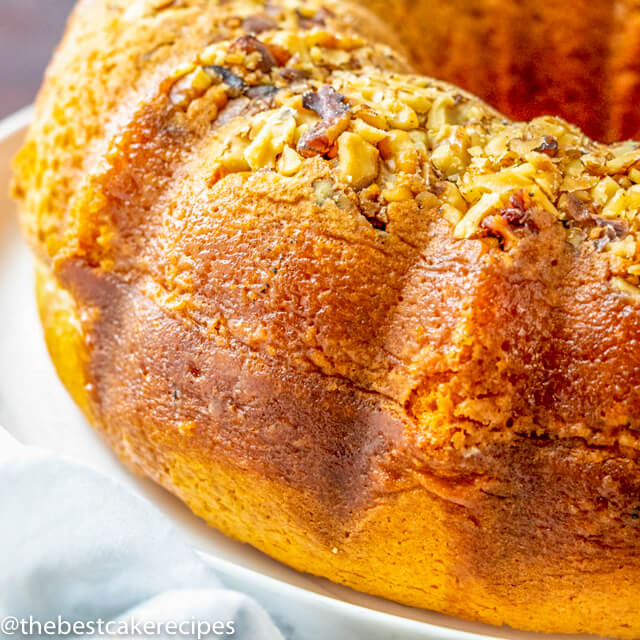 Easy Rum Cake
This easy rum cake starts with a butter flavored cake mix. Vanilla pudding keeps the cake moist. There's rum in both the cake and the glaze!
Total Time
1

hour
15

minutes
---
Instructions
Preheat the oven to 325 degrees Fahrenheit.

To prepare the pan, grease and flour a 10" bundt cake pan. Sprinkle the chopped walnuts in the prepared pan.

Combine the cake mix, pudding mix, rum, water and oil. Beat well.

Add eggs one at a time, beating between each addition.

Pour the batter into the prepared bundt pan.

Bake for 60 minutes.

While the cake is baking, prepare the glaze. In a saucepan over medium low heat, mix together the sugar, water and butter. Bring this to a low boil and simmer for 5 minutes, stirring constantly. Remove from heat and stir in the rum. (If you'd like to cook the rum, you can! That will remove a very slight amount of the alcohol.)

Prick the top of the cake with a fork and while the cake is still in the pan, pour the glaze over the cake. Give it at least 30 minutes to sink into the cake.

Turn the cake out onto a plate to cool completely.

This cake is best when it has time to sit. Store it in an airtight container and serve it the next day.
Notes
The calories shown are based on the cake being cut into 15 pieces, with 1 serving being 1 slice of cake. Since different brands of ingredients have different nutritional information, the calories shown are just an estimate. **We are not dietitians and recommend you seek a nutritionist for exact nutritional information.**
Nutrition
Calories:
475
kcal
|
Carbohydrates:
49
g
|
Protein:
5
g
|
Fat:
25
g
|
Saturated Fat:
14
g
|
Cholesterol:
82
mg
|
Sodium:
406
mg
|
Potassium:
86
mg
|
Fiber:
1
g
|
Sugar:
31
g
|
Vitamin A:
325
IU
|
Vitamin C:
0.2
mg
|
Calcium:
112
mg
|
Iron:
1.5
mg