Easy Cinnamon Buttercream
A simple buttercream recipe that has such a comforting cinnamon flavor! Find out how to make the buttercream of your dreams with these few tips and tricks.
Buttercream is a recipe that doesn't have to be hard or super involved, but is also slightly difficult to get completely perfect. If you don't know your way around the art of buttercream, it can be slightly frustrating!
While this easy cinnamon buttercream is just one variation of a buttercream recipe, I want to use this opportunity to give a few tips and tricks to helping you make your frosting as amazing as possible.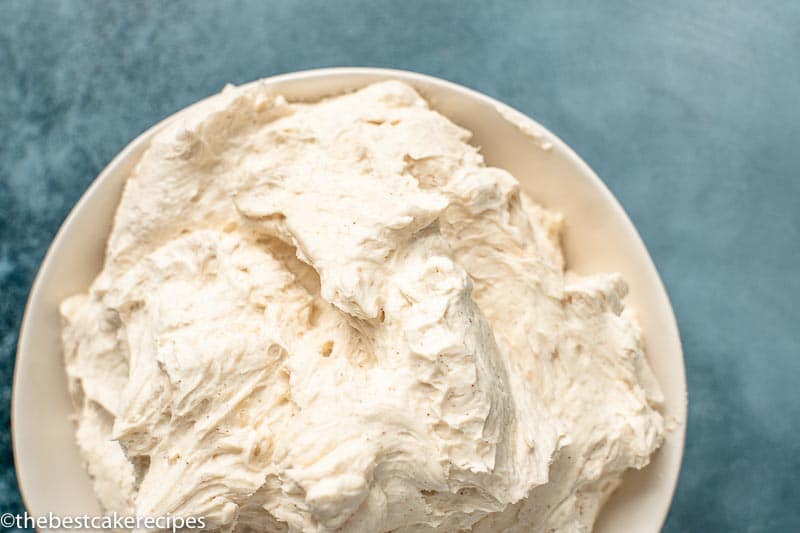 How Do I Make Buttercream More or Less Sweet?
Sometimes, you want to make your buttercream less sweet and have a little more flavor than just sugar. Sometimes, you need it to be a little bit more sweet!
Usually, frostings that are sickeningly sweet use a lot of shortening instead of butter. This means that without the rich butter flavor, a lot of times the frosting will taste very sweet. If you want your frosting to have a deeper flavor, do half butter and half shortening. Or, do all butter!
If your frosting seems to intense and buttery, try substituting half of your butter for shortening. It all depends on preference, so play around with what flavor you might like!
What's the Difference Between Whipped Cream and Buttercream?
Whipped cream is for the people who love a light, airy topping for their cake or dessert. It's just a little sweet, and adds to the flavor of the cake instead of being its own strong flavor.
Buttercream, on the other hand, is a more intensely sweet flavor. It's a combination of butter, sugar, milk, and vanilla, and with the right consistency it's perfect for cake decorating. It's easier to spread and smooth into a thinner coating on your cake.
Depending on your preference, both of these frostings are amazing for different types of cakes!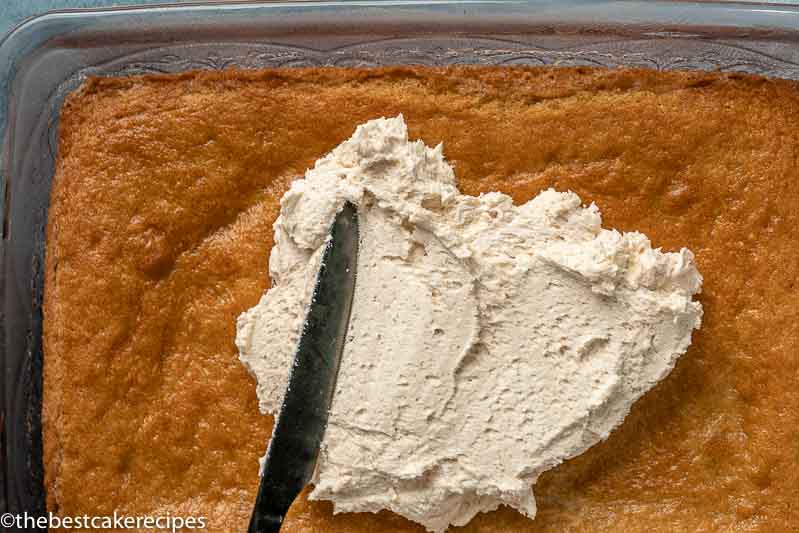 How Do I Thicken or Thin Out My Buttercream?
This is the part of making buttercream that is always slightly confusing – how do I get the consistency I want? Lucky for you, the process is actually SO simple!
To Thicken: Use a little bit more powdered sugar until you've reached your desired thickness. If it's not getting to where you want it and it's getting really sweet, chances are you didn't have enough butter in your frosting to begin with. To start out, we use 1 cup of butter and 4 cups of powdered sugar.
To Thin Out: If your frosting is too thick, add heavy cream or milk by the tablespoon, whipping in between to get desired consistency. It's easier to thin out your frosting than to have to thicken it back up, so make sure you're careful to only use as much as you need and whip your frosting a lot!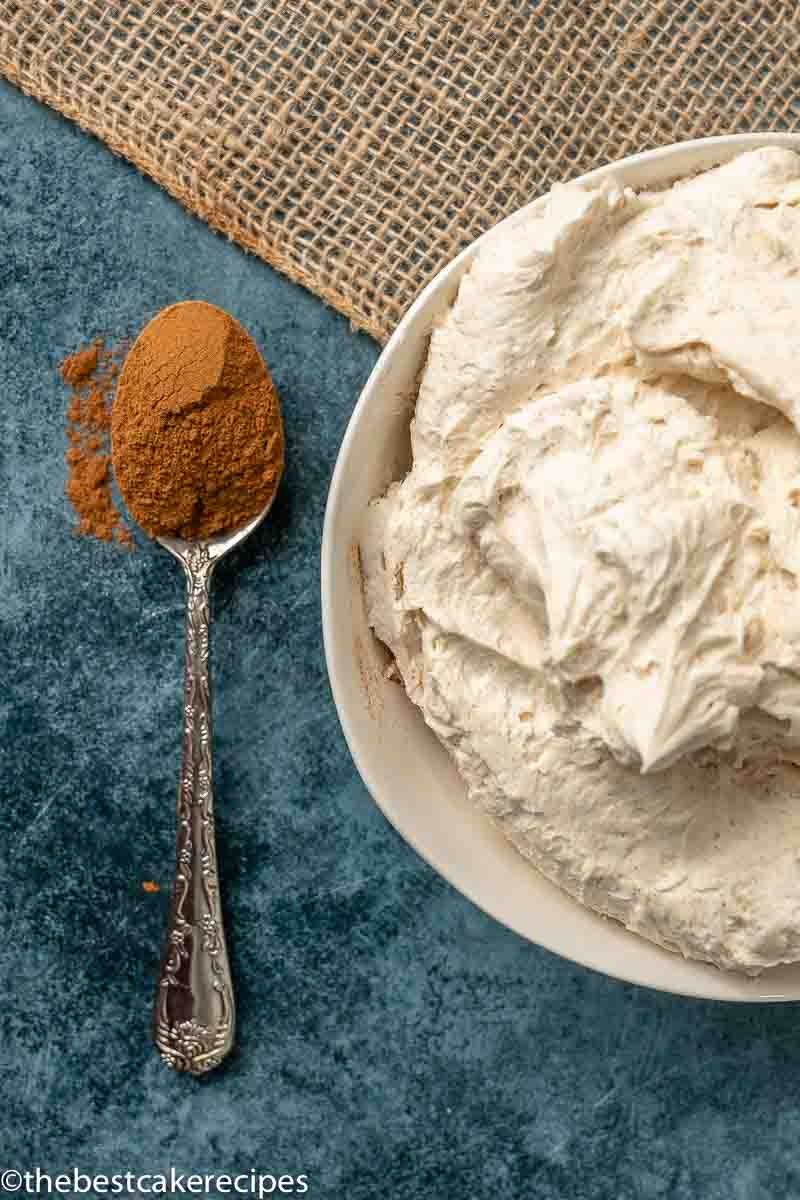 Best Ingredients For Easy Cinnamon Buttercream
To make your buttercream recipe REALLY stand out, here are the best ingredients to use!
Powdered sugar. Using granulated sugar will make your frosting grainy, or not very smooth in texture.
Salted Butter. While it's up to preference, using butter in your buttercream frosting will make your frosting more flavorful, and less sickeningly sweet. If you don't want to use all butter, you can use shortening. Salted butter is important because it enhances the flavor even more!
Whole milk or heavy cream. While substitutions like fat-free milk or almond milk can be used, whole milk or heavy cream is the best for your buttercream!
Vanilla. A little vanilla goes a long way – but you'll love what it adds to the flavor of your frosting!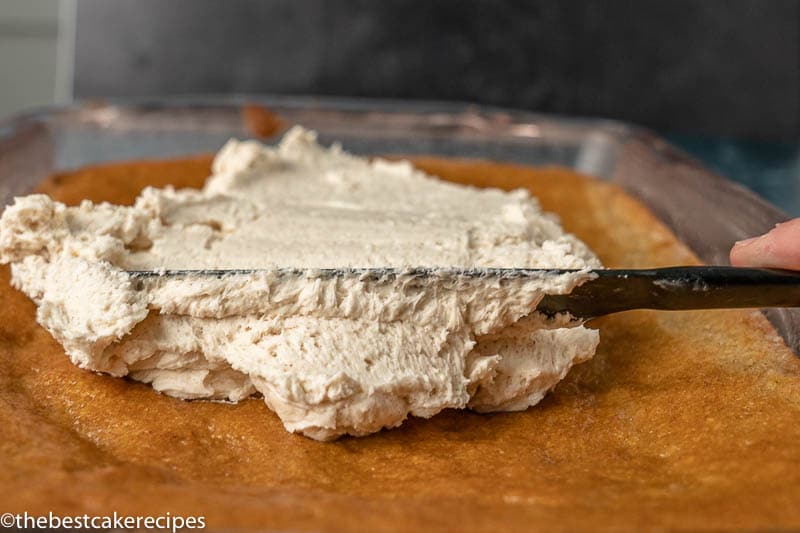 How to Make Buttercream
Here's a more involved step-by-step on how to make your buttercream the absolute best it can be:
Whip the butter. Make sure it is fluffy and lighter in color. Do this before you do anything else, and your frosting will taste and look 10x better!
Add the powdered sugar in slowly. After adding the vanilla, cinnamon, and salt, you'll want to slowly add your powdered sugar to make sure it all gets incorporated in.
Once the frosting becomes thick, alternate powdered sugar and heavy cream into your mixture. Don't add much heavy cream, though – you'll want to make sure your frosting is thick enough to spread.
Whip your frosting for at least 2 minutes. If after whipping you realize that it's still a little too thick, add a tablespoon of heavy cream and whip again. Keep doing this until you find your desired texture!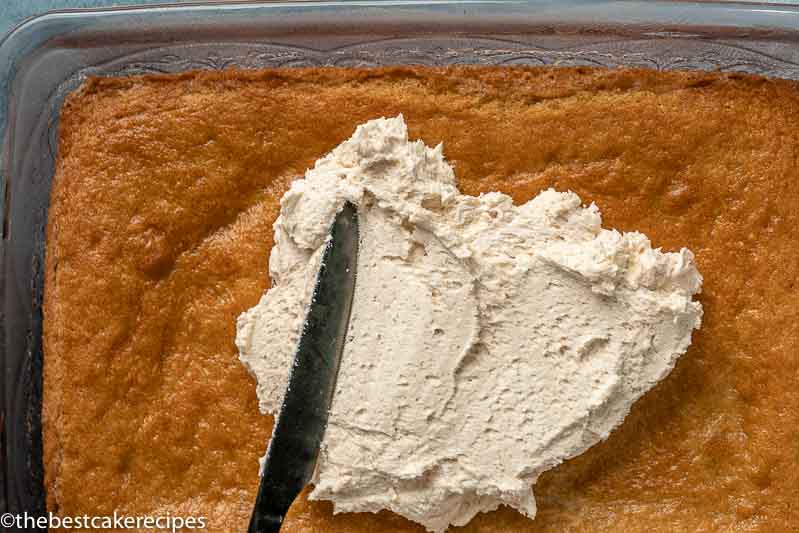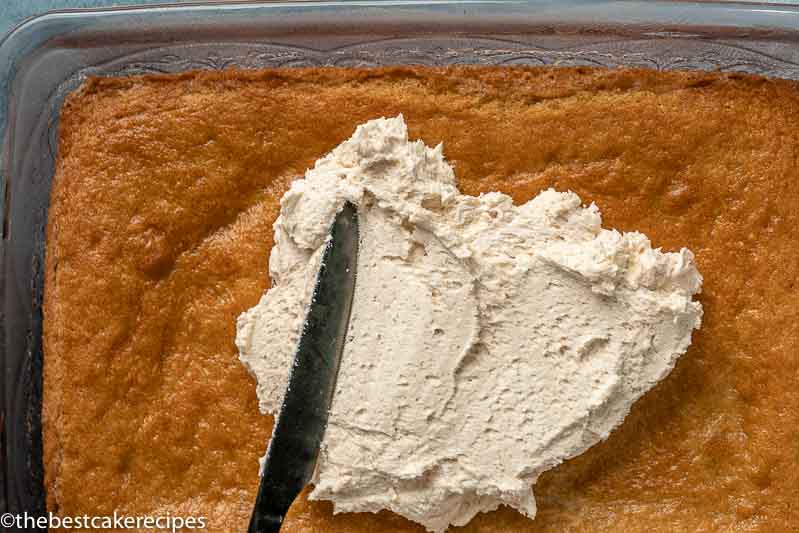 Easy Cinnamon Buttercream
This simple cinnamon buttercream is so addicting and goes with so many different types of cakes! You'll love how delicious and easy this recipe is.
---
Instructions
Whip the butter alone in a stand mixer on medium for 2 minutes or until fluffy, almost white in appearance and lighter in texture.

Add the vanilla and cinnamon. Add the powdered sugar slowly, mixing between each addition.

Alternate the last bit of powdered sugar and the heavy cream, and whip the frosting on high for at least 2 minutes. If the buttercream is too thick after 3 tablespoons of heavy cream, add a fourth tablespoon.

Frost cupcakes or cake with this buttercream, or store in an airtight container. This frosting must be stored in the fridge, and will keep for about 5 days. You can also freeze it for up to a month.
Notes
This is enough frosting to frost one 9×13 cake or one two layer 8 or 9″ cake.
Nutrition
Calories:
246
kcal
|
Carbohydrates:
33
g
|
Protein:
1
g
|
Fat:
13
g
|
Saturated Fat:
8
g
|
Cholesterol:
37
mg
|
Sodium:
110
mg
|
Potassium:
4
mg
|
Fiber:
1
g
|
Sugar:
31
g
|
Vitamin A:
422
IU
|
Calcium:
11
mg
|
Iron:
1
mg
Other Buttercream Frosting Recipes