Mascarpone Cream Frosting
A delicious, light, and simple frosting to top cakes that only need a little bit of sweetness. You'll love how incredibly easy this mascarpone cream frosting recipe is!!
While you may be scared to make your own whipped topping, this frosting recipe proves that it's not hard at all. In fact, it only takes minutes. If you've struggled to find the "stiff peak" form of those amazing whipped cream recipes, you've come to the right place.
Within just a few minutes you can have all the knowledge you'll need about this type of whipped frosting!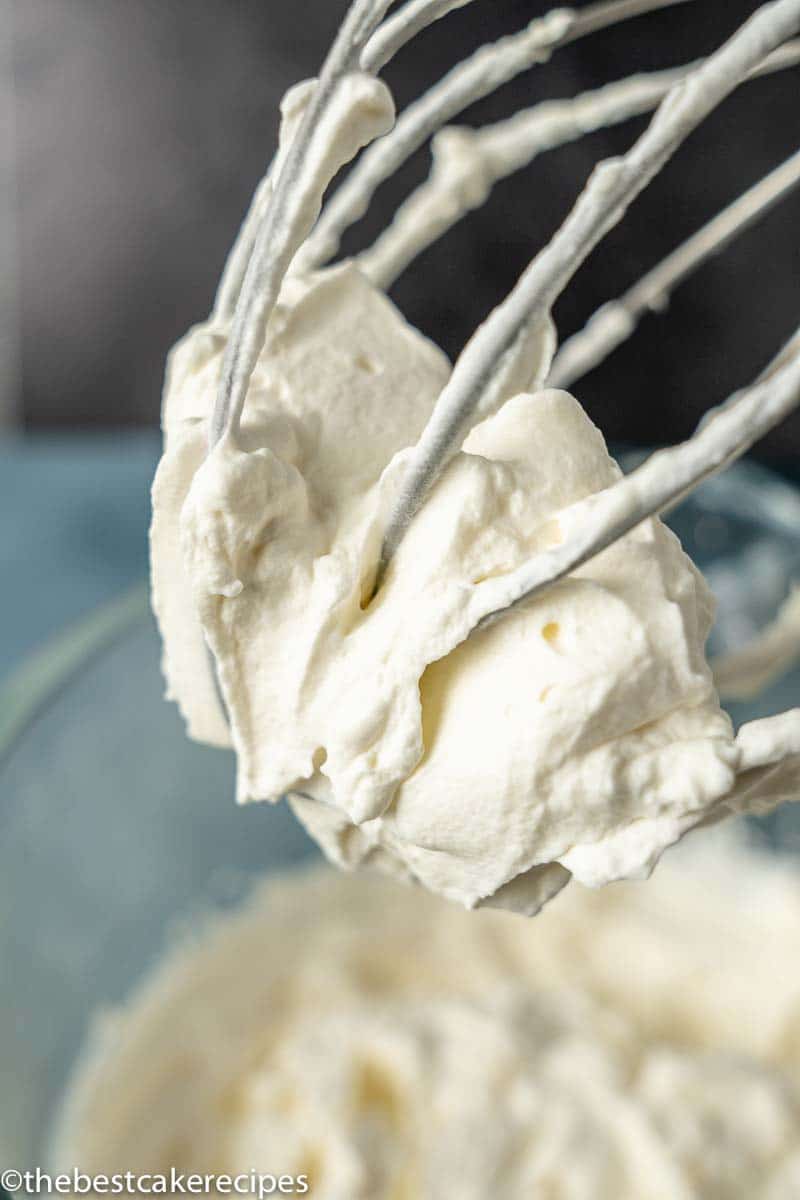 What You'll Love About This Recipe
This recipe is simple. With just 4 ingredients, you can have one of the most addicting frostings EVER.
It can be used for so many different types of cakes! Sheet cake, coffee cake, layer cake… if you love a light frosting on your cakes, you'll want to use this for everything!
It's easy to frost cupcakes with! You'll love how this simple frosting looks on cupcakes. You can even pipe it, using a larger tip.
Is Heavy Cream The Same As Whipping Cream?
Heavy cream and heavy whipping cream are very similar and can be exchanged in this recipe. However, light whipping cream is different and will not work as well as heavy cream. Half and half is also not as rich as heavy cream and cannot be used in place of it.
How to Make Whipped Cream From Scratch
Here are a few tips to make this process SO much easier!
Keep bowl and ingredients cold. When your mixing bowl and whisk are cold, it keeps the ingredients from getting too warm and not becoming stiff.
Use a stand mixer and a whisk attachment. When we use this, it usually takes less than two minutes to get the whipped cream to the desired consistency!
Blend other ingredients well before adding the heavy whipping cream. Then, when adding the cream, get all of your ingredients mixed in before whipping the mixture.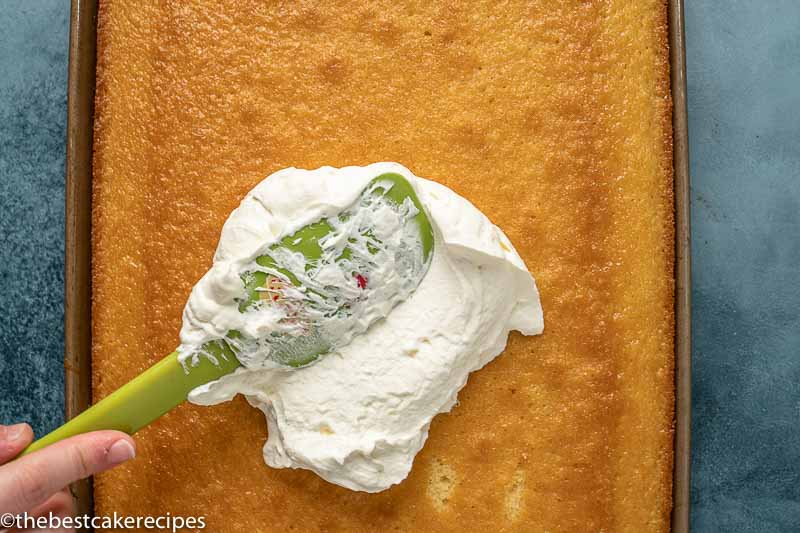 How To Make Mascarpone Cream Frosting
This recipe can be very simple, but here are some more detailed instructions on how you can make this perfectly.
Mix the mascarpone, sugar, and vanilla first. This helps make sure everything is mixed in before it gets whipped.
Mix the heavy cream on low with the other ingredients. Once again, get all your ingredients incorporated together.
Use a whisk attachment and beat on high for 2 minutes. Once you start to see the cream stiffen, stop beating it.
Frost immediately on cake and store it in the fridge covered in plastic wrap.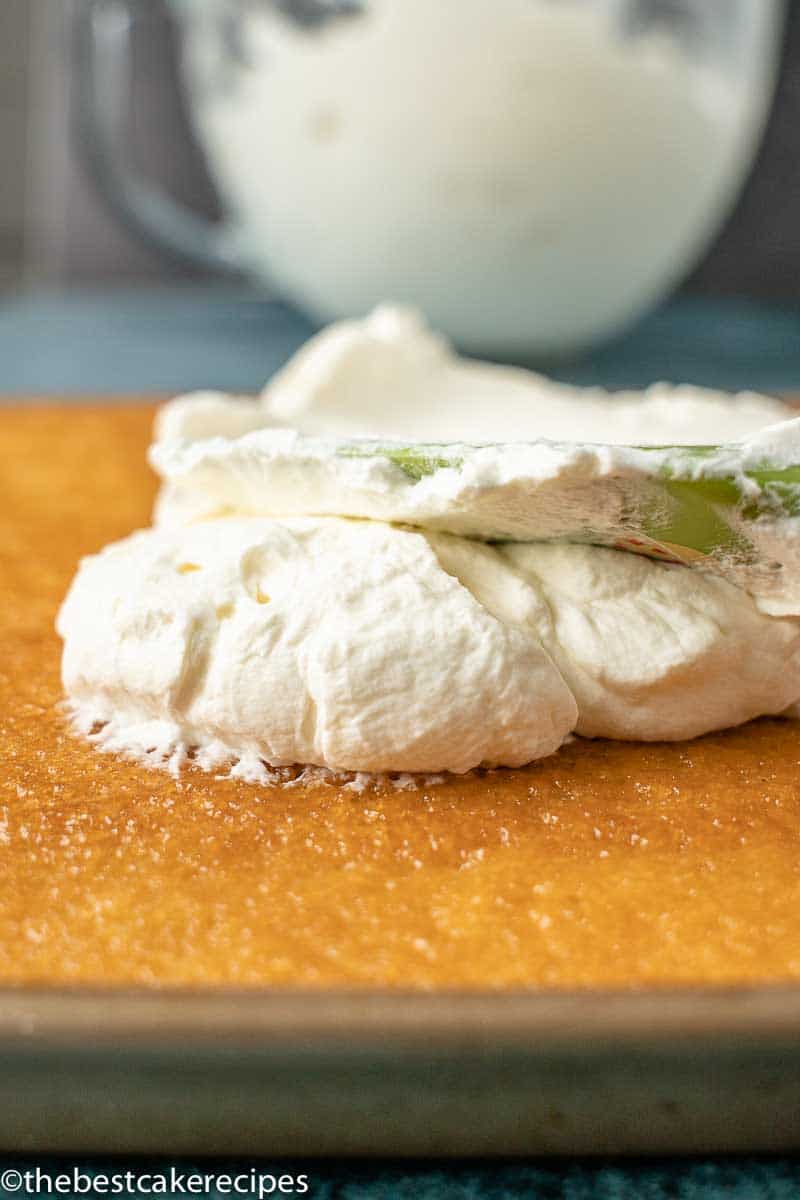 How To Store Whipped Frosting
It's best if this frosting is used immediately on your dessert of choice. Store in the fridge in an airtight container or covered in plastic wrap.
If making this frosting ahead of time, make sure to put it in an airtight container and store in the fridge. It will keep for a few days, but because it is whipped, it will not hold its texture for long periods of time. It's best to make this the same day you're frosting your cake, if possible.
Cakes That Go With Mascarpone Cream Frosting
Here's a list of cakes and cupcakes that will go well with this frosting!
…. You get the idea. This frosting would be good on almost ANYTHING!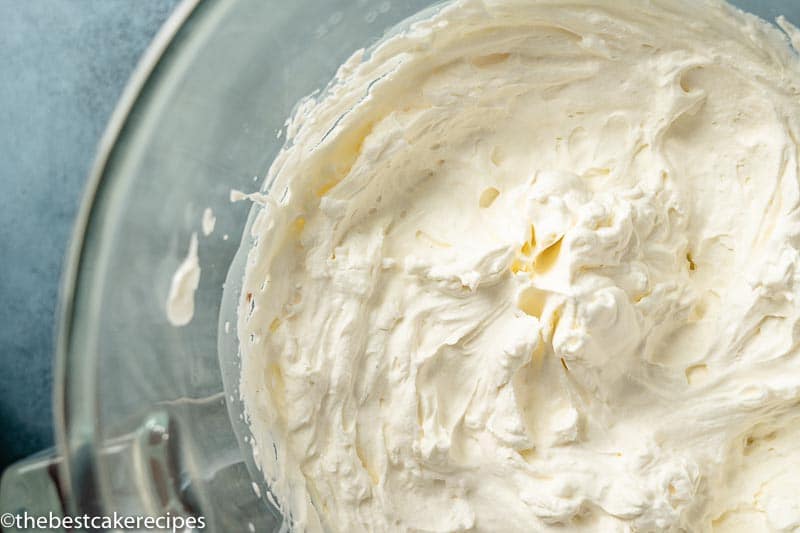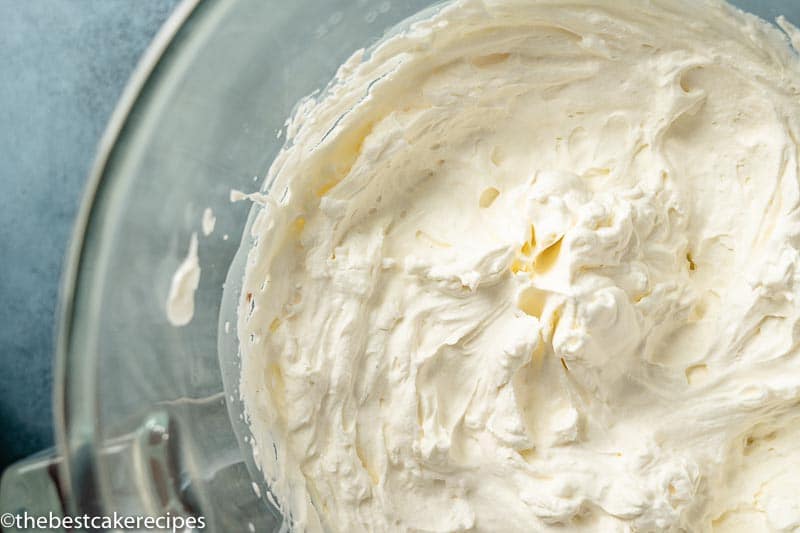 Mascarpone Cream Frosting
A quick, light, and oh-so delicious frosting that pairs well with so many cakes! If you're not a fan of intense or overly sweet frostings, this recipe is for you.
---
Instructions
Using a whisk attachment, blend the cheese, sugar, and vanilla on low until fully incorporated.

Add the heavy cream to the mixture and mix on low, scraping the sides, until it is fully mixed in.

Whip the mixture on high for 2 minutes, or until the cream stiffens and holds its shape.

Ice immediately on cake or cupcakes and store in an airtight container in the fridge. If saving the frosting for later, cover it with plastic wrap. This frosting will only keep for a few days and is best fresh.
Notes
The calories shown are based on the frosting serving 15, with 1 serving being 1/15 of the frosting. Since different brands of ingredients have different nutritional information, the calories shown are just an estimate. **We are not dietitians and recommend you seek a nutritionist for exact nutritional information.**
Nutrition
Calories:
95
kcal
|
Carbohydrates:
2
g
|
Protein:
1
g
|
Fat:
9
g
|
Saturated Fat:
6
g
|
Cholesterol:
29
mg
|
Sodium:
10
mg
|
Potassium:
12
mg
|
Sugar:
2
g
|
Vitamin A:
339
IU
|
Vitamin C:
1
mg
|
Calcium:
21
mg