Raise your hand if you're a fan of cake! I can raise both hands to that. Strawberry Pudding Cake is like having a slice of heaven, right in your own mouth. With this cake, it can be cake time, any time!
When I'm thinking of the perfect dessert to make, it can sometimes be hard to choose. This is why I always revert to desserts with strawberries. When summer hits and you can't think of which fruits to start growing, always go with some sort of berry because they make the best cakes.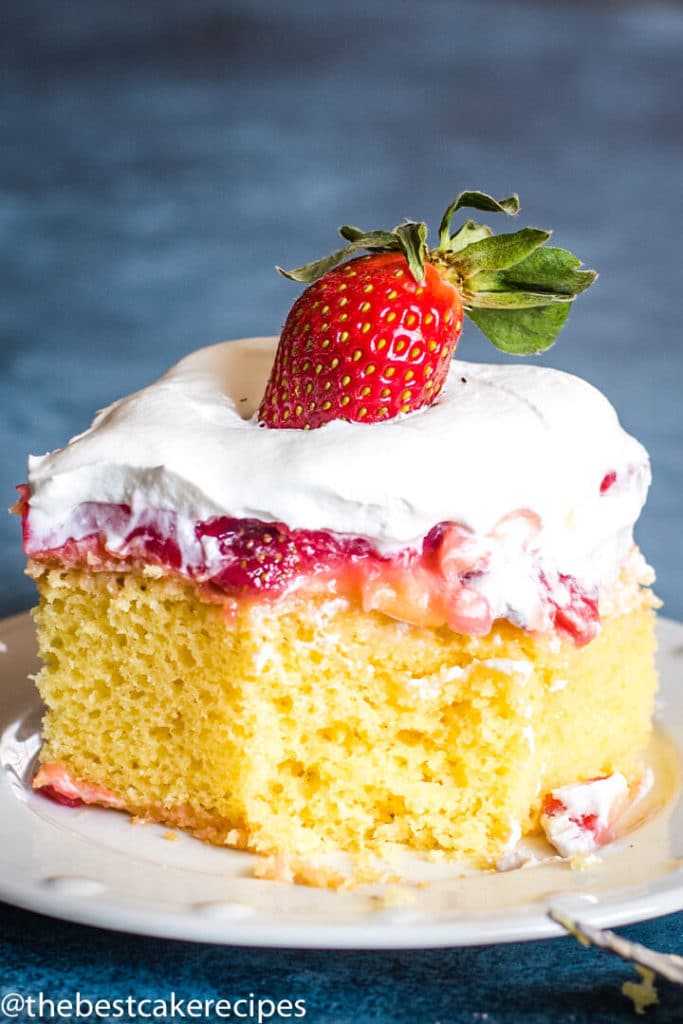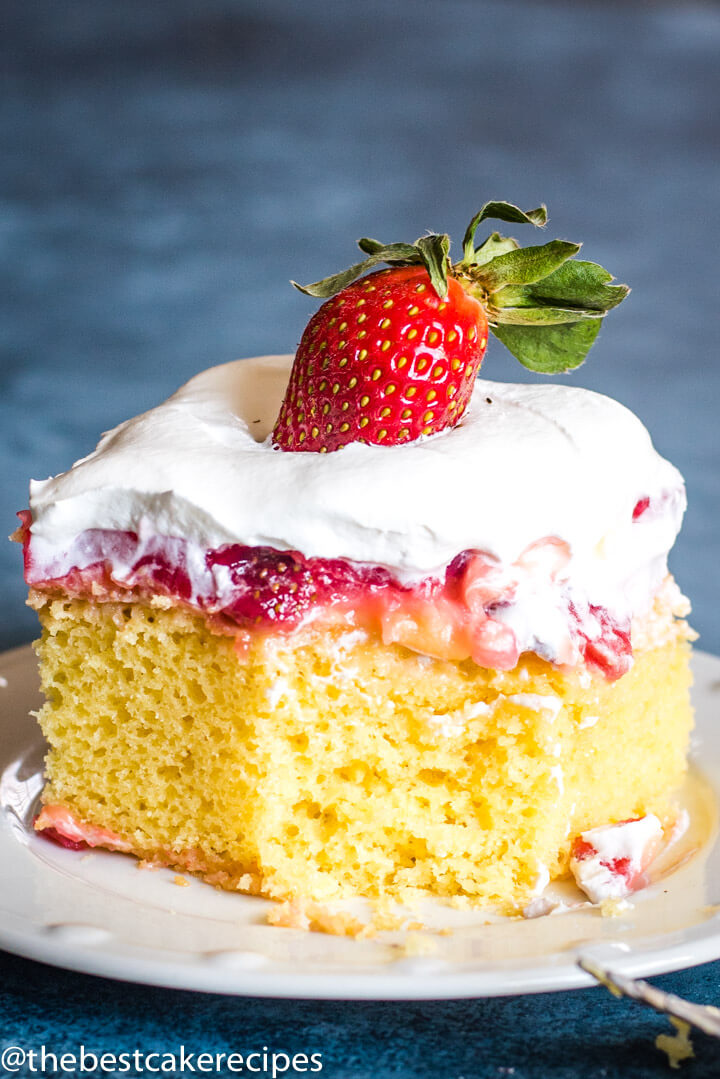 How to Make a Cake with Pudding
The first step to making any delicious cake is knowing how to make the actual cake part of it. This cake uses a box cake mix, which will make your life a lot easier. A box cake can help you make many delicious recipes. And the flavors are endless.
I like how this cake is simple and you can put it together in no time. This is one cake recipe I like to make for birthdays and special occasions.
Want a cake with pudding from scratch? Try our hot fudge pudding cake.
Pudding and Jello Layers
I think one of the best parts of this Strawberry Pudding Cake is that it's made from simple ingredients. When you serve this, you can say that you made it with ease. Let's talk about how to make the pudding for this cake.
Start by using instant pudding and then adding 2 cups of milk. You'll want to use a whisk and stir it, until it's smoothed.
Next, you'll put the pudding on top of that beautiful cooled cake. Then, you'll put the strawberry jello mix on top of the pudding layer. Top with whipped cream.
Whatever you do, cool this amazing cake for two hours in the fridge, before serving! Also, store it in the fridge afterwards too. You don't want this beautiful cake to go bad!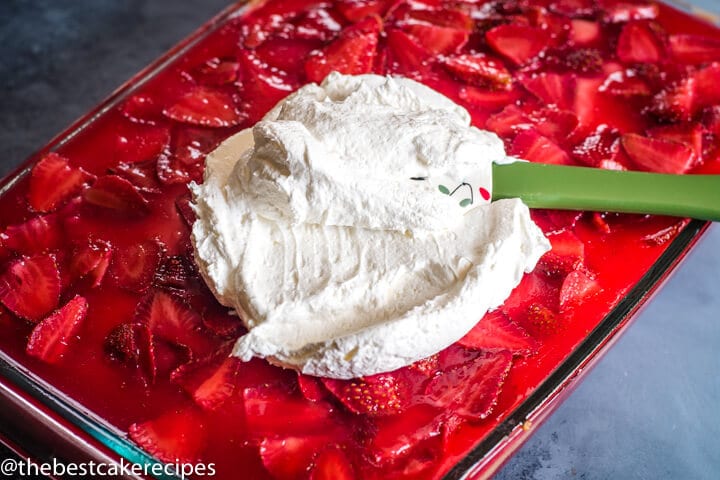 Layers are Everything
When you're making a cake, presentation is everything. Look at this cake for example, the layers make the cake look magnificent. I think when a cake looks pretty, it also tastes that much more delicious.
This particular Strawberry Pudding Cake just looks so good because the cake layer, Jello layer, and pudding layer. Let's not forget about the whipped cream layer either. That my friends is how layering is done. And you can even add a scoop of vanilla ice cream or sprinkles on top for an extra layer.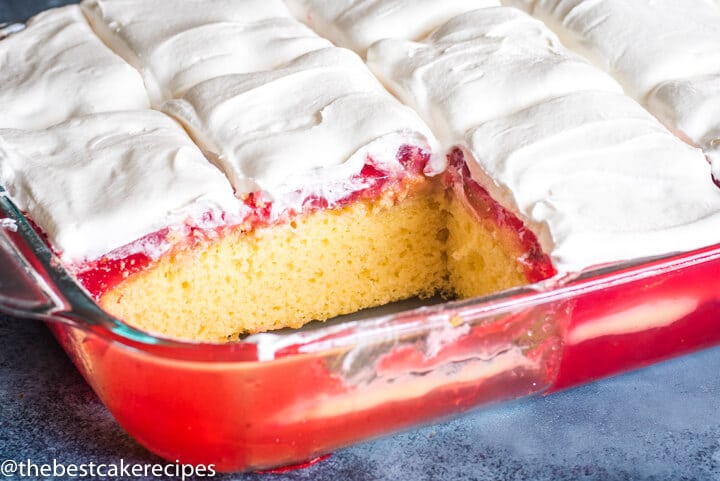 Why make a pudding cake?
Have you ever thought to yourself, why make a pudding cake? Isn't it going to be hard? Why spend the time layering and making all these different layers of the cake?
Most of the time, pudding cakes are fairly easy to make. Since pudding can only be made one way, it's not like you can mess it up too bad. If you can swing it, try and make a pudding cake, you won't regret it.
To be honest, pudding cakes are GOOD! If you don't like your cakes dry, then you need to make them this way. YUM!
How do you make a cake moist?
Alright friends, I'm about to tell you a secret. You can actually make a cake more moist by adding pudding to it. So, in the future, if you want any cake to turn out good, you can do so by adding one box of instant pudding to a cake's dry ingredients. Here are a few more ways to make cake moist…
Add extra vegetable oil to the cake
Use real butter
Of course, you don't want to do ALL of these steps, just choose one. I thought it was neat that instant pudding can help make a cake moist.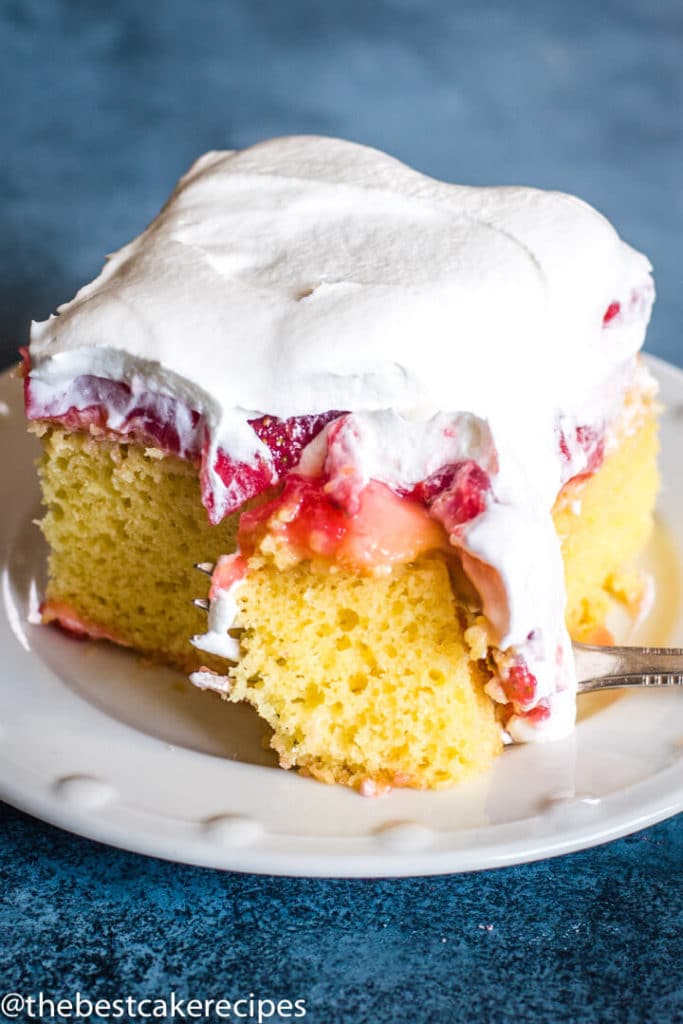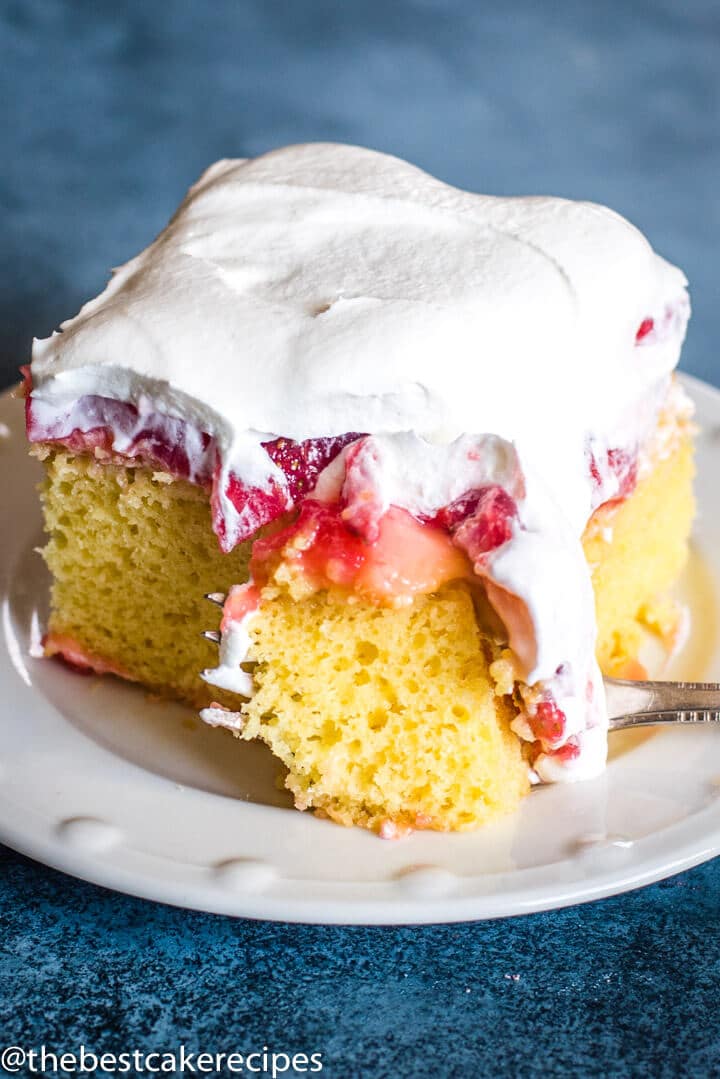 How to Stabilize Whipped Cream
This cake calls for Cool Whip, but what if you want homemade whipped cream?
Have you ever thought of stabilizing whipped cream? While this may seem like a foreign topic, it's not really all that crazy of an idea. You can stabilize homemade whipped cream by following these directions.
Whip your whipping cream with the whisk attachment on your hand hand held blender.
Add confectioner's sugar as you hand blend
Add vanilla (you can also use cornstarch or pudding mix)
Continue to work that hand held blender until you get those stiff peaks.
You'll want those peaks to be able to hold themselves in place.
This is just one way to stabilize whipped cream. There are MANY other ways!
I hope you enjoy this cake as much as we do. It's really one of my favorites.
Storage Instructions
Room temperature: Do not store any leftovers at room temperature.
Refrigerator: Store this cake in an airtight container in the fridge for up to 5 days. Bring to room temperature before eating.
Freezer: Freeze the cake whole or sliced in an airtight container for up to 2 months. Thaw in the fridge before eating.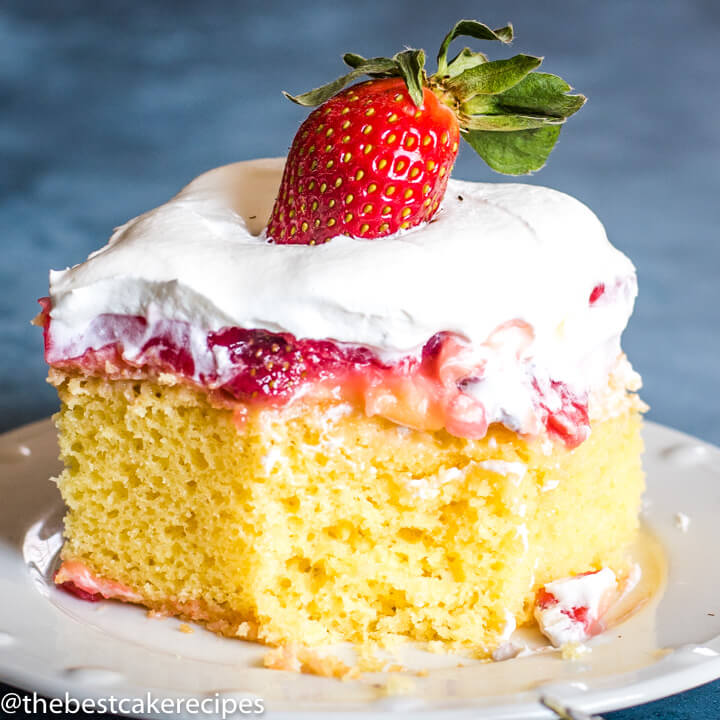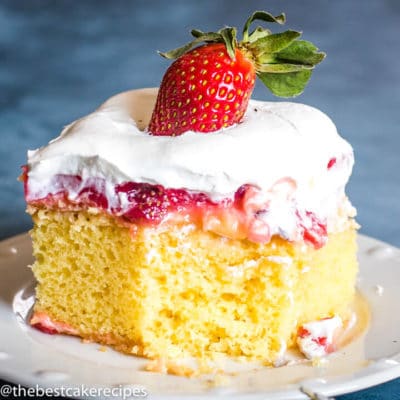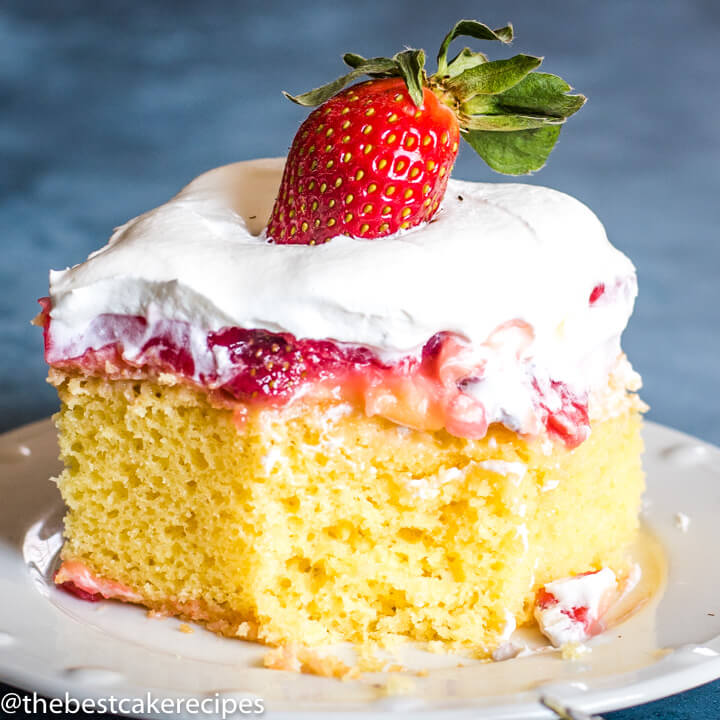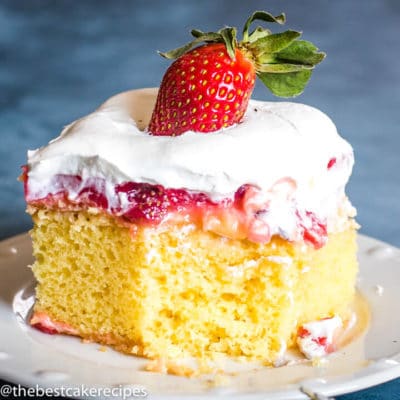 Strawberry Pudding Cake
Raise your hand if you're a fan of cake! I can raise both hands to that. Strawberry Pudding Cake is like having a slice of heaven, right in your own mouth. With this cake, it can be cake time, any time!
---
Ingredients
1

box

yellow cake mix

(plus ingredients on the back of the box)

1

cup

sugar

2

tablespoons

cornstarch

1 1/2

cups

water

1

quart

fresh strawberries

(washed, hulled and sliced)

3.4

ounces

instant vanilla pudding

(1 small box)

2

cups

cold milk

3

ounces

strawberry Jello

12

ounces

whipped topping
Instructions
For the cake:
Bake the cake in a 9×13 baking dish according to the box oven instructions. Allow the cake to cool.
For the Jello:
In a saucepan, combine the sugar, cornstarch and water. Bring to a boil and allow to boil until the water is clear.

Allow the Jello mix to cool and add the sliced strawberries.
For the pudding:
Mix the instant pudding with the 2 cups of milk in a medium bowl. Use a whisk and stir until smooth.

Pour and spread the pudding on top of the cooled cake.

Spoon the cooled (but not set) strawberry jello mix on top of the pudding layer.

Allow this cake to set in the refrigerator for at least 2 hours before serving. Store this cake in the refrigerator.
Notes
The calories shown are based on the cake being cut into 15 pieces, with 1 serving being 1 slice of cake. Since different brands of ingredients have different nutritional information, the calories shown are just an estimate. **We are not dietitians and recommend you seek a nutritionist for exact nutritional information.**
Nutrition
Calories:
319
kcal
|
Carbohydrates:
65
g
|
Protein:
3
g
|
Fat:
5
g
|
Saturated Fat:
3
g
|
Cholesterol:
3
mg
|
Sodium:
350
mg
|
Potassium:
178
mg
|
Fiber:
1
g
|
Sugar:
48
g
|
Vitamin A:
75
IU
|
Vitamin C:
37.1
mg
|
Calcium:
136
mg
|
Iron:
1
mg
Other Strawberry Cake Recipes