If you're craving banana cake but don't have much time, try this easy 4 ingredient banana cake. A semi homemade cake with chocolate frosting.
We've got our fair share of banana cakes on this site. Easy banana cake, banana split cake, banana pancake cake and even a healthy banana cake.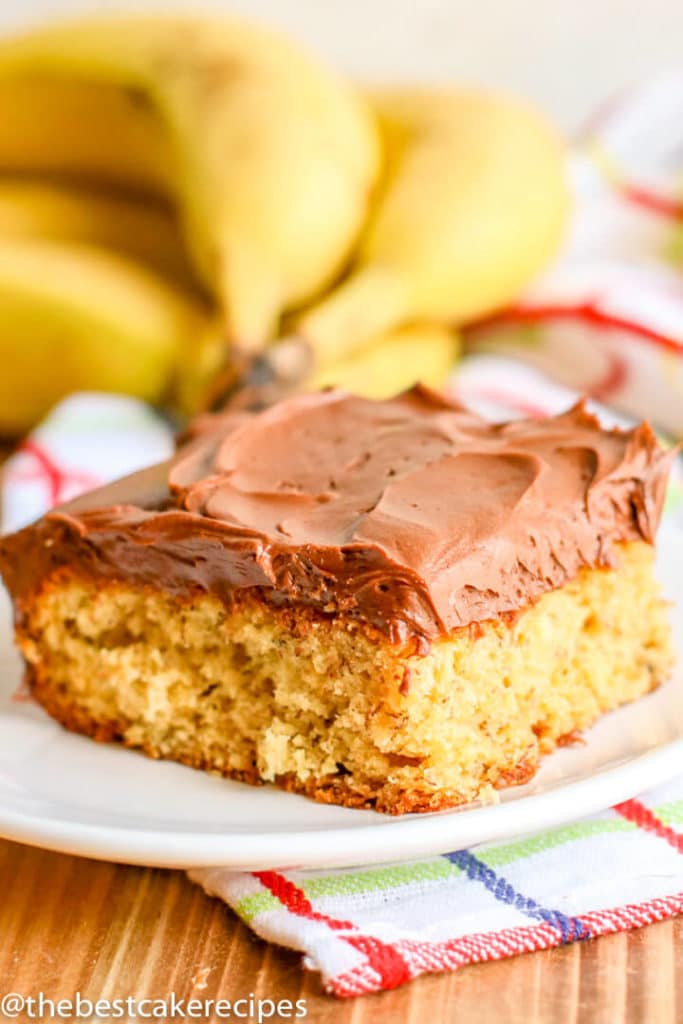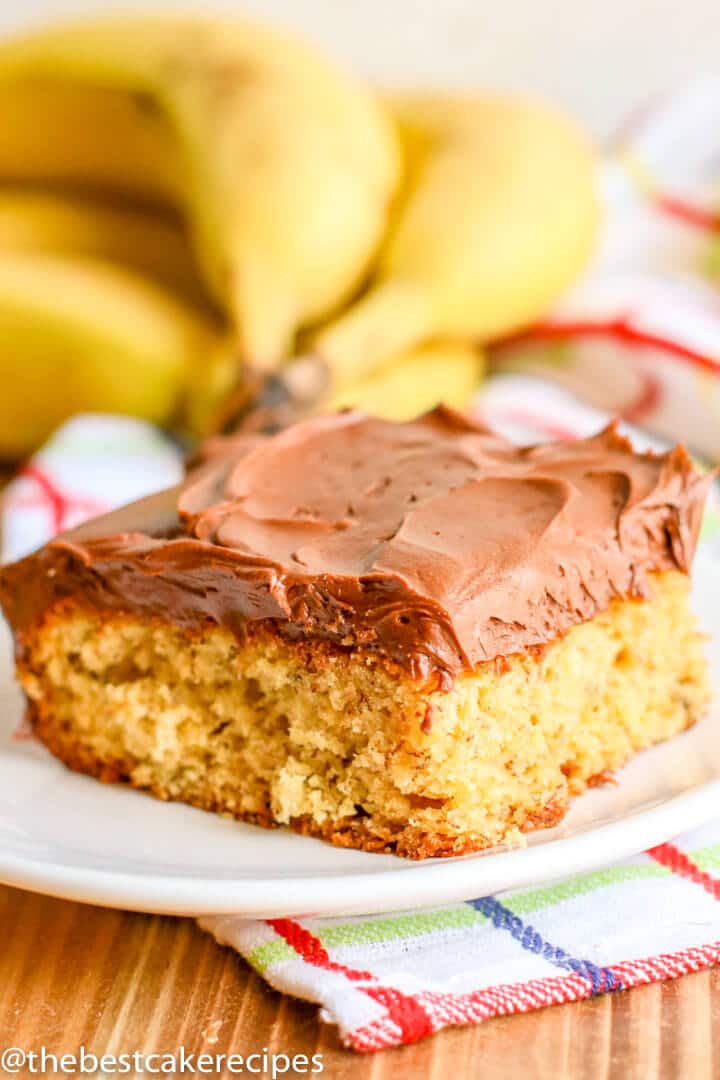 Bananas are ideal for making cakes. Not only do they add flavor, but they really add extreme moisture to cakes, whether from scratch or semi homemade.
Today we're not only sharing a cake with fresh fruit, but also an easy cake.
4 Ingredient Cake
One thing I love about box cake mixes is how versatile they are. With just a few ingredients (that you most likely have in your pantry), you can throw together an easy cake of just about any variety.
In this easy banana cake there are 4 ingredients:
box cake mix (we used yellow cake)
2 eggs
oil
ripe bananas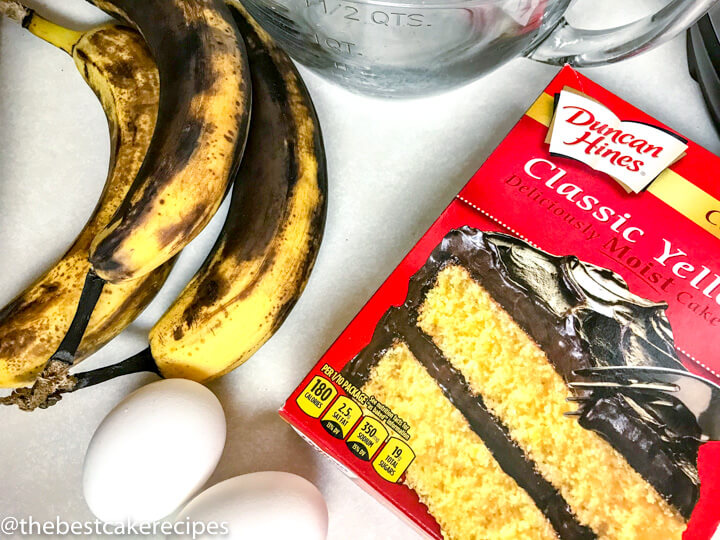 How ripe should bananas be for baking?
The best bananas for baking have quite a bit of black on them. When the bananas are overripe with a lot of spots, the bananas will be sweet, full of flavor and easy to mash.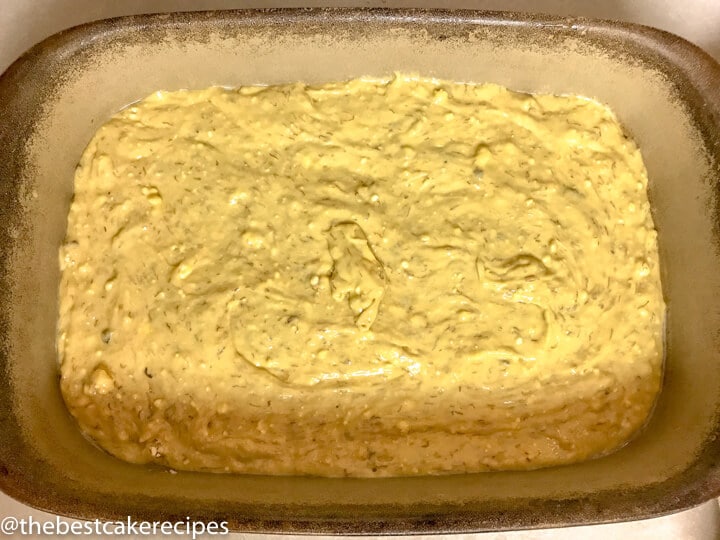 Can I use stoneware to bake a cake?
Yes! We baked this cake in a stoneware pan. Cakes bake perfectly in stoneware, but you do have to watch the time. Because the stoneware has to heat, the cake will take a few minutes longer to bake through.
If you choose to use a glass pan or metal pan the cake may not take quite as long to bake.
Do you have to grease a stoneware pan?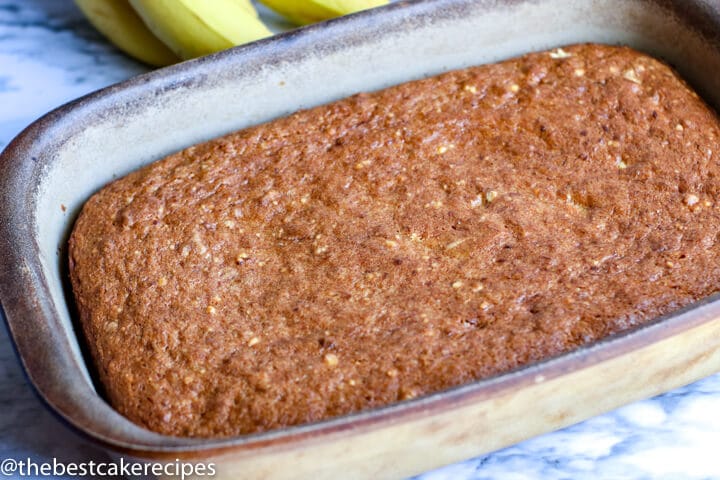 What to frost banana cake with?
We chose to frost this cake with chocolate frosting. You can use a dark chocolate frosting or a sour cream frosting.
You can also frost the cake with cream cheese frosting, whipped cream or simply dust the cake with powdered sugar.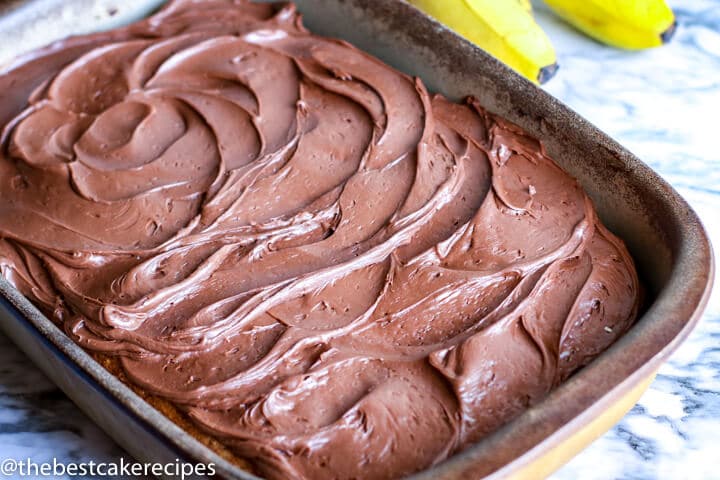 How do you store a fruit cake after baking?
After you bake a banana cake, it is safe to store at room temperature. Simply cover the cake or place it in a storage container to keep as much air out as possible.
Can you freeze banana cake?
Yes! This cake freezes well. The bananas help keep the cake moist. Be sure to seal the cake well before freezing.
When you are ready to eat the cake, pull the container out of the freezer. Allow the cake to come to room temperature before opening the container. This helps keep the moisture into the cake.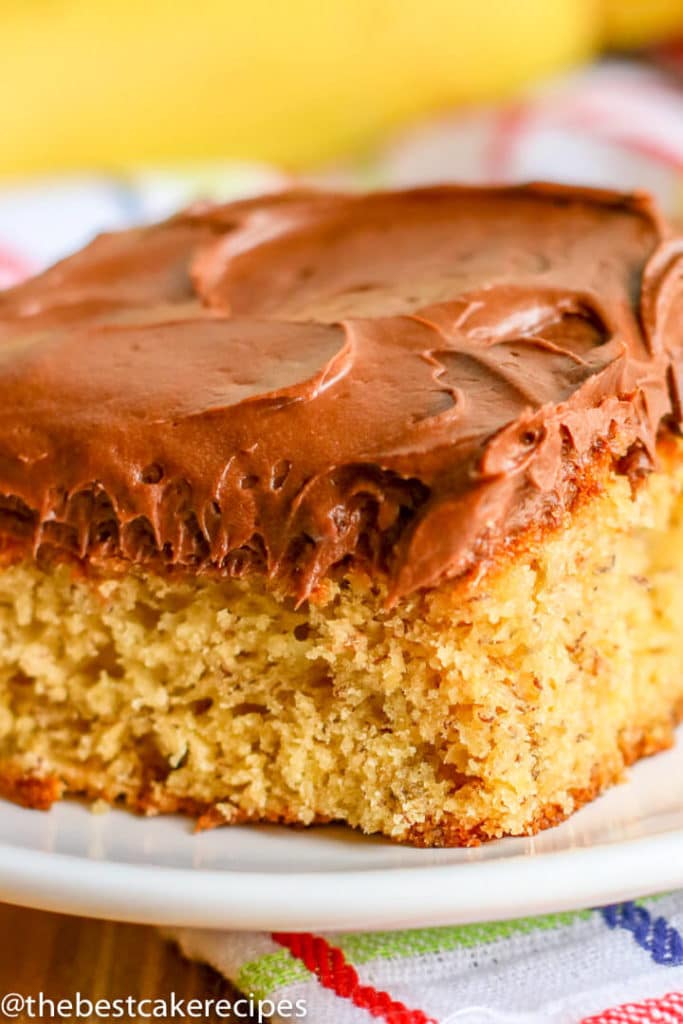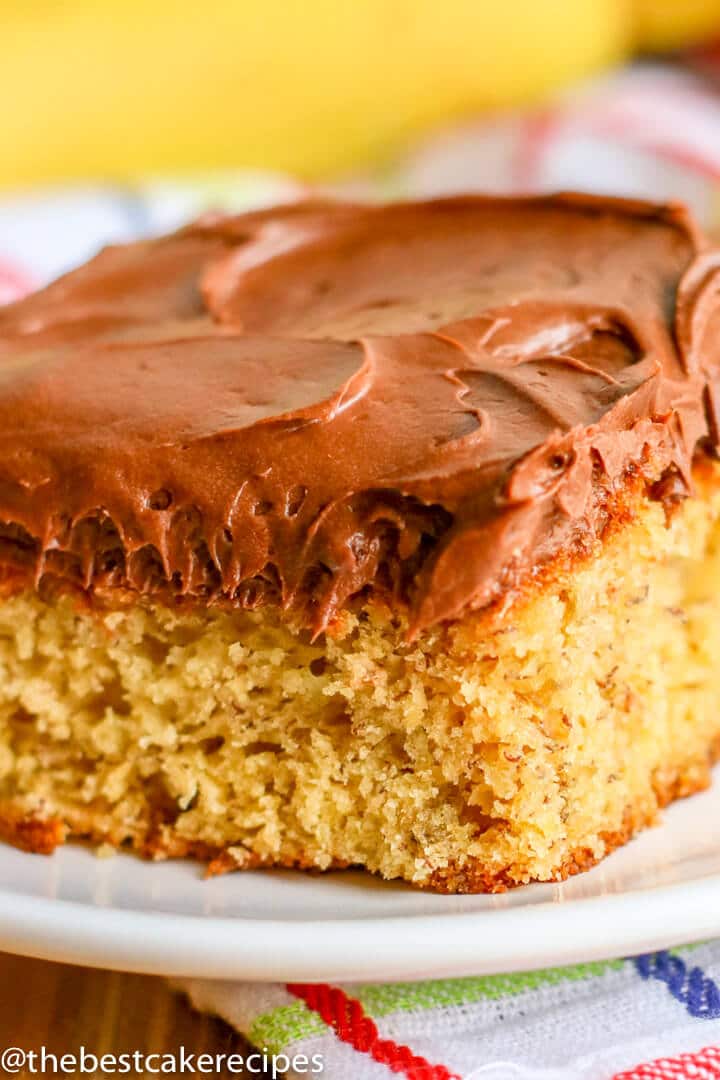 Other Easy Cake Recipes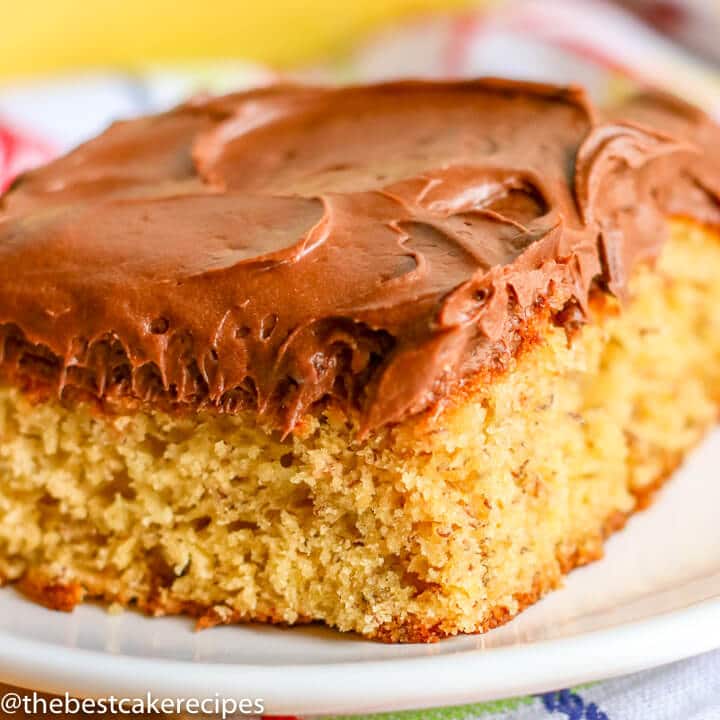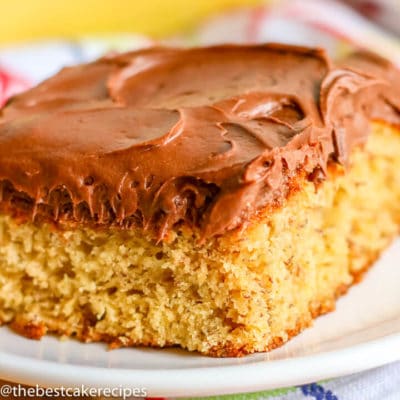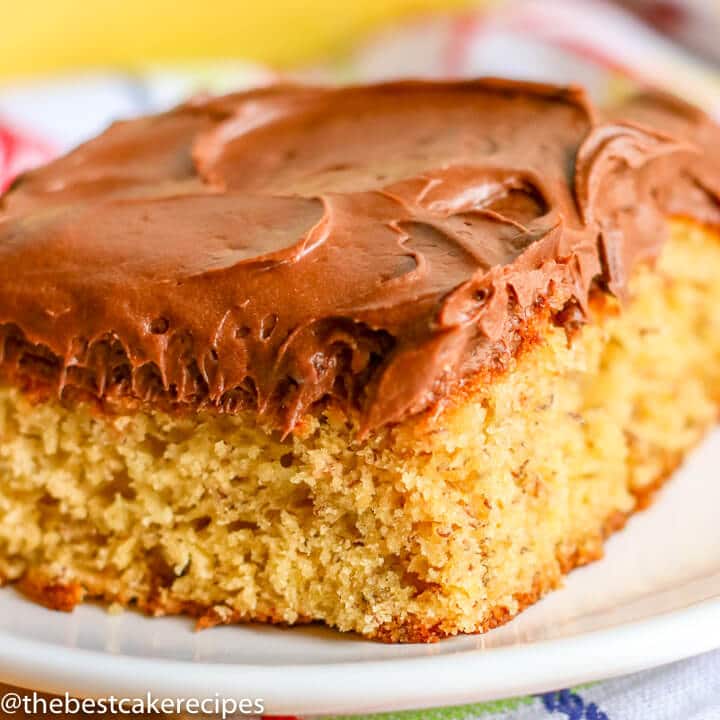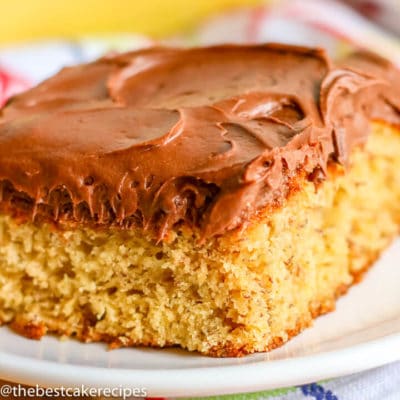 4 Ingredient Banana Cake
If you're craving banana cake but don't have much time, try this easy 4 ingredient banana cake. A semi homemade cake with chocolate frosting.
---
Instructions
Preheat oven to 350 degrees. Spray a 9×13 baking pan with non-stick cooking spray.

In a large bowl, mash bananas. Add eggs and oil. Mix well.

Mix in yellow cake mix until all ingredients are blended together.

Transfer batter to prepared baking dish. Smooth batter evenly in pan.

Bake for 45 to 50 minutes or until a toothpick inserted in the middle comes out clean.

Frost with your favorite chocolate frosting or dust with powdered sugar.
Notes
The calories shown are based on the cake being cut into 15 pieces, with 1 serving being 1 slice of unfrosted cake. Since different brands of ingredients have different nutritional information, the calories shown are just an estimate. **We are not dietitians and recommend you seek a nutritionist for exact nutritional information.**
Nutrition
Calories:
222
kcal
|
Carbohydrates:
34
g
|
Protein:
2
g
|
Fat:
9
g
|
Saturated Fat:
7
g
|
Cholesterol:
28
mg
|
Sodium:
262
mg
|
Potassium:
111
mg
|
Fiber:
1
g
|
Sugar:
18
g
|
Vitamin A:
55
IU
|
Vitamin C:
2.1
mg
|
Calcium:
78
mg
|
Iron:
0.9
mg