What are extracts? How do you know what extracts to buy and when to use them? Here's a guide to extracts…everything you need to know to get the best flavor in your cakes!

Real Flavor Vs Flavor Extracts
If you're on a mission to create a cake that tastes just like your favorite fruit, you might want to consider extracts. It can be tempting to incorporate fresh fruit into your recipe, but baking with extracts is often a much simpler way to infuse your cake with your favorite flavor. Using baking extracts give you greater control over the actual outcome of your cake – you can opt for a hint of lemon or kick it up a notch (or three, if that's what you're going for!). There are endless flavor options when you look at extracts in the grocery store. You can make a cake taste like just about any of our favorite flavors simply by swapping out one extract with another.
Where to Buy Extracts
Where is the most common place to buy extracts? You can purchase many common extracts at your local grocer or specialty baking store. Many harder-to-find flavored extracts are available online. Amazon is a great source for extracts you may not find locally. If you're particularly interested in hand-crafted cakes and want to try your hand at making your own flavored extracts, it's not too tricky. All you need is a small sealable container, some vodka, and a little patience. This video is a great place to start.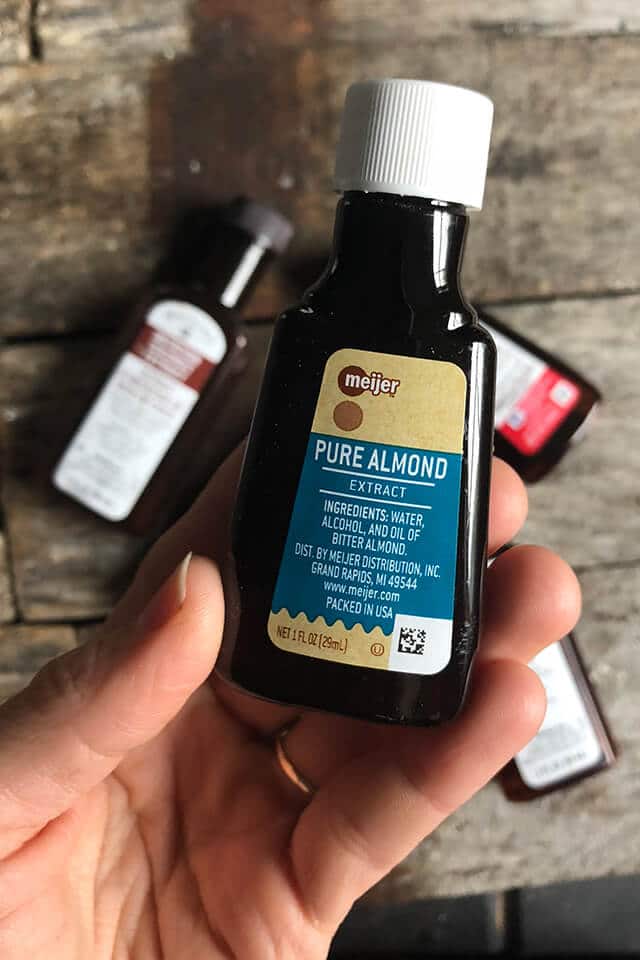 Are generic brand extracts ok?
Yes! We've found it is ok to buy store brand versions of extracts. The one key thing you'll want to watch for us to not buy one labeled "imitation". Stay away from imitation vanilla and almond flavorings. Buy extracts labeled "pure" when possible. We buy whatever is on sale. Extracts can be pricey, so I like to get the greatest quality for the least amount of money.
Common Extracts for Baking
If you're ready to experiment with fun flavor combinations, here are a handful of extracts you should have on hand:
Vanilla extract. This one is a staple in any beginning baker's basket. Vanilla extract is added to enhance cakes, cookies, brownies, and a wide variety of other sweet treats. Created by steeping vanilla beans in alcohol to – well, extract – their flavor, it only takes a few drops of this sweet solution to sweeten up your cake. We normally buy our vanilla extract at Aldi. It's a great price! Try it in our perfectly white vanilla cake.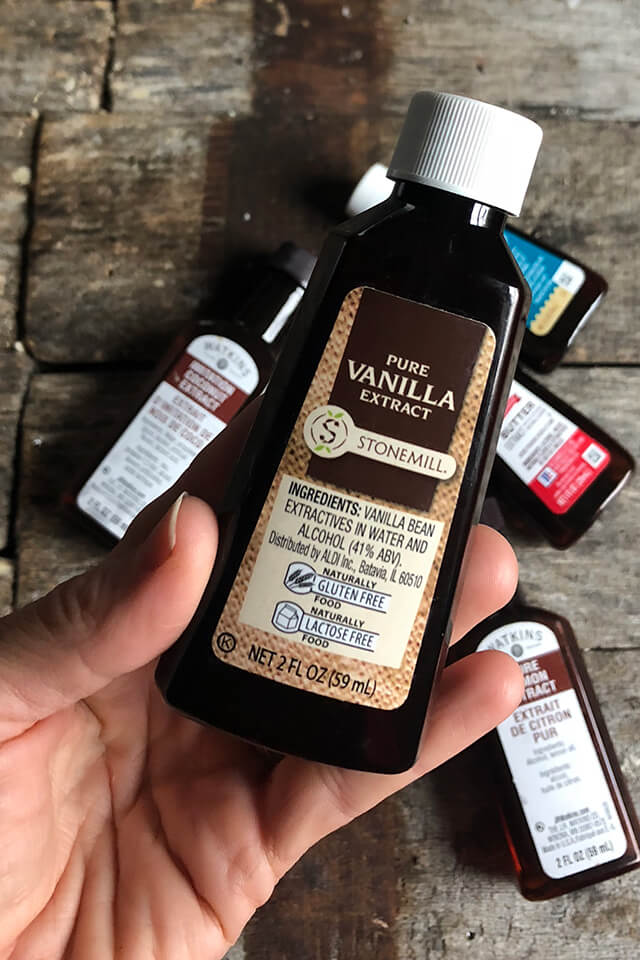 Almond extract. In a pinch, you can replace the vanilla extract in a recipe with an almond extract. It imparts a light, sweet flavor that reminds some of marzipan. Add a small amount to your next pound cake or coffee cake for a slightly richer flavor. Perfect for our almond cream cake.
Coffee extract. Add the rich, roasted taste of coffee to any cake with a few drops of extract. Coffee extract can enhance a coffee cake and goes particularly well in chocolate creations. As an added bonus, it may help you win the "cake for breakfast" argument – after all, coffee is for the morning! Add to chocolate flavor for a chocolate mocha cake.
Lemon extract. Lemon extract is perfect for light, fresh recipes commonly found in the spring and summer months. Make a moist lemon pound cake to surprise your guests at your next brunch, or opt for something lighter and try a lemon-infused angel food cake. Two layer lemon cake anyone?
Peppermint extract. Peppermint extract often makes its appearance around the holiday season. There are lots of fun ways to enhance your cakes with a refreshing peppermint twist. Whether you're a big fan of the classic chocolate and peppermint combination or prefer a peppermint and white chocolate creation, adding some peppermint extract into the mix can help your cake feel extra festive. If you're looking for a super light infusion of mint, leave it out of the cake and incorporate a little into the frosting. Note…peppermint extract is a little different than mint extract. Be sure to pick up the right one for the right dessert. This peppermint cake is AMAZING.
Cherry extract. This is a fun one to keep on hand. It's useful for the ambitious baker who wants to try creating their own combinations, since it pairs well with chocolate, almond, and lots of other basic flavors, but it can also be used to further enhance the flavor of a cherry cake. Adding actual cherries or chopped-up fruits to cakes can be risky, as they're prone to fall to the bottom of the batter if the oven isn't hot enough. Add a touch of this to our cherry almond cake. Mmm!
Butter extract. Butter extract really deepens the flavor of baked goods. Be careful with how much you add. But if you like the flavor of butter, you'll love this. It's especially good in yellow cakes.
Fun Flavored Cake Ideas