Add some color to your dessert with this Rainbow Bundt Cake. Whether for a birthday or just a rainy spring day, this semi-homemade recipe is sure to brighten up your days.
Ohio can be beautiful in the spring when it hits 70ºF and sunny. But more often than not, we have cloud-filled, rainy days. Those days can be pretty in their own way, but I love the sun!
Every now and then when the rain comes in we get to see a rainbow. And many times they are even full rainbows that fill the sky.
Today we're celebrating spring and the sunshine with this Rainbow Bundt Cake. It's semi-homemade and is so fun to share at birthday parties, or just on a rainy day.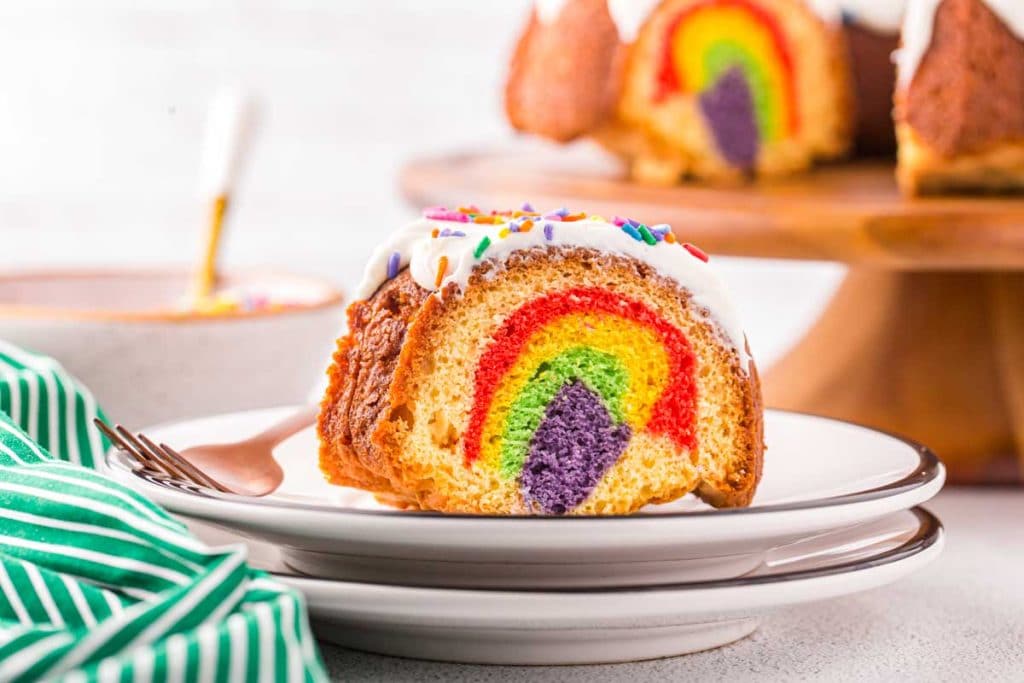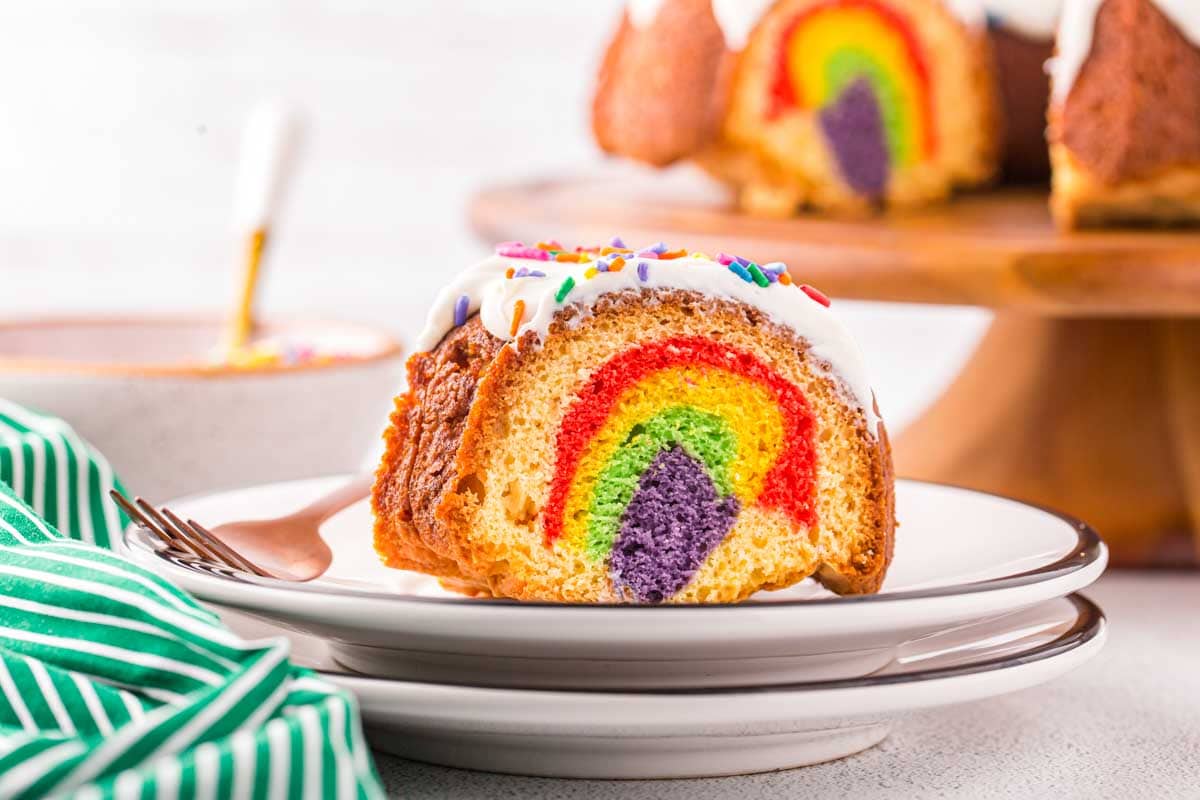 About this rainbow bundt cake:
Flavor: This cake has a simple vanilla flavor. The flavor comes from the pound cake and vanilla pudding. For more vanilla flavor, add a teaspoon or two of vanilla extract. Or add almond extract to enhance flavors in a different way.
Texture: Rather than light and fluffy, this recipe uses a box pound cake mix, so the texture is going to be dense and rich. The pudding mix adds moisture though, so don't be afraid that it's dry!
Pound Cake Mix
You can buy pound cake mixes in the baking aisle by the cake mixes. I used a Betty Crocker brand box mix. Because this is a pound cake mix, the bundt cake will be a little on the smaller side. Feel free to double the recipe for a larger bundt cake. You will need to cook it for a longer amount of time if you choose to do so.
You can also choose a homemade pound cake if you'd like. Try this vanilla pound cake recipe.
Tips for Making Rainbow Bundt Cake
There is nothing more exciting than watching the faces of people expecting a regular white cake and receiving a slice of a rainbow instead. Here are some tips and tricks to make sure you have exciting, spectacular results every time.
Invest in a good quality bundt pan. Some pans, usually the lowest priced ones, may begin to chip and peel after some use. I prefer heavyweight pans, such as the aluminum pan from Nordic Ware, however any high quality bundt pan will work.
Whatever pan you use, make sure to spray it well with Baker's Joy spray (or grease with cake release) just before adding the cake batter. If you spray it when you preheat the oven there is a chance that the oil will slide down and pool on the bottom, leaving areas without enough oil and causing discoloration or change in texture where it pooled.
Use piping bags or a heavy duty plastic bag (such as a ziploc freezer bag, quart sized) to pipe the color into the ring. While you could use a spoon, the results tend to look rougher and be uneven around the cake. It adds a little bit of effort to use the bags but the finished result is well worth it.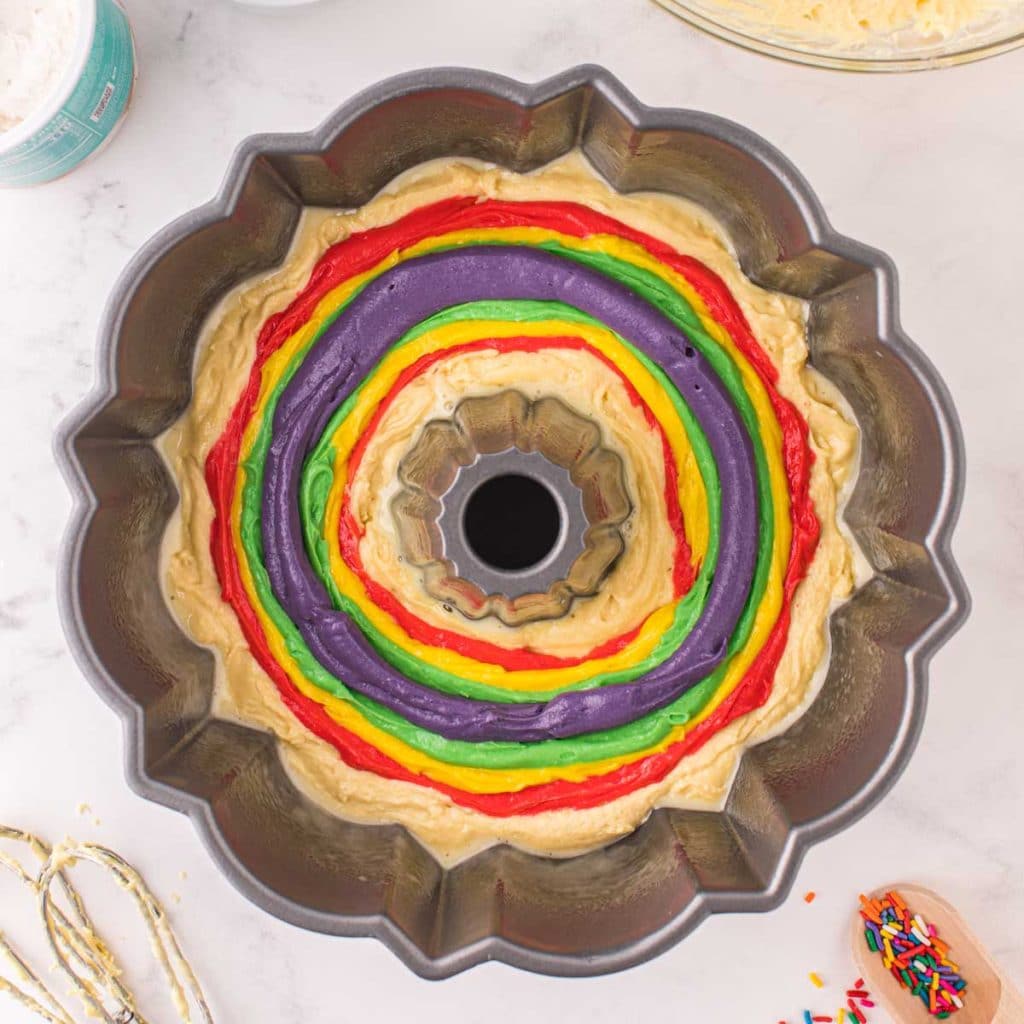 For best results use another bag to pipe on the last of the cake batter after you've piped in the rainbow batter. You have better control of thickness and where the batter goes when using a bag to place the batter. Then use a spoon or spatula to even out the top layer. I found that if I just dumped the batter or even spooned it onto the top, when I tried to even it out I often messed up the rainbow colors.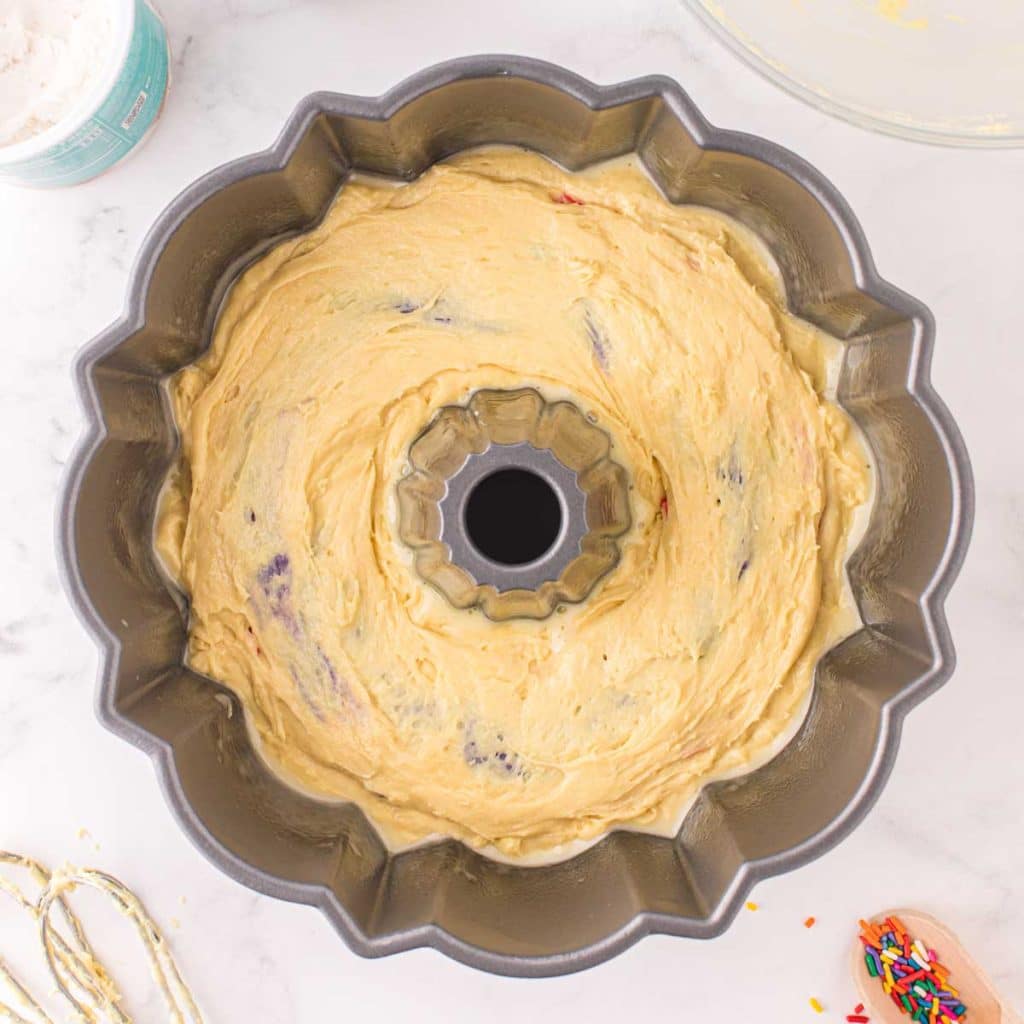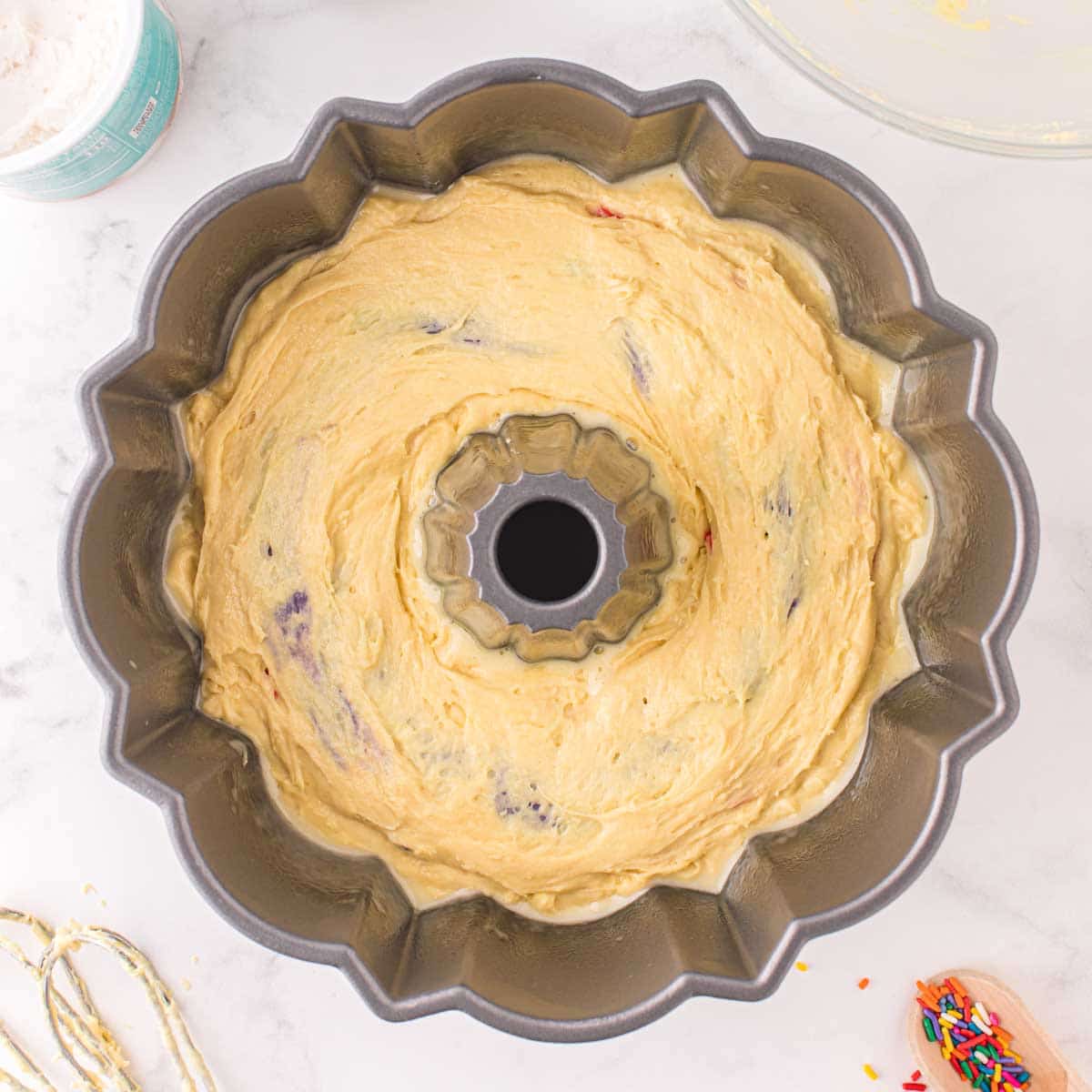 Let your cake cool for 10 minutes and just 10 minutes before turning it out onto your cake platter or serving plate. 10 minutes tends to be the best amount of cooling time for bundt cakes. If it doesn't cool at least 10 minutes it may not have time to pull away from the sides and settle so when you turn it out it may rip or tear. If you let it set much longer than 10 minutes, it tends to begin to stick in some areas. 10 minutes seems to be the magic amount of time for the perfect bundt cake turn out.
Feel free to play with the colors and design! Once you've made this cake you'll realize it is deceptively easy! You can change the colors of the rainbow, change the number of colors and even change the piping pattern to change how the cake comes out in the end. Match it with a coordinating glaze color and sprinkles or leave it plain and serve it sprinkled with powdered sugar instead. You really can't go wrong with this delicious cake.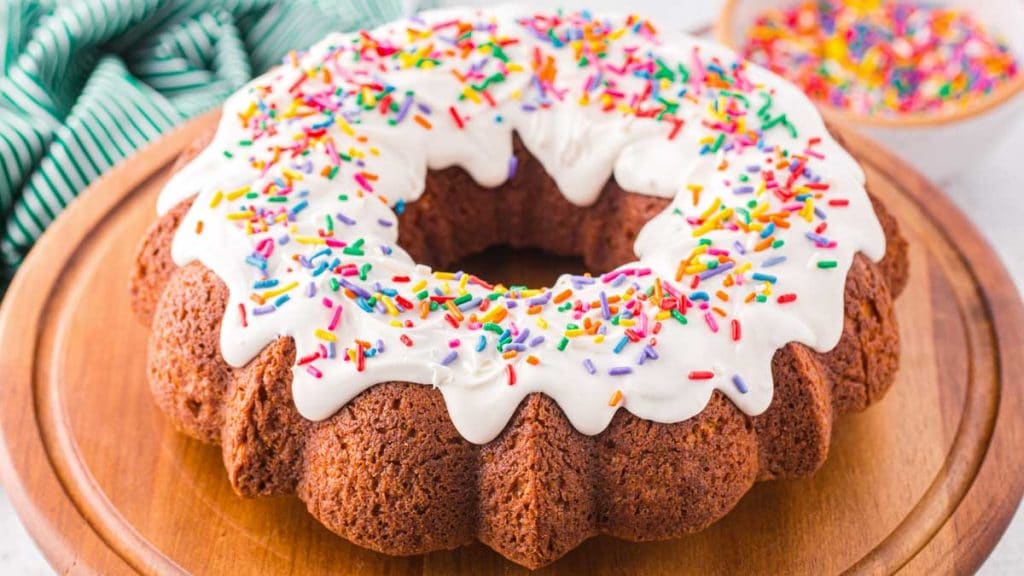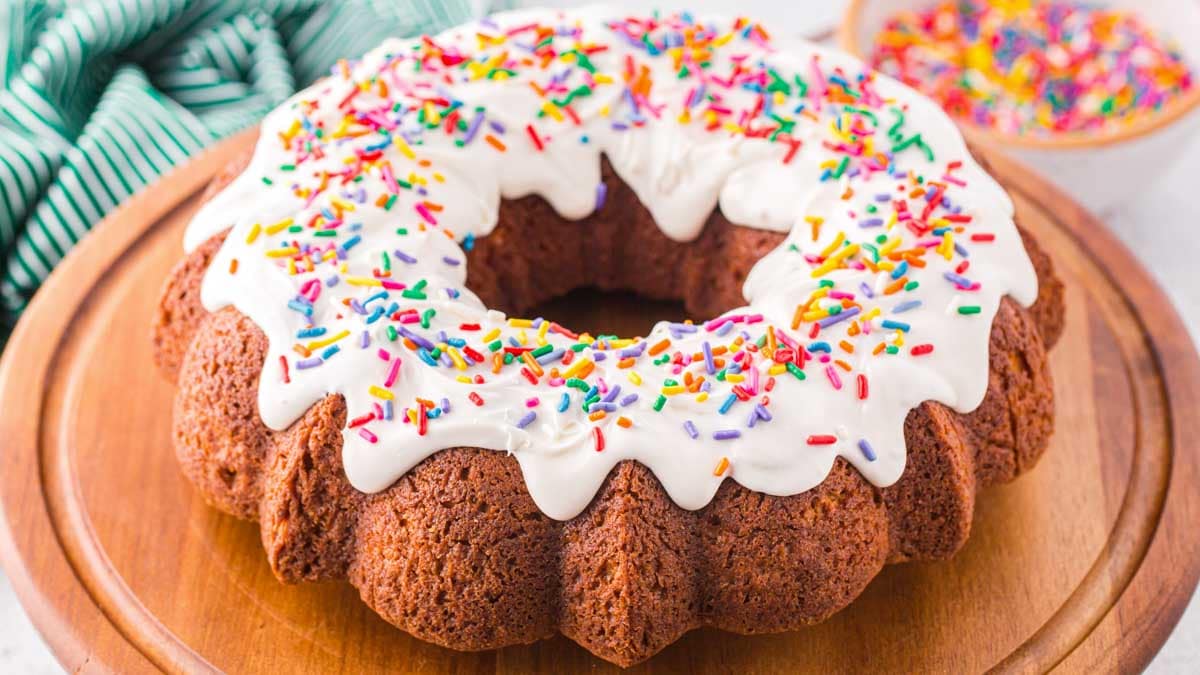 Storage Instructions
This Rainbow Bundt Cake should be stored in an airtight container at room temperature for up to 3 days. At that point the texture will begin to change, often drying out or doing the opposite and getting almost soggy.
You can cover it tightly and store it in the refrigerator for up to 1 week, though it often dries out in the refrigerator after a few days.
To freeze, wrap individual pieces well and freeze them for up to 3 months.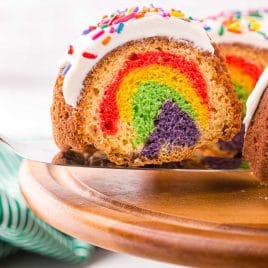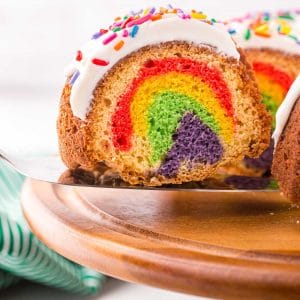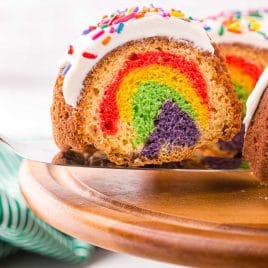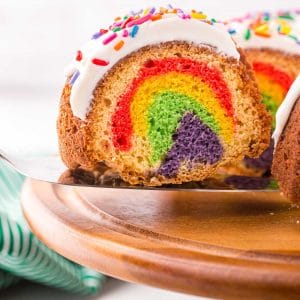 Rainbow Bundt Cake
Add some color to your dessert with this Rainbow Bundt Cake. Whether for a birthday or just a rainy spring day, this semi-homemade recipe is sure to brighten up your days.
Cook Time
1

hour
20

minutes
Total Time
1

hour
40

minutes
---
Ingredients
1

box

pound cake mix

16 ounces

1

box

vanilla pudding mix

3.5 ounces

2

large

eggs

⅔

cup

half and half

¼

cup

salted butter

melted

4

colors of food coloring

I used red, yellow, green and purple

½

cup

white frosting

your favorite store bought brand

2-4

Tablespoons

half and half
Instructions
Preheat the oven to 350º Fahrenheit. You will be using a bundt pan but will want to grease it just before pouring the cake into it so do not prepare it yet.

In a medium sized mixing bowl use a hand or stand mixer on low to beat together the pound cake mix, pudding mix, eggs, half and half and melted butter just until combined, about 30 seconds.

Beat the mixture for an additional 1-2 minutes or until it is a thick, light batter.

Remove ½ cup of the batter and place it into a small mixing bowl and add red food coloring. Mix well until you have the shade of red you desire.

Remove another ⅓ cup batter and do the same with the yellow food coloring.

Remove ⅓ cup of batter, place in a small bowl and add the green coloring.

Finally, remove one last ⅓ cup and add the purple coloring.

Spray the bundt pan well with cooking oil and then scoop ¾ of the plain cake batter into the pan and gently even it out with a spatula or spoon.

Place the red batter into a piping bag or disposable sandwich bag and cut off a small amount of the tip.

Pipe the red batter in a circle in the center of the bundt pan. Use a spoon to gently spread it out, leaving an edge of about ½ an inch, between the red batter and the edge of the pan.

Repeat the process with the yellow batter, using a spoon to spread it out but leaving a thin edge of the red showing.

Repeat again with the green and then the purple batter. You should be able to see a little of every color and all of the purple batter.

Gently scoop the remaining plain batter onto the top of the colored batter, or use another piping bag to pipe it on and spread it into an even layer with a spoon.

Bake for 50-60 minutes or until a toothpick comes out clean.

Allow the cake to cool for 10 minutes and then turn it out, gently, onto a cake platter or serving plate.

After the cake has cooled completely, about 45 minutes, mix together the frosting and half and half until you have a thick pourable glaze.

Gently pour the glaze over the top center of the cooled cake and allow it to slowly drip down the cake.

Serve garnished with rainbow sprinkles, optional.

Store in an airtight container at room temperature for up to 3 days, then freeze any leftovers.
Notes
The half and half can be substituted with a combination of heavy cream and milk. You can also use 2% milk if needed.
Unsalted butter can be used. Make sure to add a pinch of flavor to your cake for extra flavor.

Feel free to change up the color and flavor of your frosting. You want a thinner frosting so that it will drip down the sides of the cake, that's why you add milk to the frosting.
Refer to the article above for more tips and tricks.
The calories shown are based on the cake being cut into 12 pieces, with 1 serving being 1 slice of cake. Since different brands of ingredients have different nutritional information, the calories shown are just an estimate. **We are not dietitians and recommend you seek a nutritionist for exact nutritional information. The information in the nutrition box are calculated through a program and there is room for error. If you need an accurate count, I recommend running the ingredients through your favorite nutrition calculator.**
Nutrition
Calories:
295
kcal
|
Carbohydrates:
50
g
|
Protein:
3
g
|
Fat:
9
g
|
Saturated Fat:
5
g
|
Polyunsaturated Fat:
1
g
|
Monounsaturated Fat:
3
g
|
Trans Fat:
1
g
|
Cholesterol:
47
mg
|
Sodium:
434
mg
|
Potassium:
59
mg
|
Fiber:
1
g
|
Sugar:
32
g
|
Vitamin A:
220
IU
|
Vitamin C:
1
mg
|
Calcium:
114
mg
|
Iron:
1
mg
Other Bundt Cake Recipes
We have bundt cakes for all occasions and made with all flavors. Try one of these!